Reviewing the best in non-mainstream acoustic guitar music
Home | Facebook | Podcast | Archives | Submissions | Free CD Giveaway | Subscribe | About | Links
November/December, 2016

Maneli Jamal, "The Mardom Movement," 2016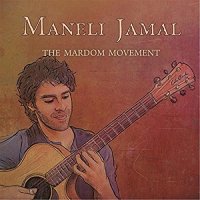 Born to Iranian parents in exile in Europe, lived in four countries through adolescence, now a resident of Canada – Maneli Jamal is truly a world citizen. And it shows on his latest guitar recording, The Mardom Movement. Mardom is the Farsi word for "people," a nod to the contributors on this CD and also to his listeners. Jamal is a mix of influences, all energizing his music (for more about Maneli Jamal and this CD, please see this month's interview). "Depraved" sounds Middle Eastern with contributions from Mehdi Razania, as well as Marito Marques on percussion, while Jamal cries on electric guitar. Andrew York plays classical on the delightful "Southern Magnolia," where the two guitars seamlessly intertwine in a melodic feast. The opening cut, "Daft Punk" shows Jamal's chops in fiery passages while maintaining a steady groove. Jamal uses delay and reverb to create a haunting "Amazing Grace," a song he says should be inspirational no matter their spiritual outlook. The playful "Bee" buzzes along with staccato impulses in a kind of Django Reinhardt vibe. Randy Khors adds sweet dobro on "Due South," while Jamal keeps the tune flowing with his fingerpicking. "A Boys Echo" is just Jamal and his guitar, building from a slow intro to a rollicking, rolling melody that is all summer and sonshine. "Zim Blues" features Jim Celestin on sax, with Jamal comping underneath. Jamal has a musical sense of humor, with "Disco Monkey Blender" edging us into the land of Tony Manero and open shirts. "Vasat and Ziur" is the longest track on the CD at 6:35, with a lovely, lingering beginning morphing into a percussive, tapping ride along the fretboard. So we've had jazz, Middle Eastern, tinges of rock, and straight ahead fingerstyle. This is the ecletic mix that is Maneli Jamal. The disc ends with the increasingly frenetic and wild "El Cielo en Zihua," ending in a cataclysmic rush of power chords. This is guitar music for music lovers who enjoy taking a global tour with their ears.
© Kirk Albrecht
Buy it at Amazon.com
Listen to "Southern Magnolia"

Tim & Myles Thompson, "Crossing the Mojave," 2015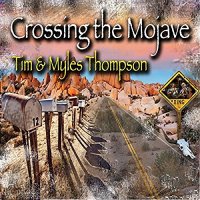 On Crossing the Mojave, Tim and Myles Thompson find that sweet spot so elusive for many families: a father and son playing -- and singing – in joyous and perfect harmony. A native of northern Minnesota, Tim Thompson's stellar guitar chops delivered him to Nashville, where he has been a busy session guitarist as well as a solo recording artist. This 10-track CD finds Tim teaming with his son, Myles, who took up the violin at age 5. Now in his 20s, Myles has been performing with his dad as a duo since 2009. Myles focuses his playing on this collection on mandolin, though he continues to play fiddle. In addition to his dazzling mandolin leads, Myles contributes harmony vocals as well as his own composition, the Spanish-inflected "Mandolin Dance." But the main attraction throughout is this duo's musical interplay, as they intertwine intrumental and voice. Two of the selections are from Mozart – Symphony 40 and Rondo Alla Turca – and one from Bach, Partita 3, all of which provide a platform for the duo to show off a series of lightning fast runs (and fingers). Tim Thompson also shows some comfortable, country-leaning lead vocals in originals "Take Me Down" and "I'm Learning." As far as style goes, the duo moves easily from jazz to bluegrass to country to classical. It's easy to see how Tim Thompson won the International Fingerstyle Championship in 2008, but this collection shows he's a master of so much more.
© Fred Kraus



Tim & Myles Thompson's Website
Buy it at Amazon.com
Listen to "Take Me Down"
Ken Hatfield, "12 Preludes for Solo Guitar," 2016

If I were to start mentioning the accolades showered upon Ken Hatfield through the years, there would be no room left here for a short review of the CD 12 Preludes for Solo Guitar. Thus, let me just choose to note his masterful technique, knowledge of the fingerboard and the beautiful tone of the Thomas Humphrey Millennium guitar that he used for this recording. Ken mentions that working again with his engineer Jim Clouse streamlined the process and I must add that the quality of the recording is excellent. Although a "Prelude" is usually considered to be an introduction piece for a larger collection of material, these 12 works can easily individually stand alone as concert pieces as well as learning or recreational material for a conservatory level student. Ken wrote them in the order presented in the book and he worked his way through a circle of fifths starting at the key of C major. The introduction of the text is captivating reading and allows the serious participant into the mind of this composer. Ken has such a vast historical pallet to draw from for inspiration and there are times while I listen that I'd swear that Bach snuck into the 21st century for a section or two. In the author's own words "The primary motivation for the creation of this collection of preludes is the music itself". I am not going to attempt a highbrow analysis of each piece, which would require considerable space and time. Rather I would like to bring note to some of the surprises and inspirational effects that await the listener or student. As mentioned the key of C takes center stage to start things off and one might get the idea that this is going to be a simple piece in the style of Carulli or Carcassi. That impression will quickly disappear as the piece morphs into a unique composition straying from the tonal center. Then the preludes begin to take on a life of their own, like "Creatures of Prometheus". Number 2 takes a turn into a slice of the 20th century with tonal surprises around every corner. The 3rd piece returns to more traditional prelude style and arpeggios are prominent throughout, still some interesting chord changes happen as it develops. #4 has a nice block chord theme prominent, followed by ornamental variations. Ken then returns to an arpeggio dominant piece before navigating another corner with #6 which breaks into a bit of a samba. #7 follows a more traditional format while #8 transcends into a block chord melody with jazz infused voicing. Then comes #9; a well written 5/4 piece before returning to arpeggios in #10. The 11th Prelude is my particular favorite where Ken transports Mauro Giulianni into the 21st century. Then I listen to 12 and it becomes my favorite. My guess is that with repeated visits to this material my personal rankings will change over time. My next visit is going to be a more focused one with guitar in hand. I enjoy taking a walk with a Master.
© Mark Bayer
Buy it here
Listen to "Prelude 4"

Petri Kumela & Joonas Widenius, "Fantasia Andaluza," 2016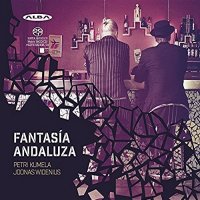 Fantasia Andaluza is an innovative offering by Finish guitarists Petri Kumela and Joonas Widenius. The recording seamlessly merges the outwardly contrasting styles of flamenco and classical to create an unparalleled tribute to the music of Spain. Kumela is one of Finland's premiere classical guitarists touring globally and recording extensively in traditional and modern music. Wideneus is both a flamenco and fusion guitarist whose compositions and virtuosic performances have redefined the parameters of his musical heritage. On Fantasia Andaluza the two eloquently weave through the classics of Spanish music from Francisco Tarrega to Isaac Albeniz. Also represented here are some of the finest examples taken from the flamenco songbook including Malaguena as well as seminal selections from the works of Sabicas. While classical and flamenco music contain two entirely divergent approaches in technique and pedagogy, the two genres share much more common ground than what appears on the surface. The fiery, percussive attack of flamenco blends itself well with the sonorous precision of the classical guitar. Kumela and Widenius complement rather than compete with one another creating rich, alluring textures that will please anyone's musical palette. The opening, title track by Sabicas sets the stage with dramatic rhythmic motifs and delicately crafted single note sequences. "Sierra Nevada" contains brilliantly executed harp-like sweep picking passages, while the brooding "La delicada" offers delicate, intuitive interplay by the two guitarists. Also included in the album are some heartfelt transcriptions of Manuel de Falla's orchestral works, sounding just as abundant and vivid on two guitars. This recording culminates with Sabicas's "Sevillanas" featuring histrionic rhythmic arrangements and over the top unison, legato flurries. The music is pristinely captured on hybrid SACD, which also plays superbly on standard units. While this recording is highly recommended for aficionados of Spanish music, it should serve as an excellent introduction to this captivating genre.
© James Scott




Petri Kumela's Website | Joonas Widenius's Website
Buy it at Amazon.com
Listen to "La Vida Breve"
Norbert Kraft & Jeffrey McFadden, "Fernando Sor: 24 Progressive Lessons, Op. 31, 6 Little Pieces, Op. 32," 2016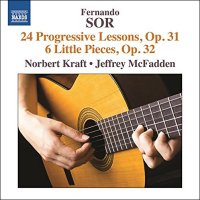 Like most geniuses, Fernando Sor was a very driven person. His passion was guitar, and that passion fueled his way to many musical successes in the late 19th and early 20th centuries. Almost singlehandedly, Sor elevated guitar music in Europe from a tavern curiosity to one of credibility which was passed to present-day classical guitar heroes such as Andrés Segovia, Julian Bream and John Williams. His prolific catalogue of guitar compositions includes opuses numbering 63, and of those, guitar studies or Études number nearly 100. That number underscores that tutelage in guitar technique was an important facet of Sor's obsessions, and his Studies his most lasting legacy. Many present-day students of guitar are introduced to Sor's Studies from a 20 song compilation that Segovia handpicked both for their instructive and artistic appeal, and those twenty culled from Op. 6, 29, 31 and 35. This 2016 Naxos collection of Études is a slightly different collection than Segovia's, keeping the Studies comprising Op. 31 (24 Progressive Lessons) and Op. 32 (6 Little Pieces) unified and intact. Still, tracks 16, 19, 20 and 21 of this collection will sound wonderfully familiar to guitar students of the 1960s and 1970s when both Bream and Williams popularized the Segovia compendium on vinyl. The term "Study" might imply a lack of artistic beauty or technical flair, but Sor's studies are the opposite of sterile pedagogy and simplicity. On this Naxos release, Norbert Kraft and Jeffrey McFadden trade off, taking the notes from scores written in 1828 to make them sing with the joie de vivre that Sor originally intended. Kraft and McFadden faithfully capture the lilting delight of Op. 31, Nos. 3, 15 and 18, the reverence of Nos. 4, 16 and 18, and the unapologetic verve of Nos. 6, 20 and 21. Norbert Kraft himself is a genius of Sor's ilk, and not only for his virtuosic playing. He is an unsung present-day steward of guitar music, and as artistic director at the helm of Naxos Records' Guitar Collection, is personally responsible for producing the most extensive recording project of guitar repertoire ever undertaken.
© Alan Fark


Norbert Kraft's Website | Jeffrey McFadden's Website
Buy it at Amazon.com
Listen to "Sor's Op. 31 No. 16"
Shu Odamura, "Cloud Illusions," 2016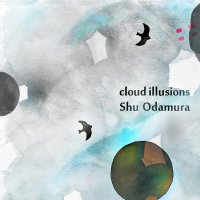 Cloud Illusions, the debut CD from jazz guitarist Shu Odamura resonates with youthful enthusiasm as well as a refined vibe where old world meets contemporary. Track four, "Dear Boston," epitomizes this collusion of sonic sensibility and interplay as the tantalizingly and sweet fret work of Odamura nuzzles up to the warm, rich and satisfying acoustic bass musings of fellow Berklee grad Yoshiki Yamada. This duet is a musical moment so rich that I found myself hitting replay several times before I could move on to the following track. In these nine original compositions Odamura displays a style filled with expressive elegance, playful adventure and a classic sophistication. The opening track, "Rain", begins with a sweet, innocent and catchy melody that builds and transforms into a full tilt jazz anthem. The complexity with which the guitar, bass and drums evolve into a tight and fully formed rhythmic syncopation is truly delightful. Similar dimensions are achieved in "Beyond the Clouds" while "Blue Space" offers one surprise after another including a bit of rubato and dirty blues. From the playful tango "Viko" to the flamenco tinged "Primera Vez", Odamura certainly doesn't get complacent. Throughout Cloud Illusions the musical camaraderie of Odamura, Yamada and Yutaka Uchida (drums) breath life and sonic dimensions into these compositions in a way that puts the listener in the room. And after all, isn't that the hallmark of any great recoding regardless of the genre? Odamura's Nylon Godin Multitac is the centerpiece of Cloud Illusions, but not in an ostentatious manner. Perhaps this has to do with Odamura's use of his fingers on nylon strings rather than a plectrum and steel strings. Regardless, his artistry and talent are obvious in this debut album. Born in Kyoto, Japan, Shu Odamura began playing guitar at age 12. He was the youngest guitarist to win the "Jury's Special prize" at the Gibson Jazz Guitar Contest in Tokyo in 2003. By 2006 Odamura was living in Boston and attending Berklee College of Music where he earned a Bachelor's of Music Degree in Jazz Composition and was honored with the Toshiko Akiyoshi Award. He was also listed as the Top 3rd Acoustic Guitarist by "The 32nd Jazz Station Poll" for his work on Mina Cho's album "Originality." This growing list of accolades certainly indicates that we are in store for much more from a gifted musician.
© James Filkins
Buy it at Amazon.com
Listen to "Rain"
Listen to Shu Odamura at our podcast

Spencer Elliott, "Unspoken," 2016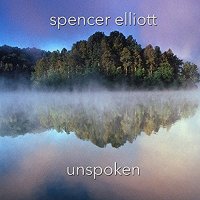 The CD Unspoken by Spencer Elliott was engineered and produced by the legendary Antoine Dufour. On my first listen to Unspoken I was forced to stop in the middle of the first song. I had to divert my attention to research what kind of instrument he is playing. It was similar to a baritone but had a range below and above that of a baritone. I found that he uses a Fan-Fret Jumbo guitar (Jedidiah Wiebe) as well as a Baritone (Kronbauer). The more I listened to this CD the more I decided I need to own one of these instruments! Herein lurks a danger of reviewing... After a slow intro "The Tournament" shoots into a 12/8 feel similar to a Beethoven Scherzo. A combination of block chords, strumming, percussion and arpeggios - all in one package. On "Rain Shadow" a 6/8 feel is established with a really nice syncopation; and those deep strings are wonderful. Unlike many players who seem to settle for laying down a groove, Spencer establishes his groove and then adds well thought-out melody and harmony lines to the mix, sounding like a small orchestra. He then slows things down with a ballad, "Time Stands Still," which presents such a sweet melody line out of the gate and continues that progression with variations on the main theme and ornamental embellishments, a beautiful piece of music. "Yin" is comprised of stark block chords which weave slowly toward the motion that follows, with a contrast of tapping, percussion, harmonics, strums and melody. For so much going on, the song is quite well balanced in form. I found a Youtube video of the next track, "Torque". Yes, as I thought, it's that jumbo fan fret guitar! A strong bass line with percussion, then a progression more than a melody line. The groove is the star of this piece. This one conjures echoes of the music of Steve Reich or John Adams. The CD concludes with the title track "Unspoken" in which Spencer expresses a gentle farewell to the listener in a track that moves with grace to the concluding bar… almost like tucking in your children and whispering good night.
© Mark Bayer
Buy it at Amazon.com
Listen to "Rain Shadow"
Listen to Spencer Elliott at our podcast

Farewell Milwaukee, "FM," 2016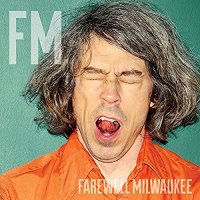 As proudly Midwestern as Bruce is to New Jersey, and Lou was to New York City, the Minneapolis collective which toils under the banner of Farewell Milwaukee emerge as bona fide pop stars on a platter which, ironically, also shares the name of the platform which would have served them well (think multi-platinum) back when radio ruled. Singer, songwriter (and occasional bassist) Ben Lubeck is a tunesmith extraordinaire and his mates embellish his every melody with engaging string arrangements, layered vocal harmonies (think Beach Boys, Dee Murray/Nigel Olsson/Davey Johnston in the service of Sir Elton) and subtle guitar licks that exude finesse over flash. Every track is a winner -but I'll single out the soulful "Figure You Out" replete with Stax horn blasts, a groovy Hammond solo, and knock-down backbeat as the choice cut. Retitle this album "Greatest Hits" and only their die-hard fans would be all the wiser!
© Tom Semioli
Buy it at Amazon.com
Listen to "Til We're Afraid"

Larry Murante, "Patch of Sky," 2016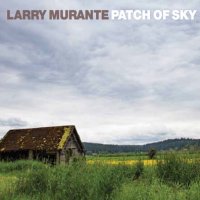 By using "Little Patch of Sky" as the title track and opener, Larry Murante makes it clear that that this is not your typical singer/songwriter, Americana, or country album. Most of the songs are unusually upbeat in tone. Some have a social consciousness on the lefthand side of your political music dial ("Nelson"). A number of tunes-like the opener-are downright jaunty. The sonic palette in that track-with its soulful electric guitar chords-and throughout (like the horn section on "Heart of Happiness") shows this music can't be pigeonholed very easily. Murante's terrific tenor manages to have both a smooth touch and a hint of rasp. His voice will remind you at once of one artist and then another, but he really had me when I heard his move to falsetto on "win or lose" in the excellent "Story of the Sale." It's one of the cuts where Murante schools writers on how to construct a great story song. It's packed with telling details, carefully chosen ("We laughed so hard when he drove the three wheeled BMW right down the middle of our driveway.") but avoids telling you what to think. Likewise, the poignant "Property Line," wherein we meet a family involved in a longstanding dispute with a next-door neighbor with "a broomstick with a nail sticking out of the end." The melodies of these two songs are particularly lovely, but Murante has a consistent knack for memorable hooks. Another of the strongest cuts is "Ready for the Dark," a rollicking tune on the country side powered by a dobro sound. Murante sweetly turns the traditional connotation for the "dark" on its head ("when the sun starts huggin' the horizon, Honey that's my cue to hug a little more with you"). The only fully dark song on the album comes smack in the middle. "Ball and Chain" proves Murante knows something about the dark side yet it made me better appreciate Murante's glass half-full outlook. In the ambitious "Books, Pliés, and Sorrows," he finds room both for life's joys and its tragedies. In the end, this record successfully reflects a guy who's "Gotta little patch of sky for me and you."
© David Kleiner
Buy it at Amazon.com
Listen to "Books Pliés And Sorrows"


Home | Facebook | Podcast | Archives | Submissions | Free CD Giveaway | Subscribe | About | Links

Laurence Juber, Doug Smith, Al Petteway, Phil Keaggy (and many more!) at Acoustic Music Resource