An interview with Maneli Jamal, September 22, 2016

by Kirk Albrecht
Born to Iranian parents in exile in Europe, lived in four countries through adolescence, now a resident of Canada – Maneli Jamal is truly a world citizen. And it shows on his latest guitar recording, "The Mardom Movement." Kirk Albrecht caught up with Maneli Jamal on Skype for this conversation.

Minor 7th: Talk some about your musical background / how you came to play guitar. You mention on your website coming from an artistic family. What kind of influence did that have on you?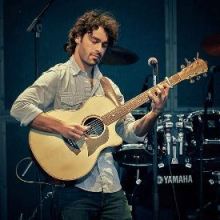 Maneli Jamal: I had three older brothers who all played music – it was a competitive household! Me being the youngest, I had to work really hard. I played violin for five years from ages 9-14. I wanted to make my dad happy, because he played violin. So I did it for wrong reason. When I was 15 I played a guitar at my friend's house; I asked him to teach me three chords, and when I began to play, he said I played better than him! For my 16th birthday, my dad saved some money and he got me an electric guitar. From the beginning of playing guitar I was writing music.

My childhood began in Germany, then to we moved to Texas. My father was on the blacklist from the Iranian regime, so we couldn't go back to Iran. In Texas, he was driving a taxi and doing freelance art to support us. We were rich in art in our family, but not in money!

We were deported from the U.S. in 2003, and we made our way to Canada. It was there that I began playing acoustic guitar. I was playing guitar 8 hours a day and doing pushups! I played some classical and flamenco, then I discovered Don Ross and Michael Hedges and progressive fingerstyle guitar, after beginning with punk and metal.
Minor 7th: You have traversed multiple cultures. How does that shape your sense of melody and rhythm?

MJ: My music now is a fusion of everything I have absorbed over the years – I call it "world fingerstyle." It is a harmony of world music, Middle Eastern music, quarter tones, Persian modes – all these things I listened to when I was a young boy.

I consider this inspirational or self-care music; it's therapeutic for me and many people who hear the music at my shows. I have a condition called Synesthesia, where my hearing is stimulated by what I see, so these are multiple senses in my music. It's all one.

Minor 7th: Talk about the new record, "The Mardom Movement."

MJ: "Mardom" means "people" in Farsi. This was a Kickstarter project, and it raised 200% of my goal! I have included other musicians, the people who spoke to me musically – it is a collaboration album. I like to do conceptual records, so my first record is about love life, and my second is about my journey to Canada, how I ended up there.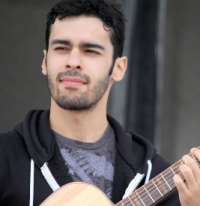 Minor 7th: Tell us about some of your collaborators on the record - this is not just a solo guitar CD.

MJ: There is the great Andrew York on guitar – we toured for 25 shows. Diego Figeiredo is a Brazilian jazz master. Randy Khors is a tremendous Nashville slide player. Marito is a great percussion player. I toured Australia with Van Larkins four years ago. And Jim Celestin is on sax.

I like to push boundaries in a true artistic way. When we recreate something we've done before, we know we've reached a plateau. I never want to do that, but as I grow, the music grows and expands.

Minor 7th: What is it about the guitar that gives your musical ideas a voice?

MJ: The guitar is one of the most versatile instruments on earth! I just played a fretless guitar, which sounded like an oud. Sonically, I am in love with the sound of the guitar; it is really my voice. I like to say I play music and guitar is the instrument of my choice.

Right now I am also doing some production work and playing some other instruments as well guitar, which is just an extension of desiring to expand musically.

Minor 7th: How does this new record relate to your previous recordings, the "Lamaj Movement" and the "Ziur Movement". What do those titles mean?

MJ: "Ziur" is my ex-fiancee's name spelled backwards, dealing with issues of love. "Lamaj" is my last name backwards. The reason for that is our journey from Iran to Canada. My dad had aliases in Iran to escape the government, that record is an homage to my dad in trying to escape persecution.

Minor 7th: You've been touring in Europe. Talk about the environment there for acoustic guitar. Are there any differences from North America?

MJ: I find there is an appreciation for this all over the world. In Europe I think they internalize it differently. For example, going to the bar and ordering a beer in the middle of a set doesn't happen in Europe. Maybe there is perhaps a little more respect.

Every day you play for people, you feed off their energy and people are in a good mood. You spend 20 hours for one hour each day to perform, to make people happy for one hour, and you feed off that.

Minor 7th: Tell us about your instrument - you are an endorser for Cole Clark, yes?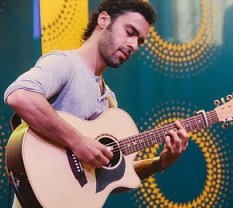 MJ: I played Taylor guitars for 3-4 years – I had a limited edition 814 with Madagascar rosewood, and it was a really good guitar, but I wasn't totally happy with my stage sound. About 6-7 years ago, I met a rep from Cole Clark. He gave me a guitar to try, and it blew me away at how great it sounded both in my hands and on stage! It has a 3-way pickup, and I just use flat EQ – it is so easy to use and has great sound.

Minor 7th: Do you have any favorite song on the new CD?

MJ: The last song – "El Celeo in Zihua" (city in Mexico). I met a guy at a music festival there. We played together, and I started to get lots of musical ideas. One week after the festival ended, he took his own life; no one knows why. This really affected me. The song tries to show how one thought can be destructive and lead to depression when we don't know how to ask for help. When we were playing together there, the sky was amazing in all kinds of colors and moods, and it reflects my emotions and memory of the sky then.

And then "Amazing Grace" – I feel like the message of the song is relatable to everyone on earth. I'm not a religious person, though I am spiritual. But the meaning of the story and how it can give us hope moves me. It's one of the only covers I have done, and I find it to be an introspective song.

© 2016 Kirk Albrecht
Here's a partial discography for Maneli Jamal:
Home | Links | Podcast | Archives | Submissions | Free CD Giveaway | Subscribe