Reviewing the best in non-mainstream acoustic guitar music
Home | Facebook | Podcast | Archives | Submissions | Free CD Giveaway | Subscribe | About | Links
July/August, 2015

Luca Stricagnoli, CandyRat Records 2015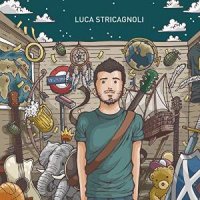 Every so often, a musician emerges who, in terms of depth of expression, advances a style so much that the way we listen changes forever. In rock, Derek Trucks comes to mind as an example. Italian guitarist Luca Stricagnoli embodies such a shift. He employs right-hand fretting, altered tunings, and partial capos in the spirit of Preston Reed and Kaki King, yet, like Trucks, he's playing at a higher level. His debut CD for CandyRat features eight covers and two originals, all based around his acoustic steel-string playing. The set begins with AC/DC's "Thunderstruck", which introduces us to to his sound: a full-bodied acoustic tone, anthemic chords, percussive slapping, and melody fully present in the mix. He uses several different guitars, all built by Davide Serracini, including a baritone on "Paradise" and "Last of the Mohicans" and a high-strung guitar dubbed over a basic part played on a standard instrument. There's more than guitar here, though, as Stricagnoli plays harmonicas and recorder on "Braveheart" and several other cuts. The original "Us" is quieter than the rest of the program, recalling the guitar accompaniments of Joni Mitchell, Neil Young and Bert Jansch. Other tracks show strong influences of Mitchell and Young as well. Stricagnoli's other composition, "The Future," also begins quietly, but is a fuller production, featuring a melody articulated by both hands on the fretboard, harmonics, and percussive slapping. CandyRat's YouTube channel has several videos from this CD which have become popular over the last few months, and it's impressive to see him, sometimes adding harmonica or recorder at the same time he plays the guitar. Luca Stricagnoli's playing has an aggressive presence and has raised the bar for two-handed tapping, but he's also a strong arranger and composer. I'll be watching him.
© Patrick Ragains
Buy it at Amazon.com
Listen to "Thunderstruck"
Listen to Luca Stricagnoli at our podcast

Anne McCue, "Blue Sky Thinkin'," 2015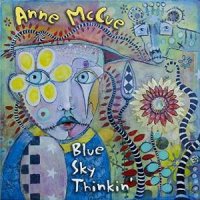 There's a saucy Hot Club tinge which opens Anne McCue's CD Blue Sky Thinkin'. One ponders whether she's been spending serious time in New Orleans or Rive Gauche. "Dig Two Graves" channels Django, and the mood continues, laden with brass, on "Things You Left Out in the Rain"… McCue is dreamingly transmuted into a chanteuse from a 1930s Parisian bistro. "Spring Cleaning in the Wintertime" returns to her minimalist forté - vox, fingerpicked acoustic guitar and oh-so hummable songwriting. Ragtime meets Billie Holiday sensuality on "Long Tall Story" wherein McCue simultaneously reconciles smoky vocals with her own spot-on dobro punctuations. "Little White Cat" is a rockabilly romp that will surely inspire the air guitarists among you to duckwalk joyously across your living room. True to McCue's longstanding thematic M.O., there are many stories of one-sided relationship inadequacies on this CD, most humorously on "It Wasn't Even Fun While it Lasted." Finger-poppin' daddies and a swaggering bass introduce a cool that rivals Rickie Lee on "Save a Life." The tango vibe of "Uncanny Moon" would do Piazzolla proud, and the closing title track is an airy and lighthearted tune worthy of the Cole Porter Songbook. Anne McCue has shown an astonishing ability to master and embrace a diversity of musical genres since her arrival to American shores from Australia. Her debut CD "Amazing Ordinary Things" is pure genius for emulating Rubber Soul-era Beatle-esque songwriting. "Ballad of an Outlaw Woman" flirts with Hendrix influenced power rock. Her friendship and collaborations with Lucinda Williams pigeonhole her as alt-country with a large block of her fans. But with Blue Sky Thinkin' McCue has stepped into the past to rekindle some of the best jazz music in history ever made, but with a spin as only she is capable among contemporary singer-songwriters.
© Alan Fark
Buy it at Amazon.com
Listen to "Spring Cleaning in the Wintertime"

Voo Davis, "Midnight Mist," 2015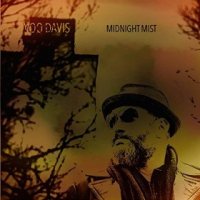 Voo Davis celebrates life and its glorious gut-wrenching aches on his third release, Midnight Mist. The 40-ish Chicago guitarist picked up his Voo nickname early on due to his uncanny ability to play Jimi Hendrix on demand. And, like Hendrix, while Davis ranges well beyond the traditional boundaries of the blues, he never loses the core connection to the genre. This 14-track collection reflects Americana in the broadest sense – blues-based, guitar-driven, melodic short-stories of love, loss, regret, redemption and affirmation. Preferring a live-in-the-studio approach to recording, there is magic in the melding of Hammond B-3 organ, harmonica, bass, drums, occasional congas and Fender Rhodes piano, and always always always that searing, soaring, snakey guitar. But Davis wisely wields his ax – often with slide -- to support the existing melody, enhancing his heartfelt lyrics with a power and subtlety that seems born from a life lived and examined. The story goes that Davis picked up the guitar at age 19 and started performing in public a couple of years later in fairly heady blues circles. He then largely left that world behind, earning a master's degree in education and beginning a teaching career. Then fate intervened, as it so often does, and when his young wife died in 2009, Davis turned toward music, and music composition, to help him find a way to deal with the hole in his soul. Three CDs later, we find him inhabiting the blues in its many incarnations, and we are the richer for it. Think of Joe Cocker's raspy wail, Hendrix's haunting echoes, the pulsating rhythm of every blues performer who's ever lived, combine with the power of your most revered pop guitar god – then blend it into a melodic amalgam and it comes out like Midnight Mist. And while the most accessible track on this very listenable CD is the opener, "When I Get Back to You," the absolute heart of it is the killer anthemic closer, "You Want to Know Why." Weighing in a six-and-a-half minutes (with nary a wasted second), I guarantee this bit of classic rock genius will your hair stand on end. Do yourself a favor and listen to the man.
© Fred Kraus


Voo Davis's Website

Buy it at Amazon.com
Listen to "Cajun Sun"
Listen to Voo Davis at our podcast

Gretchen Peters, "Blackbirds," 2015

You may think you don't know Gretchen Peters but I'll bet you've heard her songs. She penned the Martina McBride hit "Independence Day" as well as songs for others, from Etta James to Tricia Yearwood, and damn, can she write songs. Rich with images that favor heartbreak and longing, you'll want to listen to her songs over and over. Her band is top notch also, usually a full array of piano, guitar, drums and more in a folk-rock vein, but never so much that they overpower the songs. Over all of that is her beautiful voice, as understated as Diana Krall or Karla Bonoff but with a slight drawl. During one week in the summer of 2013 she attended three memorial services and one wedding. She remembers, "You understand the fragility of life and the beauty of two people promising to weather it together." It was in this mindset that she started to write songs for Blackbirds. She doesn't often co-write but this time, she turned to others including tour mate Ben Glover. It was with him that she wrote the haunting title cut, a murder ballad set in the South. She tells a dark tale laden with emotion, ending the chorus with, "No one saw me coming, and no one saw me go / Only the blackbirds and you." There's a compelling minor melody in "Pretty Things." Kim Richey adds backing vocals. "The Cure for the Pain" offers a simple arrangement with her acoustic guitar and an acoustic bass in the center, and tells the story of someone waiting to die. "Black Ribbons," written with Suzy Bogguss and Matraca Berg, tells the heartbreaking tale of a man in Louisiana who worked hard to support his family, even rebuilding after a hurricane, only to be taken down by an oil spill and the death of his wife. Again, Peters uses evocative imagery to tell the story, "Black ribbons on the water / Black ribbons for her hair." In "Jubilee," the main character takes a look at death and welcomes the passing. It features only her voice and an expressive piano in the beginning, then builds with a lovely cello and violins – breathtakingly beautiful. "The House on Auburn Street" is another tragic tale, one that includes drug abuse and no resolution. In contrast, "When You Coming Home" is lighter. It's a duet with Jimmy LaFave that's moved along with a great groove that includes a banjo. She didn't write "Nashville", but she sings it like she did and it fits in well with this collection. "When All You Got is a Hammer" is about a veteran who's having trouble adjusting to civilian life; Jerry Douglas plays Dobro. The disc ends with a reprise of the title cut, this one more acoustic than the opener, and just as moving. I've reviewed a couple hundred albums in my career and hands down, this is one of the best I've ever heard.
© Jamie Anderson
Buy it at Amazon.com
Listen to "When You Comin' Home"

Danny O'Keefe, "Light Leaves the West," 2015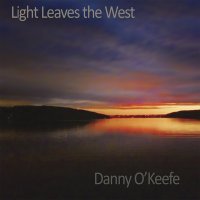 If John Steinbeck and Mark Twain had been songwriters that honed their craft in the 1970s they would have created songs much like those of Danny O'Keefe. The characters, moments, and events that exist within O'Keefe's music are portraits, slices and ideals cut from the cloth of American life. The fact that the musical fame that so many similar artists of '70's achieved side-stepped O'Keefe (despite the brief moment when "Goodtime Charlie's Got the Blues" seemed to be ubiquitous back in late 1972) might just be the thing that allowed O'Keefe to paint pictures that are honest and contain the verisimilitude that separates his work from many of his contemporaries. Light Leaves the West marks O'Keefe's 11th release spanning five decades and falls nicely into his sparse output over the past 15 years. Unlike 2008's In Time, this CD includes a few edgy electric up-tempo tunes like "Hardball", "Tooth and Nail" and "Eddie Hinton." O'Keefe's distinctive voice and edgy guitar work, both acoustic and electric, add to the depth and breadth of this satisfying CD. The new CD offers up O'Keefe's usual eclectic mix of pop hooks ("Soul Provider" and "Ice Cream Changes") moody edgy tunes "(Ultramarine" "The End of the Game") and tunes that flay open the human condition with such accuracy and ethos ("Weathered", "Help Me Up", "More Than You Can Bear"). O'Keefe is a lyricist's lyricist, a poet, and he does not disappoint on Light Leaves the West. "Blue Desire" is effusively happy and communicates regret and a sense of contended acquiescence with O'Keefe's usual eloquence: "Adventures of the flesh are for the foolish and the brave / We all hold out for love until there isn't much to save / All the lovers I have left are like pictures of the past / Mementos to remind me of all that never lasts / I see their faces even yet / I hear their voices like a choir / And though I'm emptied of regret / Still, I'm filled with Blue Desire." Over the past few albums, and throughout his catalogue, O'Keefe has a developed many themes, perhaps none so poignant than the theme of aging and the attempt to reconcile a changing world with the changes wrought by age. Previous songs like "All of My Friends, "Just Jones", "Never Got Off the Ground", "Missing Me", "Maybe Next Time" and "The First Time" all explore this theme. On this new collection O'Keefe's "Weathered" presents old houses as metaphor from which he explores age from a new perspective. "But there's something about the old ones / Who've weathered the storm / Through clatter and chill / Through days far too warm / And rains unrelenting / Ah, yes, the rains / They wait by the sidewalks / They stand on the plains / There's something about the old ones / Makes us marvel and stare / At the simple, timeless beauty / That Time has made rare." Every O'Keefe album has a few lyrical and musical gems that offer insight into issues and observation of our time with poignancy and a turn of phrase that few writers can muster. "The End of the Game" is one of those tunes and displays a songwriter at the height of his artistic prowess. O'Keefe closes the album solo with his guitar and mournful vocals assuming the perspective of General Robert E. Lee as he surrenders to Grant. It is a stirring and fitting moment and accentuates O'Keefe's artistry as a songwriter, singer and chronicler of the American life in song. "The time has finally come / To make an ending to this war / One of us must yield / She can stand no more / It's time, it's time, it's time / To retire from the field."
© James Filkins
Buy it at Amazon.com
Listen to "Ultramarine"


Home | Facebook | Podcast | Archives | Submissions | Free CD Giveaway | Subscribe | About | Links

Indiana Fingerstyle Guitar Festival July 31 - August 2, 2015: Competitions, Concerts, Workshops and more!