Reviewing the best in non-mainstream acoustic guitar music
Home | Facebook | Podcast | Archives | Submissions | Free CD Giveaway | Subscribe | About | Links
July/August, 2013

Rovshan Mamedkuliev, "Guitar Recital," Naxos 2013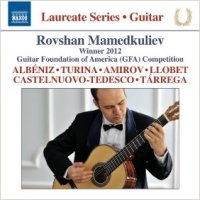 The annual Guitar Foundation of America (GFA) competitions are the ultimate throwing-down of the gauntlet for the brightest newcomers in the classical guitar world, the spoils for which can mean immediate acclaim. Past winners include Martha Masters, Johannes Möller, Jason Vieux and other modern-day luminaries. The most recent addition to this esoteric circle is Rovshan Mamedkuliev, who claimed first prize for the prestigious international competition just one year ago. In recent years, Naxos Recordings has fallen into the pleasant habit of featuring GFA winners on a recorded solo repertoire of the artist's choosing... and Mamedkuliev's choices on "Guitar Recital" reveal much about his versatility of style. The program flaunts a lyrical itinerary from around the globe, featuring composers not only from his native Russia, but also Azerbaijan, Spain, Italy, Cuba and the U.S. The Spanish traditions are heavily represented on the first part of the disc, and Mamedkuliev stalwartly sends off a bit of perfect virtuosity with the opening track by Manuel de Falla: "La vida breve - Danza No. 1." "Variations on a Theme of Sor, Op. 15" by Llobet sets ten dramatic vignettes back-to-back, often propelling the listener from wistful to exultant moods via a toolbox of techniques including arpeggiated triplets, slurs and harmonics. Turina's "Sevillana" opens brazenly, nearly jarring with an open string dissonance which then melts into a bold flamenco soliloquy. The dissonance foreshadows the most experimental foray on this CD, Andrew York's "Just How Funky Are You" - a dreamy drone which could be a Twilight Zone soundtrack evolves into a percussive thwacking funk and then into modal slurs and chimes. With a generous playing time of 68:02 and a nod to such other guitar composers as Brouwer, Albéniz, Castelnuovo-Tedesco and Tárrega, Mamedkuliev performs with a mastery befitting one steeled by international competition, and has poised "Guitar Recital" to remain as a landmark recording for the classical guitar.
© Alan Fark
Buy it at Amazon.com
Listen to "Amirov's Toccata"

Andreas Kapsalis & Goran Ivanovic Duo, "Blackmail," 2013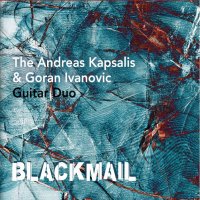 Sophisticated yet accessible, unusual yet soulful, the music of Andreas Kapsalis & Goran Ivanovic is nothing short of dazzling. With blazing passages and intricate grooves, their inventive, complex music takes place where contemporary improvisational jazz meets the odd meters of Balkan folk tunes, the rhythms of Latin American music, and the lyricism of classical guitar. Chicago-based Ivanovic and Kapsalis are established virtuoso guitarists with one previous CD as a duo as well as those of other projects - Ivanovic as a solo classical guitarist and also with his group Eastern Blok, and Kapsalis of the Andreas Kapsalis Trio. Here Kapsalis, who hails from Greece, provides harmony and rhythmic ballast, using his hands on his steel string guitar to produce an array of arresting rhythmic taps and other percussive effects, while Ivanovic, born in Croatia, focuses primarily on melody. The pieces meld different styles and influences in an artful, organic way, as on the astounding "Kalkutation" and "Karate," and each piece is also strongly atmospheric. On "Blackmail" the interspersing of slow graceful tremolos with racing runs brings to mind a manic chase scene, while the gorgeous melody and harmonics of sultry "Shattered" are underscored by a driving rhythm that creates a tense, sinister quality. The unusual time signatures of Balkans music is a key aspect of the duo's music, such as on the fiery "Keltai," but a new feature of this CD is the Latin American influence ("Rat King," "Idol of Molokini," and the sultry slow jazzy "Porto Alegre"). Astounding musicians on the cutting edge of contemporary guitar, Kapsalis & Ivanovic play flawlessly together as if animated by one mind and spirit on "Blackmail," a true tour de force.
© Céline Keating
Buy it at Amazon.com
Listen to "Imposter"

Mike Dawes, "What Just Happened?," CandyRat Records 2013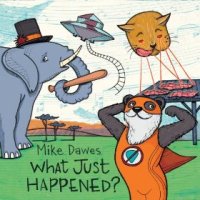 Percussive. Melodic. Spunky. Sweet. That and more is what Mike Dawes brings to his first solo acoustic guitar recording, "What Just Happened?" It's modern fingerstyle mixed with funk and Celtic to meld into a CD that works. While Dawes has some help on a few tracks, it's mostly just his hands and fingers coaxing all kinds of music out of his guitars, strings and wood. Dawes is a lot like other fine modern players like Don Ross or Andy McKee, but he brings his own unique vibe to what he is playing so that you don't think you're listening to one of those guys, but you can hear the respect and influence they have wrought on Dawes' playing and composing. The title cut, "Boogie Slam," and "The Impossible" use all manner of modern guitar technique, and they are as captivating as visual art as they are music, hence their status as a couple of the new YouTube guitar sensations. "The Impossible" is rhythmically mezmerizing, with tapping, hammer-ons, pull-offs, and artificial harmonics all woven into a cohesive multi-texture experience. Dawes is partial to DADGAD tuning on the disk, but he also uses partial capos even in that tuning. A fine example is the whirling Celtic jig "Forest Party," with low whistle help from Troy Donockley, where Dawes adds a partial capo more than three-fourths through the song, dropping the key into a lower register to add color. "Somewhere Home" is a sweet, gentle ballad that sounds much like some of Tony McManus' best work, loaded with triplets and string bends. Like many guitar players these days, Dawes adds his own voice to the Stevie Wonder standard "Superstition," playing in open Bb tuning with a generous portion of looping to augment the percussive groove. Dawes ends the CD with the lovely "Maybe Someday Soon," trading melody with Richard Jones on violin. The only regret about this CD? That it weighs in at just over 40 minutes -- I wanted to hear more.
© Kirk Albrecht
Buy it at Amazon.com
Listen to "Boogie Shred"

Paul Rishell, "Talking Guitar," 2013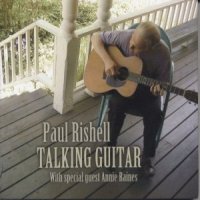 Probably best known for his duo work with harmonica player Annie Raines, Paul Rishell has gone solo for this project, and the results are stunning. "Talking Guitar" is simply a tour de force of country blues guitar. Having studied and performed the guitar blues of the 20s and 30s for more than forty years, Rishell's mastery of the genre, as guitarist, vocalist, and arranger is unparalleled. If you've ever listened to old recordings of Blind Lemon Jefferson, Skip James, or a host of other guitar "geniuses" but felt the fidelity was so poor you couldn't "get" what you were hearing, Rishell is the man for you. The music is authentic. It's loose but precise and probably the closest thing you'll ever get to the original thing. Rishell rolls into town on the opening track, Leadbelly's "Fannin's Street (Mr. Tom Hughes's Town)," with his driving guitar and raw vocal. He then follows up with Skip James's darkly hypnotic "Special Rider Blues." Rishell's falsetto is haunting, the ghost of Skip James hovering somewhere nearby. The entire album hums along in this vein, never letting up until the final strains of Rishell's guitar and Annie Raines's harmonica are heard on "Michigan Water Blues." Raines also joins Rishell on Tommy Johnson's "Big Road Blues" and Rishell's very own "I'm Gonna Jump and Shout." This album is really something special.
© Chip O'Brien
Buy it at Amazon.com
Listen to "Michigan Water Blues"
Listen to Paul Rishell and Annie Raines at our podcast

Roland Chadwick & Nick Linnik, "String Theory," 2013

Roland Chadwick and Nick Linnik's sonorous collaboration "String Theory" is nothing short of a triumph in acoustic guitar music. Australian born Chadwick is an internationally renowned recording artist, composer, and performer. He has performed with such diverse artists as Jethro Tull, Sir George Martin, Steve Vai, and Michel Legrand. Still in his teens, Linnik is a prodigious talent from Russia, who currently studies at the Centre for Young Musicians. Together the two generate intense, virtuosic, performances which beckon for repeated listens. Their album contains an eclectic repertoire of carefully crafted originals mixed with interesting interpretations of jazz and pop standards. The opening anthem, a joyous reading of "My Favorite Things," features dramatic rhythmic playing and incendiary soloing by both guitarists. On "Autumn Leaves" the two create intricate counterpoints and vertical harmonies reminiscent of the seminal collaborations of Warren Marsh and Lee Konitz. The bluesy take on the Bill Withers classic "Ain't No Sunshine When She's Gone" captures the essence and urgency of the original without sounding disingenuous or parodic. A pensive reading of the Luis Bonfa and Antonio Carlos Jobim's classic "Black Orpheus" contains lush reflective improvisations flanked by delicate chord sequences. They absolutely nail Al di Meola's "Mediterranean Sun Dance" reinventing the acoustic standard by adding their own personal stamps to the celebrated composition. Their originals are also noteworthy from the introspective "Morning Song," to the playful "Zoup di G," and the pentatonic based fusion of "Futatsu." Chadwick has an amazing command of his instrument and his articulate improvisations are nothing short of mesmerizing. Linnik is also a formidable musician, matching his mentor's virtuosity throughout the recording. However, the strength of this recording lies in the fact that the two avoid regressing to mere fret board gymnastics and never lose focus of the compositional integrity of each piece. "String Theory" is an exceptional offering by two instrumentalists who are performing at the absolute apex of virtuosity and musicality. This should be required listening for all fans of contemporary acoustic music.
© James Scott
Buy it at Amazon.com
Listen to "Mediterranean Sun Dance"
Listen to Roland Chadwick and Nick Linnik at our podcast

Wes Collins, "One Layer Down," 2013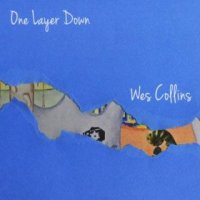 In 2000, Wes Collins picked up the Takamine he hadn't played for awhile. A few years later-at forty--he wrote his first song. Last month, at Kerrville, he performed as a finalist in the prestigious contest that introduced Nanci Griffith and Lyle Lovett. Collins has a lot going for him. His voice is at once unfailingly tuneful and as appealingly rough around the edges as a Texas drawl. On the CD, his six and twelve strings ring and slide through the pop feel of "Rabbit Hole," the rollin' and tumblin' blues of "Poor Little Sausage," and the country gospel of "Cover Me Jesus." With Chris Rosser on the board, the guitar sound is clean and tasty. Collins had the good taste to create an album highlight with "Drive All Night," written by Minor7th's own Jamie Anderson. He's replaced her hard driving, joyful bluegrass arrangement and major key with a slower, minor key melody that also works. It heightens the sensuality of Anderson's sensual lyrics but adds a hint of melancholy. Collins drops great lines throughout. A character recovering from loss in "Waiting," "Sharpened up my tools and took it out on the dirt/I ground myself down and I liked how it hurt." "This is Then" features the twang of Will Ray's B-bender electric and a marital spat. When the wife starts up her litany of complaints, the husband admits, "I tune you out, that's what you say/I miss the rest, but that's okay." Funny, yes, but I had trouble believing his final plea to his "valentine." "Come Around" begins with, "It isn't like I don't remember/Wouldn't kill me to forget" and a repeating figure on the twelve string just as ominous. The imagery suggests a prison or mental hospital as a metaphor for something. It's all lovely and foreboding and inscrutable. But it's as easy to understand the appeal of a rousing song like "Chasing Hallelujah"--about the spiritually fulfilling reality of parenting-as it is to appreciate Collins' appeal. He's a performer with a knack for melody, an array of talents, and the confidence to start up when most other folks are slowing down.
© David Kleiner
Buy it at Amazon.com
Listen to "Drive All Night"

Lasse Johansson, "King Porter Stomp," Stefan Grossman's Guitar Workshop 2013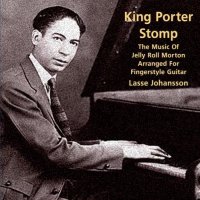 Lasse Johansson is a Swedish fingerstyle guitarist who gained wide attention among guitarists in the 1970s when he appeared on several anthologies, solo, and duet releases from Stefan Grossman and Ed Denson's Kicking Mule Records. Johansson recorded this album of solos and duets of Jelly Roll Morton's works in 1980, when he was 29 years old, crafting intricate arrangements by listening to Morton's solo piano and ensemble recordings and referring to printed piano scores "to figure out the tricky parts" (it all sounds pretty tricky to me). Keep in mind, he accomplished this when vinyl records and magnetic tape were the common playback media, and when noise reduction and audio enhancement for transfers from the original discs were quite limited. Several solos are included on the disc, although many pieces are duets with guitarist Claes Palmkvist. Whereas Morton's recordings fuse composition and improvisation, Johansson and Palmkvist capably present such classics as "Dead Man Blues", "King Porter Stomp", and "Mr. Jelly Lord" as set pieces. Their versions are similar in spirit to work done a few years earlier by David Laibman and Eric Schoenberg on The New Ragtime Guitar (Smithsonian Folkways), though Johansson and Palmkvist focus on early jazz rather than classic ragtime. This CD rerelease includes a 104-page pdf file of Johansson's arrangements, which he revised and updated in 2012. To my ears, the performances stand the test of time well when compared to other steel string instrumental guitar works, and both the music and scores are fine examples for guitarists interested in arranging. Today, Johansson performs, teaches workshops with players like Mike Dowling, and has produced several instructional books and videos. In 2006 Solid Air released his latest full-length recording, Fingerstyle Guitar Classics. It's great that this important recording is available again, both for listeners and also for guitarists who want to benefit from Johansson's approach to arranging and playing early jazz.
© Patrick Ragains


Lasse Johannson's Website
Buy it at Amazon.com
Listen to "Chicago Breakdown"

Home | Facebook | Podcast | Archives | Submissions | Free CD Giveaway | Subscribe | About | Links

Laurence Juber, Doug Smith, Al Petteway, Phil Keaggy (and many more!) at Acoustic Music Resource