Reviewing the best in non-mainstream acoustic guitar music
Home | Facebook | Podcast | Archives | Submissions | Free CD Giveaway | Subscribe | About | Links
July/August, 2011

Ewan Dobson, "II," CandyRat Records 2011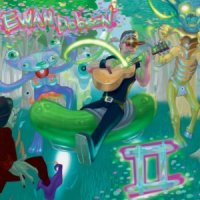 You may have seen pictures of Ewan Dobson somewhere in a guitar magazine. He's the guy with the samurai headband, usually looking slightly crazed, holding a guitar. And yes, he can play. On his latest CD, "II", Dobson does more acoustic steel-string gymnastics, giving a new voice to many pieces in the classical guitar repertoire, while infusing his own inimitable style on a couple trad tunes and his own creations. Dobson takes on 3 of Nicolo Paganini's Caprices (nos. 2, 16, 24) using a flatpick. These things are killer with four fingers together (just ask any classical player). "Caprice no. 2 in B Minor" gives us a taste of his prowess around the fingerboard, deftly adding baseline to melody, forming doubled notes to mimic the double stops of the violin. "Caprice no. 16 in G minor" shows Dobson's speed, while "Caprice no. 24 in A Minor" reveals the inventiveness of this player. He plows through "Gold Rush/St. Anne's Reel" with dexterity and precision. The song "Disk Read Error" really displays the full range of his abilities in holding a tune together in all its parts at once; it's kind of like heavy acoustic meets fingerstyle. Pretty cool. "Reuben's Train" -- as you might imagine by the title -- is a rollicking, rolling powerhouse ready to careen off the tracks. There are shades of both Tommy Emmanuel and Leo Kottke in this one. "Spacewalk" reminds me of some of Alex DeGrassi's early playing in the Windham Hill years -- complex, melodic, always moving.. "Dancing with Her" is a speedy, bouncing tour around the dance floor. I don't think anyone on "Dancing with the Stars" would be able to keep up with this one. This CD is full of real guitar music, 24 tracks that make you listen, and keep inviting you back again to try to imagine how he makes all this music.
© Kirk Albrecht
Buy it at Amazon.com
Listen to "Time 2"

Julian Lage Group, "Gladwell," Emarcy 2011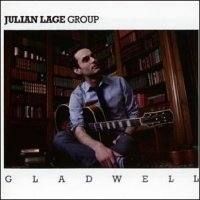 Julian Lage's second recording as a leader, "Gladwell," more than fulfills the promises made on his auspicious debut, "Sounding Point." A prodigious talent, Lage appeared on Gary Burton's "Generations" at the ripe old age of 16. Joining the virtuoso guitarist are percussionist Tupac Mantilla, cellist Aristides Rivas, bassist Jorge Roeder, and saxophonist Dan Blake. Together the eclectic ensemble takes on an orchestral approach as they explore a variety of musical forms from folk and world to bluegrass and contemporary jazz. During the recording process the ideas flow was quite expansive. In order to tighten the focus this cohesive and creative group decided to center their compositional themes around a metaphoric town called "Gladwell." Think of a jazz concept album with a driving narrative that takes the listener to a fictional place. The album begins with "233 Butler" a piece written about a vintage guitar shop. The unusual and alluring ballad "Margaret" is dedicated to the bluesy vocal stylings of singer extraordinaire Margaret Glaspy. Perhaps the most impressive pieces on the recording are the three sonic vignettes, "Point the Way," "Cathedral" and "Listen Darkly." These compositions feature Lage's clever use of overdubs to create intricate architectural monologues on his vintage Martin. While most contemporary Jazz guitarists try to emulate saxophonists, Lage is perfectly and refreshingly content with exploring the unique sonic intricacies of the guitar itself. There is an intimate solo acoustic reading of "Autumn Leaves" featuring Lage's eloquent comping and articulate single note improvisations. On "Cocoon" Dan Blake uses the melodica to create a Parisian feel and also offers some inspired sax playing on the blue grass influenced "Telegram". The album closes with "Iowa Taken" an offbeat anthem featuring Lage's impressive, fiery runs and outside excursions. Compositionally there is not a weak link on this recording, with each piece playing an essential role in creating this interesting imaginary town. "Gladwell" features consummate playing, unsurpassed musicianship, and endless creativity. This release is highly recommended for all fans of contemporary improvised music.
© James Scott
Buy it at Amazon.com
Listen to "233Butler"

Alberto Mesirca, "Scarlatti Sonatas," Paladino Music 2011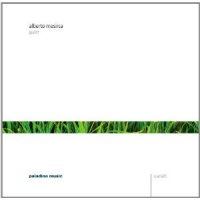 Alberto Mesirca, in the liner notes of his newly released classical guitar CD "Scarlatti," fondly recalls being presented as a child with a vinyl collection of Domenic Scarlatti's Harpsichord Sonatas performed by Wanda Landowska. That recorded music could so leap generations is testament to the timeless endurance of this music -- originating from the 1700s when Scarlatti composed these Sonatas, to the early 1900s when Landowska made some of the first sound recordings, and on to the 21st century with Mesirca now having transcribed several for classical guitar. It's tempting to reflect on how the zeitgeist and technology of each respective epoch may have differently influenced the interpretation of the Scarlatti Sonatas by artists throughout the years, though the notes always remain essentially the same. It's further tempting, after hearing Mesirca's masterful playing on this recording, to draw the conclusion that the years have somehow refined and elevated Scarlatti's music to the highest artistic plane to date. That's no easy feat, but 27 year-old Mesirca has created that aura, having earned the distinction of so doing by way of virtuosity and credentials. He is a summa-cum-laude graduate of the Conservatory of Castelfranco Veneto and twice the winner of the "Golden Guitar" awards at the Alessandria Convention in 2007 and 2009. Of the 555 sonatas which Scarlatti composed, Mesirca has chosen 16 to include in this CD collection, and has juxtaposed each of them brilliantly to offer a full palette of emotion and virtuosity -- pitting Allegro against Adagio and Larghetto almost as though mimicking a recapitulation of life's peaks and valleys. These are the most enjoyable solo classical guitar transcriptions and recordings I've heard in years.
© Alan Fark
Buy it at Amazon.com
Listen to "K. 87"

Michael Fix, "Two Timing," 2011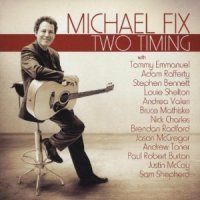 Michael Fix, Australian composer and guitarist extraordinaire, is known for his solo recordings of grace and technical brilliance that feature his contemporary acoustic compositions, many of which have received major awards. Here, on his 10th recording, he teams up with 13 other guitarists in "dialogues" that go "back and forth like two people chatting." And what a conversation it is -- like attending a brilliant dinner party with sparkling dialogue, witty exchanges, and soulful glances. Included are Fix originals as well as pieces by Chet Atkins, Lennon and McCartney, Sting, Doc Watson -- even a gorgeous rendition of "Danny Boy" paired with "Ashokan Farewell." Every song is a standout. There's the exquisite "Guanches," written by his duo partner guitarist/composer Andrea Valeri; its riveting eerie opening and chiming descending run shifts into a fast-paced romp with guitar thumping and chordal percussive effects. There's "Martina," a composition Fix wrote for his sister, where he duets with Tony Emmanuel, rich in melody, countermelody, and deep feeling. "Demolition Derby" is a witty act of bluegrass virtuosic one-upmanship with Brendan Radford. Throughout, following the instruments as they trade foreground and background, as on "Two Guitars" with Justin McCoy, is a delicious pleasure. Fix plays with passion and authenticity; "Two Timing" is a tour de force.
© Céline Keating
Buy it at Amazon.com
Listen to "Demolition Derby"
Listen to Michael Fix at our podcast

Justin Roth, "Now You Know," 2011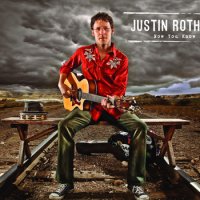 Justin Roth's "Now You Know" is earthy and immediate. A grassroots groundswell got the project initially off the ground -- the entire project was fan-funded by pre-orders -- and Roth engineered, played and sang everything on the CD in his own home. It sounds not-so stripped-down, though, mixed by Alex Oana at CityCabin West in Los Angeles into a very polished professional final product. At times, Roth has his Bon Iver hat on, layering tracks out in the boonies. His boyish voice recalls a touch of a younger John Gorka, who offers a testimonial to the project on Roth's PR page. The opener, "This Winter," showcases the pristine singer-songwriter-pipes this guy possesses with a meditation on the solitary season -- and proves that a little layering goes a long way. The title cut, "Now You Know," makes you wish Roth would hook up with a Stills and a Nash, because he really brings the kind of vocal vision Crosby brought to some of his post CSN&Y-career. That is to say, he really can sing, even in the "Idol" sense of the word. I would look to the lyric threads to add up to a larger ball of yarn, but there is much to appreciate here in a purely sonic realm. Guitar-wise, Roth's strumming and fingerpicking are clear and strong, with all the highs of a well-recorded, well-tempered guitar. He brings energy and conviction to the party and gives one the sense that his work on the road must yield a pretty satisfying live show. I'm thinking here of "Out of the Blue (The Orchard)." It's sweet. It's a little bitter. It's a guy on the move.
© Steve Klingaman
Buy it at Amazon.com
Listen to "Surrender"
Listen to Justin Roth at our podcast

Chris Proctor, "Morning Thunder," DVD, Vestapol 2011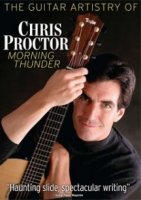 Any consideration of the giants of fingerstyle guitar has to include Chris Proctor. He's been widely known since the early 1980s, when he won the Winfield fingerstyle championship and released his first album, "Runoff." That record revealed Proctor's musical debt to Leo Kottke, but also introduced listeners to a lighter touch and compositional interests that set Proctor apart from any narrow set of influences. Since then, he's toured widely, released many albums and instructional videos, and worked as a clinician for Taylor guitars. He begins with "Tap Room," which, true to its title, incorporates tapping, but also a well-crafted melody and harmonics, played over chords that recall "Hit the Road, Jack." "Hot Spot" and "Ladybug Stomp" are jazzy pieces that integrate bass and treble lines in an effective call-and-response fashion. Proctor uses an EBow in several pieces, as in "Ozymandias," a lyrical piece that's one of the best originals in the set. On the moody "Interstate," he uses the EBow to best effect, skillfully crossing several strings while using it. Non-originals include the Moody Blues classic, "Nights in White Satin," two Carolan pieces (performed as a medley titled "Bach to Ireland"), Leo Kottke's "Revisiting the Sailor's Grace," John Fahey's "The Last Steam Engine Train," and two Scots jigs, learned from the group Silly Wizard.. Throughout, Proctor's guitars are amplified, a departure from the performances on many other Guitar Artistry DVDs. In interview segments, the guitarist discusses his musical growth, use of alternate tunings, and his Taylor signature guitar. This DVD presents a good overview of Proctor's originals as well as highlighting his interpretive powers.
© Patrick Ragains
Buy it at Stefan Grossman's Guitar Workshop
Listen and watch "Tap Room"

Mike Dowling, "Eclectricity," 2011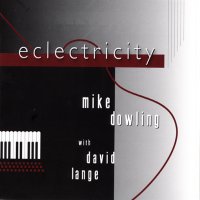 Guitarist Mike Dowling's credits range from session work on violinist Joe Venuti's last album, stints with Vassar Clements and Jethro Burns, a Groovemasters CD with Pat Donohue, to his excellent solo work. He's also contributed to many of Solid Air Records' anthologies (check out his fingerstyle arrangement of "What is This Thing Called Love," on Cole Porter: Delovely Guitar). Dowling's recordings as a leader feature acoustic instruments almost exclusively, although here he straps on an electric guitar for most tracks. The set is relaxed, with Dowling, accordionist David Lange (Pearl Django) and bassist Rene Worst concentrating on tasteful, well-articulated lines and warm tones. A notable exception is the uptempo "Dig," where Dowling's agile, bop-influenced lines recall Martin Taylor's improvisations on Last Train To Hauteville. Other pieces reveal influences of French musette, surf music, and Cuban pop guitar. "Riff Rider" is a medium-tempo blues, delivered in a Western swing style, and incorporating a key change reminiscent of Clarence and Spencer William's "Royal Garden Blues" (Lange also drops some cool microtones into his accordion solo). The moody "Insomnia" features a subtle chord solo from Dowling. The CD concludes with "Old Dog", a wistful duet for guitar and accordion. Dowling articulates his melodic playing with uncommon sensitivity and nuance, whether he's playing acoustic or electric. He combines this with a harmonic sense strongly rooted in early jazz and swing, yet Mike Dowling is no archivist or imitator. Eclectricity confirms that he's still experimenting with new sounds -- and with wonderful results.
© Patrick Ragains
Buy it at MikeDowling.com
Listen to "Dig"

Lloyd Jones, "Highway Bound," 2011

The paradox -- and the beauty -- of the blues lies in the contrast between the suffering expressed so eloquently in the lyrics and the affirmation of the human spirit which emerges as a response to that suffering. There is perhaps no other art form so immediate, so pure, so revelatory, so uplifting, so American. One might argue that the spirit of the blues reflects what we as a society do best -- we keep on keeping on. We persevere, but lord, oh lord, we do enjoy the journey from time to time. Mr. Lloyd Jones knows the blues, I mean, he knows the blues. Has he suffered? Well, that's a matter of conjecture. But what he has accomplished with this pleasant 16 track collection is to preserve some slices of our blues legacy. He is preserving an art form that was presented to him as a young man living in Portland, Oregon, as itinerant musicians rolled through: Big Walter, Big Mama Thornton, Johnny Shines, George Smith, Sonny Terry, Brownie McGhee, Charlie Musselwhite. Though Jones includes a couple of his own compositions, most are the holy grail from such legends as W.C. Handy, Elizabeth Cotton, Leadbelly, Sonny Boy Williamson, Blind Willie McTell, Big Bill Broonzy. This is fine, fine stuff, and Jones, with his nicely worn, slightly scratchy vocals, makes for a dandy conduit. It's mostly Jones playing his 0018 Martin with bare fingers, though he does unveil some electric leads on a few tracks, and Musselwhite contributes his usual exceptional harmonica work on Ice Cream Man. But it is, as Jones says in the liner notes, really just him "playing some of my favorite folk blues, simply and honestly." The result is no small thing of beauty.
© Fred Kraus
Buy it at Amazon.com
Listen to "When I'm Gone"

New Time Ensemble, "A Year in Ireland," 2010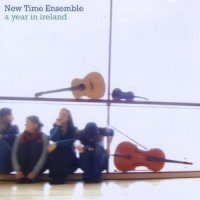 On first listen to "A Year in Ireland" from the New Time Ensemble my ears are piqued by something unique. The enchanting lilt and cadence that makes traditional Irish tunes so inviting is charismatically present as the flute wafts in mingling with the guitar on the opening track, "Miller's Maggot & Creel of Turf." The performances are crisp and intuitive throughout while offering a fresh take on traditional tunes. On further listens, it becomes clear that what makes this CD stand out from the plethora of new recordings of traditional Irish catalog is the striking interplay of these musicians. The respective instrument voices are not just layered on top of each other, rather they gracefully (and playfully) allow each other the sonic space to stretch while each takes a turn with the melodies, as a child might play with ancient toys discovered in an old chest hidden in a dusty attic. Each tune on "A Year in Ireland" is dusted off and given new life with intuitive and unique arrangements. Track two, a medley of "Scolding Wife & Touch Me If You Dare & More Power To Your Elbow," begins with a seductive pairing of cello and fiddle that is breathtaking and invigorating. It is a joy to feel the shifts of rhythm and texture that this arrangement creates. The cello adds a texture that is simply compelling when woven together with these more traditional instruments. Although there are other gems that sparkle individually on this CD, such as "Da Trowie Burn," "Doherty's & Roscommon Reel," or Sandra Joyce's guest vocal on "The Kings Schilling," it is the gestalt or the listening through that keeps this disc playing in my CD player. The emphasis here is squarely on the collective talents of the four musicians who approach each tune as a group and let the arrangement evolve from that collective experience which range from self- taught community oriented musicianship to classical training and performance. It all adds up to a debut CD that is brimming with sonic vibrancy! Check their website for a US tour this summer.
© James Filkins
Buy it at Amazon.com
Listen to "Fig For a Kiss"


Home | Facebook | Podcast | Archives | Submissions | Free CD Giveaway | Subscribe | About | Links

Laurence Juber, Doug Smith, Al Petteway, Phil Keaggy (and many more!) at Acoustic Music Resource
Buy Instructional and Biographical DVDs and Books at


(Click on image below to buy)
| | |
| --- | --- |
| Tommy Emmanuel Guitar Signature Licks | Mike Dowling DVD - "Swing Guitar" |