Reviewing the best in non-mainstream acoustic guitar music
Home | Facebook | Podcast | Archives | Submissions | Free CD Giveaway | Subscribe | About | Links
May/June, 2016

Kris Schulz, "While the City Sleeps," 2016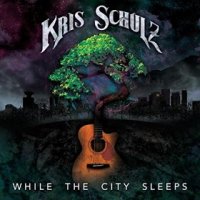 Kris Schulz, a finalist at the 2014 Canadian guitar festival, clearly has absorbed the techniques of traditional fingerstyle masters as well as those of newer practitioners of progressive acoustic guitar. But while there are echoes of many guitar greats on Schulz's debut CD (he dedicates "Dime on D," to "groove master" "Diamond" Darell Abbott and jazzy title track to Don Ross), what's remarkable is the album's cohesive compositional vision, despite the range of influences and styles. Schulz brings both ferocious energy and great tenderness to his playing; he's a virtuoso whose skills are fully in the service of the music. Even when he plays jaw-droppingly fast, it's the composition itself that commands attention, not the pyrotechnics, as on "Ferus Caballus," which cycles between a straightforward fingerstyle melody and a rhythmic hard-charging section that mimics a horse's gallop, or "Circadian Rhythms," incorporating percussive slapping and tapping, clean, spectacularly fast runs, and chiming harmonics. Melody plays a big part of the success of the pieces, holding together pieces that are sophisticated and complex and that move through many subtle variations and shifts of tone and tempo throughout, as on "Sagroovian Juice," one of the strongest pieces on the CD. With their gorgeous melodies, "Dave the Grizzly," a tribute to a friend, and "Ten More Seconds," dedicated to the memory of his mother, reveal a great depth of feeling. Schulz's gifts are also on ample display on "A Smile from India," which marries East and West, modern and traditional, and manages to be both minor key moody and rhythmically upbeat. In his comprehensive liner notes, which are mostly about his creative process, Schulz explains that he works best in quiet - hence While the City Sleeps. With a powerful debut like this, listeners can only hope he will have many more sleepless nights.
© Céline Keating
Buy it at Amazon.com
Listen to "Through Your Eyes"
Listen to Kris Schulz at our podcast

Pete Kent, "The Hidden Hand," 2016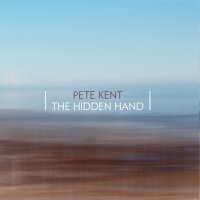 It's ironic that the last cut on Pete Kent's second solo acoustic guitar CD is titled "One Trick Pony," because as a guitarist, he's not that! Kent shows off about every trick in the modern fingerstyle arsenal – tapping, slapping, harmonics, percussive effects, slides, bends, and straight finger picking – all to good effect on the 11 tunes on "The Hidden Hand." He is deft when needed, simple in the best sort of way by not trying to do more with a phrase than the music requires. But Kent can play, as evidenced by the opening cut, "Icon," as he slaps and picks, mixing in a few ripping arpeggios to make sure you're not lulled by the grooving rhythm. The CD has eight originals and three covers: a terrific version of Bruce Hornsby's hit "The Way It Is" that captures the drive of the original; "Everywhere" by Fleetwood Mac, where we can almost hear the melody sung by Christine McVie; and Level 42's "Hot Water" played with sass and funk. "Every Time I See Your Face" is a delicate flower. The title cut "The Hidden Hand" begins with a Spanish-style repetition with reverb, then shifts into another gear of single note runs while retaining an Andalusian feel. "Summer Daze" has a sing-song quality as the bass and melody tick-tock back and forth like a rocker on the front porch in the cool evening air. Maybe it's the title, but "The Devil's Chair" has a certain drive and power all its own in a haunting kind of way as bass plays off harmonics through much of the song. There's not a weak song on the CD. British audiences are being treated to some fine playing when Kent takes the stage, and we can only hope for more offerings as creative and well played as "The Hidden Hand."
© Kirk Albrecht
Buy it here
Listen to "The Hidden Hand"
Listen to Pete Kent at our podcast

Chris Pureka, "Back in the Ring," 2016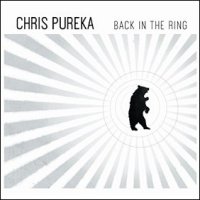 "Back in the Ring," Chris Pureka's first studio album since 2010, is a record as unremittingly intense as it is challenging, uncategorizable, and beautiful. Its imagistic tales of loss, longing, betrayal, and departures aren't love songs, they are songs of passion ("I'd rather burn this down, than let it go…." from "Tinder"). Pureka revels in contradiction ("Come back, so I can be the one or be the one to leave" from "Crossfire 2"), offering a CD carefully constructed yet rough-edged, ironic and sincere, cryptic and straightforward. Fortunately, Pureka's expressive delivery - especially the rasp and the vibrato - clarifies every emotion as she bares her heart. She put her heart into this record, writing the tunes, helming the production and singing in a voice that goes from a whisper to a scream to pure pop to a high lonesome sound that will give you chills. (Check out the last ten seconds of "Bell Jar," one of the prettiest tunes.) She understands the power of a tuneful hook or changes in dynamics to make a song memorable. "Crossfire 1" ends in a whisper, almost acapella. The title track opens with a single sustained tremolo note on electric guitar that moves into an arpeggio prefiguring the melody. After a tuneful chorus, there's a contemplative instrumental interlude. Wait for the full stop at 2:23 followed by the full band hitting four beats in unison. The lyric opens, "Call. Calling out. Calling it off…" A relationship with a history of fighting will require fighting to stay together. Should she call? Will her lover call? Should she call out to her? Should they call it off? Pureka also knows where to drop great lines, like "waltzing on shards of those shattered alibis" ("Blind Man's Waltz") or "we keep our ears on the ground and we hope we know what we're listening for" ("Midwest"). Moments of joy are rare. The jauntiest song begins, "Cabin fever, Sunday blues. Lying on the kitchen floor." But listen to the way Pureka delivers the line, "But we danced, hey, hey, hey" in "Holy." Pureka's pure toned wail cuts right through the wall of sound of my favorite tune, "Silent Movie" a rocking, dreamlike tale of a lover "on a mission" in a relationship bound to end with the two "tied to the train tracks." Chris Pureka is back in the ring, the gloves are off, and this record is a knockout.
© David Kleiner
Buy it at Amazon.com
Listen to "Cabin Fever"

The Robert Bobby Duo, "Folk Art," 2015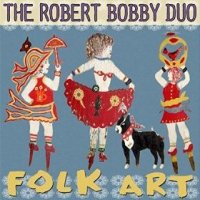 So, first of all, his name is Robert Bobby, which makes you think – wait, what? -- that's a little silly – Robert Bobby. Is it a joke, maybe? Or, on the other hand, perhaps it simply explains everything. Then the whimsical CD art creates an off-kilter mood before a single note is even heard, including a photo of the singer/songwriter in one of those contraptions where you stick your head through a hole to place your face into a pre-created scene. Of course, Mr. Bobby is pictured standing next to his wife, identified only as Mrs. Bobby, who ably plays bass throughout The Robert Bobby Duo's 11-track collection, Folk Art. And just to get us all in the right frame of mind, Bobby offers this self - descriptor in small type on the back: "Like John Prine, only cheaper." That description, just like Bobby's humorous compositions and clever life observations, happily lands in the "yup, true that" realm. His banjo-guided "Constantly Tweaking" contemplates the universe as a work in progress, while his country-inflected "Ted Williams" riffs on the baseball great's cryogenically frozen head. He has a little fun with the physical aspect of love with "Mason Dixon Line" and on "Fine as Wine." Bobby includes a handful of covers as varied as you may find on any one collection but makes them his own, largely through his expressive voice coupled with a simple sincerity. He covers The Beat Farmers, Captain Beefheart, and just kills with a remarkable take on the Temptations "I Wish It Would Rain." Bobby plays a Martin Negative guitar and Mrs. Bobby plays a Kala U-bass. They enlist a nice cadre of players who contribute some nice dobro, pedal steel, banjo, lead guitar and occasional background vocals. The homespun feel is somewhat deceptive, as production values are very good throughout the recording. While Bobby may not take himself too seriously, he is clearly serious about creating an entertaining experience that prompts ruminations about what really matters in life.
© Fred Kraus
Buy it at Amazon.com
Listen to "I Wish It Would Rain"

Brasil Guitar Duo, "Leo Brouwer: Music for Two Guitars," 2015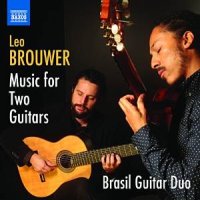 The Brasil Guitar Duo's current release, "Music for Two Guitars" offers pristine readings of Leo Brouwer's innovative and intricate guitar compositions. Throughout Brouwer's prolific career the Havana based composer has created a vast catalogue of contemporary compositions from symphonic works to vocal pieces as well as film scores. However, his works written for the guitar, particularly in a duo setting are perhaps some of the most fully realized compositions ever written for this musical genre. The Brasil Guitar Duo could not be better vehicle to deliver this artistically demanding music. The two have graced the stages of festivals from Europe to South America and even the Far East. Douglas Lora holds a masters from the University of Miami, while João Luiz has a Doctorate from the New School of Music. Throughout the recording the duo seamlessly executes even the most challenging passages; however, they never lose focus of the inherent beauty of the elegant compositions they are covering. "Music for Two Guitars" begins with the dramatic and intense "Triptico" showcasing complex rhythmic motifs, incendiary single note runs, and subtle, reflective interludes. On "Andante tranquillo" one of the sonorous vignettes from "Micro piezas" one hears a brilliant deconstruction of the French nursery rhyme "Frere Jacques" featuring beautifully executed bell-like harmonics. "Per suonare a due" is an avant – garde tour de force with intricate, dissonant passages flanked by audacious chromatic note clusters. The album concludes with the "Sonata de Los Viajeros" taking the listener on a musical sojourn from frozen terrains, to European vistas, and culminating with a tropical flavored calypso. "Leo Brouwer Music for Two Guitars" is an adventurous collection of inventive compositions played at an extraordinary level, and is highly recommended for discerning listeners of contemporary music.
© James Scott
Buy it at Amazon.com
Listen to "Micropiezas (Hommage à Darius Milhaud)"

Aaron Lefebvre, "Ghost Town Windows," 2015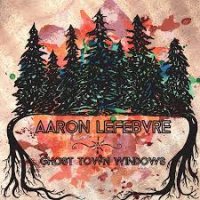 For a snort of fresh musical air, proceed no further than the initial CD release by an amazing artist, Aaron Lefebvre. This unique collection of his original pieces is not only inspirational, but more importantly, a pleasant and refreshing listening experience. Although there are a plethora of guitarists who have the physical dexterity to pull off similar performances, Aaron separates himself from the herd with his ability and imagination to capture the essence of nature and transfer his impressions into compositions. "Your music is like rain" is a comment from a spectator. Such a remark is akin to my initial reaction to the wide variety of moods and impressions weaved into the pieces on this CD. Some of the titles probably will conjure up an image even before listening, ie. "Tree Speak", "Deep, Deep Starry Sky", "Crackle" or "Lunar Thermal". Others like "An Occurrence at Clear Creek" and "A Fish Full of Tulips" are less prophetic regarding the intended setting or mood that will unfold. But no matter which direction Lefebvre heads, there is a musical surprise behind every corner, including uncommonly placed decelerations and false endings. Then he'll gently touch the strings or slam out a section with full strum resulting in wide variations of dynamics within a single piece - tapping notes while doing percussive accompaniment on the body of the guitar - dropped tunings working their way throughout most of the rhythm and musical themes. This is all there waiting to be discovered by the listener. Lefebvre's path toward this musical end has been effectively enhanced by evolving as a completely self-trained guitarist, thus managing to isolate himself from influences of the 'outside' guitar world. With no such distractions he's been free to develop a self-reliant method of playing and composing music. Only a guitarist with such credentials could present a guitar workshop at a major university titled "The Art of Not Knowing". Fresh musical air! Take a breath.
© Mark Bayer
Buy it at Bandcamp
Listen to "Tree Speak"

Amy White (with Al Petteway), "Didn't We Waltz," 2016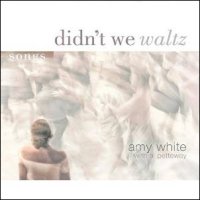 I can't remember when I've heard a more beautiful album. Amy's airy expressive soprano soars through gorgeous melodies and well-crafted lyrics, nestled in acoustic arrangements that perfectly showcase each song. Al Petteway appears on many of the cuts – his delicate guitar, tasteful bass and touch of harmony vocals a perfect complement to her fingerpicked guitar, banjo, dulcimer, and piano. Rounding out this stellar band is Sally Van Meter's resophonic slide guitar and from Sally Sparks, Haken Continuum (often sounding like a cello) and synthesizer. And that's it. No noisy drums, no horn section, no clutter – just cleanly and creatively played instruments recorded so clearly you'll swear they're in the same room with you. This collection of originals covers a lot of ground, from the upbeat love song "You're My Favorite" to the darker "Why Can't We See," about the emotional toll of violence. "Love Among the Ruins" is a vivid ghost story that takes place in an old house where "The wallpaper cries and the curtains moan / The banister shakes on its own." "More Like My Dog" is a lighter number; she wonders why a failed relationship couldn't have been one where he "played silly games" and "joined me for a good roll on the floor." But then, there was all that humping on someone else's leg. Amy switches to the lap dulcimer for the serious love song "Back to You," and to the banjo for the sombre "Never Got to Say Goodbye." "Didn't We Waltz" features some lovely slide work from Van Meter; she enhances several songs, never overplaying. "Sing to Me" had to have been written while enjoying a beautiful day from the porch, the birds offering a melodic soundtrack. "Tinderbox Heart" is an introspective piece about abuse that begins in a dark way, "The tinderbox heart / is slow to learn / the perfect match / should never burn." It doesn't stay there, however, and ends with promise. This is an exquisite album, from beginning to end. Highly recommended.
© Jamie Anderson
Buy it at Amazon.com
Listen to "You're My Favorite"


Home | Facebook | Podcast | Archives | Submissions | Free CD Giveaway | Subscribe | About | Links

Laurence Juber, Doug Smith, Al Petteway, Phil Keaggy (and many more!) at Acoustic Music Resource