Reviewing the best in non-mainstream acoustic guitar music
Home | Facebook | Podcast | Archives | Submissions | Free CD Giveaway | Subscribe | About | Links
May/June, 2015

Laurence Juber, "Fingerboard Road," 2015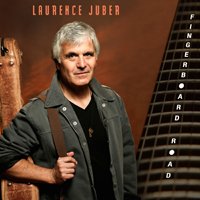 Laurence Juber's career as a solo guitarist has been extraordinary. His coverage of popular music ranges from American folk standards and the Great American Songbook to the Beatles, Motown, Stax, Seventies rock anthems, and Steely Dan. His own compositions display equal standards of craft and variety. Fingerboard Road is a fine addition to his body of work. The program begins with the original, "Without Annette," from the improvisational stage play Juber co-wrote with his wife Hope and Jeff Doucette, which evokes the energy of this well-reviewed comedy. Steely Dan's "Peg" follows, which, as a guitarist, struck me as unlikely for a solo arrangement, although Juber naturally pulls it off with aplomb. "Go Now" is a nod to his Wings bandmate, Denny Laine, who brought the young Juber to Paul McCartney's attention. Juber's rendering of Pete Ham and Tom Evans' "Without You," a chart-topper for Harry Nilsson in 1971, is arguably one of his best interpretations - I hope it becomes a performance staple for him. Pete Townsend's "Won't Get Fooled Again" may be a more likely candidate for LJ's stage repertoire, since he pulls out all stops with wild strums that evoke the original and his own trademark octave and single-string runs. It's a dynamic masterpiece. Two other Juber compositions, "Fingerboard Road" and a live recording of "Love At First Sight," sit well among these iconic pop tunes. This disc finds LJ challenging himself, yet still delivering his identifiable sound. Juber's fans will want Fingerboard Road, but they should also give it to others, to introduce them to a master.
© Patrick Ragains
Buy it at Acoustic Music Resource
Listen to "Won't Get Fooled Again"

Julian Lage, "World's Fair," 2015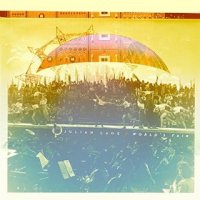 The past year has seen a fruitful (for him, I think I am sure) escalation of performance on acoustic guitar for Julian Lage, beginning with some terrific work in duo with Chris Eldridge from Punch Brothers. It has been delightful for us, of that I am sure. With "World's Fair," Julian Lage gives us basic wood and steel with fingers and plectrum, delivering 12 inventive songs as we have come to expect from this guitaristic wunderkind. We get to hear what kinds of tone Lage can pull out of his 1939 Martin OOO-18 with no one else around, from sublime, to sweet, to a bit raucous. While Julian's jazz work can find extended improvisation, the longest cut on "World's Fair" is a scant 4:12, and only five songs are more than three minutes. On "Peru," Lage begins with a dancing single-note line then transcends into almost pop art, all the while using those Lage-esque runs to punctuate and drive the tune into its next development. "Ryland" is a simple enough song, yet in Lage's hands it forms an aural backdop as sweet as an April evening in the Smoky mountains. "Doublestops" is more of a brief but tasty exercise, like what Bach may have done had he also played the guitar. Lage pushes some limits on "Gardens" as he moves in and out from gentle to driving, deftly picking to strumming with power. As one several tunes, "Century" at times sounds like a catchy melody, only to reveal some darker shades that bring out the depth of Lage's ability to make interesting and complex music. "Where or When" is a short waltz where time meanders in a not quite linear way. You can almost imagine listening to "Day and Age" at the first world's fair. The CD ends with the haunting, languid "Lullaby," draped in textures of a jazz player exploring one minute theme (there are subtle shades of the theme from Cinema Paradiso throughout this song). It is always exciting to discover where the muse of Julian Lage had led him, and on "World's Fair," we're not disappointed.
© Kirk Albrecht
Buy it at Amazon.com
Listen to "Gardens"

Drew Gibson, "1532," 2015 | Danny Schmidt, "Owls," 2015

May I introduce to you two fine arguments for the endangered album: "Owls" by Danny Schmidt and "1532" by Drew Gibson. Two artists with visions so expansive they demand an extended work. Two lyricists with an impressionistic bent; both aware of the interaction between music and words. Yet these CDs could hardly be more different. Schmidt looks outside himself, impelled by big questions whose answers he will neither provide nor find. The music is often lovely, the lyrics at times as inscrutable ("The slurry of a long and broken nose…") as the problems Schmidt confronts with dense, daring wordsmithing layering irony upon irony. The allegorical "Girl with Lantern Eyes" opens, announcing a sonic shift for Schmidt with a long middle-eastern influenced guitar and percussion intro. "The Guns and the Crazy Ones," recognizes the insanity of our country's "every day… display / Of cannons come loose" with a Band reminiscent sound. "Soon the Earth Shall Swallow," comes on with the thunder of bass and drums to link hydraulic fracturing, the degradation of the ocean, GMO crops, and mass incarceration. The haunting "Bad Year for the Cane," tells the Job-like story of the farmer who lost his arm and his wife. He endures though, "…led by a promise that the heart can mend." A sunset inspires "Looks Like God" and questions about reconciling what's broken and what's beautiful. Delicate lead prettifies the lovely "Cries of Shadows," restating the melody between verses. "Paper Cranes" brings on the ominous with a chilling electric guitar sound. "Wings of No Restraint" closes with a Daedulus inspired story, a full out rockin' band, and a strong chorus. The world Schmidt depicts is serious stuff, his trademark humor largely absent. But you will find comfort in the beauty of the songs and the beauty in the mysteries. Drew Gibson looks inward for truth with concise lyrics exploring recently discovered family history. Gibson keeps the musical environment consistent, centering almost every track around the expressive pedal steel playing of Dave Hadley and a luxurious six-string sound. The insistent drive of the opener, "Bettie-Jane," recaptures the energy of "Here in the Evening, Too," the lead track of Gibson's debut, "Letterbox." The repeated phrase, "Did I tell you," brings home the album's theme of regret and remembrance. It's a love letter of fifty years together from Gibson's father to his wife and now from Gibson to his own wife and the loved ones who have passed. The second track opens with bell-like six-string arpeggios but, in a move used effectively throughout the record, overlays of guitars and other instruments will move in and out then join together for dramatic crescendos. "In "Lorelei," a childhood encounter with the old, namesake guitar of an uncle who died too young sets Gibson on a path that leads to this recording. Driving pedal steel powers "Hallow Flood Of Wounds," with the set's most cryptic words, inspired by an uncle's letter during hard times. Hadley gets languid in "Bright as Gold," a memory piece of a father's reassurance ("she's out there somewhere, bright as gold") about the wife Gibson would someday find - but his father would never meet. Beautiful interplay between pedal steel and horn section ends the title track's story of a license plate number passed down through generations, taking on more and more significance with the passage of time. The last track fittingly features only Gibson and his guitar. For all he learned about himself, the real story is what each of us makes of the things we remember, the things we are told, and the interplay of choice and chance. Two ambitious releases, two very different artists, two reasons why I still believe in the album.
© David Kleiner
Buy 1532 | Danny Schmidt's Website Buy Owls
Listen to "Year After Year" (from 1532) | Listen to "Paper Cranes" (from Owls)

Nigel North, "Bach on the Lute" (Box Set), 2015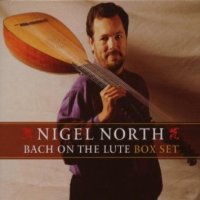 The music of J.S. Bach continues to fascinate/captivate/challenge us, even close to 300 years after being written. Scores of violinists have recorded The Sonatas and Partitas for Solo Violin, and since the time of Segovia, many classical guitarists have also sought to bring them to life as well. In recent days mandolinist Chris Thile has put out his first of an expected two volumes covering all the Sonatas and Partitas. Few guitarists or others besides cellists have taken on the Suites for Solo Cello. But a treasure now two decades old has just been re-released from Linn Records – Nigel North's complete recordings on the lute for all the Sonatas, Partitas, and Suites (BWV 1001-1012) in a deluxe 4-CD box set with excellent liner notes, "Bach on the Lute Box Set." It is an immense undertaking of these magisterial works, and North's rendering of their beauty leaves nothing to be desired. North is professor of lute in the Jacobs School of Music Historical Performance Institute at Indiana University in Bloomington, IN, and one of our era's foremost lutenists. His knowledge of and skill with Bach is breathtaking. While some who seek to take these works out of their normal musical realm (violin and cello) play fast and loose with texture, tempo, and feel (Thile's great contribution on mandolin at times seems frenetic), North presents transcendent renditions of each work. Indeed, his versions of the Sonatas and Partitas don't rush any of the quicker movements, and we relish each note when it's time to slow down. His playing on the famous Chaconne in the Partita in D Minor (BWV 1004) – done by so many classical guitarists – is expansive and rich; he covers the range of playing needed to convey its powerful beauty with no hesitation. The Suites for Solo Cello are delightful, offering listeners a very different aural experience from the cello itself, yet equally rewarding. While the lute may not share the mournful tones of the cello in these works, it does reflect the depth of emotion Bach infused in each one. At over 4 hours of total music, "Bach on the Lute Box Set" may seem like a bit much lute. However, it's Bach, so that's usually not an issue. And it's Nigel North, whose playing keeps Bach fresh after three centuries.
© Kirk Albrecht
Buy it at Amazon.com
Listen to "Chaconne, Partita in D Minor (BWV 1004)"

Pino Forastiere, "Deconstruction," 2015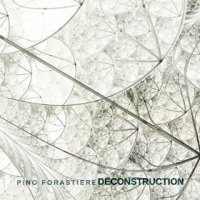 Italian virtuoso Pino Forastiere is an innovative guitarist and composer of extraordinary vision and talent. His 5th solo recording, Deconstruction, is designed to be listened to in a single sitting. A short (30-minute) set of eight original compositions, it is one long suite that teases the mind and ear in a kind of tone poem, an exploration of the landscape of acoustic guitar. Deconstruction is an apt title, because Forastiere seems almost to be trying to take apart and reconstruct music itself. With washes of sound, his pieces flow into one another so organically the listener is almost unaware of when one ends and the next begins. Yet each piece also stands on its own: stunning "Echoes," with notes that chime and reverberate off each other, "Lines," which opens abruptly with shimmers of brittle notes like shards of glass against a background of deep resonant bass notes. "In the Temple of My Imagination" is more moody and abstract while "Time Present and Time Past" somehow brings to mind a dance at a medieval court. Forastiere, a master of polyphony, uses alternate tunings and unusual techniques to coax broad ranges of color and tone from the guitar with a technique both impeccable and brilliant. His previous works used a lot of tapping and other percussive effects, but here he abandons these to focus on a purer, less crowded sound. As he says in a fascinating interview on his website, he is more interested right now in the space between the notes than in the notes themselves. Despite his abstract, endless inventiveness, Forastiere's music touches a deep emotional nerve: Deconstruction has the feel of a beautifully constructed art object, or like something created by nature itself.
© Céline Keating


Pino Forastiere's Website
Buy it at Amazon.com
Listen to "Time Present and Time Past"
Mike Dowling, "Tracks," 2015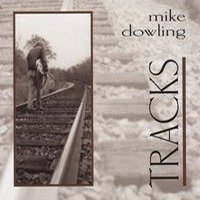 Mike Dowling's excellent recorded output encompasses early jazz, blues, country, and western swing. What Jelly Roll Morton called the Latin tinge shows up in Dowling's music in subtle Mexican and Caribbean influences. Tracks is an all-acoustic, mostly solo outing, featuring both instrumental and vocal selections. Dowling favors two National Resophonic guitars for most of the program, and plays a pre-war Martin on one track. His exquisite touch produces a delicate, even ghostly tone on the Nationals (I can verify from face-to-face experience that his tone isn't the result of mic placement). This sound is most evident on "The Cuckoo," where Dowling combines chords played with a bottleneck slide and harmonics for an otherworldly effect. He stays in the American southland for "A Face in the Crowd," Bobby Charles' "Tennessee Blues," and an original, "Tracks," played on the Martin using a simple alternating bass technique. He plays three other original instrumentals, "World of Hurt," "Big Island," and "Wild Rose," on the Resophonics. Irving Berlin's tongue-in-cheek "My Walking Stick" displays Dowling's sense of humor as well as his love of pop music of the 1930s. The disc ends with Peter Ostroushko's "Heart of the Heartland," an elegant, slow waltz played as a duet with David Lange. Mike Dowling is a master of wistful moods, particularly in solo and small ensemble settings. Tracks, while holding many lessons in good taste for musicians, is beautiful and enchanting.
© Patrick Ragains
Buy it at Amazon.com
Listen to "Cuckoo"

Big Dave McLean, "Faded But Not Gone," 2015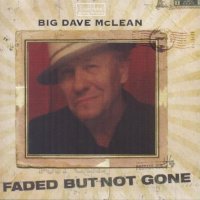 The seductive opening notes of the classic "Tough Times" resplendent with a vintage tube vibrato will slide down your ear canal, through your ear drum and surround your brain before it blossoms into a snarly, ragged, gritty Delta-infused blues romp replete with a quintessential gravelly voice urging your body to sway and your toes to tap like only true-blue blues can. The organic, full immediate quality has "smoke-filled blues club" oozing from every note and sets the tone for this collection of originals and blues covers. There isn't a lazy dog on this entire CD. Faded But Not Gone, Big Dave McLean's debut for Black Hen Music, is as satisfying as a blues disc can get. From smoking covers with blistering and tasty leads like Oliver Wood's "One More Day" to the so real you feel like you're there quality of Tom Wait's "Mr. Siegal", this disc is a treasure of pleasure for any blues aficionado or even a casual blues poser. By the time you get to the last two tracks, the seductive, painful and pathos filled "Oh - Mr. Charlie - Oh" and the stripped down acoustic cover of Nehemiah James's "Devil Got My Woman" you'll be convinced that Big Dave McLean has a firm grip on the what makes the blues the most powerful form of music on the planet: honesty, inte-GRIT-y and soul. To seal the deal just listen to Big Dave's take on Ray LaMontagne "Devil's In The Jukebox" and the blistering slide work of Steve Dawson. Hailing from Winnipeg, Canada McLean enlists some big time help here including Steve Dawson, Kevin McKendree, Colin James and the McCray Sisters. Rumor has it Big Dave had his first guitar lesson from John Hammond and opened for Muddy Waters? Talk about pedigree. As Big Dave puts it, "I'm a Canadian Prairie Boy I play the Blues to pay my rent..." Keep playing, keep playing...
© James Filkins
Buy it at Amazon.com
Listen to "Dead Cat on the Line"


Home | Facebook | Podcast | Archives | Submissions | Free CD Giveaway | Subscribe | About | Links

Indiana Fingerstyle Guitar Festival July 31 - August 2, 2015: Competitions, Concerts, Workshops and more!