Reviewing the best in non-mainstream acoustic guitar music
Home | Podcast | Archives | Submissions | Free CD Giveaway | Subscribe | About | Links
May/June, 2011

Franco Morone, "Miles of Blues," 2011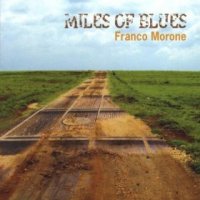 The incongruity of an Italian fingerstyle guitarist referencing the blues only makes the resulting collection all the more fascinating. Franco Morone is quite clearly besmitten with the American-generated genre, and this relationship carries through all 13 tracks. He opens with a song of quest, "Miles and Miles," which seems to include a flitting nod to the Zombies' haunting '60s rocker "She's Not There." It's an appropriate enough reference, as Morone seems to know that just as soon as you think you've managed to capture the essence of the blues, it's no longer there -- you've lost it, and your quest continues. And that's what's happening here -- Morone comes at the blues from a variety of approaches, from the beguiling ride of the opener, to the wistfulness of "Blues When I Lost You" to the urban leanings of "Chicago" to the deep South inflection of his arrangement of "Great Dream in Heaven." This versatile artist travels through the blues genres with heart on his sleeve. He's an interpreter, not a clinician, but his technique is impeccable. You can feel the puddles and concrete skies via Morone's jazzy stylings of "Rainy Night in New York," and he's comfortable enough to toss in a swampy bottleneck number with "Slide Ride." Morone pays homage to the great "Summertime," somehow finding something new to weave into this classic. "Slowing the Blues" is about as tasty as you can get without smoke and charcoal and a 55-gallon drum. If there is a track that doesn't quite connect, it might his take on Jimmy Cliff's "Sitting Here in Limbo," as it departs waaay too far from the heart of the original. And perhaps his inclusion of "Mercy, Mercy, Mercy" might bear rethinking. Still, those are a couple of pretty minor quibbles -- this is a fun, thoughtful CD that's as pleasurable as it is educational. Make this soulful journey with Morone and your soul will be the wiser.
© Fred Kraus
Buy it at Amazon.com
Listen to "Chicago"

Jeffrey Foucault, "Horse Latitudes," 2011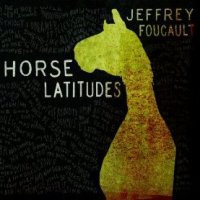 You're adrift in the "Horse Latitudes," no wind, no rain. Your dying thoughts drift, too, sailing without compass through dreamscapes, nightmares, and memories, real and imagined. Senses trigger chain reactions. Billy Conway's foghorn drum resounds and there's "the iron taste of blood in your mouth." Eric Heywood's pedal steel rings like a spectral ship's bell and you're Jonah "singing into the belly of a whale." Recall that "Pretty Girl in a Small Town," to reach more conventional territory, but that knife on the strings cuts deep. Like her, you are only "trying to keep your heart above high water." "Starlight and Static," awash in ghosts, rests its beauty on a slight acoustic figure and Van Dyke Parks' piano. "Heart to Husk" is a message in a bottle, "Please burn my letters," with harmonies from Kris Delmhorst and this question, "Where does love go?'" Rust, death, and decay flood "Last Night I Dreamed of Television," resonating with the old tale of sailors throwing horses overboard that Jim Morrison relied on in his own "Horse Latitudes." What stands for its chorus, "Crying / Crying / Crying," is a cry and it will move you. Writers should check out Foucault's similes, here ("singing / darker than the sea") and throughout ("smoking like a river / in the dark before the dawn"), as the comparison is always unexpected and richer for it. "Everybody's Famous" borrows a structure from Leonard Cohen. Parks' hoarse organ whisper sometimes bubbles to the surface, taking me back to Dylan's Mr. Jones. Now you see some "Passerines." Catch some birds and you might not die, though "everything dies / nothing dies" and they're only ghosts anyway. Night comes and you're cold. Your longing for "Tea and Tobacco" brings the tinkle of a music box, Foucault's unaccompanied six string. What you remember is, "When I had one good coat, I was warm." You disappear. Only Foucault's songs remain, as haunting as they are haunted.
© David Kleiner
Buy it at Amazon.com
Listen to "Heart to the Husk"

Megan Slankard, "A Token of the Wreckage," 2011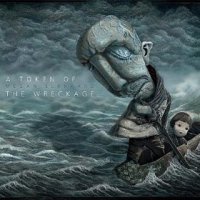 What a difference a few decades makes in the record business -- or what is left of it! Had singer-songwriter Megan Slankard been recording circa 1995, she would have ruled the Lilith Fair roost and racked up a few Grammys along with the queens of the alternative/adult rock genre such as Sarah McLachlan, Paula Cole, Beth Orton, and Mary Lou Lord, among others. But that was then, and this is now -- and now is the time for the resurgence of female singer-songwriters of substance in mainstream popular music. "A Token of The Wreckage," which was three years in the making, arrives just in time for such a revival. Slankard's third official long-player emerges as a gleaming, grooving, and gritty song-cycle which details the artist's transition from childhood to adulthood. But don't take my word for it: be advised to check out the official video for the title-track on YouTube.Com which is most representative of the spirit of this remarkable album. (Note the Lilith Fair quip at the onset of the clip and the Charlie Sheen look-alike sitting at the bar!) Co-produced by Slankard and Jerry Becker, every track on Wreckage is a work of art: strong melodies, literate lyrics, engaging vocal harmonies, dazzling accompaniment, and a killer rhythm section. Props to the Counting Crows' David Bryson, who mixed Wreckage with a fine, warm resonance that pleasantly highlights the rough edges of Megan and her band. The core ensemble of Danny Blau (B3, piano, guitar), James Deprato (slide guitar, lap and pedal steel, mandolin), bassist Jeff Symonds, and drummer Kyle Caprista can do no wrong whether in pop jazz mode ("Beautiful Makeshift"), cosmic country ("The Pain of Growing Up"), Americana ("Fair Enough and Farewell") or traversing from folk to full-fledged arena rock in the span of one cut ("Show Up"). Had the title of this album been Greatest Hits -- you wouldn't have known the difference. Slankard has been successful on the indie/grass roots level (and has shared billing with such notables as Colin Hay and Hootie & The Blowfish) -- and Wreckage certainly has the goods to push her into the major leagues Highly recommended for fans of the above mentioned references.
© Tom Semioli
Buy it at Amazon.com
Listen to "Tragic Life of Caleb"

Eric Bibb, "The Guitar Artistry of Eric Bibb," 2011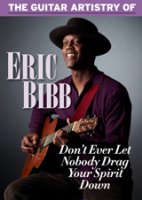 Award winning acoustic guitar fingerstylist, vocalist, songwriter, and song interpreter, Eric Bibb, has released an intimate and candid DVD of solo performances and story-telling, demonstrating the mastery of his musicianship, as well as the depth of his spirit and intelligence. Bibb comes by these honestly. His father was the folk singer Leon Bibb and his uncle was John Lewis of the Modern Jazz Quartet. Bibb is both student and master of the folk tradition. Between performances of his songs, he recounts memories and tales of growing up and witnessing the legendary folk revival of Greenwich Village during the fifties and sixties. Family friends included Pete Seeger, Odetta, Bob Dylan, and the vocalist, Paul Robeson, who was Bibb's godfather. Performances on the DVD include the inspirational "Don't Ever Let Nobody Drag Your Spirit Down," the warm and sweet "Pockets," a kind of blues lullabye, the instrumental "Sebastian's Tune," and the gospel tinged "With My Maker I am One." Bibb's touch is gentle, his vocal silky smooth. A zen-like peacefulness radiates both from his music and his persona as he recounts the milestones of his musical development. He tells of his disillusionment at the end of the sixties with the inevitable decline and fragmentation of the Greenwich Village folk scene, how friends, family, and fellow musicians all seemed to go their separate ways. This realization led him to Paris, France, where he fell in with legendary jazz guitarist Mickey Baker, who turned Bibb on to the primitive and powerful recordings of the blues artist Robert Johnson. Bibb recounts many such tales and shares the insights about music and life that he's garnered along the way. "The Guitar Artistry of Eric Bibb, Don't Ever Let Nobody Drag Your Spirit Down," rates multiple viewings.
© Chip O'Brien
Buy it at Amazon.com
Watch a video clip of "The Guitar Artistry of Eric Bibb"


Fiske & Herrera, "Till the Sea Disappears," 2010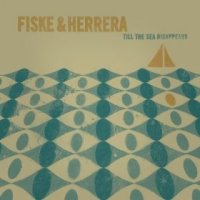 This is how acoustic pop should sound -- rich with imagery and featuring beautiful melodies with strong arrangements, all exquisitely played. Each song presents layers of texture and meaning that reveal something new each time you listen. Amy Herrera's voice is smooth and refreshing as a tall glass of sweet tea on a hot summer day and Jared Fiske's voice is a wonderful complement. In a seamless blending they take turns singing lead and back-up. Instrumentation varies from the simple arrangement of vocals, piano and guitars on "Broken Man" to the full band of "Crazy Amy," starting with Jared's well-played acoustic guitar and building with bass, drums, ukulele and more. It doesn't sound cluttered though; everything is well placed but sounds in the moment like they grabbed instruments and just started playing. "Wood Castle" shows a bitter edge, "wood people slam doors / in their wooden worlds." They lean toward melancholy with songs like "Bitter Moon" but also give us "My Little Fish," a piano based song that shows their quirky side with lines like "The party police said, 'Girl your dignity called.'" I review too many albums to keep them all but you can bet this one will have a permanent place on my Mp3 player. Maybe yours too. Take a listen and if I'm wrong, you can call the music police.
© Jamie Anderson
Buy it at Amazon.com
Listen to "Broken Man"

Dusan Bogdanovic & Bruce Arnold, "Aspiration," 2011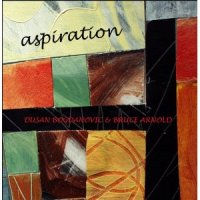 "Aspiration" is a groundbreaking collection of acoustic improvisations masterfully conceived by Bruce Arnold and Dusan Bogdanovic. Both guitarists have strong compositional backgrounds and the spontaneous conversations they create on this recording are on a particularly high level. Bruce Arnold is a Berklee graduate with a background in jazz and rock and is prominent educator (see the TrueFire banner below), writer, and performer. He currently is director of guitar studies at both New York University and Princeton, and his ambitious group projects have focused on the correlation between jazz and modern classical music. Likewise, Dusan Bogdonovich is consummate guitarist, educator, and writer, whose musical explorations have redefined the parameters of classical music. Bogdonavich holds a faculty position at the Geneva conservatory, tours extensively, and has published over fifty compositions, which are studied and performed by musicians around the world. The success of this recording is that both guitarists have an very compositional approach to improvisation. While the adventurous musical vignettes are spontaneously improvised, they also sound intuitively focused and composed. Each repeated listen yields a deeper, more intimate understanding of the original piece. The two converse with one another intelligently, cogently, and musically. There is a wonderful sense of urgency found in the tuneful cacophony on "Little Night," which showcases interesting microtones, bell like chimes, and creative muting. On the other hand, the dramatic and meditative composition, "Towards" takes on a cinematic quality producing rich, vivid musical landscapes. The title track, "Aspiration" is a beautiful sound painting with medieval, folk, and oriental colorings. The intricate and delicate interplay between the two musicians brings to mind John Abercrombie and Ralph Towner's seminal recordings or Bill Evans and Jim Hall's introspective collaborations. Although at times the listening is challenging, "Aspiration" is a full of sonic rewards for adventurous listeners. This recording truly transcends musical boundaries and should be required listening for all fans of contemporary improvised music.
© James Scott



Bruce Arnold's Website | Dusan Bogdanovic's Website
Buy it at Amazon.com
Listen to "Felliniesque"

Julio Azcano, "Nadear," 2010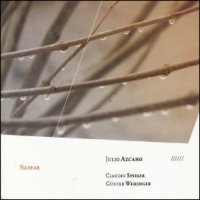 The CD cover for Julio Azcano's new release depicts a grid of criss-crossing branches laden with icy droplets. That cool atmosphere and tone of refined meditation characterizes the tantalizing pieces on "Nadear." Accompanied by the tasteful percussion of Claudio Spieler and dancing flute of Günter Wehinger, Azcano explores the intersections of his classical and jazz training and his roots in the musical styles and rhythms of his native Argentina. The seven intricate compositions and innovative arrangements are lengthy and complex and richly reward repeated listening. "Orbits" based on a theme by Azcano's mentor, Kurt Rosenwinkel, features a haunting melody line over arpeggios, while "Zuricheñas," with wickedly fast runs, and "Luz de Abril," with hints of Mid-Eastern modalities, Flamenco flair, and driving tremolo, are original compositions. Quietly lovely "December," by Wehinger, features his limpid, ethereal flute accompanied by Azcano's tasteful improvisations. Forceful arpeggios open the hypnotic "Donde quiera que estes," which then breaks out into a thrilling single-note jazzy line that plays in and around the melody and Spieler's inspired percussive effects. Azcano, now based in Switzerland, has an international career playing in trios and duos with other musicians, and his fluency shows. The CD melds disparate elements into a landscape of sonic beauty and texture, spare yet lush, cerebral yet passionate, virtuostic yet easeful.
© Celine Keating
Buy it at Amazon.com
Listen to "Donde quiera que estes"


Home | Podcast | Archives | Submissions | Free CD Giveaway | Subscribe | About | Links
Buy Instructional and Biographical DVDs and Books at


(Click on image below to buy)
| | |
| --- | --- |
| Franco Morone: Mel Bay Blues and Jazz for Fingerstyle Guitar | Serbian Classical Guitarists, with Dusan Bogdanovic |