Reviewing the best in non-mainstream acoustic guitar music



May/June, 2010

Vicki Genfan, "Uncovered," Acoustic Music Records, 2009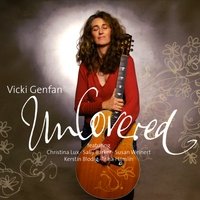 Lots of artists do records of covers. On Vicki Genfanís latest, "Uncovered," she brings her signature guitar virtuosity and smoky voice to some well-known hits from equally well-known singers. Itís not a jaw-dropping outing this time around for Genfan, but more an ovation for some great songs by great songwriters and singers. She pays tribute to them by not going too far afield in her interpretations, but with taste... and a good measure of fine guitar playing. And "Uncovered" highlights a handful of women artists who help bring a fresh vibe and their own musical prowess the songs. A lovely reverbed part to begin "Fragile" by Sting sets up the song to bring a fresh loveliness to that enviable melody. Signature slaps weave in and out of "Groovin," providing the rhythmic trance the original produced. Probably the most adventurous cut is John Lennonís anthem "Imagine." At almost 6:30, itís by far the longest track of the CD, and she takes the melody line and bends it with electric guitar from Susan Weinert (whose tasteful playing pops up several times on the CD). Things crank up a little on the Doobie Brothersí "Long Train Running," getting some great vocal help from Trina Hamlin, who also has a killer harmonica solo. Make no mistake: Genfanís guitar that drives the tune. Kerstin Blodig plays seamlessly with Genfan in a mostly-instrumental version of the Mamas and the Papas hit "California Dreaminí." "Leaving on a Jet Plane" features Genfan getting percussive on one part, while her picking rocks you through the melody, sung with a subtle power by Sally Barker. The CD concludes with the standard "Amazing Grace," a chestnut for people of faith for generations. Genfan sings and plays it with the right touch of emotion, with almost atmospheric guitar parts. Another solid outing from Vicki Genfan.
© Kirk Albrecht
Buy it at Amazon.com
Listen to "Heal Over"

John Jorgenson Quintet, "One Stolen Night," J2 Records, 2010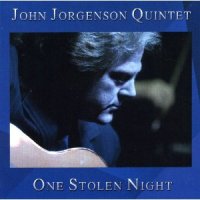 What can you say about John Jorgenson? From his days with Elton John, to the rollicking Hellcasters, to innumerable sessions where he has lent his fierce chops, Jorgenson has shown he is a man of prodigious talents. Lately, Jorgenson has been applying his skills to Gypsy jazz and swing a la Django Reinhardt and the great hot jazz of Paris. On his latest CD, "One Stolen Night," Jorgenson leads his quintet in rhythms sweet and hot, smooth and spicy. This is the second recording of the John Jorgenson Quintet, and we would hope for more in the future. The band is a great combo, and these guys hold their own with Jorgensonís flash. Jorgenson even adds clarinet to his credits. Most of the tunes are Jorgenson originals, with some standards given his signature attention. We open with a Django dťjŗ vu of sizzle on "Red on Red," with breathtaking runs streaking across the fingerboard. The title cut "One Stolen Night" has Jorgenson on Greek Bouzouki, conjuring smoky nights by the Mediterranean dancing cheek to cheek. Clarinet guides the bluesy "Souvenirs des nos Peres." Violinist Jason Amick pairs swift fluidity to Jorgensonís bouzouki on "Kentucky Kastrinos," a sort of Bill Monroe meets Zorba. The CD has 2 bonus tracks. The lone Django tune, "Hungaria," takes listeners back to those golden days with Stephane Grappelli; Jorgenson sends notes everywhere, right hand flying while the left moves like a madman possessed with sanity. The first is the lovely "Istiqbal Solo" where Jorgenson caresses both guitar and listener with an enchanting melody in the Gypsy style. The final cut is a tango, "Dark Romance," where passion moves in sweeping rhythm. "One Stolen Night" is Gypsy jazz at its finest, but itís much more... itís a great CD of outstanding music from great players led by a wizard.
© Kirk Albrecht
Buy it at Amazon.com
Listen to "Red on Red"

Martin Taylor's Spirit of Django, "Last Train to Hauteville," P3 Music, 2010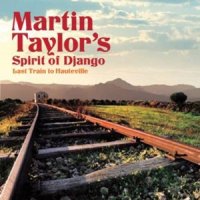 The group Spirit of Django has been a part-time concern for Martin Taylor since its inception in 1994. They backed Stephane Grappelli on the tribute CD, "Celebrating Grappelli," afterward performing and recording sporadically in between Taylorís other solo and group projects. The current lineup is Taylor on guitar and mandolin, Jack Emblow on accordion, Alan Barnes on reeds, John Goldie on rhythm guitar, Terry Gregory on bass, son James Taylor, on drums and newcomer Alison Burns on vocals. Taylor plays a cleanly amplified electric guitar, a bit of mandolin, and serves as the groupís chief composer. In this group context he plays rhythm and leads with a flatpick, in contrast to his solo work, most of which is performed fingerstyle. His adventurous solos on the title tune, which opens the CD, are a fine introduction to his skill at improvising single lines. The ensemble swings mightily, and I especially enjoyed the rich textures achieved when the accordion, reeds, and guitar play in harmony, as on "Double Scotch" and the humorous "Monsieur Jacque", (Taylor lets us in on the joke in the liner notes). Emblow and Barnes each take a generous share of the solos, complementing Taylor perfectly. Alison Burns sings some ensemble parts wordlessly and covers "La Mer" ("Beyond the Sea") in French. The whole project, in fact, has a French theme, inspired by Taylorís extended stays in France over the last few years. Spirit of Django realizes Taylorís more traditional jazz leanings without sounding cloying or dated. This thoroughly enjoyable CD deserves a wide audience.
© Patrick Ragains


Martin Taylor's Website
Buy it at Amazon.com
Listen to "Madame Haricot"
Peter Karp & Sue Foley, "He Said She Said," Blind Pig Records, 2010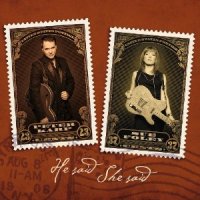 Karp and Foley bring powerful ammunition to the sometimes nasty (and I mean that in the nicest way) war between the sexes in "He Said, She Said." Karp plays guitars, organ, and piano. He loves it loud and fast. Foley plays acoustic and electric and-the first time we meet her formally, in her "So Far, So Fast" -- charming nylon finger-picked lines that follow the vocals. It's a folkie loper with a calliope rhythm and a piano solo out of Sir Elton. Fittingly, the set opens ("Treat Me Right") with some vocal and guitar sparring. "Wait" showcases Karp's Dylanesque vocals (listen for the Bob in the way he stretches "anymore") and sharpest word-smithing ("Been dead in the water with a sail full of fury / heart broke and happy with a bellyful of worry"). And, after Karp says, "Let's pick it up," you can feel the joy in his fingers as all the instruments accelerate to take the tune out. The couple gives off sparks in "The Rules of Engagement." And Ms. Foley -- who largely serves as the deadpan Cher to Karp's "testosteronic" Sonny -- proves she can wail. "Mm Hmm's" cool off-center horn arrangement puts the right touch on both parties' fantasies about a rendezvous that depends on the "lie to each other that it will never end." "Danger Lurks" as Foley's nylon strings help turn this out-of-time torch song into a flamenco soleŠ of pain and despair. There's welcome harmony in "Dear Girl," a two steppin' number with some nice country slide from Karp. But the harmony won't last. Karp leaves us with "Regret." Foley gets the last word, "Lost in You," an extended metaphor comparing a lover to an ancient town worth exploring. It might be the prettiest number on the record but I was hoping they'd go out together, whether lovin' or fightin'. Both were gun barrels of fun.
© David Kleiner




Peter Karp & Sue Foley's MySpace
Buy it at Amazon.com
Listen to "Hold on Baby"
Laurence Juber, "Wooden Horses" (instructional DVD with transcriptions), Solid Air, 2009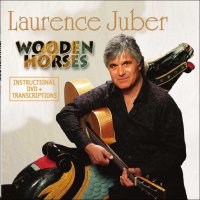 Laurence Juber has produced a valuable body of instructional material for fingerstyle guitarists, focusing on repertoire as well as musical knowledge necessary to arrange for solo guitar in DADGAD, standard, and other tunings. Here, he covers pieces from his recent CD, "Wooden Horses." Juber uses a relaxed, no-frills approach, sitting with his music stand in front of a fixed camera. The production has an intimate feel, heís generous with his time and very comprehensive. For example, he takes over ten minutes to cover "The Ornament Waltz. Guitarists will gain a lot of insight into melodic development, chord voicings and rhythms, as Juber emphasizes the conceptual building blocks of his music over the purely physical challenges of playing these pieces (which are nonetheless formidable). The fingerstyle mainstay "Shebeg and Shemore" is covered, with Juber adding some nice modern-sounding chords in a few spots. The transcriptions are in standard notation and tablature in pdf format on the disc. This DVD is a strong addition to Juberís instructional catalog.
© Patrick Ragains
Buy it at Acoustic Music Resource

Carter Lancaster, "Case Closed," Harp guitar Music, 2009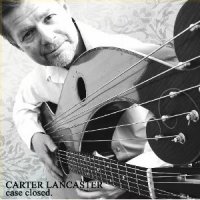 There's nothing like the look of a harp guitar in someone's hands to grab a person's interest right away. That visual could be one of the reasons behind Andy McKee's phenomenal success on YouTube, his harp guitar tune "Into the Ocean" registering over 6 million views there. The Holloway Model 5 harp guitar cradled by Carter Lancaster on the cover of his new CD "Case Closed" is at once a visual curiosity and a beauty luring the listener in... but it's Lancaster's compositions that will reel him in hook, line and sinker. Like McKee, Lancaster possesses a deft touch for melodic phrasing which is bestowed upon only a given few on the planet. "Logan's Garden," "Easy Street," "Blue" and "Case Closed" are all striking examples of how a self-assured player does not hesitate to pay honor to melody and pathos first and foremost, using masterful technique only as a tool toward this end. Even those tunes on which his technique is showcased with rhythmic hammer-ons and chiming, such as "Busy in New York" and "Jubal's Tomb," it's apparent that Lancaster's priority is always to render a song listenable rather than pretentious. Feel-good waltzes are a specialty: "Birthday Bells" and "Widow Walk" will have your head bobbing and body swaying... and yes, even your mouth dropping open... especially when Lancaster nails those silken arpeggios on "Widow Walk."
© Alan Fark
Buy it at Amazon.com
Listen to "Busy in New York"
Listen to Carter Lancaster at our podcast

Scott Nygaard & Crow Molly, 2010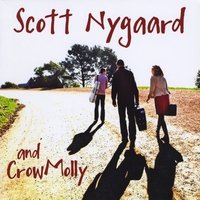 This latest example of guitar virtuoso Scott Nygaard's creative evolution is as striking, original, and satisfying as anything he's done. The Grammy-nominated Nygaard was the guitarist with Tim O'Brien's old-time/bluegrass band and has played or recorded with such stars as Jerry Douglas, Darol Anger, and Chris Thile. His Dreamer's Waltz (1996) was nominated for an Indie as Best Instrumental Album by the Association for Independent Music. But if the mainstream limelight has eluded him so far, it's for lack of hubris, not talent. He has that rare blend of gifts -- fluid, pristine playing, depth, and highly intelligent tunesmithing -- that makes every one of his albums an understated gem. Here, with fleet-fingered string support from Lauren Rious (violin) and Joe Walsh (mandolin) and vocal harmonies from Aoife O'Donovan, Nygaard weaves in new influences, notably his Scandinavian heritage. Nygaard is adept at adapting fiddle and banjo styles to guitar, and to blending in waltzes, polkas, even Brazillian choros. But while his songs are rooted well within roots tradition, Nygaard is gracefully experimental. Sophisticated jazzy and bluesy elements emerge throughout, as on the stunning "Walktz from Munkedal" and originals "Too Hungry" and "Haapavesi Nights." For guitarists the most exquisite pleasure might be Nygaard's solos -- the Celtic-tinged "Wildwood Flower" and his complex rendition of "Man of Constant Sorrow," where nothing distracts from the sheer tonal beauty and phrasing of his playing.
© Celine Keating
Buy it at Amazon.com
Listen to "Waltz from Munkedal"

Bruce Mathiske, "Rhythm Hunter," 2010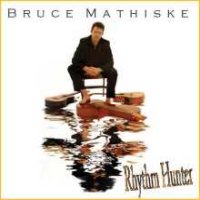 Itís obvious from even a casual listen to "Rhythm Hunter" by Australian guitarist Bruce Mathiske that the man has some chops, and heís spent a lot of time developing his guitar playing in multiple genres, from classical, to Celtic, to Calypso, and even in Bluegrass. This CD is an eclectic stew of genres, sometimes cascading together in a single song. The opening cut, "Celtic Quest" sounds more Kentucky than Dublin, especially when Dave Hellens comes in on the 5 string banjo with Earl Scruggs finger rolls. "Formidable Sea" takes us in and out of the Caribbean while Mathiske flies up and down the fingerboard. The brief "The Approaching Russian" introduces themes that segue into "Rushin Around," a fast-paced fingerpicker channeling some of Tommy Emmanuelís work. Like Emmanuel, his lightning-fast picking is saucy and playful, like weíre supposed to just sit back and laugh, and not take him too seriously, all the while our jaws are hanging open because we arenít quite sure how heís doing that. The Mason Williamsí classic "Classical Gas Espanol" steps on the pedal in a Spanish style to take the work to a whole new level. The ballad "The Water is Wide" showcases multiple guitar parts, retaining the sensitivity of the beautiful melody. Mathiske covers a couple standards as well. "A Taste of Honey" is a swinging groove, with a driving bass line, while "My Way" starts out gently and contemplative on nylon string guitar, but morphs into a bossa nova feel. I guess no Aussie picker worth his salt would neglect "Waltzing Matilda" on his CD, and Mathiske closes out his guitar showcase with his own arrangement, complete with the throaty sounds of didgeridoo. Although a bit uneven and almost schizophrenic at times, "Rhythm Hunter" is a fine display of guitar talent from Down Under, and weíll be hearing more from this player Iím sure.
© Kirk Albrecht
Buy it at Amazon.com
Listen to "Rushin Around"
Listen to Bruce Mathiske at our podcast

Daniele Bazzani, "Untitled 2010," 2010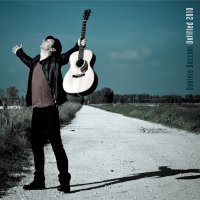 "Untitled 2010" is Daniele Bazzani's third solo CD. In many ways the Italian Bazzani is a lens through which various aspect of several guitar players can be heard in new ways. Perhaps, this is the hallmark of players that have the potential to achieve an audience that transcends genres and reaches audiences across continents. What Bazzini gleans from guitar virtuosos such as Tommy Emmanuel and Chet Atkins is stamped with Bazzani's own skill and fretboard vitality, verve and sensibility. As an introduction to Daniele Bazzani, the bluesy intensity of the opening track on "Untitled 2010," "Red Steve Boogie", piqued my interest instantly. The melodic "Let it Ring" flows and slides perfectly into my favorite track "Carroll's Road", which has charm and melody in spades. Bazzani plays with an elegance and savviness that is undeniable on these 15 tunes, 12 of whichare originals. A duet with USA Fingerstyle Champion Todd Hallawell on Paul Craft's "Cotton Candy Land" is a treat all the way around and has the sort vibe that could only mean it was a joy to play and record. Bazzani has the ability to effortless sift through various styles and techniques that adds up to a sonic symmetry that pleases throughout the CD. As of late I have been more drawn to players who push the edge or boundaries of musical genres. However, this CD has invigorated in a me a desire to revisit many players I have not listened to in quite a while. "Untitled 2010" is no-brainer in terms of instant appeal. If your listening Daniele, how about a duet with Michael Fix on CD #4?
© James Filkins
Buy it at his website
Listen to "Red Steve Boogie"

Henderson-Kolk Duo, 2009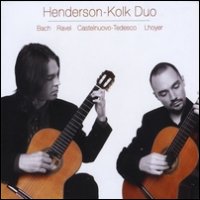 True mastery of the classical guitar relies upon a rare obsession with one's instrument; classical guitarists study, rehearse, perform, and reflect for years in an endless quest for seemingly unattainable speed, accuracy, and richness of tone. Only when these elusive elements come together can classical guitarists truly begin to explore the interpretive possibilities of their instrument. In their most recent release the Henderson-Kolk Duo not only display a rare and complete knowledge of their instruments, they do so in flawless synchronization with one another, expanding exponentially the dynamic and polyphonic possibilities of the guitar. The disc features equal parts original arrangements of well known classical music, and duets composed originally for two guitars. Opening the recording with J.S. Bach's Italian Concerto BWV 971, is a bold statement that draws the listener in instantly. This, one of Bach's finest works, presents a thorough cross section of this duo's abilities, requiring them to draw upon their talents both technically and musically. What follows is their arrangement of Maurice Ravel's "Le Tombeau de Couperin", which was a highlight for me as I am intimately familiar with this work. Hearing it for the first time on two guitars was a unique and captivating experience. The next works continue their homage to the Baroque period with a set of contemporary Preludes and Fugues composed by Mario Castelnuovo-Tedesco. These complex works are an excellent example of the extended harmonies that characterize Tedesco's works, making them sound distinctly twentieth century while still being very accessible to the average listener. The recording closes as boldly as it opened with Lhoyer's Duo Concertant in D minor. Again the Henderson-Kolk Duo relies upon their impeccable technique to deliver a truly thrilling rendition of this work. This disc is an example of classical guitar at its finest, and promises to be a delight to even the most discerning of listeners.
© Timothy Smith


Henderson-Kolk Duo's Website
Buy it at iTunes
Listen to "Bach - Presto"
Rafael Andia, "Recueil des PiŤces de Guitare Composťes," GHA Records, 2009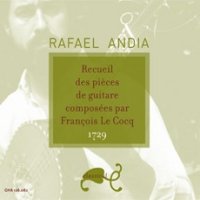 While most people are familiar with the classical guitar and its predecessor the lute, many may not realize that in fact there were several other variations on these instruments that were popular in different regions over the past several centuries. One such overlooked instrument is the baroque guitar. In his recent release, baroque guitar virtuoso Rafael Andia performs works composed by the French baroque guitarist and composer FranÁois Le Cocq. For anyone who have heard a classical guitar or lute, the baroque guitar is a little perplexing at first, the texture is very similar to the guitar, having about the same number of strings, yet at the same time the characteristic unisons one expects from the double courses on a lute are present. It is and instrument with a unique and refreshing timbre, and as Andia proves, a very versatile instrument as well. The disc is made up entirely of Baroque dances, in the French style of course, affording Andia ample opportunity to guide us through a gentle and stately Sarabande, or to dart excitedly through an energetic Gigue. Throughout the recording Andia's exemplary interpretations are ample evidence of his career as a Baroque Music scholar. For anyone who has yet to experience the Baroque Lute, this album is an excellent choice.
© Timothy Smith


Rafael Andia's Website
Buy it at CD Universe
Listen to "Bourree"

Home | Links | Podcast | Archives | Submissions | Free CD Giveaway | Subscribe | About

Laurence Juber, Doug Smith, Al Petteway, Phil Keaggy (and many more!) at Acoustic Music Resource
Buy Instructional and Biographical DVDs and Books at


(Click on image below to buy)
| | |
| --- | --- |
| The Martin Taylor Guitar Method | Gypsy Jazz Guitar with John Jorgenson |