Reviewing the best in non-mainstream acoustic guitar music
May/June, 2009

Indigo Girls, "Poseidon and the Bitter Bug," Vanguard Records, 2009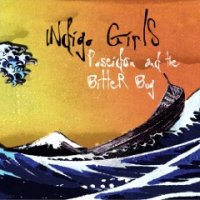 "Trying to remember..." fitting first words for "Poseidon and the Bitter Bug." Throughout, its lyrics look back, meditating on the ways we remember. There's nostalgia ("Driver's Education"), regret ("Fleet of Hope"), bitterness ("Second Time Around") melancholy ("Ghost of the Gang"), and hope ("What are You Like"). The opener, Emily Saliers' "Digging for Your Dreams," sets the tone. Its harmonies and drama are pure Indigo Girls. So are the lyrics-sometimes plainspokenly poetic and insightful ("she's had a heart attack but the bottle of Jack sits on the counter like the devil she knows"), sometimes inscrutable ("every day you get up and force your cards, you're playing your story in fits and starts"), and always thought-provoking and musical ("you learn how to breathe and you learn how to grieve your past"). But the changes in the chorus move away from the typical. So does the interplay between the synth, electric guitar, and acoustic arpeggios in the interludes and outro. Saliers' catchy "Love of Our Lives" showcases the duo's sister-like harmonies. Listen to the way the acoustic strumming anchors the arrangement. "Driver Education," Amy Ray's fittingly danceable -- thanks, in part, to the offset, percussive harmonies of the chorus-look back at high school is a 2:19 hoot with a host of telling details ("I fell for guys who tried to commit suicide, with soft rock hair, bloodshot eyes, tastes like Marlboro cigarettes") and girl group harmonies on the bridge. "What are You Like," the album's first single, rocks pleasingly as it builds to a memorable chorus. "True Romantic" closes. Ray says it's the nearest to a soul song she's ever written, With more than twenty years and fifteen albums behind them, Saliers and Ray have a lot to look back on. Fortunately they have a lot to say about the lives of folks twenty years on and a way of dressing up even downbeat reflections in melodies so pretty and rhythms so effervescent they help keep the bitter bug away.
© David Kleiner

(NOTE: The review above discussed the full band version of "Poseidon and the Bitter Bug." Also available is a two CD set with the CD above and one with acoustic versions of the songs plus one bonus track) Buy it at Amazon.com or iTunes
Listen to "Digging For Your Dreams" (mp3)

Stefano Barone, "particolare#uno," CandyRat Records, 2009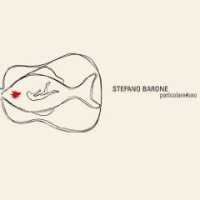 The opening track "Intro" on Stefano Barone's solo acoustic CD "particolare#uno" sonically paints a musical netherworld where Philip Glass might shake hands with Buckethead. These impossibly syncopated percussives and the nirvana-like cacophony blend into the title track and tunes thereafter, especially intense on "Batman," "Alexander Supertramp," "TCLD" and "Minimalaction." Masterfully using a hint of delay on his acoustic guitar, these lively soundscapes succeed with what might be labeled, paradoxically, as a "ramped-up drone." Barone also has a quieter side and unobtrusively shows his stuff on the nuanced numbers "The Return," "Syberian" and "Andata." He lets fly with a more jazzy vibe on "Spankie," though gives it his own signature with divergent walking bass, chiming, soundboard slapping and chords that go where you'd never expect. Barone definitely creates electricity on his acoustic guitar -- sparks and jolts -- but not the sort usually associated with power cords and AC outlets. Michael Hedges would have been proud that his legacy has been so transformed into the new Millennium by such luminaries as Stefano Barone.
© Alan Fark
Buy it at Amazon.com or iTunes
Listen to "Spankie" (mp3)

Tim Sparks, "Sidewalk Blues," Tone Wood Records, 2009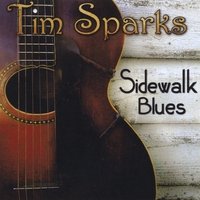 Recorded over the last several years in various locations, Tim Sparks's "Sidewalk Blues" is a fingerpicking homage to early 20th Century American Roots music. Sparks is a guitarist's guitarist, an innovator and student of many styles of music. Among those styles are American roots music, European and Mediterranean folk music, and classical. "Sidewalk Blues" is a return to Sparks's own roots and the music that initially inspired him. A meticulous arranger and consummate performer, Sparks plows, punctuates, and pulses his way through a well-chosen batch of ragtime, jazz, country blues, and gospel with an individual flair and spirit to burn. One of the nice things about the album is the lack of aural homogeneity. The guitars often sound very different on different tracks, almost as if you're listening to a compilation of incredible guitarists. No doubt this is due to the nature of the way the album was recorded, as mentioned above, but Sparks also utilizes a variety of guitars on the album. About half the tracks were cut on a Podium Custom Collings OM style Country Cutaway. Several tracks were recorded on a 1917 Gibson L-3. Also played were a Hoffman Custom OM Style Cutaway and a Lakewood Custom Concert Cutaway. Simply stated, Sparks is a master of the instrument. His arrangements and performances of Louis Armstrong, Fats Waller, Jelly Roll Morton, and Bix Beiderbecke compositions are flawless, at times playful, and always soulful. As stated in the liner notes, these seventeen tracks evoke the sounds, sights, and smells of "New Orleans sportin' houses, Harlem speakeasies... and a world of tobacco fields, fire-breathing itinerant preachers, moonshine on Saturday night, and rapturous Gospel singing on Sunday morning." A must have for fans of Tim Sparks and for anyone who loves fingerstyle guitar playing.
© Chip O'Brien



Tim Sparks' Website Buy it at Amazon.com
Listen to "Maple Leaf Rag" (mp3)

Drew Nelson, "Dusty Road to Beulah Land," Waterbug Records, 2009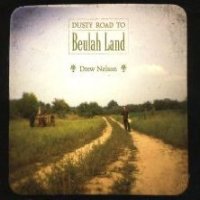 As James Joyce once opined "a man's errors are his portals of discovery..." Singer, songwriter, seer, sage Drew Nelson has seen his fair share of fire and rain. Born and raised in a small town in Michigan, a Navy veteran, and active in numerous Native American community based efforts -- Nelson is in a perfect position to musically document the ups and downs of modern life in these United States and then some. Akin to many of the wisest blue-collar bards of the heartland -- think John Mellancamp, Bruce Springsteen, Robbie Robertson, James McMurtry, John Prine and Townes Van Zandt to name a few, Nelson wears his heavy heart on his sleeve -- and his trusty acoustic guitar. "Dusty Road To Beulah Land" brims with wistful stories of common folk dealing with love, loss, and the plight of the working-class in an age wherein the greed of Wall Street takes precedence over the needs of Main Street. Abetted by a fine cast of musicians -- sturdy electric/acoustic bassist Dominic Suchyta, the weeping pedal steel of Drew "Captain Midnight" Howard, the alluring female vocal triumvirate of Rachael Davis / Natalia Zukerman / Claudia Schmidt, no-frills drummer Brian Morrill, and the subtle, harmonically rich keyboards/electric guitar/banjo of Michael Crittenden -- "Dusty Road" possesses a warm, rustic veneer rarely found on studio recordings. Morrill's double-time rhythms provide the perfect under-tow to "Stranger" wherein Nelson weaves tales of "how a family goes from middle-class to hand-me-down" and ruminates "I try not to hate the new job / Home Depot's not that bad / it's just the teenage boss and stupid orange vest that I can't stand." "Molly's Home," from where the album title emanates, is founded on a spooky drone that melds into a gospel chorus that eases the tension brought forth in the lines "red clay on your hands / toil and tears in the garden / a lovers road side stand / it's a dusty road to Beulah Land." With a groove worthy of Music From Big Pink, "Waiting For the Sun" is a perfect blend of electric and acoustic roots rock, especially when the tempo accelerates as the song progresses. Lyrically intoxicating, immediate, sexy (wait 'til you hear Rachael Davis wail on "Waiting For The Sun") and musically loose, "Dusty Road" merits a worthy companion to the timeless work of the above mentioned references.
© Tom Semioli



Drew Nelson's Website Buy it at Amazon.com
Listen to "Raindance" (mp3)

Richard Shindell, "Not Far Now," Signature Sounds, 2009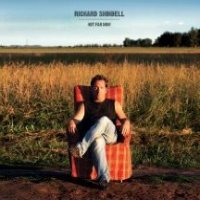 Richard Shindell's storytelling can get under your skin. Keeping an eye out for the outcast, he finds the singable moment in the one element in the picture that doesn't belong. "Parasol Ants," opens. Driven by Shindell's jaunty bouzouki, it finds a young hood, "busted, but good," sprawled on a busy sidewalk watching "parasol ants in a perfect line with bright green leaves raised up high." Shindell's musical photograph of that moment manages to swing while touching on issues of youth, socialization, spirituality, and nature. The built-in yearning in Shindell's voice has never sounded prettier than in "Juggler in Traffic." Here, the narrator is the element that doesn't belong. He goes from "car to car" with his "juggler's cap on" searching for someone. He's "still out here at midnight looking for the stars in the streetlamp glow." But the highlight, the track that best exemplifies the quiet ambition of this record is "Bye Bye," a homage to Lennon-McCartney's "She's Leaving Home," down to the plaintive "bye bye" recalling John's ending in the original, the cello, and the Beatlesque "la la" chorus over the chorus. The song works as a sequel, but it's about the act of songwriting. The verses present the facts. But we hear the writer's voice in the chorus. He could "bring her back to them with a few strokes of this fountain pen" but the famous "man from the motor trade ran off with a meter maid" (likely named Rita). And anyway, "that's not how this story ends." In "Clara," Shindell channels his labelmate Peter Mulvey and sings in a voice we haven't heard before. "Balloon Man," perhaps the loveliest song ever written using the word "equipoise," focuses on another outcast. Listen for the tiny grace notes Shindell sings in each chorus. The song makes a fitting closer, epitomizing Shindell's eye for detail, the inclusiveness of his vision and the beauty of this record.
© David Kleiner
Buy it at Amazon.com or iTunes
Listen to "Bye Bye" (mp3)

Antje Duvekot, "The Near Demise of the High Wire Dancer," Black Wolf Records, 2009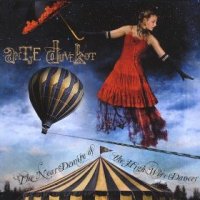 If you could dive into a Kris Delmhorst song and not come up for air once, you'll love Antje Duvekot. She's one of the best singer-songwriters out there, with lyrics rich in metaphor and paired with beautiful melodies. Her voice is a lovely airy soprano that can also dip down for the low notes. When she sings in an upper register, she has that catch in her voice like Catie Curtis does. One of her favorite songwriters, Richard Shindell, produced this album and it shows -- they chose musicians and arrangements that perfectly showcase her bittersweet lyrics. Acoustic instruments hold the spotlight, with touches of electric guitar, drums and pedal steel. The disc opens with "Vertigo," a ballad in waltz time that she co-wrote with Mark Erelli. He sings and plays mandolin, too, lending a sweet innocence to this tune about uncertainty in a relationship: "I will try to hold steady / Wanna make you believe / That the height of this tightrope is just second nature to me / but I will break all my bones / 'cause I lied about the vertigo." It's centered around a steadily strummed acoustic guitar and sweetened with a touch of pedal steel. She picks the tempo in "Ragdoll Princes and Junkyard Queens," a song about chasing love, then follows with another ballad, "Long Way." John Gorka sings on that one. Add a mournful harmonica and words about travel, metaphoric and real, and damn, you've got a great song. "Dublin Boys" is a love song, if you look at it sideways. She must have done something awful to a friend to write "Scream" or perhaps, it's about someone else, because she sings "The only reason I arrive is to leave" then goes on to detail why she's not a good friend. It's biting and the minor key is perfect. "Coney Island" is about a new relationship. I love the simplicity of the arrangement -- her guitar, voice and a bass telling us the story. Ending the disc is a sweetly sung children's song by Gerhardt Schone. It's in German and an English translation would've helped but still, it's beautiful. My only gripe about this beautiful album is that Antje only plays the guitar on three cuts. She wrote most of the songs so I'm assuming that she can play them. I understand how things go in a studio but with self-confessional songs like these, it feels more authentic to have the singer-songwriter play her own instrument.
© Jamie Anderson
Buy it at Amazon.com or iTunes
Listen to "The Bridge" (mp3)

Pete Huttlinger, "Finger Picking Wonder," 2009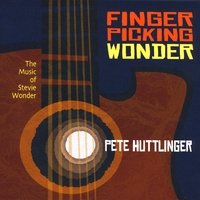 You have to love the name of the Pete Huttlinger's newest release, and the music's not bad, either. Ace fingerpicker pays homage to one of pop music's most accomplished singer-songwriters, the great Stevie Wonder. Huttlinger's arrangements remind us just how mind-blowing-brilliant Wonder's work was, from "Isn't She Lovely" to "My Cherie Amour" to "You Are the Sunshine of My Life" to "Superstition" to "Living For the City." But it's dicey to take on a full complement of iconic melodies, especially ones that don't particularly lend themselves to solo performances (though Huttlinger adds a second guitar on a couple of songs). A fine line exists between recreating the song, reinterpreting the song and arranging the song so that it breathes anew. Huttlinger's treatments of "Overjoyed" and of "Lately" emerge as the most successful of this 10-song collection.
© Fred Kraus
Buy it at CD Universe or iTunes
Listen to "Superstition"

Danny Schmidt, "Instead the Forest Rose to Sing," Red House Records, 2009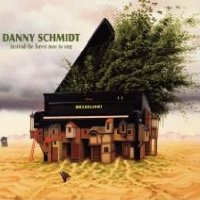 Danny Schmidt's brilliant "Instead the Forest Rose to Sing" opens with his trademark propulsive thumb. It's the center of his trademark swing. But, you'll truly understand what his picking and writing are about hearing the way he bends the strings, the way he hammers off. His songs can hit you harder than a thumb on a D tuned bass string, but what makes it all work is a surprisingly light touch. I hate to get all English major on you, but there's only one way to explain this magician: sui generis. Schmidt's picking is "of its own kind." His voice is of its own kind... an arresting warble I've witnessed stopping folks in their tracks. The lyrics. Every phrase bursting with irony or humor or revelation or all three. And now Schmidt's most fully realized record to date, even if your favorite Schmidt song might be on another disk. Here he makes good use of a greater sonic palette and more delicate engineering. The strings ratchet up "Firestorm" until it's all pent up rage. The clarinet and ragged chorus support the tale of the eponymous and inept two timing bank robber. Joia Wood's second vocals rebel against economic excess in "Serpentine Cycle Of Money." The strings in "Accidentally Daisies" make it so bittersweet. The lead track, "Better Off Broke," more about making songs ("Those rhymes ain't cards you play like poker / They're jokers so hold 'em til the fools all fold.") than about our present economy, suitably introduces an album that knows song is the soup in our bellies. "Swing Me Down," swung me back to contra-dancing, swinging-by tradition-every partner except the one who brung you and each smiles so nicely you realize "it's the holler of the heart that leads the making of the mind. It's not that I don't love you, I'm in love with your whole kind." "Southland Street," follows industry "headin' south / Hammer fall and strike the steel and bend the beat. They had it all til it all went headin' east." Don't be disappointed if I can't define Danny Schmidt for you. Only one label will stick: sui generis, in a class of his own, one of a kind.
© David Kleiner
Buy it at Amazon.com or iTunes
Listen to "Better Off Broke" (mp3)

Ken Hatfield (plays the music of Bill McCormick), "To Be Continued..." 2009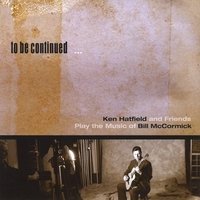 Bill McCormick's current release, "To Be Continued," features eight superbly crafted compositions brilliantly performed by guitarist extraordinaire, Ken Hatfield. McCormick graduated from the Berklee College of Music in the early seventies and continued his studies with legendary educator, Mick Goodrick. However, a severe shoulder injury shifted the guitarist's focus from performing to composing and producing. The music on this album ranges from Bop to Brazilian and from Blues to Classical. Ken Hatfield could not have been a better choice to deliver this exceptional music. He is a true master of the nylon-string guitar, elegantly swinging throughout the recording. His intricate and adventurous soloing and tasteful comping holds the listeners interest on every track. Joining Hatfield are some of New York's most sought after musicians, including a very supportive rhythm section consisting of Hans Glawischnig on bass, Steve Kroon on percussion, and Dan Weiss on drums. The guitarist is also strategically paired with Jim Clouse's encouraging and innovative reed playing, causing Hatfield to really reach out in his solos. The opening "The Spirit of Soul" features Clouse's haunting soprano bringing to mind John Coltrane and Steve Lacy's incendiary approach to the instrument. On "El Camino Wes" Hatfield pays homage to his hero without resorting to the typical Montgomery style clichés often used on similar dedications. "I'm Movin' to Cool Breeze City" is a Bop fueled burner with pinpoint soloing throughout, while "Pastorale," is a gentle, reflective solo piece featuring Hatfield's lyrical, melodic playing. Another noteworthy aspect of this recording is that not only is the ensemble entirely acoustic, microphones were the only medium used to capture the sound. The result is an entirely acoustic recording. In an era where most albums of this nature feature musicians who are "plugged in," using a myriad of electronic processing, this "mike only" approach is a refreshing alternative. Together Bill McCormick and Ken Hatfield have created an exceptional recording graced with interesting compositions and dazzling performances. "To Be Continued" is highly recommended for all listeners interested in hearing truly, pure acoustic music.
© James Scott
Buy it at Amazon.com or iTunes
Listen to "El Camino Wes" (mp3)


Home | Links | Podcast | Archives | Submissions | Free CD Giveaway | Subscribe | About

Laurence Juber, Doug Smith, Al Petteway, Phil Keaggy (and many more!) at Acoustic Music Resource
Buy Instructional and Biographical DVDs and Books at


(Click on image below to buy)
| | | |
| --- | --- | --- |
| Pete Huttlinger DVD: "Wonderful World of Chords" | Indigo Girls DVD: "Live at the Uptown Lounge" | Guitar of Tim Sparks |