Reviewing the best in non-mainstream acoustic guitar music
Home | Facebook | Podcast | Archives | Submissions | Free CD Giveaway | Subscribe | About | Links
March/April, 2016

Sandy Shalk, "Further Adventures in DADGAD," 2015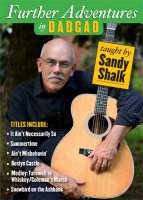 This instructional video is a follow-up to Sandy Shalk's 2014 lesson, Fingerstyle Jazz Guitar in DADGAD, in which Shalk discussed his interest in classic jazz and covered typical chord sequences, voicings, and alterations. On Further Adventures... he jumps right into teaching three 1930s tunes: the Gershwin's "It Ain't Necessarily So" and "Summertime," and Fats Waller's "Ain't Misbehavin." He then shifts from jazz into Celtic and Appalachian music, teaching "Roslyn Castle", a medley of "Farewell to Whiskey" and "Coleman's March," and ends with "Snowbird on the Ashbank." His clear explanations and friendly manner draw in the viewer and make the lesson easy to follow. Shalk's jazz arrangements are approachable for intermediate guitarists but sophisticated enough to interest those who are familiar with these tunes and tunes and looking for ideas to spice up their own arrangements. "It Ain't Necessarily So" offers introductory chord vamps, a melody played in a relatively high register for DADGAD tuning, and an effective variation. "Summertime" includes interesting movement in the bass and middle registers that's usually heard only in orchestral arrangements of the tune, not in solo or jazz ensemble performances. "Ain't Misbehavin" swings along nicely and, like the other jazz tunes taught here, will help DADGAD players expand their horizons. The Celtic and Appalachian tunes are pleasing, simpler than Shalk's jazz arrangements, and more typical of other players' approach to DADGAD. The stately "Roslyn Castle" includes nice counterpoint lines and reminds me of John Renbourn's Celtic and English pieces on his 1970s albums, The Hermit and The Black Balloon. Shalk's sensitive renderings of "Farewell to Whiskey" and "Coleman's March" call El McMeen to mind. On "Snowbird on the Ashbank," Shalk plays the melody on the guitar's middle strings, voiced lower than when played on the fiddle. In doing so he follows the practice of other DADGAD players like McMeen and Steve Baughman. Each tune in the lesson features a complete performance, then discussion and split screen presentation of each section, showing Shalk's left and right hands. An 18-page booklet, presenting the tunes in standard musical notation and tablature, is included as a pdf file. Sandy Shalk continues to introduce new approaches to acoustic fingerstyle, which he shares with his growing audience.
© Patrick Ragains
Buy it at Stefan Grossman's Guitar Workshop
Listen to "Further Adventures in DADGAD"

Ewan Dobson, "Insomnimania," 2015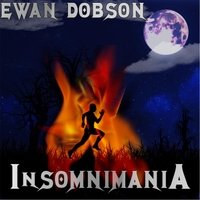 Ewan Dobson has proven himself to be a forcefully polarizing personality in the world of fingerstyle guitar: on the one hand, he's a consummate genius, magnificently gifted both creatively and technically. On the other hand, he's tortured by lingering mental illness, social isolation, and at times, near-poverty. Countless many have been drawn to Ewan through his music, which has rightfully enjoyed viral online fame and critical acclaim for its unique and entrancing sounds as well as its whirlwind technical difficulty, only to later be exposed on social media to all sides, light and dark, pleasant and unpleasant, of his brilliant mind. Frustratingly, some of these fans feel betrayed when their would-be idol doesn't fit their preconceived ideal image, and they respond by lashing out at him. Others, however, seize this opportunity to experience greatness in its most pure form; a figurative opportunity to bear witness Beethoven's infamous mood swings or to stand by in solidarity as Van Gogh cuts off his ear. Ewan has added to his fast growing output with his new recording, Insomnimania. His unique sound and approach to the guitar has once again been perfectly blended with several new and distinctive influences, this time as a result of his relocation to the East coast of Canada (partly to escape the personal and financial oppression he faced in Toronto). New, evocative melodies and the driving rhythms of the Maritimes are featured prominently throughout the recording, yet the music sounds inspired, fresh, full of life, and never derivative, which I personally feel is a common failing of much East coast-inspired music. Despite the new influences, Ewan's core sound remains rigidly and dutifully intact, strongly imprinting his personality and compositional style on all of the tracks. Throughout there are appearances of many of Ewan's other influences, including Middle Eastern music, European folk music, and heavy metal. Also, unlike so many fingerstyle recordings that simply feature solo guitar start to finish, Ewan thankfully explores layering tracks, the occasional percussion or synthesized instrument, and spoken word to fully realize his creative vision. Not only does this ensure Ewan is able to implement and communicate the music in his mind, it adds to the overall diversity of texture and timbre throughout the album. As has been the case with much of Ewan's output, many of his compositions on Insomnimania successfully walk the fine line between depth of thought and mass appeal, ensuring countless many can expect to be mesmerized and captivated by the delights of this album. That said, tracks like 'Suffer', 'Forked Tongue Speaketh Lies That Surely It Denies', 'I Know You See Me', and 'End Times' will force the listener to engage Ewan's honesty head on, and those who are faint of heart or who suffer from a narrow world view may be turned off. Conversely, many others will no doubt consider those tracks the best on the whole album. If you're a dedicated Ewan Dobson follower, or if you're just encountering his music for the first time, Insomnimania is sure to be a listening experience you will not soon forget.
© Timothy Smith
Buy it at Amazon.com
Listen to "A Lovely Light"

Jim Kimo West, "Guitar Stories: Slack Key & Beyond," 2015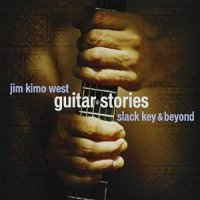 I guess it figures that since Jim Kimo West has toured as guitarist for "Weird Al" Yankovic and his traveling show of musical satire, he would produce a record that is not easy to pigeonhole. On his latest CD, Guitar Stories, West takes us on a journey into his musical mind, with a majority in his familiar territory of Hawaiian slack-key guitar, but with twists. The opening track, "Na Koa Moku O Keawa" is an homage to the power of koa wood, used in so many outstanding guitars and ukuleles that have made such wonderful music from the Big Island (Moku O Keawa). "Mauna Kea Meditation" is a sweet interplay between guitar and strings (cello and viola). It is a swelling, turning thing of beauty. Just when you think this record is all about lovely, lyrical ballads, the twists begin. In "El Alcazar," West captures the old-time enchanting mystery of the great palace built by the Moors, still used by the Spanish royal family, with guitar accmpanied by familiar Arabic instruments. "Daydream at Jumbo Rocks" brings electric and steel guitars over a simple acoustic guitar pattern to create a dream-like lullaby. West uses six different tunings in the nine songs on the CD, giving him lots of aural options. "Morning Music" is a bit more lively in tempo and playing, and it would indeed be a great tune to begin your day. "Iolani Palace Waltz" is a more traditional slack-key tune, named for the residence where the royal family of Hawaii would entertain in the last half of the 19th century. It has a regal air. "Floyd the Spider" is one of only two completely solo guitar pieces on the CD ("Na Koa Moku O Keawa" is the other), and is a playful picture of the web created by the Garden Spider. "Mele Menehune" is the most atmospheric song of this collection, incorporating orchestral and electric elements. The disc ends with "Song for Fess," a gentle farewell for West's friend and fellow musician David "Fess" Bourne who has passed on. Jim Kimo West has created a beautiful CD for those who enjoy not just slack-key guitar music, but just good guitar music.
© Kirk Albrecht
Buy it at Amazon.com
Listen to "Na Koa Moku O Keawe"
Listen to Jim Kimo West at our podcast

Tim Williams, "So Low," 2015

So Low (Solo) captures Williams at his most vulnerable: the man, his acoustic instrument of choice, and his pleasantly gritty vocal. As he tells it in the liner notes, there are "No guests. Not even any overdubs or edits." It's just, "Two hands, a good instrument, a voice, and the tapping of a two-tone wing-tip shoe." Williams caught the country blues bug during the great blues revival of the 60s and has been fascinated with the solo performances of artists like Big Bill Broonzy, Lightnin' Hopkins, and Leadbelly ever since. In fact, he performs most often as a soloist and decided it was time to do an album that way. With his blues finger picking, seasoned vocal, an album full of classics by Broonzy, Blind Boy Fuller, the jazz pianist Mose Allison, and a few of his own creations, he transports us back to the Mississippi Delta. Mose Allison's "If You Live," the album opener, kicks it old school, taking Allison's jazzy touch and baptizing it in the Mississippi. The results are light hearted and toe-tapping and a good hint of what's to come. Williams grooves hard, no doubt about it. He mixes things up a bit with mandolin on Big Bill's "My Big Money," a song that addresses the bonus withheld from African American soldiers after World War I. And Williams tears it up on an old Harmony twelve-string on his own "The Grizzly Bear." Williams is a fine writer, a student of the blues, and a highly competent multi-instrumentalist. So Low is a great album. It's no wonder he was voted best solo/duo act and best guitarist at Memphis's International Blues Challenge last year. As he says in the liner notes of the musicians he's spent a lifetime studying, we can also say of Williams: He's got "the voice, the guitar, the story, and the means" to bring some bluesy awesomeness into your life.
© Chip O'Brien
Buy it at Amazon.com
Listen to "Big River"
Listen to Tim Williams at our podcast

Olivier Giry, "Chrysalides," 2015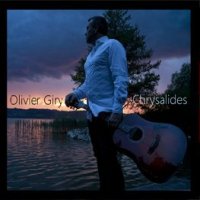 Olivier Giry is a sly guitarist - he disarms the listener with soothing Smooth Jazz, then slips in little surprises of technique or composition that jolt the listener out of that mellow New Age reverie. On Chrysalides, the French guitarist's follow up to "Perspectives" (2011), he continues his reliance on fingerstyle acoustic and mostly abandons percussive effects (although on "Soleil Levant" he plays with both hands on the fretboard, adding a few taps and harmonics). A versatile musician, he embellishes and enhances his sophisticated and melodic pieces with other instruments, including drum samples, percussions (shakers, congas) and flutes, wurlitzer, and keyboards, to give supplemental color and energy. The compositions exhibit a range of styles including folk, rock, funk, blues, and country that nevertheless have a clear and coherent sensibility. The lovely "In a Blue Crayon Sky," "Pas a Pas," and "Panama Split" are closer to jazz, while "Day After Day," bittersweet "The Sad Fish" and "Bye Bye Lullaby," which brings the album to a close, are more melodic. And then there's red-hot "Rodeo," with tour de force jaw-dropping country bluegrass (for which he plays a Squier Telecaster). But as with an album titled to refer to the developing stage of a butterfly, there are new directions suggested. On the title track he shifts to a Guitar sitar on this gorgeous mid-Eastern-inflected piece that is both hypnotic and highly charged. With a sure, sensitive touch, elegant playing and appealing compositions, Giry is clearly a guitarist to watch.
© Céline Keating
Buy it here
Listen to "Chrysalides"

John Byrne Band, "The Immigrant & The Orphan," 2015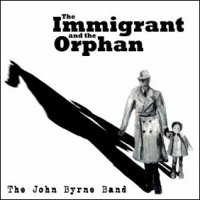 John Byrne wrote the lead track of "The Immigrant and the Orphan" for his dad. But "Sing On Johnny" speaks as much to the same-named son as the father. Byrne knows the older man is okay as long as he keeps playing. Byrne himself has kept on playing through adversity of his own, much of it on display in this largely confessional record. It takes to heart a character's call in the first tune to "play a song for us all," by offering something for everyone, from Irish folk to rock to country. The opener is a pattern song in the folk tradition that starts with voice and six string out front. When the band joins in, Maura Dwyer's viola makes a particularly lovely contribution. "Dirty, Used Up, Chewed Up, Screwed Up Love," would be right at home on contemporary country radio, a rousing putdown song with electric guitar and banjo, alcohol, partying, and somebody doin' someone wrong. "Me Over Him" is a CD highlight, a waltz-time straight-ahead unrequited love song. It's largely acoustic, with a touch of humor, a fine dobro solo, and some sweet six string fills. Concrete details sprinkled through the album set the scene in Byrne's adopted home, Philadelphia. He turns the Betsy Ross Bridge into a title and a symbol dressed in a pretty, traditional sounding tune. The singer's fine baritone serves the song's pathos very well; the harmony is terrific. "The Ballad of Diamond and 4th" also uses a traditional melody but its non-confessional story seems out of place. And, at more than seven minutes, the track is overly long. Byrne scores once more, though, with "Hole in My Belly." Its story of the after effects of a miscarriage bookends the earlier "Betsy Ross Bridge" movingly. "The Immigrant and the Orphan" makes it personal again, detailing how illegal immigrant status complicates a relationship. Byrne finds the universal in a set that is often very personal and devastatingly honest. This great sounding, thematic record goes a long way toward achieving his ambitious goals.
© David Kleiner
Buy it at Amazon.com
Listen to "Sing on Johnny"

Gabe Close, "Leave That Light On," 2015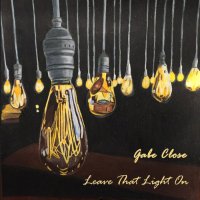 Singer/songwriter Gabe Close inhabits Americana on his 10-track collection, Leave That Light On. The lefty guitarist takes on the wide-ranging genre, and opens musical doors not extensively explored on his previous two blues-based collections, Learning to Wait for the Dawn, and Sounds For An Old Soul. Based in Louisville, KY, Close shows a shows a connection – an unfettered sincerity – to the heart-tugging vignettes he so ably crafts. He sets the mood with a scratchy, bluesy "Intro" that seems lifted from Smithsonian Folkways classic Appalachian blues, perhaps a nod to the more recent excellent work of Brownbird Rudy Relic on his "Anti-Stereo Acoustic Holler Blues." But no, Close follows that opening track with his life-worn, agreeable vocals supported by topnotch production values gushing like a fountain in "Everything Still Reminds Me of You." Horns, guitar and sax solos, gorgeous piano, with lyrics of rivers, love, regret, wagons and Memphis. It's an achy, country-pop story-song in the best sense of that much-maligned descriptor. Then, after that high-tech, wall of sound electrified production, Close brings an upbeat but more acoustic-based "Weary Mind," weighted with jazzy piano and strong vocals from Louisville's s Molly Greer. Again, catchy and pleasant, a tale of yearning but not desperation. On to track four – Close switches his sound palate up again – with the all acoustic, twangified romp of "Maybe You'll Come Around;" this time, fiddle, banjo, guitar strumming take the fore, but the production is no less impressive. The remaining songs continue on in this rhythmic shift from electric to acoustic. "Crippling Weight" features the organ and sax of Muscle Shoals veteran Ronnie Eads. Close is still fairly early in his career, but Leave That Light On shows his work as a developing music producer. What's nice about Close is he works fairly hard, in his own gentle way, to shed a little light on the human condition, the ebb and flow of relationships. While at times somewhat heavy-handed – as in "Railway Line" – Close has something to say, and knows how to say it. Looking forward to his next collection.
© Fred Kraus
Buy it at Amazon.com
Listen to "Weary Mind"


Home | Facebook | Podcast | Archives | Submissions | Free CD Giveaway | Subscribe | About | Links

Laurence Juber, Doug Smith, Al Petteway, Phil Keaggy (and many more!) at Acoustic Music Resource