Reviewing the best in non-mainstream acoustic guitar music
Short Takes | Facebook | Podcast | Archives | Submissions | Free CD Giveaway | Subscribe | About | Links
March/April, 2015

Helen Avakian, "Notes from Helen," 2014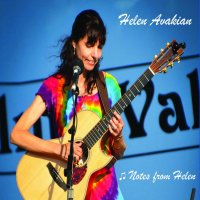 What a thrill to review the first instrumental CD from Helen Avakian, and not just because she's the first woman to win, in 2014, the International Fingerstyle Championship, which draws virtuoso guitarists from around the world. (Note that the contest, which has been around since 1979 as a national championship, was only once won by a female performer, Muriel Anderson, in 1989.) No, the thrill comes because Notes from Helen is an extraordinary CD, ranking with the very best fingerstyle - or any style - guitar album. Avakian formerly of New York area and now hailing from Madison, Wisconsin, is already an acclaimed singer songwriter with two previous CDs; here she has put together a collection of guitar instrumentals. The pieces are stylistically and musically varied, ranging from folk, Celtic, classical, flamenco and pop, all sparkling with originality and verve. It's hard to decide what's most impressive - the fresh, intelligent arrangements, the arresting original compositions, or the dynamic and lyrical playing. Avakian studied classical guitar and only recently ventured into fingerstyle, which makes her accomplishment even more stunning. Her playing is brilliant; she can play flashy (traditional jazzy "Rhapsody in Blue," George Gershwin), funky ("Signed, Sealed and Delivered," Stevie Wonder), or acoustic fingerstyle of great emotional depth (Jay Ungar's "Ashokan Farewell" or her own "McTammy's Jig"). But for heart-stopping beauty listen to the tempestuous and complex "Zambra" (her original, though based on a traditional flamenco piece) or her powerful arrangement of Ralph Towner's "Icarus." Her technique is masterful, especially her right-hand wizardry. Every piece is studded with flawless tremolos, bell-like harmonics, and forceful strumming, like rasqueado. It is perhaps her control and nuance of dynamics that's key to what makes her playing so distinctive, as she moves from delicately soft to strong and assertive as the music dictates. With Notes from Helen, Avakian is well on her way to joining the ranks not only of top female guitarists but of the best fingerstyle guitarists, period.
© Céline Keating
Buy it at Amazon.com
Listen to "If"
Listen to Helen Avakian at our podcast

Yes the Raven, "Love is Covered in Dust," 2014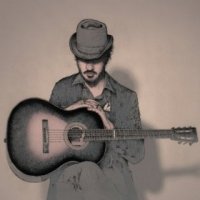 Yes The Raven is the musical alter ego of singer/songwriter guitarist Alan Mearns. Mearns, a native of Belfast, Northern Ireland, now lives in Hickory, North Carolina. Fairly well-traveled for a fairly young guy, the story goes that Mearns, the son of an itinerant preacher, came to the US on a music scholarship and eventually performed with a variety of musical assemblages. This current 11-track work does not immediately reflect any influences that might be considered mid-Atlantic. Rather, it's a personal, often hypnotic reflection of fingerstyle guitar and voice. Mearns sings with an understated but powerful expressiveness, aided by the stark imagery of his lyrics. Ten of the 11 songs envelop us in his cottony web -- like being engulfed by a warm, slightly moist and textured blanket. The song titles hint at the contemplative mood: "Breathe," "Cold Dark Age," "Love Is Covered in Dust," "This Will Only End in Tears," "Heroine." One song, the relatively abbreviated "Rattlenake Blues," situated toward the end of the disc, boldly breaks through the carefully crafted atmospheric miasma – jarring the listener back to planet Earth with its cascading blues lines and showing off Mearns' pipes in what seems – at least in this context – a wild outburst. Interestingly enough, it shows the power of restraint so evident in many of the other tracks, some of which seem as if they are just teetering on the edge of boiling over, of bursting uncontrollably free – but they don't. Love Is Covered in Dust may be the most intriguing collection I have run across this year. It is reminiscent of advice sometimes given to public speakers – if you truly wish an audience to pay attention, the trick is to speak softer, not louder. There is some of that maxim going on here – we're reeled in, as Mearns slowly tugs and teases us with his swirling musical vortex -- and left wanting more.
© Fred Kraus
Buy it at Amazon.com
Listen to "Josephine"
Listen to Yes the Raven at our podcast

Tom Feldmann, "Delta Blues and Spirituals" (CD) 2014 | "The Guitar of Skip James," (DVD) 2014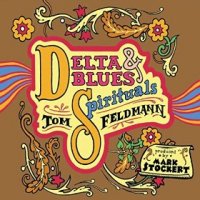 If you love acoustic blues, then you may as well stop reading right now, go to Tom Feldmann's website and buy Delta Blues and Spirituals - it's that good. Having a good collection of country blues from the 1920s and Thirties, I approached this recording with a bit of apprehension. That fear was unwarranted, since, on first listening, I was taken with Feldmann's personal, convincing vocals and his mastery of several Mississippi Delta-based guitar styles. He plays solo, using wood-bodied guitars for both "straight" and slide playing. Feldmann begins the set with a good cover of Bukka White's "Aberdeen Mississippi Blues," and really picks up steam by the time Charlie Patton's "Pony Blues" comes around. "Mr. Johnson's Blues" features a guitar part based on Robert Johnson's "Crossroads Blues," and includes verses from "Crossroads," "Terraplane Blues," and a few other songs of Johnson's. Feldmann pays homage to Texan Blind Willie Johnson with a rendition of "Dark Was the Night, Cold Was the Ground." Blind Willie's performance of the tune was certainly one of the most emotionally gripping country blues recorded, and Feldmann manages to do it justice without copying the original note-for-note. Come to think of it, that characterizes his general approach to country blues - authentic, yet personal. He includes several gospel numbers in the program, "If I Have Failed to Follow" and "Jesus on the Mainline" among them. This CD is both a wake up call to jaded blues cognoscenti and a fine artistic statement.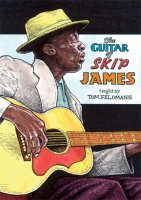 Feldmann has also produced a number of instructional DVDs, focusing on seminal country blues artists like Son House, Charlie Patton, John Hurt, Robert Johnson, and Fred McDowell; this set on Skip James is his latest. Feldmann teaches 15 of James's pieces, including two of his most popular songs, "I'm So Glad" and "Hard Time Killin' Floor." He sings and plays each piece as a performance version, then teaches each passage and plays through the tune on split screen, which shows clearly what the picking and fretting hands are doing. Feldmann doesn't discuss James's biography or musical lineage, but his performances are strong and convey emotional depth. Several tunes are taught in the "crossnote" D minor tuning that James adopted and used for some of his best-known early pieces, followed by others from the 1960s, played in standard tuning, then "Special Rider Blues" in open G tuning. The lesson includes James's 1930s recordings and several video segments of him performing in the 1960s. James's playing was sometimes erratic, particularly in his later years, and Feldmann strikes a good balance by preserving odd bar lengths but smoothing out some of James's rhythms. By doing so, I sense he's presenting the spirit of these great guitar pieces without being slavishly purist. This lesson will pay off for intermediate and advanced guitarists who want to learn Skip James's guitar arrangements, although James's techniques also embody arranging concepts that are generally useful in fingerstyle playing, such as octave runs and placement of thematic lines in different registers. I strongly recommend it.
© Patrick Ragains
Buy the DVD at Stefan Grossman's Guitar Workshop
Listen to "Jesus On the Mainline"
Lucas Michailidis, "Laughing at the Thief," CandyRat Records 2014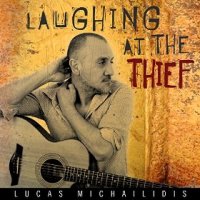 It's all about the melody! Oft times the art of fingerpicking gives way to exercises in dexterity - which is why you need to hear Lucas Michailidis' latest, digital-only release Laughing at the Thief. Yes, Lucas possesses impressive chops and his use of alternate tunings expands his palette in an infinite number of ways - however this guitarist dazzles the listener with rhythm and space which allows for his lyrical melodies to take hold before moving on to the next passage, and the next, and the next. "The Farthest Shore" exudes pop themes that would not be out of place on a Nora Jones or Sara Bareilles composition. Lucas' deft command of harmonics coupled with his brisk staccato, percussive phrasing on "Hedgehog" forges a groove akin to a full rhythm section reminiscent of the legendary "The Section" who backed such artists as Jackson Browne and Carol King, among others, in their singer-songwriter heyday. "Naked Heart" explores minor key themes with a dramatic flair, which is not surprising given Lucas' stated influences ranging from guitar gods Carlos Santana and Jimi Hendrix, to master tunesmiths such as James Taylor and Rickie Lee Jones, to jazz icons Bill Evans and Herbie Hancock. What makes Laughing at the Thief even more engaging is that it's not a guitar album for guitarists only - "civilians" will be drawn to its "pop" accessibility - which is a good thing. If this artist chose to enlist a lyricist and singer, Laughing at the Thief would be a hit record akin to seminal sides (that's old-school slang for "albums") by the above referenced artists.
© Tom Semioli
Buy it at Amazon.com
Listen to "Hedgehog"

Christian Laborde & Benoît Albert, "A Deux," 2014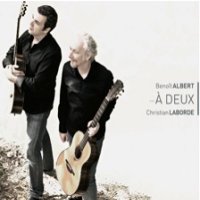 Two guitars, nylon and steel string mixing melody, harmony, rhythm, groove. Christain Laborde and Benoît Albert, in their first-ever CD collaboration find all kinds of musical common ground to explore on "...A Deux." The playing is exquisite – powerful, refined, lyrical, and at times, magical. Their artistry makes you feel like these guys have been playing together for a long time. There is no hesitation or awkward space seeking what is coming next, just flowing interplay that feels organic, not scripted. The CD begins with the propulsive "L'ego Land," interweaving often parallel, then complementary lines, traveling like a Mustang Cobra through rush hour traffic. "Je dis 23" (I say 23) is a gentle melange of colors. Groove is again pulling at the listener on "Groovy-groova" in an almost bossa-nova way. "Sucre-sal" begins with a gentle sub-text with Albert's sensitive melody, always bringing us to that sweet place of delight aurally. We move into a minor key and darker textures on "A l'ancienne" driven by a staccato bass line and Albert again singing melody on his nylon strings. Laborde creates marvelous sonic landscapes in his picking. "Turkish Blues" is at once happy and free, yet ethereal and sassy, dancing the night away in Istanbul with your saz falling off your head. "Ou est le 4?" features Laborde's gorgeous fingerpicking chiming with particular resonance, playing off ¾ time so the question is where is the 4? "Lever de rideaux" is a power ballad pushing and pulsing. The one tune with an Engish title, "Tuesday in the Evening," features octave lines creating a mirror image of pastel warmth. "Paris par ton" repeatedly asks what seems a haunting question while posing several possible answers. The longest cut on the disk - at almost 7 minutes - is at the end, "Odai' oud," a melancholic dirge born in Middle Eastern tones; you can almost feel the souk. This is a first-rate offering of duo acoustic guitar music by Laborde and Albert.
© Kirk Albrecht

Christian LaBorde's Website | Benoît Albert's Website
Buy it at Soundset Records (US), Diam-Diffusion (Europe), Les Productions d'Oz (Canada), iTunes
Listen to "L'égo land"
Ernie Hawkins, "Monongahela Rye," 2014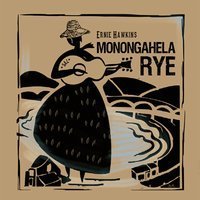 Piedmont blues picker Ernie Hawkins plays lanky, fingerpicked, throwback blues that could be likened to stride piano. Think Blind Blake and the Reverend Gary Davis, the latter of whom Hawkins studied with as a teen. Ragged rhythms, jagged melodic stabs, and tales of the sportin' life abound in Hawkins' lexicon, which comes through even if the song is an instrumental, as six of these 13 songs are. He is a master at picking tunes, highlighting some you may have never heard, like "Stovepipe Stomp" (Big Bill Broonzy) or "Carolina Shout" (James P. Johnson, 1917), and some, like, "When the Red, Red Robin Comes Bob, Bob, Bobbin' Along," that you've heard, but not like this. Hawkins' passion for the old stuff recalls the first heyday of the blues, when 78s contained the news of the day, sung by a long-gone crop of rounders, drifters, and women who could really sing the blues. I like that about Ernie Hawkins. When he writes, as on the title track, echoes of another era, of a pre-war twentieth century, aren't far behind. Charming songs abide here, like Louis Armstrong's "Sweethearts on Parade," imbued with a wry Ry Cooder detachment and longing. Acoustic blues fingerpickers take note; this is some stuff you'll want to woodshed. And as anyone who has ever tried to play Piedmont blues on a whim can tell you, it isn't as easy as it looks. Expressive meter, sharp-cut licks, and real feel, that's what Hawkins brings to the party. Guitarists might want to take a listen to Hawkins' arrangement of W.C. Handy's version of "Hesitation Blues," which, of course, Handy wrote. It's a reminder why we need artists like Ernie Hawkins to remind us. The production here is decidedly old-timey, and that's just about right. Hawkins voice is as plain as old leather, and that's just fine. You get the feeling that somewhere in Ernie Hawkins' heart, it's a sunny, iced-tea-and-moonshine afternoon just off Main Street in southern Ohio, or Virginia, where the cares of the world are tamed by the meanderings of a finger-picked guitar and a plain-spoken song.
© Steve Klingaman
Buy it at Amazon.com
Listen to "Carolina Shout"

Tim Sparks, "Fingerstyle Boogie Handbook," Truefire 2014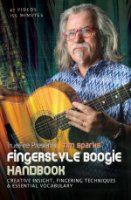 Before I took on the pleasant task of critiquing Tim Spark's newest instructional video I visited his 2014 CD titled "Chasin' the Boogie." I was amazed with his virtuosity, detail of arrangement and the variety of styles exhibited. It's obvious that Tim Sparks is a musically sophisticated and complete guitarist, arranger and composer. With "Boogie Credentials" thus firmly established, I then cued up Sparks's newest Truefire instructional DVD - Fingerstyle Boogie Handbook. The Handbook lessons are displayed via close-ups of both left hand and right hand fingering, as well as a full front view of the guitarist playing. Multiple views allow the student to observe in fine detail all of the nuances reflected in Tim's demonstrations. The first section is titled "Boogie Toolbox Overview" featuring a full neck 'Master Riff' along with interesting 2 and 3 note 7th and 9th chords, boogie bass lines, a variety of rhythm patterns and some simple boogie patterns. Through the entire DVD Sparks gives a brief overview of the lesson at hand, then he plays the piece at speed followed by a slowed down version accompanied by narrative explaining what is occurring on the fingerboard. The second section runs through a variety of boogie grooves, rhythms and themes progressing in a logical order of difficulty. Tim's style of demonstrating leans more toward a 'watch and learn' process rather than talking the student through each step of the progression. Hence, a less advanced pupil might benefit from the hands-on assistance of an instructor in addition to the DVD, while the more advanced player will be able to discern what to do from the slowed down versions. The third section takes in all the elements learned so far -- first using some Freddie King 'Hideaway' themes to craft a nice little boogie piece that can stand alone. This is followed by an extended lesson in drop D tuning based on the title track ("Chasin' The Boogie") from Sparks's aforementioned CD, which results in a piece worthy of a place in the student's performance repertoire. Tim Sparks provides the student guitarist some essential straightforward building blocks in order to incorporate techniques of this rhythmic subgenre of the blues known as "Boogie." If dedicated, that student will be guaranteed to have a blast when it finally all begins to flow naturally under Sparks's tutelage.
© Mark Bayer
Buy it at Truefire

Vance Gilbert, "BaD Dog Buffet," 2014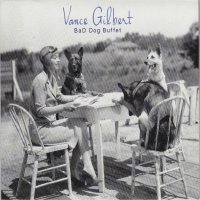 The title of Vance Gilbert's latest release serves as an apt summary of the songs inside. The bad dogs? A set of character studies, folks with a few flaws and a lot to say, though what they don't say could fill another album. This one succeeds or falls on Gilbert's ability to find their humanity. If, like me, you find yourself listening to the hummable, pure country of "Out the Way We Came In" hoping they get back together instead, you'll know he succeeded. It's a Tammy and George duet with pedal steel, fiddles and doubling mandolin. But, in the kind of twist we expect from Gilbert, the judge takes the Tammy part while presiding over the divorce of a couple he married twenty-six years before. "Holiday Employment," finds a drunken Santa applying for holiday work to the sound of a Salvation Army band. The buffet? A mix of musical mash-ups and straight-ahead stuff that allows Gilbert to rove among the genres while never straying too far from folk. The lighthearted yet soulful "Kiss the Bad Boys" mixes girl-group ostinato with late 70s sax and David Lindley-ish electric solos for an album highlight. "Nothing from You," offers a shimmering overlay of guitar and synthesizer. Then Gilbert's "Little Wing" reminiscent electric solo comes in as the silent cry of the fragile woman in the dressing room of a star, a former high school classmate. Active drum work on the jazz side drives the lyrically dense opener, "God Bless Everyone." Beginning as a songwriter's confession, "a slow starter" who still refuses to "choose between… [the] angry and broken and wild," it morphs into a confessional for everyone with "a Frigidaire covered by artwork… made by children you love beyond measure." From the stripped down beauty of longtime Gilbert favorite "Unfamiliar Moon" with its Sam Cooke influence, to the plaintive "For Evelyne," to the winking swing riffing of "Sweet Potato Dove…" the bad dogs offer a varied buffet of musical tales.
© David Kleiner
Buy it at Amazon.com
Listen to "God Bless Everyone"

Michael Fix, "Lines & Spaces," 2014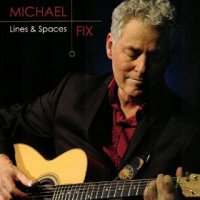 "Lines and Spaces" is Michael Fix's 14th CD release since 1992 and once again displays his prodigious talents as composer, arranger and performer. The CD opens with "Young Guns," during which a lively and seemingly comic array of instruments flow wildly from spaghetti western to Chet Atkins. The musicianship is top-notch but it's a frontal assault from this cast of players from moment one. "When Thuli Smiles" is a beautiful ensemble piece featuring Caribbean percussion which quickly changes the mood and presents some well-constructed and joyous themes. At this point the listener might be swayed to think that the CD will be mostly a group effort featuring various performers. A solo guitar morsel, "After the Storm," follows with a well-executed flamenco-tremolo and ushers in a quiet theme that conjures up a feeling of calm confidence. Back to an ensemble segment, a duo of guitar and flute (which I interpret to portray the titled "Butcherbird") execute and embellish a playful recurring theme. The duo continues with a variation on that motif followed by a dramatic and repeating minor key section, resolving slowly back to the opening (and closing) subject -- wonderfully written and performed. A mild slap on the hand to the person who mislabeled the CD jacket with the title "Happy Talk," leading the listener a bit surprised to hear "Blackbird" in the 5th slot. What we hear is a bluesy ensemble version of "Blackbird" with interesting variation of the original Beatle chords along with a chorus featuring Michael and female voices in a haunting stack of 4ths chanting "Blackbird fly"… "Happy Talk" does luckily make a later appearance, a captivating tune from the Rodgers and Hammerstein musical South Pacific rendered via a most happy boomchucka solo guitar. "Remembering Ray" is a nice tribute to Fix's recently departed friend in a 'Chet' style. The middle slows to seemingly a walk through diverse musical memories, then the first subject returns with a brilliant resolution. Very well written... and Ray must be smiling. "Silvertop Blues" sounds like Fix overdubbed two guitars and a catchy bass line that is maintained and expanded with some sweet guitar improvisation. "Bolero" is a true treasure of arranging and execution. Fix captures the essence of a work that is normally performed by a full symphonic orchestra. How he manages to ignore his droning thumb part while independently weaving the other elements leaves me aghast. The pedestrian listener might overlook the difficulty of this less flashy piece. His love of Ravel's masterpiece is revealed in his methodic transformation to solo guitar. The 'two brains syndrome' is exhibited in this very precise cover of the Beatle classic "I Saw Her Standing There." I imagine that Ed Sullivan would have liked this version even better. The CD closes with "Coppertown Blues," which could be the showcase work of a completely different CD and stands alone in style, drive and emotion from the rest of the album. It is quite stunningly executed and paints a harrowing picture of a dying town. I keep coming back to this one as my favorite although it contrasts with the balance of material. After several visits to this CD I question whether the artist might have considered making this a double set; one solo and one ensemble. In Michael Fix's own words "There is seldom a concept in mind," and the diversity of material on this release is indeed consistent with that statement.
© Mark Bayer


Michael Fix's Website
Buy it at Amazon.com
Listen to "Happy Talk"
John Morgan, "Quiet World," 2014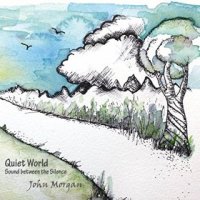 John Morgan's seventh CD release, Quiet World, consists of 16 original compositions and a total of 60 minutes of music. It was abundantly clear on first listen that Morgan is a musician at ease with not only his instrument, but also the arrangements that add so much nuance and breadth to his phrasing, melodies and grooves. Vocal, keyboard, flute, accordion and percussion accompaniment are an essential part of this CD. Quiet World opens with a relaxed series of guitar phrases that roll into a bright and frolicking melody accented and carried along piano accompaniment followed by "Girl in the Garden" that features mirthful vocals that form a duet with Morgan's equally mirthful fretwork to create a tune so right for a sunny summer day that I think it helped melt some of the snow off my Michigan roof! Stylistic influences can be heard from classical, rhumba, Caribbean to a handful of finger-stylists like Phil Keaggy and Tommy and even Ulli Bögershausen. The heart of this CD are the half dozen guitar pieces that demonstrate Morgan's superb ability to compose complex yet melody driven guitar compositions. "Eclipse", "The Question" and "Finding the Light" are immensely listenable and transcendent featuring superb performance and pristine production. Morgan's astute fretwork on his Kevin Ryan-made guitar translates into incredible tone that at times evokes auditory serenity and bliss. Quiet World is delightful, and satisfying from beginning to end and so much more than a man and his guitar; Morgan truly opens the door to a world of auditory pleasure and sonic balm. Promotional material indicates that much of this music was inspired by his work as artist-in-residence at Riverside Methodist Hospital in Columbus, Ohio. There is no doubt in my mind that Morgan's music soothes, uplifts and inspires anyone who experiences his music.
© James Filkins


John Morgan's Website
Buy it at Amazon.com
Listen to "Waiting"

Home | Facebook | Podcast | Archives | Submissions | Free CD Giveaway | Subscribe | About | Links

Laurence Juber, Doug Smith, Al Petteway, Phil Keaggy (and many more!) at Acoustic Music Resource