Reviewing the best in non-mainstream acoustic guitar music
Home | Facebook | Podcast | Archives | Submissions | Free CD Giveaway | Subscribe | About | Links
March/April, 2014

Laurence Juber, "Under an Indigo Sky," 2013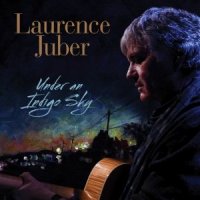 Although guitarist Laurence Juber is a first-rate composer for his instrument, he's also gained recognition by arranging and playing solo versions of others' works, including giants as diverse as Lennon & McCartney, Harold Arlen and Jimi Hendrix. Comprised mostly of popular love songs, "Under an Indigo Sky" continues in this vein. Juber opens with a supremely bluesy take on Arthur Hamilton's "Cry Me a River", which he's often played in concert over the past few years. He follows this with the first of four originals, "Twilight in Montreal," which starts as a reharmonized 12-bar blues, used as a vehicle for improvisation. Three other originals, "Under an Indigo Sky", "Juno", and "The Other Side of Midnight", allow Juber to marry pop sensibilities with his keen arranging skill and muscular technique. The remaining covers reveal wide-ranging tastes, including Marvin Hamlisch's "Nobody Does it Better", Del Shannon's "Runaway", and Paul Simon's "Mrs. Robinson". Standards "All the Things You Are", "Autumn Leaves", and "Smile" each receive a novel treatment. In sum, this group of tunes adds breadth to Juber's solid reputation as a top interpreter, innovator, and composer for solo steel-string guitar. And, as with his other work, it makes for great listening.
© Patrick Ragains
Buy it at Acoustic Music Resource
Listen to "Runaway"

Dan Bankhurst, "At First Sight," 2013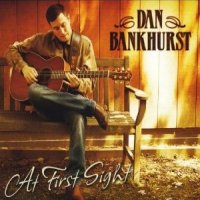 Oh that thumb. Like Merle Travis, Chet Atkins, and most clearly Tommy Emmanuel, Dan Bankhurst has a rock solid thumb that drives his music and gets your toes to tap without thought. Those Travis-style pickers are a heavy influence on Dan's new CD, "At First Sight." Honestly, there were several times in listening to this record that I forgot it was Dan and thought I was listening to Tommy Emmanuel. The style, the sound, the clean fast arpeggios; Dan Bankhurst knows how to play this kind of music, and it's great to hear. The Cleveland, Ohio-based Bankhurst sounds like he's from Nashville, perhaps because the record was produced by one of Nashville's finest pickers, Pete Huttlinger. The CD has 10 originals, and nice covers of "Just the Way You Are" by Billy Joel, "Moondance" by Van Morrison (great groove), and Stevie Wonder's "Isn't She Lovely" (delicate with cascading false harmonics to open, then capturing the Wonder-driven melody). After opening with a couple up-tempo numbers "Phishin'" and "Mitchell Lane," Bankhurst slows down the pace with a striking balled called "Grand Man." The title cut, "At First Sight," shows the power of thumb-style picking to bring out bass, mid and treble lines in one cohesive package (clear nod here to Tommy Emmanuel in style and substance). Dan does a beautiful version of "Hatikvah (The Hope)," the Israeli national anthem. We get Dan's take on slack key in "Hawaiian Sunset," with the sensitivity this beautiful form deserves. The groove is back on "Dan's Funk," with staccato bass lines trading off with great chordal changes and single-note trebles. The CD ends with "Ride with Me," the only vocal track on the record, complete with some great electric comping and solos overdubbed. Dan Bankhurst is a compelling young guitarist with his roots well-watered and a clear ability to write and play songs that make you sit up and listen.
© Kirk Albrecht
Buy it at Amazon.com
Listen to "Mitchell Lane"
Listen to Dan Bankhurst at our podcast

Kate McGarry & Keith Ganz, "Genevieve & Ferdinand," 2014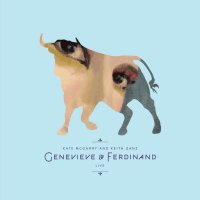 In an album recorded largely in concert, Kate McGarry and Keith Ganz bring a jazz sensibility to a wide-ranging selection of tunes: folk, Tin Pan Alley standards, iconic pop, lesser known pop, singer-songwriter, Latin jazz. Much of Ganz' nylon acoustic is mixed far back, focusing attention on the vocals. Ganz never overplays while providing tasteful and varied support which, though subtle, sometimes drives the direction of a song… and every word is crystal clear. The set opens with a poignant cover of Paul Simon's "American Tune," that mostly plays it straight. "Ten Little Indians," with impressionistic, autobiographical lyrics about the life, happy home ("he built a house upon his back"), and death of her mom ("as mother labors in reverse"), is a McGarry original. The duo really comes to life in a medley of tunes by Toninho Horta and Pat Metheny. Listen for the doubling scat of guitar and voice. The Kern/Hammerstein classic, "Can't Help Lovin' That Man" follows, a take so terrific it shows where McGarry is most comfortable. Ganz even stretches out a bit in a solo. Devon Sproule's (whose "Keep Your Silver Shined" I reviewed in these pages) "Plea for a Good Night's Rest," appears here in a faithful and reverent cover. Even the picking sticks close to the original. This obscure tune deserved its mention as one of that year's top songs in "Rolling Stone." Thanks for including it. The album continues with a James Taylor tune ("Line 'em Up") with a political edge, a Ganz original, Irving Berlin's "Let's Face the Music and Dance," an art song take on Todd Rundgren's "Pretending to Care" and what starts as a mournful version of Chaplin's "Smile" that opens up as it continues. The album closes with another worthy discovery, Paul Curreri's "Beneath a Crozet Trestle Bridge" (See my reviews of "Spirit of the Staircase," and The Velvet Rut") featuring an overdubbed Ganz solo and an interpretation that trades the irony in Curreri's delivery for clarity. Come to "Genevieve & Ferdinand" for the song selection. Stay for the interplay between voice and six-string.
© David Kleiner



Kate McGarry's Website | Keith Ganz's Website

Buy it at Amazon.com
Listen to "American Tune"
Listen to Kate McGarry & Keith Ganz at our podcast

Peter Bradley Adams, "The Mighty Storm," 2013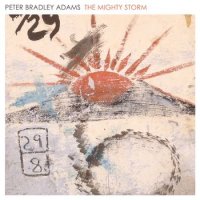 Peter Bradley Adams' fifth record was recorded mostly live in the storied Nashville RCA Studio A built by Chet Atkins. The strategy worked brilliantly, yielding an organic record, executed with precision and feeling. The title cut, and the charged "She Has to Come Down," a story of a young woman in deep trouble, are stand-outs here, but really, every cut is strong in its own way. The latter of the two, with its descending bass line and repetition of "down, down, down, down," allows that the simplest touches move Adams' contemplative edge to an experience you can almost touch. There is an undertow throughout that unifies this record, as Adams sings at the close of "Hey Believers," "I am a stranger far from this homeland, there is no savior I can see." His voice is understated, precise, pleasing, and possessed of quiet soul. In a hushed hall he would send chills down your spine. The expressive ensemble, anchored by Ian Fitchuk's spot-on drumming, creates an intimate experience around Adams' songs. The product is possessed of a coherent musical vision and emotional resonance that stands above the crowd. T Bone Burnett would be likely to give this one a nod. Adams is a gifted songwriter, with an apparent lyrical gift. It would be lovely to have the lyrics (and the credits) included with the package. People tend to call this genre "Americana," whatever that means - it's a little bit indie - Nashville, a little bit Austin (and hey, I hear he lives in Brooklyn now) - but it's honest, organic, American music. Clearly, Adams has paid his dues and is deserving of success on the concert stage. Buy it and I predict it will end up in your heavy rotation file.
© Steve Klingaman
Buy it at Amazon.com
Listen to "Feather in Her Crown"

Rob Fetters, "Saint Ain't," 2014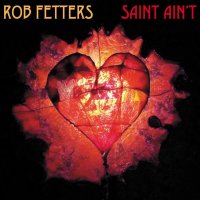 The Bear strikes back! Rock 'n' roll fans and guitar players should be aware of Mr. Fetters by way of his brilliant work with one of America's greatest underground bands, The Bears, which also featured the guitar mastery of the extremely high-profile Adrian Belew. For readers who don't know The Bears, nor Fetters' previous pop rock ensembles extraordinaire: The Raisins and The Psychodots – be advised to do your homework! Fetters' career as a guitarist, songwriter, and recording artist is worth studying at any point in your musical occupation – or preoccupation. This year, Fetters returns as a band-leader with his third long player – "Saint Ain't" which is his first solo effort in nearly a decade. Fetters' word play evokes the intelligent, wry lyricism found in the best works of Warren Zevon, Elvis Costello, Randy Newman, Nick Lowe, and Graham Parker. And, dare I say it – Fetters' predilection for creating unforgettable melodies dwarfs those aforementioned references - all of whom are no slouches when it comes to composing standards. Don't take my word for it – visit www.robfetters.net and listen for yourself. And while you are on his site, I highly recommend that you check out the entertaining lo-fi video vignettes associated with this album - proving that artists do not need a Beyonce budget to excel in a medium which has become more about product placement than art. Thankfully, Fetters also saves this writer – and all music scribes who cover him – from embarrassment and inaccuracy by detailing the meaning and inspiration behind each track. Lyrics and motivation aside, the grooves on this disc will grab you. Whether Fetters utilizes the studio as his instrument or employs a remarkably adroit cast of side musicians – the eleven tracks of "Saint Ain't" traverse garage, folk, industrial, progressive, funk, psychedelic rock, electronica, chamber, power pop, soul, gospel, and permutations thereof with expertise and originality. Another element of "Saint Ain't" worthy of kudos aplenty is the sound of this album! The warmth and resonance of each instrument (real or approximated) is extraordinary – I ran a CD copy of "Saint Ain't" through vintage name brand speakers, and a cheap lap-top and the sonic results were identical! How does he do it?
© Tom Semioli
Buy it at Amazon.com
Listen to "Zero"

Paul Asbell, "From Adamant to Atchafalaya," 2013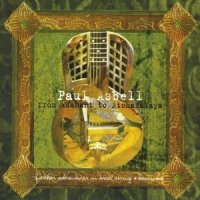 "From Adamant to Atchafalaya" is described by Paul Asbell as "volume 3 in a trilogy." The album is preceded by the 2002 release, "Steel String Americana" and the 2005 release, "Roots and Branches." The first track, a classic by any definition of the term, is "Bill Bailey Won't You Please Come Home." Asbell infuses the track with guitar reminiscent of Tampa Red but also of the more sophisticated harmonic approach of jazz virtuoso Joe Pass. He plays with ease and a sense of humor. He then follows up with the Lonnie Johnson inspired "From Four Until Late," recorded by Robert Johnson, which Asbell sings on. Asbell can play country blues, delta blues, ragtime, and Chicago electric blues. He can play jazz equally well, as evidenced by his lovely renditions of Charles Mingus's "Goodbye Porkpie Hat" and John Coltrane's haunting melody, "Naima." Also included is a cool arrangement of my personal favorite, Donald Fagen's "Deacon Blues." Asbell is joined by harmonica player Howard Levy. Levy also plays a supporting role on the Chicago blues classic, "Look on Yonder Wall," a tune Elmore James had success with, and "Goodbye Porkpie Hat." There's original material as well. "Atchafalaya" is a swampy instrumental Asbell wrote for a soundtrack to a movie about the Louisiana bayou. And "Blue Driver," which he sings, was written by friend Michael Hurley and sits nicely alongside the tracks gathered here. The album's title is apt, implying travel, which is exactly what Asbell does here. He moves from decade to decade, from style to style, as if jumping from one stone to another, while crossing the great stream of American music. And Asbell crosses with ease, a perennial student of these many treasured guitar styles. And we, as listeners, are that much richer for it.
© Chip O'Brien
Buy it at Amazon.com
Listen to "From Four Until Late"
Listen to Paul Asbell at our podcast

Will Kimbrough, "Sideshow Love," 2014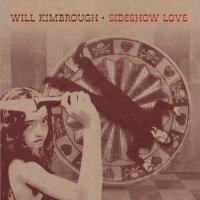 "What it comes to – is who believes in you …I don't suppose we'll get it right; it all begins again," Will Kimbrough sings toward the end of his "Sideshow Love" album. His voice aches, but it's not weary – he's resigned but not staggered, thoughtful but not dogged. And so it goes throughout the singer/songwriter's love-themed collection. As Kimbrough holds the human heart up for prismatic reflection, he takes on as many personas as there are tracks - an even dozen. He's in love, out of love, recovering from love, yearning for love, grateful for love, enjoying physical love, musing on love's attraction. His wry life philosophy comes through in his lyrics, which, while simple, reveal in his true-to-life musical sketches our fascination – and frustration – with the most human of all emotions. Musically, his eighth solo CD lives in a melodic universe existing between country and blues. It's the right medium for a concept album that unfolds like a short story collection. Kimbrough's provides guitar work plenty of interest, including a nice blues lead on "When Your Loving Comes Around," which also benefits from Lisa Oliver Gray's harmony vocals. Kimbrough's banjo, especially on "All We Can Do Is Love," lends a down-home authenticity. Other musicians include a bass player, percussionist and cellist, but the production is spare (but not sparse), with plenty of musical space in the arrangements. Kimbrough might be at his best in the CD's final track, "Emotion Sickness," as he tries to make some sense of it all: "We fell together till we fell apart. Up like a rocket, down you crash land. Emotion sickness will trick you. You only need to open your eyes -- the love that you're missing, soon you'll be kissing … your emotion sickness goodbye." Kimbrough's well-crafted songs will stick in your head like a former lover.
© Fred Kraus
Buy it at Amazon.com
Listen to "I Want Too Much"

Claude Laflamme, "Hors-d'oeuvre," 2013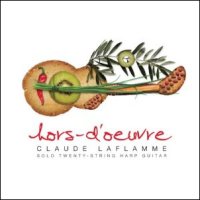 Quebec guitarist Claude LaFlamme fell in love with the harp guitar a few years ago, a love that is apparent on "Hors-d'oeuvre," his first solo harp guitar album. The harp guitar is a peculiar looking instrument: Adjacent to the primary neck of the guitar is a second neck that has 14 unfretted strings, bass and treble, that are plucked in harp fashion. Harp guitars have a bigger, almost orchestral sound and broader range than 6- or 12-string guitars, and LaFlamme takes every possible advantage of these qualities on this collection. The harp guitar lends the bass notes extra depth and resonance, most notably heard on "Prelude" (Claude Gagnon), a gorgeous classical piece, and the intensely atmospheric "Tubular Bells" (Michael Gordon Oldfield). LaFlamme's original compositions are quite varied in tempo and style, with jazz, classical, and gospel influences, and his arrangements of others' compositions are equally arresting. LaFlamme has a lot of fun with the pop songs, giving a Baroque twist to "Eleanor Rigby" (John Lennon, Paul McCartney, and Peter Tardif), throwing in jazzy improvisational riffs into "Isn't She Lovely" (Stevie Wonder) and chiming harmonics in "Time After Time (Cyndi Lauper & Robert Andrew Hyman). "Hors-d'oeuvre," or appetizers, means a selection of small bites with different flavors and textures, and that's exactly what listeners get here. The mix is lively, studded with unexpected shifts in rhythm and melody, played with grace, flair, and wit. And for the guitar connoisseur, this is a wonderful introduction and exploration of the possibilities of the harp guitar in very assured hands.
© Céline Keating
Buy it at Amazon.com
Listen to "Isn't She Lovely"


Home | Facebook | Podcast | Archives | Submissions | Free CD Giveaway | Subscribe | About | Links

Laurence Juber, Doug Smith, Al Petteway, Phil Keaggy (and many more!) at Acoustic Music Resource