Reviewing the best in non-mainstream acoustic guitar music
Home | Facebook | Podcast | Archives | Submissions | Free CD Giveaway | Subscribe | About | Links
March/April, 2013

Lionel Loueke, "Heritage," Blue Note 2012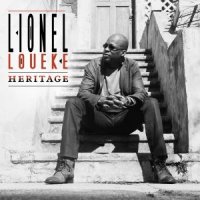 Lionel Loueke's third Blue Note release entitled "Heritage" should more aptly be named in the plural as Loueke has roots in multiple heritages, both musically and culturally. Hailing from West Africa, his talent as a prodigy on guitar in his teens placed his career on a trajectory that ultimately led him to the American School of Modern Music in Paris to study jazz, then on scholarship to Berklee, and thereafter to collaborate with Herbie Hancock and as a bandleader for the dynamic jazz ensemble Gilfema. The African polyrhythms of his youth have always been building blocks upon Loueke's musical archetypes, infusing his Occidental jazz creations with a unique sub-Saharan flavor. On "Heritage" his musical birthrights bubble up in a much more overt way, announced perfunctorily on the opening track "Ifę." "Ifę" opens with kalimba-like syncopated guitar work with chorused vocals and mouth percussion that one imagines may have been refined from folk music he heard in his home village in Benin. Mid-way in the song a transition occurs which might recap symbolically his own life transformations: his Godin acoustic becomes synthesized electronically and mutates into hard-driving improvisational jazz full of melodic and chordal surprises... then figuratively back to Benin again. The tune "Ouidah" is also the name of Loueke's mother's home village, also once the center of Benin's slave trade. Paradoxically, the carefree and beautiful lyricism of this tune seems to deny away that dark past history. Former Obliqsounds labelmate, Gretchen Parlato, adds her signature whispery vocals to "Tribal Dance" - a spiritual declaration on which Loueke chooses electric guitar in stark contrast to his past exclusive preference for a nylon string sound. As if to reaffirm his ease with electricity, on "Freedom Dance" he blows it out of the water with an unrestrained solo having the fervency of Coltrane. The number of acoustic and electric tracks even out in the end, Loueke a master of finding balance between softness and intensity. Bandmate Robert Glasper on keyboards, often reminiscent of the vibe of Lonnie Liston-Smith, with Derrick Hodge on bass and Mark Guliana on drums more than recapture the intuitive interplay Loueke found with Gilfema. "Heritage" is a remarkable cross-cultural artistic achievement.
© Alan Fark
Buy it at Amazon.com
Listen to "Ouidah"

Peppino D'Agostino, "Nine White Kites," 2011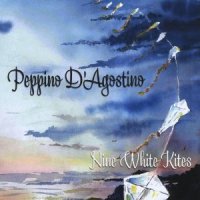 It may not be fresh off the press, but Peppino D'Agostino's 2011 CD "Nine White Kites" is full of fresh guitar playing, inventive composing and a little bit of everything for lovers of solo acoustic guitar music. The opening track, which is the title cut, presents D'Agostino doing what his fans have loved for decades – creating rhythmic aural textures that captivate through fingerpicking and tapping with a never lost sense of melody. A drone bass pulls you into the intertwining mid and treble voices. His songs are singable without words. We get more funky tapping on the aptly named "Street Pulse," with added percussive effects on the guitar top. D'Agostino has a way of using all the tools in the arsenal of a modern fingerstyle guitar player without overdoing or being easily labeled in some pre-fab genre. "Barefoot in Rio" is a lovely nylon string waltz that glides along like dancers floating on the dance floor. "Reggae Ragu" begins with a pulsing treble line then follows a bass muse while traversing the fretboard. D'Agostino can be playful, as noted in "Cowboy Minestrone," a gymnastic picking exercise that keeps the right hand moving without rest. "Imminent Dawn" alludes to some of the sounds of the California Guitar Trio, played on a 12-string, painting some lovely colors as morning light begins to blush the sky. One of the more musically complex pieces is "Silence in Between," taking us in and out of major and minor themes. The 11 listed songs are augmented by two wonderful bonus tracks: a fantastic version of "Nella Fantasia" (think the movie The Mission) with nylon string guitar, violin, and Eleza D' Agostino wooing us with superb vocals; and a succulent duet of Rossini's "La Gazza Ladra" with classical guitarist Flavio Sala, a rousing ending to a great CD.
© Kirk Albrecht
Buy it at Amazon.com
Listen to "Jump Rope"
Listen to Peppino D'Agostino at our podcast

Ewan Dobson, "Acoustic Metal," CandyRat Records 2013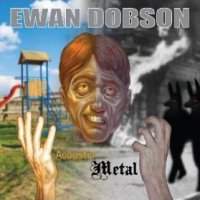 It's all been done before? Don't anyone dare say that to Ewan Dobson. If it hasn't been done, he'll do it, and probably do it better than anyone ever dreamed. Dobson is the guitarist who a few years ago shook the guitar community when he exploded on the scene with his own personal reinvention of the fingerstyle genre. While his technical prowess alone is enough to celebrate him as a legend of the instrument, it's in fact Dobson's unique and creative approach to the guitar that has turned the heads of everyone in the industry. If you've been following Ewan's career, perhaps you thought you had him all figured out by now? Well, you didn't. His most recent release "Acoustic Metal" is as equally surprising, thrilling, and beautifully crafted as the music featured in the viral youtube videos that helped propel him to fame. In yet another clever and creative move, Dobson released two contrasting versions of his compositions in on a double CD set, one disc featuring the works on one or more guitars, the second disc supported by a thoroughly metal-appropriate drum track. And along the musical journey which is "Acoustic Metal" Dobson runs the gamut of all the various metal genres. The album is an exercise in variation and contrasts, switching between near-hopeless minor passages all the way through remarkably uplifting major sections, sometimes driven by the heavy chugging and power chords that often characterize death metal, then at other times featuring the soaring melodies and strict harmonies of neo-classical. While oftentimes Dobson's playing is dizzyingly fast paced, it can also turn deeply introverted and serene. This release is so varied, so rife with unique and inspired musical statements, that listening through one gets a sense that no amount of time would be enough for Dobson to record everything that's in his head. "Acoustic Metal" is an album that spans several musical genres and a myriad of listening tastes, so as a result any guitar enthusiast will find themselves listening intently to Dobson's imaginative mind at work. There's no way anyone out there already has anything like this in their listening library, so go out and buy it, then buy everything else Dobson has recorded, and finally join me in waiting with feverish anticipation for what Dobson comes up with next!
© Timothy Smith
Buy it at Amazon.com
Listen to "Moving On"
Listen to Ewan Dobson at our podcast

Rupert Wates, "At the Loser's Motel," 2011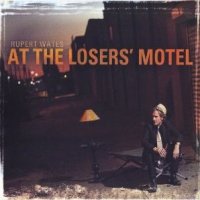 You will find surprising beauty "At the Losers' Motel." Listen to the ring of the fingerpicking that opens Rupert Wates' latest release. Or the lovely modulation as the title track moves into its middle section. Or the joyful attack on the strings in "Waiting to Begin" and the energetic solo in "Tired," though both work against their lyrics ("…all I really know / is that I'm slowly getting older" "…so tired of feeling so tired"). Acoustic guitar is what we listen for at Minor7th and Wates' serves effectively throughout as his orchestra. The arrangements feature, at one time or another, backing vocals, double bass, and percussion here and there making some edgy moves. String arrangements prettily support lyrics meant to be poignant. But the mix consistently gives the guitar unusual prominence. Adroit wordsmithing reflects the writer's mindfulness. Note the embedded rhymes here: "Taking hard knocks is a lonely school / but when you know you know nothing / you're the wisest fool of all / And you step up to the fool's role call." The lyrics offer rewarding moments of self-reflection as when Wates admits his membership in the "Fools' Parade." Wates' pleasant vocals have sufficient world-weariness to pull off his material but his message-heavy lyrics can't bear the weight of the irony-free thematic contradictions throughout. "When Love Came to Stay" is about a failed relationship. "Waiting to Begin" is followed by "Be Near Me," the plea of a dying man to an ex-significant other that "when the pulse that now beats quick and warm shall be cold / promise me you'll be near me…." The Latin tinged "Long Time Coming," the CDs' only upbeat lyric, shows Wates at his best with melody, but this second cut will find its message undercut by the hopeless feel of the songs that follow. In the reviewed "Dear Life," Wates' focused on the bleakness of the contemporary world. Here, looking at the human condition in a more personal way, Wates proves himself to be, once again, a tuneful music man of the melancholy.
© David Kleiner
Buy it at Amazon.com
Listen to "Waiting to Begin"

José González, "Veneer," 2006 (Vinyl release 2012)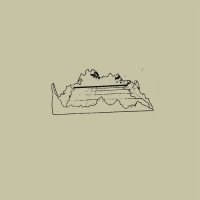 If you are already a fan of José González you'll recognize this all-acoustic debut collection as it originally came out in the early 2000's, scoring platinum in the UK. However as the vinyl version was recently released, this first album from the virtuoso Scandinavian singer-songwriter-guitarist with Argentinean roots (his parents fled their homeland in 1976) is garnering a second look. At the time of its recording González was working on a PhD in Biochemistry at the University of Gothenberg - which he never completed. Good news for guitar fans, bad news for the pharmaceutical corporations, health care companies and various government agencies! González' choice of weapons on this disc include Alhambra, Esteve, and Cordoba classical guitars wherein he utilizes altered guitar tunings - lowering the sixth string from E to D, and altering the G string with either F#, G, or A. Though he grew up listening to his parents' Latin folk and pop - and eventually founded the indie-pop group Junip, González actually got his start in music playing in hardcore punk bands influenced by Black Flag, The Misfits, and the Dead Kennedys. The autumnal "Veneer" is a return to González' more folksy inclinations wherein he emerges as a modern day peer to such iconic singer guitarists as Richard Thompson, Nick Drake, John Marytn, Burt Jansch, and Cat Stevens. Akin to those artists, González' legato vocal melodies glide over his intricate picking, hammer-ons, harmonics, and additional acoustic guitar wizardry (he plays only with his fingernails!) whilst his fluctuating rhythms quote genres as disparate as bossa nova and classical and…punk! Don't let the oft melancholy veneer of "Veneer" fool you, hope abounds in "Save Your Day" - a rare instance wherein González double-tracks his vocals. The chromatic chord progression which comprises the hook of "Broken Arrows" - a track abetted by the only guest on this disc - trumpeter Stefan Sporsen - evokes the homemade brilliance of McCartney. "Hints" affords González to flex his blues chops a bit with a killer riff you'd expect from Jimmy Page on the acoustic offerings from Led Zeppelin III (Guitar gear-heads take note: rather than switch guitars, González actually re-tunes his instruments during live performances!). This album comes highly recommended for fans of the above mentioned references and guitar players seeking inspiration to perk up their repertoire. Heck, after hearing the haunting sus-chords on the intro of "Save Your Day" I stopped writing this and picked up my guitar!
© Tom Semioli
Buy it at Amazon.com
Listen to "Slow Moves"

Michael Fix, "Time Lines," 2012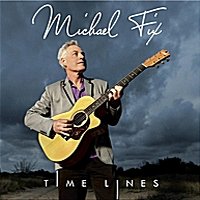 Two decades of touring the globe and releasing 13 CDs requires fortitude, tenacity and above all, talent. Australian guitarist Michael Fix's new CD "Time Lines" is a testament to not only his abundance of talent, but also his ability to write and interpret music that resonates and intrigues audiences. With a balanced palate of seven originals and seven covers, Fix has once again recorded a CD with something for everyone and an aplomb that ranks with the finest guitarist on the scene today. His originals "Light At The End Of The Tunnel", "Flight Of The Optimists" and "Sarah Jade" are the perfect showcase for the nuance and verve to which his fans have long been accustomed. He can express moments of exquisite beauty ("Sarah Jade") as well as transport a listener with undulating acoustic vibrato and rhythms ("Light At The End Of The Tunnel"). Often Fix seems to transcend six strings as many of his tunes and interpretations incorporate percussion and syncopated rhythms that create a sonic depth that are akin to 3D in the visual world. Fix's "Makhutswi" and "Canboulay" exemplify this experience as do his renditions of The Chantays' surfer classic "Pipeline" and a merry take on The Shadows' "Foot Tapper". These two covers alone should be vehicle enough to increase Michael Fix's fan base. Of course any YouTube savvy seeker of cool guitar grooves has probably already discovered Fix's acoustiatics from The "William Tell Overture" to Beatle classics and the aforementioned "Pipeline" which has long been a part of his repertoire and a oft requested number at his shows. The real surprise on this CD is Michael Fix's vocal work on Dire Strait's "Water of Love" and David Gates' (Bread) classic "GuitarMan". Who knew he could sing too! "Time Lines" may just be the vehicle to bring Michael Fix out from under the shadow of that other Australian fret Monster, Tommy Emmanuel.
© James Filkins
Buy it at Amazon.com
Listen to "Africa"

Ken Hatfield Sextet, "For Langston," 2012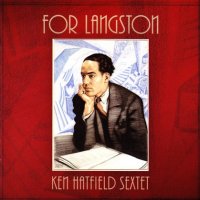 To say Ken Hatfield is an accomplished musician is an understatement. He's a fine nylon-string jazz player, and a prolific composer for solo guitar, jazz ensembles, string quartet, and ballet. For this project Hatfield set a number of Harlem Renaissance poet Langston Hughes' (1902-1967) works to music, added an instrumental overture to introduce the song cycle, then assembled an acoustic sextet to perform the works. Soprano vocalist Hilary Gardner and alto flautist Jamie Baum handle the upper register, while Hatfield provides both accompaniment and solos. Hans Glawischnig plays upright bass, deftly walking through Hatfield's changes and contributing some tasty solos. Jeff Hirshfield and Steven Kroon play drums and percussion. Both the compositions and performances are unexpected, as I anticipated a stronger emphasis on the forms and phrasing of blues and early jazz. Those influences are present, to be sure, but Hatfield adds Latin-flavored chords and rhythms, which mesh perfectly with his approach (remember what Jelly Roll Morton said about the "Spanish Tinge" as an essential element of jazz?). Ultimately, one should listen to "For Langston" as a cohesive work done in tribute to a great poet, not as an amalgam of styles. Hughes' poetry is naturally essential to appreciating these works, and his social commentary is prominent, especially in "I Don't Believe in Titles" (paired with sexual innuendo), "Lonely Nocturne", "Prayer", "Poem to a Dead Soldier", and "Song of the Revolution". There's plenty of improvisation as well, mostly featuring Baum's warm, legato lines on flute and the leader's rich fingerstyle guitar. Musically, my favorite pieces are the instrumental "Overture", "I Don't Believe in Titles", and "Jazzonia". Since Hatfield directs his work at a sophisticated audience with background and interests similar to his own, "For Langston" may be best appreciated by repeated listening, awareness of Hughes' life and work, and an openness to Hatfield's intentions. This project also provides musicians examples of stellar ensemble playing and a creative vision fully realized.
© Patrick Ragains
Buy it here
Listen to "Dream Boogie"


Home | Facebook | Podcast | Archives | Submissions | Free CD Giveaway | Subscribe | About | Links

Laurence Juber, Doug Smith, Al Petteway, Phil Keaggy (and many more!) at Acoustic Music Resource