Reviewing the best in non-mainstream acoustic guitar music
Home | Podcast | Archives | Submissions | Free CD Giveaway | Subscribe | About | Links
March/April, 2011

Don Ross, "Breakfast for Dogs!," CandyRat Records 2010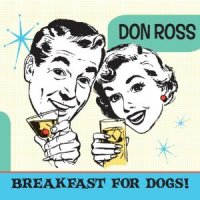 When I think of Don Ross, the word preeminent is the first word to come to mind. He has been recording for over twenty years and has been on the leading edge of the acoustic guitar scene for what seems like forever. Very few guitar players communicate passion, technique and artistry with the consistency that Don Ross has over the past two decades. "Breakfast for Dogs!," the first all solo-guitar record he has released since "Passion Sessions" in 1999, is no exception. From the rhythmical groove laden arraignment of Gnaris Barkley's "Crazy" to the soulful aching beauty of his deft rendition of fellow countryman Bruce Cockburn's "Pacing the Cage", Ross offers a collection of tunes that are at once varied and intriguing. The CD's title stems from the idea that like a "dog's breakfast", which is often a mixture of flavors and ingredients, there is no particular theme that binds these tunes together. I would argue that Mr. Ross's deft fretwork and sublime touch is a more than enough to bind these tunes together in to a sonic landscape filled with color and texture. Several of the tunes included here are re-interpreted tunes from Ross' past including a version of "Obrigado(Egberto)" played on a baritone guitar sans accompaniment and an intense and vibrant version of "Godzilla". "From France to India" is a new gem that simply sparkles and is my current favorite. Listening to "Breakfast for Dogs!" is putting on an old favorite sweater; it just feels right!
© James Filkins
Buy it at Amazon.com
Listen to "It's Fun Being Lucky"

Stephen Bennett, "In-A-Gadda-Da-Stephen," Harp Guitar Music 2010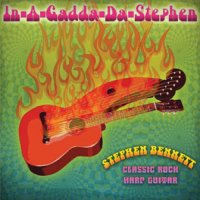 OK, we admit there are lots of former rockers who are now playing acoustic guitar. Age has a way of mellowing even the most die-hard metal heads. But if you want to merge the sonority of steel string acoustic guitar with the classic rock sounds of the 60's and 70's, where can you go? To the wizard himself, Stephen Bennett, on his latest harp guitar CD "In-A-Gadda-Da-Stephen." It's Bennett's paean to the halcyon days of all those great bands we used to listen to in high school (dating myself here). In 15 shimmering tracks, Bennett takes us back while keeping our eardrums intact. The fact he does this on a harp guitar makes this release even more impressive, using the bass strings to add another voice to his ridiculous renditions of timeless tunes. The disk begins red hot with "Light my Fire" by the Doors. This cut opens the window to the key to the entire CD -- not only does Bennett nail the melody and bass lines and middle voice, he captures the vibe of each classic song. I'm not sure how he does it, but he captures the haunting smokiness of Hendrix' "The Wind Cries Mary" with a funky backbeat. On Procol Harum's ageless "A Whiter Shade of Pale," all the melancholy of the original rests on your soul; such a simple yet lovely melody. We get two servings of Clapton, once on Cream's "White Room," then on the Blind Faith's "Can't Find My Way Home." On "White Room," Bennett begins almost Spanish flavor, but quickly settles into the bass grove while picking out the lyrical melody. Jack Bruce makes an encore on "Theme for an Imaginary Western" by Mountain. Bennett was "Born to Be Wild" with a driving version of Steppenwolf's hit. We get Jethro Tull ("Teacher"), Pink Floyd ("Time/Breathe"), The Stones ("Honky Tonk Women"), even King Crimson (a killer version of "Court of the Crimson King"). If you like acoustic guitar and pine for real rock and roll, buy this CD -- it will take you back 40 years and put a smile on your face.
© Kirk Albrecht
Buy it at CD Universe
Listen to "Light My Fire"

Greg Trooper, "Upside-Down Town," 52 Shakes Records 2010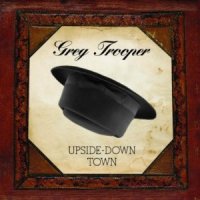 He reminds me so much of John Prine -- from the interesting characters in his songs to the meter of his lyrics -- but Trooper is his own man, with well-written songs wrapped up in some mighty fine roots rock arrangements. Most songs are powered with a solid rhythm section of rattley snare and thumping bass and sprinkled with great guitar hooks and the occasional banjo and harmonica. "Nobody in the Whole Wide World" cooks in a bubbly sauce of B3 organ and groove. "Dreams Like This" is an upbeat love song while "They Call Me Hank" is more melancholy, about a guy who lives by the river and sometimes sells the fish he catches. "Long Gone Dream" is a promise to a lover that they still have time. You can hear the ghost of Jimmy Rogers in "Might Be a Train." I love how the thwack of the snare imitates a train. I wish the CD cover or his website had the lyrics 'cause there were a few words I missed and with writing like this, you don't want to miss a thing. His songs have been recorded by Vince Gill, Steve Earle, Robert Earl Keen and others for good reason. In "Time for Love" he sings, "So slip in here beside me / Buckle up for the ride / Time for love." It's time for Greg Trooper y'all. Settle in and relax for a very satisfying ride.
© Jamie Anderson
Buy it at Amazon.com
Listen to "They Call Me Hank"

Nick Charles, "Return of the Travelling Fingerpicker," Solid Air Records 2010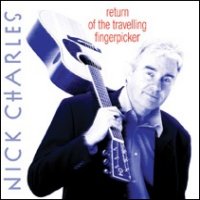 Australian fingerpicker Nick Charles satisfyingly delivers 17 solo pieces for acoustic guitar on his latest Solid Air release, "Return of the Traveling Fingerpicker." As he says on his liner notes, this collection is "just one guitar all the way, no trickery, no stomps, only sore fingers and worn-down nails." The result is a warm and intimate recording that places listeners in an aural space seemingly in Charles' lap. Charles, who started playing guitar at age 15, presents 13 originals, three covers and a traditional piece. Though he leans most comfortably toward the blues, he slides easily into and out of ragtime, pop, Americana and jazz. While his rhythm and technique are impeccable, two aspects of his work stand out: a deceptive ease of playing and an unerring sense of melody. Clearly, each song exists as a living entity, a story to be communicated. The wistful "Paul's Song," with its sweet ache, pays homage to someone who must be quite special; "Lullaby for Hamish" is another sweet one, while "Lily Was Here" is heavier, the E string throbbing almost like a drone, while "December Rag," "Silent Movie" and "Meditation Rag" bounce jauntily along. While most of the playing is done on his six-string acoustic, Charles brings out his steel-bodied Dobro for the rich tones of "Kelpie Blues," complete with a couple of rather startling rattles. His on-target take of Lennon/McCartney's "I Will" sounds like gossamer and lace, while the so-tasty-you-want-to-eat-it, most purely enjoyable track, "Pecan Pie Blues," joyously celebrates America's most original art form. Charles lovingly caresses "Las Cruces," a classic just waiting to be discovered. But the roots-oriented virtuoso saves his best for last: a masterful and beautiful reading of Jerome Kerns' 1930s jazz standard, "Yesterdays." Just lean back and let this one wash over you. This collection is a most enjoyable "Return."
© Fred Kraus
Buy it at Acoustic Music Resource
Listen to "Pecan Pie Blues"


Adam Moore, "After School Guitar Club," Eve Sound Music 2010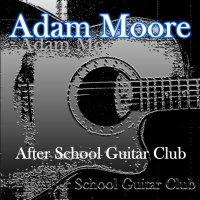 Adam Moore's current release, "After School Guitar Club" is one of the most compelling and alluring acoustic guitar recordings heard in recent years. Although primarily self taught, Moore participated in Robert Fripp's Guitar Craft program, visited with Jazz master Jasper Smith, and took lessons from Swedish metal legend Mattias IA Eklundh. Moore is also an extraordinary electric guitarist with several acclaimed recordings featuring folk, fusion, rock and progressive music. "After School Guitar Club" features acoustic arrangements of earlier works as well as compositions written exclusively for this recording. Moore creatively uses overdubs, sometimes up to thirteen guitar layers at a time, to construct rich, dense, sonic landscapes. The result is an orchestra of acoustic guitars where every harmonic coating adds something essential and integral to the musical experience. "Night of a Thousand Lanterns" sounds like Paco De Lucia and Al Di Meola dueling at a Tapas Bar, while "The Knot Garden" contains intoxicating, minimalistic, melodic phrases. On "Inca" Moore creates a rich, intricate tapestry of layered musical motifs. "Hooligan Dance" is a rocking escapade with walking bass lines with swinging, chromatic leads. Perhaps the most striking composition is the dramatic ballad "Cadence for an Eskimo Woman" with beautiful kaleidoscopic images of northern lights cascading off of the frozen tundra. Although the layers of guitars are at times complex and require significant technical prowess, the pieces never lose focus of Moore's inherent soulful lyricism. Adam Moore's "After School Guitar Club" is a sonic masterpiece and should be required listening for all aficionados of acoustic music.
© James Scott
Buy it at Amazon.com
Listen to "The Night of a Thousand Lanterns"
Listen to Adam Moore at our podcast

Brazilian Guitar Quartet, "Plays Villa-Lobos," Delos 2011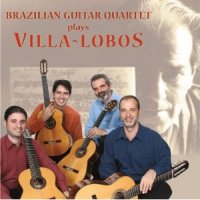 The works of Heitor Villa-Lobos are among the most significant and influential in the classical guitar repertoire. His compositions are commonplace on the concert stage for their unique, yet widely accessible, melodic and harmonic content. Most guitarists, however, are far less familiar with the rest of Villa-Lobos' vast oeuvre, which spans several instruments, including works for solo piano, string quartet, and full orchestra. In their recent release, the members of the Brazilian Guitar Quartet draw upon their skill and experience as they endeavour to introduce a diverse collection of these works to the guitar community. Formed in 1999, the BGQ are seasoned, world-class performers, and they navigate these complex arrangements with artistry and grace. Also of note is that two of the BGQ guitarists perform on eight-string classical guitars. This unusual setup greatly expands their range in terms of pitch and texture, of which they take full advantage. The BGQ selected a varied cross section of works, spanning Villa-Lobos' entire life and the evolution of his compositional style. I was particularly taken with the various "Cirandas" offered throughout the disc. Each Ciranda is a Brazilian folk song that Villa-Lobos arranged for instrumental performance. For me, the appeal was found in the interplay between the traditional folk melodies and the composer's supporting content, which was always charming and creative, and was often quite unexpected. Arranging music for guitar ensemble is an art in and of itself, and the BGQ's arrangements are natural and satisfying. The works they selected translate particularly well to four guitars, and honour the spirit of the original versions. Anyone who has been drawn to the works of Villa-Lobos in the past will certainly enjoy this unique offering.
© Timothy Smith
Buy it at Amazon.com
Listen to "Vivo e Energico"

Duo Siquiera Lima, "Um a Um," GHA Records 2010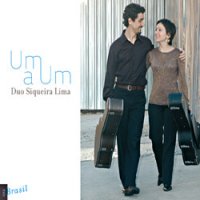 Uruguayan Cecilia Siqueira and Brazilian Fernando de Lima have performed together since meeting at the 2001 International Guitar Competition in Caxias do Sul, Brazil. Both guitarists are formally trained and well established as teachers and performers. This is their third CD together, on which they exquisitely interpret choros and other works by some of Brazil's top composers. Jose Dominguinhos de Morais' "Homenagem a Chiquinho do Acordeon" opens the disc, exemplifying the high energy, intricacy and technical excellence of the entire program. Pieces like the melancholy "Valsa triste" and "Inflexão modinheira" show the duo's skill with slower, reflective material, while jazzy elements in Gilson Peranzzetta's three pieces, "Cheio de graça" "Pontes," and the dramatic "Lado a lado" add further variety for the listener. Domenico Scarlatti's 18th century work "Sonata E minor K198" ends the disc, cleaning the aural palette and reaffirming the duo's commitment to a more traditional repertoire. Throughout, the pair trade melody lines and supporting roles effortlessly. Fernando de Lima arranged most of the works on the disc, which leads me to think, (although I can't verify it) that his is the guitar with the slightly darker tone, which often supports the brighter-sounding first guitar. The music on this disc is uniformly beautiful, compelling and enjoyable.
© Patrick Ragains


Duo Siquiera Lima's Website
Buy it at Amazon.com
Listen to "Sonata E Minor K198"

Home | Podcast | Archives | Submissions | Free CD Giveaway | Subscribe | About | Links

Laurence Juber, Doug Smith, Al Petteway, Phil Keaggy (and many more!) at Acoustic Music Resource
Buy Instructional and Biographical DVDs and Books at


(Click on image below to buy)
| | |
| --- | --- |
| DVD: Live in Toronto | Stephen Bennett: Fingerstyle Collection |