Reviewing the best in non-mainstream acoustic guitar music
Home | Facebook | Podcast | Archives | Submissions | Free CD Giveaway | Subscribe | About | Links
January/February, 2017

Alberto Lombardi, "Birds," 2016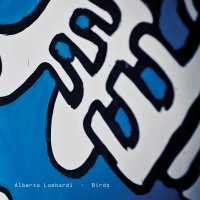 Italian Alberto Lombardi is a relative newcomer to the world of steel string solo guitar, but his first CD in the genre reveals a musician with no shortage of musical ability or enthusiasm. The disc begins with the popular Italian song,"Volare," which he plays with the drive of a big jazz band. An original follows, "The Roadrunner Show," in which Lombardi uses rapid-fire runs and percussive slaps to the guitar body in ways that call to mind Tommy Emmanuel, one of his main influences. On "Georgia On My Mind," Lombardi replicates the string introduction from Ray Charles' recording, then launches into an extroverted presentation of the song, featuring boom-chuck rhythm and lightning fast fills. The program is broken up by two great vocal-guitar performances, David Bowie's "Life On Mars?" and Stevie Wonder's "I Never Dreamed You'd Leave In Summer," both sung in a manner that, for me, recalls both Billy Joel and Sting. "Birds," another original instrumental, is a duet with guitarist Tim Sparks, who plays tasteful backup, harmony lines and a nice single-string solo. Lombardi's playing evokes lightheartedness on most tracks, although his version of the Italian pop song "Almeno Tu Nell'universo" (At Least There's You in the Universe) faithfully conveys the lyrics' devotion to its object, who may or may not be a lover. He follows this with the driving "Balkan Dance," playing blinding runs in unison with violinist Mario Gentili. The disc exhibits variety, good taste and fine musicianship and leads me to anticipate more excellent music from Lombardi.
© Patrick Ragains
Buy it at Stefan Grossman's Guitar Workshop
Listen to "Come Together"
Listen to Alberto Lombardi at our podcast

Alberto Lombardi, "Fingerpicking Adventures," 2016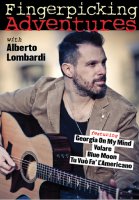 Released in tandem with the CD Birds, this repertoire-building lesson offers much for intermediate and advanced fingerstyle guitarists. Lombardi demonstrates four of his solo arrangements in detail, spending about 45 minutes on each, covering intros and variations, instead of providing only a structural overview. He also discusses sources of inspiration - in the case of "Blue Moon," he marries Tommy Emmanuel's boom-chuck approach to elements of arrangements recorded by Frank Sinatra and Ella Fitzgerald. After seeing him perform "Georgia on My Mind," I grabbed my guitar and worked out his intro - he's that inspiring. Ditto for "Blue Moon," although that arrangement is a bit more challenging. Lombardi also teaches two great Italian pop tunes, "Volare" and "Tu Vuò Fa l'Americano" (You'd Like to be an American). Techniques covered in the lesson include playing voices in multiple registers, polyrhythms, artificial harmonics and, above all, a rich musicality that's true to the aesthetic of these tunes. Fingerpicking Adventures is one of the best multimedia lessons I've seen for guitarists who want to arrange popular songs for solo guitar. Each piece is transcribed in a book included on the DVD and download package.
© Patrick Ragains


Alberto Lombardi's Website
Buy it at Stefan Grossman's Guitar Workshop
Listen to "Fingerpicking Adventures"
Adam Karch, "Moving Forward," 2016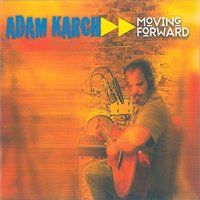 Though Adam Karch hails from Montreal, Moving Forward lives smack-dab in the middle of Americana. Certainly not without precedent, as Canadian-based The Band mined this vein to popular and critical acclaim. An accomplished guitarist, with a raspy pipes that Don Henley only occasionally equaled on a good night, Karch taps into a bluesy pop groove that's easy on the ears. His arrangements feature his precise fingerpicking combined with a propulsive percussive approach. And note to guitarros -- Karch can rip off a bluesy riff with the best of them. Moving Forward, his fourth CD features two able sidemen, Bernard Deslauriers on drums and percussion, and Marc-Andre Drouin on basses to fill out Karch's arrangements. While eight of the 12 songs on this collection are originals, Karch doesn't shy away from a thoughtfully selected cover tune. Two of the covers, Bob Seger's "Night Moves," and Warren Zevon's "Werewolves of London" seem on a bit of shaky ground, however, as the emotional tone in each of those originals approaches iconic status. Karch dives right in, but the result is mixed -- though his guitar work is as stellar as ever. His originals feature the lyrical work of Karch's longtime collaborator, James Stadnyk, and Karch then works his melodic magic. The liner notes makes a point of saying the album was written when Karch was in a major transition in his life. Artists who wear their hearts on their sleeve, and who can then fashion a work of art that holds a wide appeal, yet manage to be specific enough to be unique, are few and far between. That might be the road that Karch is on the path to riding. Looking forward to future work by this multi-talent.
© Fred Kraus
Buy it at Amazon.com
Listen to "Louis Collins"
Listen to Adam Karch at our podcast

ChromaDuo, "Ravel/Debussy: Music for Two Guitars," 2016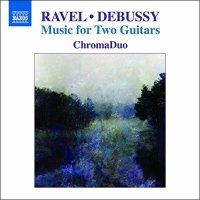 Exquisite, angelic, resplendent. These are a few of the words that come to my mind as I immerse myself in the auditory splendor of the second recording released by the ChromaDuo, Ravel - Debussy: Music for Two Guitars. It is a distinct pleasure to hear the work of Claude Debussy and Maurice Ravel articulated with such tremendous skill and emotion by the guitar duo of Tracy Anne Smith and Rob MacDonald. The burgeoning renown which these young, but nevertheless pedigreed, musicians have developed is indubitably evidenced in the execution and synergy of their intuitive interplay. On Ravel - Debussy: Music for Two Guitars, these exceptionally talented musicians have arranged and performed a very fine sonic mosaic that creates a sense of wonder with each listen. The inspiration and pure genius present in the playing and arranging, as well as the program itself, is idyllic. Emotive and expressive throughout, the works of Ravel and Debussy reflect and sweep in a complementary ensemble. Stephen Gross' arrangement of Ravel's Alborada Del Gracioso opens the program with vigor, beauty and sensuality before resolving with finely wrought tension to Debussy's playful Children's Corner. Unexpectedly delicious is the transition from Golliwog's Cakewalk to Claire de Lune, before giving way to Ravel's bustling Valises Nobles Et Sentimentales. With the exception of the aforementioned Alborada Del Gracioso by Ravel, Smith and MacDonald have arranged each of these works for two guitars. It is difficult to say where their greater skill lies, in the performance or the arranging; each aspect shines on this sophomore recording. From a guitarist perspective, Smith and MacDonald deliver these compositions with such resonance, sustain, and delicacy that their exchanges seem almost symbiotic, and profoundly moving as if the instruments were corporal rather than of wood, nylon and brass. There is a challenge and risk all guitarists undertake when arranging piano compositions. From the first notes of Alborada Del Gracioso, the fourth movement in Ravel's Miroirs to the crystalline performance of Debussy's Deux Arabesques, which closes this immensely pleasing recording, the reward is richly deserved.
© James Filkins
Buy it at Amazon.com
Listen to "Children's Corner, L.113"

Bill Cooley, "In Search of Home," 2016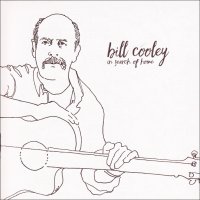 Bill Cooley is a consummate fingerstyle guitarist. His 4th solo CD, In Search of Home, is an assured, subtle collection of eleven originals and one cover that quietly dazzle in their pristine execution, crisp technique, and range of color. The versatile Cooley is adept at seemingly any style; "Sacred Ruins" shows off his delicacy, "After Hours" and "In Search of Home" display his playfulness and virtuosity, and the show-stopping "Uprising Redux" and "Dad's Blues" (with Aaron Cooley) expose his jazzy bluesy eloquence and envy-inducing fast clean runs. In general, he favors the softer side of the spectrum, with meditative pieces like "Face to Face," "Under the Pin Oak," and "Half Light," pieces that coax the listener to relax and give over to the beauty of the music. As a composer and arranger Cooley is every bit as talented, offering strong melodies and thoughtful arrangements that toss up small surprises to keep the ear engaged. Cooley is well known as a sideman for many music legends, including Merle Haggard and Alan Jackson, and has been part of Kathy Mattea's band for decades, contributing greatly to her sound. The last song on the CD features her vocals on a wonderful rendition of Jesse Winchester's "That's What Makes You Strong," which also highlights Cooley's masterful fills and intuitive interplay. While guitarists and guitar music lovers will especially appreciate Cooley's strengths, this is a CD sure to please just about anyone. Cooley is a sideman every bit as rewarding to listen to as any solo guitarist on stage today.
© Céline Keating
Buy it at Amazon.com
Listen to "Bana"

Mark Lemaire, "Equinox, Pieces for Guitar, Volume 2," 2016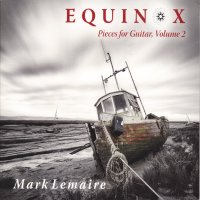 Equinox, the new solo CD from Mark Lemaire (his third), is awash in moody eloquence. Lemaire knows how to wrest emotion from every last note. Slow and somber, the original compositions and reimagined covers showcase his mastery of tone and color ("A Single Step," "Seaglass," "Night Voyage," "The Long Circle Home"), which more than compensate for the narrow range of tempo. Lemaire most often performs as a duo with his wife Cindy. He has also worked as a recording engineer, which helps account for the luscious sound and clarity of the recording. On Equinox he has included a few guests for minimal accompaniment (strings, drums, and fretless bass), which to this listener doesn't serve the music as well as his own elegant playing ("The Mariner's Star"). Perhaps the strongest pieces are those in which a classical influence is most apparent, including originals such as the gorgeous "Eusebius' Dream" and "Clara at Dawn," which Lemaire explains were drawn from Schumann's Davisbundlertänze, or arrangements, such as "My Little Girl" by Carol Curtis, for which he repurposed the orchestral arrangement he'd written for her piece, substituting guitar for voice. His version of "Because," by Lennon-McCartney, is as stunning as it is short. (Lennon was inspired by Beethoven's Moonlight Sonata, an influence clearly heard in Lemaire's arrangement.) This is a collection that asks you to take your time. Rather than flashy virtuoso playing, Lemaire's soulful CD offers music fully in service to the beauty of the guitar's sound.
© Céline Keating
Buy it at Amazon.com
Listen to "Seaglass"

Doug Jackson, "The Performance," 2016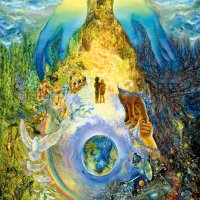 It may be his first all-acoustic guitar CD, but Doug Jackson doesn't sound like a novice. His dexterity, use of multiple voices, textured phrasing, and some prodigious chops mark this out as a really fine steel string record. Jackson is the lead guitarist for the progressive rock band "Ambrosia," and he's played with all kinds of top name performers over the years, where he has obviously learned his craft well. Of the 17 (!) tunes on the disk (written over a 15 year period), 15 are originals, with excellent covers of John Renbourn's classic fingerstyle song "The Hermit," and Lennon & McCartney's "She's Leaving Home." He nails all the quirky fingerings in "The Hermit," while the harmonica playing of Tollak Ollestad on "She's Leaving Home" conveys the pathos of the original, with Jackson sensitively laying a bed of sweet fingerpicking underneath. The second cut "Talon" reveals Jackson's use of percussive and tapping techniques to create movement and drive with a well-defined groove. "Falling Into You" uses a good dose of reverb to add dynamics to a gentle melody. "Marathon" has shades of Michael Hedges' tapping and use of chordal colors. The longest track of the CD is "Prayer," obviously written from a place deep within, full of sweetness and light. It's all steam in "Breakneck," where Jackson deftly navigates some frenetic tapping. "The Beginning & The End" is another chestnut showcasing Jackson's fingerpicking in a slower, more leisurely song. Perhaps the most dynamic piece is "Second Wind" where his chops shine in full force, with dazzling runs. The disk closes with the title cut, "The Performance," where Jackson sounds like a younger Doyle Dykes in some of his incredible arpeggios and countrapuntal chords. This is a CD full of fine fingerstyle playing, well-developed melodies, and inspiring flashes of brilliance up and down the fretboard. Highly recommended if you like great solo acoustic guitar music.
© Kirk Albrecht
Buy it at CD Baby
Listen to "Prayer"


Home | Facebook | Podcast | Archives | Submissions | Free CD Giveaway | Subscribe | About | Links

Laurence Juber, Doug Smith, Al Petteway, Phil Keaggy (and many more!) at Acoustic Music Resource