Reviewing the best in non-mainstream acoustic guitar music
Home | Facebook | Podcast | Archives | Submissions | Free CD Giveaway | Subscribe | About | Links
January/February, 2016

Ian Ethan Case, "Run Toward the Mountains," 2015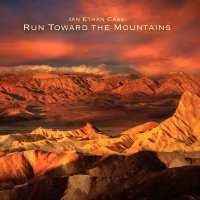 So unusual is Ian Ethan Case's instrument and his related playing style that these aspects are what first grab attention. So let's talk instead about the listening experience. In an hour and a half of music on two discs, Run Toward the Mountains is a sonic feast, an epic journey both aurally and conceptually. Part I, "Migration," has six pieces, only one as short as 5 minutes; Part II, "The Infinite Race," has five pieces that range in length from 7 to over 12 minutes. Each piece is a mini-symphony that holds the attention fully. On these free-form compositions there's a sense of discovery and exploration, as if they are being invented as you are listening -- and in fact Case has said that his ideas often occur unintentionally, in an organic way out of his practicing, and later are refined and shaped to define his ideas. The pieces are arresting, often surprising, whether slow, quiet meditations ("The Comforter;" "The Gift"), more melodic ("The Circle"), or feverishly paced ("The Centrifuge" or "Aftershocks"). The hallmarks of his style are its intensity, fluidity, and precision; rhythmic and compositional complexity; and percussive effects. Then there's the instrument: Case plays a double-neck guitar with a 12-string neck on top and a 6-string on the bottom, allowing for a big orchestral sound. He also plays with looping to add layers, such as on "Ridgeline," with its breathtaking jazzy lines. Watching him perform has apparently left audiences astonished, and luckily, there are online videos of his playing, so listeners can appreciate how groundbreaking his music is. Witness the wow factor of "Butter II," where his left hand is doing lightning-fast hammer-ons on the top neck while the right is doing percussive legerdemain on the bottom, or that of "Who's There?," where he plays intricate runs of hammer-ons with contrasting rhythms on both necks simultaneously - without sacrificing the beautiful melodic line - capping it all off with shimmering harmonics. Case has said that to him, music is one infinite web in which he's trying to discover the points of connection. These questing aims and ideas are manifest in the interwoven strands and sounds of Run Toward the Mountains, a major achievement which is sure to confirm Case among the ranks of significant artists at work today.
© Céline Keating
Buy it at Amazon.com
Listen to "Butter II"
Listen to Ian Ethan Case at our podcast

Don Alder, "Armed & Dangerous," 2015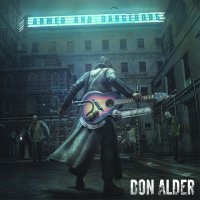 Don't let the cover art of Don Alder's Armed & Dangerous CD throw you. It pays homage to the cast of the Walking Dead TV series and features a trench-coated zombie slayer armed with a fan fret acoustic guitar equipped with optional head stock blade, body blade, variable angle chainsaw and a flame thrower whammy bar. Scary as that might be, musically there is nothing dead about this vibrant collection of 12 original compositions. In fact, the only scary thing here is that Alder's infectious fretwork will leave an indelible imprint in your musical memory. The highly accoladed Alder has attained more fret-cred than, perhaps any other fingerstylist over the past eight or nine years, yet there is no sense that he has any intention of resting on his laurels if this often energetic and engaging CD is any indication. Much like his last release, Not a Planet, Alder offers a variety of sonic flavors and styles with technique and execution that are precise and so very fluid. There is an improvisational feel to the performances on Armed & Dangerous that create an immediacy that is fast becoming an Alder trademark. "Going Rogue" opens the CD with a deceptively intricate and eloquent intro before sliding, literally and sonically, head long in a tasty, yet funky grove that burst continually in unexpected melodic directions - as if the fret board of Alder's baritone guitar were a roller coaster and his fingers were alternately delighted, thrilled and hanging on for dear life. Before you have time to recover from the opening track, Alder lets loose "Love & Life," perhaps the most beautiful and satisfying vocal tunes he has ever penned, complete with full band accompaniment and violins that heighten the melody and Alder's spot on vocals. If I weren't for the phenomenal guitar work throughout this album, "Love & Life," would be my favorite track. Something tells me that Don Alder a Grammy ward winning singer/songwriter CD in his future. As he has proven before, the man can flat-out sing! "Dancing with Spin Doctors," adds a whole new aspect to Alder's repertoire. He lays down and electric finger-style groove with help from Billy Sheehan on bass and Sam Cartwright on drums that has Eric Johnson-esque overtones and feels completely at home nestled in amongst the acoustic bulk of this collection. For sheer beauty both "Sophrosyne" and "Precious Moments" show the delicate side of Alder's fretwork as he coaxes sweetness from a baritone guitar that I haven't heard since Pat Metheny's One Quiet Night. Other highlights include "Circuitous," a fingerstyle gem and the spirited "Three Good Reasons To Play," a duet written and with Luca Francioso. Not surprisingly, the release of Armed & Dangerous coincides with Don Alder's name appearing on the cover of Guitar Player Magazine. Go figure...
© James Filkins
Buy it at Amazon.com
Listen to "Armed & Dangerous"
Listen to Don Alder at our podcast

Goran Ivanovic Trio, 2015

Usually guitarists playing a Richard Brune classical guitar can be found on recordings of Bach and Tarrega, but here we find Goran Ivanovic serving up jazz, Latin and Spanish rhythms on his Goran Ivanovic Trio release. Along with bassist Matt Ulery and percussionist Pete Tashjian, Ivanovic delivers the goods with strong grooves and rock solid rhythms, exploring textures and colors not as easily rendered on an archtop or electric. One thinks back to Charlie Byrd and his early use of classical guitar in jazz. Ivanovic is a Balkan ethnic mix, and his multi-cultural background serves him well in producing music that goes beyond borders or facile genres. The nine tracks showcase a solid guitarist who works seamlessly with the rest of his trio. "Alvorada American" has an almost metal, driving figure, but Ivanovic uses harmonics and treble melody lines to fill it out. "Maurice's Ragtime" is not like what we might think, sharing some of the drivnig rhythm of "Alvorada American." Scott Joplin it isn't. Ian Maksin adds sweet cello to the elegiac "Tic Tac Toe," the most contemplative piece on the CD. "Sick Puppy" is a study in staccato chords moving in and out of melody, with percussion adding force and depth. Ivanovic returns to fingerpicking patterns in "Athina," flowing from major to minor themes, with Tashjian lending sparkle and shimmer on percussion. "Patient Zero" develops an almost minimalist progression, with variations and a center section that reminds the listener of Middle Eastern melodies. In what sounds like an homage to the flamenco innovator Paco de Lucia, "Querido Paco" is filled with aural images of his playing, though without some of Paco's signature fiery runs. The CD ends with "Beleza," opening with cascading harmonics into a march, a kind of nuevo flamenco ode. This is a solid offering from a guitarist and his mates in jazz on nylon stringed guitar. Great for this afternoon in the winter sun.
© Kirk Albrecht
Buy it at Amazon.com
Listen to "Alvorada Americana"

Eric Bibb & JJ Milteau, "Lead Belly's Gold," 2015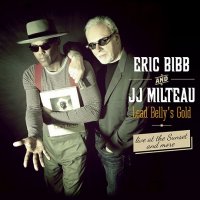 Name a familiar Lead Belly number; you'll likely find it on "Lead Belly's Gold." Eric Bibb has lovingly taken on the challenge of respecting and reinvigorating these well-worn tunes. His versions are neither re-creations (no booming 12-string) nor total re-visions. His selections do cover the strands of American music stored in Lead Belly's jukebox mind: spirituals ("Swing Low, Sweet Chariot"- a raucous take, with Big Daddy Wilson's energetic vocals), work songs ("Pick a Bale of Cotton"), Anglo-American folk (a powerfully mournful "House of the Rising Sun"), and prison songs ("On a Monday"-a swinging take with backing chorus). Bibb adds a few compatible originals reflecting Lead Belly's biography. All of this celebrates Lead Belly's distinctive legacy as a link between: slavery and sharecropping; segregation and civil rights; street and commercial music; country and city. "Grey Goose" -- a comic tale of endurance in adversity -- opens, introducing the basic musical palette. The rhythm Lead Belly supplied with thumbed bass runs and propulsive strumming is replaced by Larry Crockett's drums and J.J. Milteau's wide ranging harmonica work. In the course of the album, his harp will tastefully offer everything from train sounds (a rollicking "Rock Island Line"), to traditional folk blues, accordions, and Chicago blues ("Where Did You Sleep Last Night" with an extended solo). One more weapon in the rhythm arsenal is Bibb's understated guitar playing, like the under the radar bass runs in "Chauffeur Blues." Bibb's light 6-string Cotton-picking on "Pick a Bale of Cotton" conveys the spirit of tunes that lightened the load of oppressive tasks. In opposite fashion, Bibb's authentic version of "Goodnight, Irene" shows what was missing in the sanitized Weavers' version, explaining more clearly why the narrator might "jump in the river and drown." An album highlight is the unfortunately timely "Bourgeois Blues." "Lead Belly's Gold" is appearing on folk DJ top ten lists for more than just thoughtful production and fine performances. It's the joy the players communicate. The result? While fulfilling its serious intentions, this record is also a hoot.
© David Kleiner
Buy it at Amazon.com
Listen to "Bring a Little Water Sylvie"

Steven Hancoff, "The Six Suites for Cello Solo (J.S. Bach)," 2015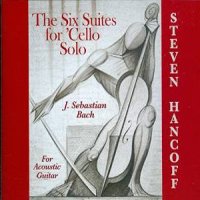 Steel-string guitarist Steven Hancoff has taken a detour from his blues and jazz interpretations to produce this three-CD set and an impressive multimedia work, Bach, Casals and the Six Suites for 'cello Solo. Johann Sebastian Bach composed these works in 1720 for gambist and cellist Ferdinand Christian Abel. The suites are recognized as milestones in polyphonic composition as well as technical breakthroughs in the cello repertoire. Some challenges of playing cello repertoire on either nylon or steel string guitars are obvious; guitarists do not bow their instruments, and there are intonation problems inherent on any fretted instrument. Hancoff is not the first guitarist to arrange and record these pieces. As he mentions in the accompanying booklet, he was inspired by Michael Lorimer, who arranged some of the suites for classical guitar. The steel-string giant John Renbourn recorded his own arrangement of "Suite 1 (Prelude), on his final album of new music, Palermo Snow. However, to place Hancoff's renditions into perspective, I compared them, not with those of other guitarists, but with recordings of three master cellists: Pablo Casals, Janos Starker, and Pieter Wispelwey. Starting with "Suite 1 (Prelude)", Hancoff plays the melody across the fingerboard, letting strings ring out in ways that are impossible or impractical on bowed instruments. He also transposes the piece from G major to D. Starker recorded the suites in 1965, and, as expected, plays the Prelude in its original key. In the Gigue movement of "Suite 1", Hancoff adds chordal work that is not even hinted at in Starker's performance. With "Suite 3 (Prelude)", Hancoff essentially creates a new work, as he plays in a higher register and creates a very different mood by emphasizing the brightness of his guitar's unwound strings. Pablo Casals's 1915 performance is both dark and dynamic, using extensive double-stops and arpeggios bowed across the strings. I also compared Hancoff's version of "Suite 5" with that of Pieter Wispelwey, recorded in 1989. In Wispelwey's version, the melody is voiced low, including beautiful legato arpeggios alternated with staccato bowing. As he does with other pieces in the set, Hancoff voices the melody higher. He articulates independent lines at least as well as does Wispelwey, although his time stalls somewhat when he pinches two or more strings. Overall, Steve Hancoff's work in presenting these suites is both well-conceived and satisfying. He uses the acoustic steel string guitar's special characteristics as advantages to present the suites, rather than as a reductive substitute. As he plays these works, some passages may remind listeners of John Dowland's lute music, although Bach's compositional development is much richer than that of Dowland. Hancoff's fans will undoubtedly embrace this labor of love, and his recordings will likely encourage other guitarists to adapt and play classical works written for other instruments.
© Patrick Ragains
Buy it at Amazon.com
Listen to "Suite 1"

Ramon Goose & Modou Touré , "The West African Blues Project," 2015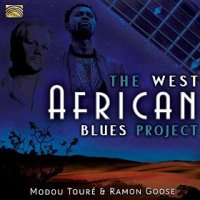 Exotic but familiar. We all want something that we know, but a little different. We favor growth and change, but want a connection to where the current beast originally sprang and captured us. And so it is with this completely captivating, guitar-driven, 11-track collection. The blues of West Africa intertwines with the pop sensibility and accessibility of the West. British blues guru and guitarist Ramon Goose teamed with Senegal musician/composer and haunting vocalist Modou Toure to produce some of the most pleasant earworms you'll likely ever encounter. The album's primal polyrhythms have pulsed through our bodies since the beginning of time; its lyrics – mostly in the Senegal-based Wolof language – need no translation. The lyrical sentiments expressed transfer in a kind of musical telepathy. All 11 tracks were composed and arranged by Toure and Goose, and tend toward seductive, snakey melodies, featuring one infectious groove followed by another. The instruments are largely familiar: guitar, bass, drums, saxophone. Toure and Goose provide liner notes that summarize the contents of each song. Here are the notes from "We Walk in the Sahara": "Imagine taking a walk in the Sahara Desert. If you take a wrong turn, then the Sahara will make you pay for this mistake. In the same way if you do something wrong to someone in this life, in the afterlife you will pay the price." The "Dune Blues" is described as being about "the spirit of the teacher and the learnings of the disciple through ancient people to the present." This project's unique concept and its successful attainment makes for an intoxicating brew. This could be my favorite of the year.
© Fred Kraus



West African Blues Project's Website
Buy it at Amazon.com
Listen to "Satan"
Jeremiah Daly, "Ther Darkness Will Be Over Soon," 2015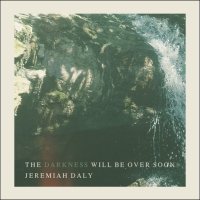 With Jeremiah Daly, it's all about the voice -- intimate, keening and direct-to-the-heart This release by the singer and guitarist, who released several albums under the moniker The Perfect Measure, contains a collection of contemplative songs about the nature of love. Maybe it's alt-country, but mostly for lack of a better handle; either way, it's a voice and guitar affair that falls loosely under the rubric of acoustic pop. "Golden" opens to a warm, clear voice and fingerpicked guitar that builds to a heartfelt, aching chorus and then falls to the edge of a whisper. "My Darlin' Rose" offers a bonus party chorus in the middle of this country two-step. "Texas" is a homespun at-home-on-the-road song that features some fine verse-swapping with Alexis Medina and you-are-there fret marks on the demo-style acoustic. "Some Things" is something of a stand-out, returning to Daly's fingerpicking, which builds to a lovely chorus based on permutations of the "some things…" lyrical figure, as in "some things take you, and they won't let go." "Ashes" features a beautifully arranged string section that haunts the background, and then, about three minutes in, you find a little flash of Jeff Buckley. "Eclipse" offers discursive verses à la Paul Simon, then introduces the understated strings on the chorus. The choruses build to seemingly effortless vocal glisses on the way to that Buckley territory. Along the way, he zeros in on the lyric "when I looked to you, you were never mine." He takes you to full-on heartbreak and half-way back. Daly is not afraid to project vulnerability, and his voice is his own, and that goes for his voice as a writer as well. It may be that "The Darkness Will Be Over Soon" is one of those things that will take you and won't let go.
© Steve Klingaman
Buy it at Amazon.com
Listen to "Golden"


Home | Facebook | Podcast | Archives | Submissions | Free CD Giveaway | Subscribe | About | Links

Laurence Juber, Doug Smith, Al Petteway, Phil Keaggy (and many more!) at Acoustic Music Resource