Reviewing the best in non-mainstream acoustic guitar music
Home | Facebook | Podcast | Archives | Submissions | Free CD Giveaway | Subscribe | About | Links
January/February, 2015

Martin Taylor, "One Day," 2014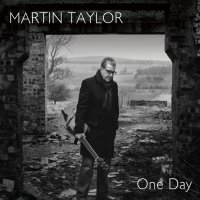 Guitarist Martin Taylor first gained international exposure in the 1980s while working with violinist Stephane Grappelli. Even early in Taylor's career, audiences and critics were impressed with his inventive and tasteful accompaniments, his adept single-string work, and his ability to play fully-realized versions of popular and jazz tunes on solo guitar. Since then he's released many solo and ensemble recordings as a leader, has collaborated with players as diverse as David Grisman, Tommy Emmanuel, and Mimi Fox, and played alongside Albert Lee in Bill Wyman's Rhythm Kings. Today he tours nearly nonstop, teaches in his online guitar school, and hosts in-person guitar workshops. This seven-track release, "One Day," is literally the product of a one-day session in August 2014. Taylor performs solo on amplified archtop, choosing a program of accessible popular tunes interspersed with originals. The Carpenters' 1974 hit "I Won't Last A Day Without You," by Paul Williams and Roger Nichols, opens the set, featuring Taylor's trademark moving lines and jazzy chord voicings. Taylor swings on "I've Never Been In Love Before" and on the bonus track, "Down at Cocomo's" (which is double-tracked). He approaches the folk tune "Wild Mountain Thyme" with a blues attitude and includes a new version of his own "True," showing how he's developed the piece after playing it in solo, duo, and ensemble settings for a number of years. On the title track, Taylor begins simply by stating the melody, then adding bass lines and midrange voicings after the first verse, for a sound that's folksier than his treatment of "Wild Mountain Thyme". Although Taylor's recorded output is quite extensive (and now mostly available on iTunes), "One Day" is a fine introduction to his solo style, as well as being a must for his fans.
© Patrick Ragains
Buy it at Amazon.com
Listen to "I Won't Last a Day Without You"

Eric Bibb, "Blues People," 2014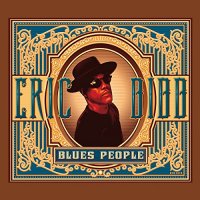 Behold the power of six strings and the truth! In these United States, no musical genre has expressed our rightful national conscious while simultaneously documenting our collective history – good and bad, with greater accuracy than the blues. And as we witness the current unrest in America by way of the justice system, and economic inequality, to cite a few issues, the blues is as relevant today as it was in any era. Which brings us to the brilliant, new Eric Bibb record - an aural journey which quotes the progression of the blues in the United States from its beginnings in the cotton fields to the present day. Inspired by Amiri Baraka (aka LeRoi Jones, author of the book "Blues People"), Martin Luther King Jr., the Civil Rights Movement, and his colleagues at a recent Blues Foundation Awards ceremony – guitarist Eric Bibb has created remarkable collection of songs about "change and hope" – aptly named for Baraka's tome. Bibb and his esteemed cast of collaborators – Taj Mahal, Guy Davis, Andre De Lange, The Blind Boys of Alabama, Ruthie Foster, Popa Chubby, producer Glenn Scott, among others, turn in masterful performances as you would expect. Every track is anchored by the acoustic guitar mastery of Bibb, who also utilizes a Guitelele (yes, a guitar-ukulele hybrid) and electric on select tracks. Among the great lessons learned from "Blues People" is how the genre and its greatest practitioners embrace a wide array of influences, ranging from the blues' various permutations (Delta, Chicago, West Coast) to pop (dig the hooks in "Chain Reaction"), to country, Latin, gospel, soul ("Remember the Ones" with Linda Tillery), and jazz – and all the combinations thereof and some that I have yet to reference. I would love to see Bibb continue this project with additional volumes. And if this Grammy-worthy collection does not inspire you to pick-up your guitar and play the blues, give your instrument away!
© Tom Semioli
Buy it at Amazon.com
Listen to "God's Mojo"

Trevor Gordon Hall, "Mind Heart Fingers," 2014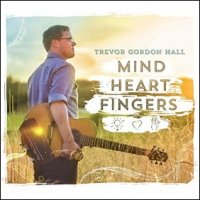 In recent years, fingerstyle guitarist Trevor Gordon Hall has catapulted himself towards worldwide recognition, thanks in large part to his creative and unique compositions, as well as his particularly elegant mastery of the instrument. To fully appreciate his unique approach, one must first become familiar with his signature, hybrid-instrument, which he himself created and called the 'Kalimbitar'. This Kalimbitar is an acoustic guitar with an African thumb-piano mounted on the soundboard, just below the bridge. Unlike the bright, metallic thumb-pianos that perhaps come to mind, this particular incarnation delivers a warm and mellifluous wooden timbre that not only beautifully complements the sound of the acoustic guitar, but is also a perfect match for Hall's delicate and graceful technique. Unlike the sometimes droning, atmospheric music of many of his contemporaries, Hall's compositions are constructed with equal parts melody, harmony, and rhythm, delivering memorable lines supported by clever harmonies and driven by energetic syncopations. Hall's new album "Mind Heart Fingers" weaves a tale that appears to guide the listener through his experiences, feelings, and thoughts. The overall narrative is undeniable, and owes thanks to Hall's commitment to the melodic components of his works, which throughout are soothing, distinctly lyrical, and emotionally touching. The overriding impression inspires feelings of optimism, hope, and joy, and one can't help but conclude that Hall composed these works supported by great love and happiness in his life. "Mind Heart Fingers" features an intimate and cohesive collection of compositions, and is sure to appeal to guitar enthusiasts, as well as any and all gentle-hearted music lovers.
© Timothy Smith
Buy it at Amazon.com
Listen to "Morning Sidewalk"
Listen to Trevor Gordon Hall at our podcast

Jeffrey Pepper Rodgers, "Almost There," 2014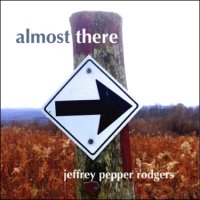 If you've ever doubted that music creates happiness, this top-notch CD will quash your reservations: "Almost There" will raise even the darkest spirits, even when the lyrics depict life's sadness. You will be compelled, as Peppers Rodgers, a triple threat as singer, guitar player, and lyricist, sings on jaunty, "Eight Days in January": "I found this little tune, so freaking cheerful I can't help but sing along." The album of twelve songs of roots rock/blues/folk has an understated raw beauty; Rogers' spare, tasteful guitar and banjo are given inspired accompaniment by Wendy Ramsay on flute/clarinet/accordion/backup vocals, Josh Dekaney on percussion, and John Dancks on upright bass. Pepper Rodgers was a grand prize winner in the John Lennon Songwriting Contest, and this varied collection shows why. Every song is a winner, thick with evocative lines -"a crunch of gravel in the noonday still….I hang my soul to the wind" ("The Wrong Way Home)," strong melodies ("Don't Think That I Can Say Goodbye,") powerful grooves ("Almost There"), and wickedly good, subtle, understated guitar playing ("Closer.") Especially among the mostly uptempo pieces, the slow, bluesy "Somehow," is an absolute stunner. Pepper Rodgers would undoubtedly be much more widely known had he not been busy focusing on teaching and music journalist (he's a founding editor of Acoustic Guitar magazine) but this grievous oversight is one that "Almost There" should go a long way to correct. In "Turn Away" he sings: "If I sing this song for you, will you sing with me?" You bet you will - this CD will hold you hostage.
© Céline Keating



Jeffrey Pepper Rodgers's Website
Buy it at Amazon.com
Listen to "Almost There"
Sandy Shalk, "Fingerstyle Jazz Guitar in DADGAD," 2014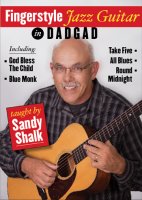 I am a seasoned fingerstyle guitar player and I play in a jazz style. However, I have never tuned my guitar to DADGAD before reviewing this latest Stefan Grossman Guitar Workshop instructional DVD, "Fingerstyle Jazz Guitar in DADGAD." So, I have followed Sandy Shalk's instruction as a "competent novice." Shalk has done his historical homework and translated his huge knowledge base of this alternate tuning, and passionately so, into an instructional video featuring five jazz classics (God Bless The Child, Blue Monk, Take Five, All Blues, Round Midnight) into manageable arrangements for an intermediate level player. After an introduction to the history of classic jazz, the composers and the experiences of the pioneers in the development of DADGAD tuning, Shalk discusses chord voicings such as major 7th, flat 5th, 9th, major 9th with emphasis on the complement of open strings, and the ease of changing the character of a chord with a simple shift of a single note. Guiding the student to the thrill of a new unfolding discovery, Mr. Shalk appears almost euphoric sharing his knowledge, and never condescends the way other humility-challenged instructors are sometimes inclined. Shalk uses the same structured method of teaching for each of the five compositions broken down in three sections. First, he performs the complete piece in his own unique way. A brief story about the work follows, as does a methodical examination of the piece in very slow, multiple frames of the fingerings and explanation of what chords are being executed. The songs are broken down into manageable chunks which can be practiced separately and then combined into the final product, that is -- a well arranged jazz standard piece that would be a stellar addition to any player's repertoire. The next section is a split screen version of the song with the camera focusing on each hand. Kudos go to the production team, with well-placed cameras and editing which truly enhances the learning experience. A world of exploration awaits me and my guitar after this superb presentation. I've already begun a new composition using DADGAD tuning and have assigned one guitar the tuning as standard (although it is pretty easy to change on the fly if required at a performance). Some guitar teachers charge $30 or more for a one hour lesson. For the same cost here one has a full course of instruction that can be revisited time and again. Thank you Sandy Shalk!
© Mark Bayer
Buy it at Stefan Grossman's Guitar Workshop
Listen to "Fingerstyle Jazz Guitar in DADGAD"

Adam Miller, "Shifting Units," 2014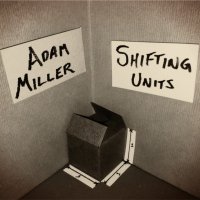 I really like what Australian guitarist/composer Adam Miller did with his "Shifting Units" double disc. Disc one, "Shifting Units With Friends," features Miller's terrific guitar work featured various ensembles with some of Australia's finest jazz and blues musicians. Disc two, "Shifting Units Solo,"" is all Adam as he single-handedly (so to speak) takes on most of the same songs as on disc one. He includes a few surprises – and departures. This format puts Miller's versatility on display as he effortlessly shifts from jazz to blues, fingerstyle to country, ensemble to solo, acoustic to electric. Perhaps most impressive is his unerring focus on melody. He takes a theme and turns it inside out, exploring its colors and nuances, but keeps his fingers on the pulse of the heart of what brought the tune to life. Though both discs are all-instrumental, it's easy to imagine how vocal workups could be arranged for several of the works. Miller clearly has a talent for turning what initially seems a deceptively simple riff and developing it into something remarkable catchy and fun. Plus this guy can just flat out play, whether he is nailing one snakey electric solo after another on "Lord Mayor of New Lambton," or sweetly – and achingly -- alternating with Rachel Pogson's cello on "Shifting Units" in 6, Miller quite simply dazzles in so many of these well-crafted compositions. Other members of Australia's finest who contributed on this 25-track collection include Steve Hunter and Mitch Cairns on bass, James Hauptmann and Nic Cecire on drums, and Lachy Doley on some extremely soulful Hammond organ. Miller enjoyment of working with these musicians comes through in the freshness and spontaneity of the work. As he has commented, "It was a great opportunity of get both old friends and people I'd wanted to play with my whole life into record. We got into the studio, ran it through a couple of times, and hit record." In 2013 his "Delayed" album was on US Acoustic Guitar Magazine's top 10 of 2012. Guitar International in 2010 named Miller as the "Guitarist Deserving Wider Recognition." I'll concur. Miller's the real deal.
© Fred Kraus
Buy it at Amazon.com
Listen to "Shifting Straight Units"

Hiroya Tsukamoto, "Places," 2014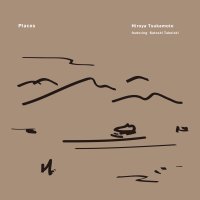 "Places" is a considerable departure for this young talented transplant from Japan to New York, whose first solo CD, Solo, was a more cerebral offering. On these nine pieces Tsukamoto extends his abstract imagistic compositions to the land of folk, jazz, and world music. Teaming up with inspired percussionist, Satoshi Takeishi, Tsukamoto goes beyond the atmospheric in creating a landscape of riveting patterns and eclectic sounds that defy clear categorization. The CD begins strongly with the driving tremolo and chiming percussion on "Black Canyon," then shifts to a brooding, almost sinister, melody. The mood shifts abruptly with "Vuelta," an uptempo, somewhat conventional fingerstyle piece that again shifts musical direction, with the introduction of deep slow chords, before returning to its jaunty opening. "Another Great Day To Be Alive" could be from the American songbook, while "Confluencia," "Aiyanna," and "By the Sea," are variously quiet and contemplative, moody, and evocative. Other pieces reveal more jazz or Latin influences, such as "Cielo y Mar," which employs wordless vocalizing. Tsukamoto's playing shows a strong preference for elaborating on the possibilities of the individual note rather than on flashy technique; the gorgeous "Takibi" especially demonstrates his thick, luscious tone. One of the strongest pieces is "Mountain Song" with its propulsive rhythm and repetitive four-note refrain, which especially displays the almost telepathic communication between guitarist and percussionist. Taking the listener to uncommon sonic landscapes, Tsukamoto's "Places" is an unconventional album from a truly unusual talent.
© Céline Keating
Buy it here
Listen to "Black Canyon"
Listen to Hiroya Tsukamoto at our podcast

Bill Mize, "The Back of Beyond," 2014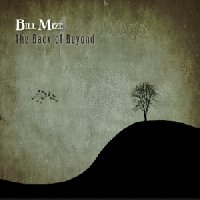 Few fingerstyle guitarists can match the medolic sensibilities of Bill Mize. While Mize may not garner nearly as much attention as others, his music has a sweet clarity rare in a world filled with six-string gymnastics. Mize is no shreedder, but he lays down tunes that are graceful and charming, coaxing sounds out of a Martin D-28 Lester Flatt never heard. The music of Mize is for people who aren't in any hurry, but seek to imbibe at the well of good taste and style, sometimes with a funky bite where Mize finds just the right groove. His latest recording, "The Back of Beyond," features a mere 10 songs, nine originals and a terrific version of Astor Piazolla's "Milonga del Angel," with help on accordion by Beth Bramhall. The guitar-accordion interplay is just right, conjuring images of a late afternoon break on a veranda in Buenos Aires overlooking the town square. The title cut "The Back of Beyond" is a harmonic symposium with shimmering excusions around the fingerboard, light and shadow dancing happily. "Joe Pye Jig" almost sounds like a high-strung guitar in passages. Here, Mize demonstrates one of his hallmarks, the ability to hold a note just the right amount of time before moving onto the next phrase. String bends, cascading rhythms, and tempo shifts add color to "Ambionic Journey." The longest track on the CD is "A Child of God," which combines ebow, lap steel and a bed of night sounds to sweeten the story Mize tells on his steel string. Mize even had a serendipitous moment recording "The Captain's Friend" shen a small place took off nearby and was captured in the background. Things wrap up with "Takin' Off," just another really nice song soothing the listener with musical beauty. Sadly, this CD weighs in at a scant 37 minutes of lovely music; we would wish for a few more tunes to fill the evening air and make us smile.
© Kirk Albrecht
Buy it here
Listen to "Joe Pye Jig"

Kerri Powers, "Kerri Powers," 2014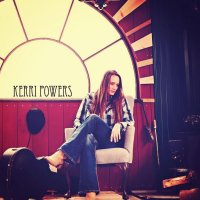 It's rare that this jaded old CD reviewer is impressed. Sure, there's a lot of good music out there, but usually it can be tossed in the "sounds like ________ " box. I review it and move on to the next album. Not this one. Her emotive alto, rubbed lightly with 80 grit sandpaper, conveys stories that brim with emotion and longing so real, you'll swear she slipped into your life and read your love letters. The arrangements are simple – pedal steel, acoustic guitar, and light percussion, with Kerri on guitar and harmonica; they never overshadow the songs. It's hard to know where to start because each song reads like good prose, with vivid images that tell you enough of the story to make you lean in close, nodding your head in recognition. "Come Around" starts with, "I'm from a town smaller than your mind" and goes on to further chastise the one who should be coming back to her. It has a country vibe, with a guitar in waltz time and complimentary pedal steel. She reads the riot act to someone else in "Ghost" -- "Pictures whisper in a box / Thought I heard 'Forget me not.'" She could've said something simple like "You refuse to forget her." Instead, she draws a sharp picture of longing, propelled by a great acoustic guitar groove accented with stabs of electric guitar. In "Buttercup" she sings about finding a good love when you're on the side of the fence that doesn't look so good, "Go somewhere the dogs won't bite / Leave this wreckage here." "A Little Light" is encouragement to someone and "Old Shirt" is about finding a new life. In "I've Got Your Back," she takes the persona of someone else -- "I've gotta ride / Through Elysian fields with Harley dreams." Later on we learn, "I'm working for the angels now / Chasing dragonflies into the sun." Even when she sings covers, she chooses songs that are so well-suited for her voice, you'll swear she wrote them. Janis Ian's "Jesse" positively aches and in the BeeGees "To Love Someone," she really showcases the true meaning of the song. Who knew Barry Gibb could be so deep? She does it as a ballad and folks, if you don't feel a tear coming to your eye before it ends, you're not flesh and blood. Just get the album, y'all. Take it from this cynical reviewer who can't wait to hear it again
© Jamie Anderson
Buy it at Amazon.com
Listen to "Tallulah Send a Car For Me"

Keith Lykins, "Encryptions," 2014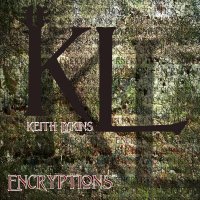 Listener Alert! DO NOT let your ears deceive you upon playing Keith Lykins' latest release "Encryptions". Even though it sometimes sounds as if there are two or three performers playing, this is a solo album with no overdubbing. Keith will alternate between a standard 6 string acoustic guitar and an instrument of his own invention called The DAGR9. This is a 9 string instrument that doubles the three bass strings; sometimes in octaves, unison, fifths or whatever the piece calls for. The instrument also has small tapping pads that trigger MIDI drum effects allowing Keith to take advantage of his unique tapping skills, adding a wall of textures to his compositions. The quality of the recording captures every nuance of his composing and performance skills with an instrument that sounds bigger than life. The diversity of styles represented in this CD is also quite impressive. There are the inventive 'Wall of Sound' pieces like "Northwest Passage" with a low C tuning, and the title piece "Encryptions" that suggests a film score. Other pieces evoke an eastern influence such as "Second Sun East" which showcases the percussion pads combined with a tapping style that is progressive and authentically powerful. Blues and Funk invade the layout with the song "Blind and Broken", along with the first entrance of Keith's vocals. He has a unique flair for placing the vocal pieces into the exact spot in the lineup where a little shift is called for. He then shifts gears again with traditional classics like his arrangement of Turlough O'Carolan's Celtic piece "Blind Mary", as well as the standard "Amazing Grace", with a little Christmas flair at the beginning that I'll leave for the listener to discover. We even get hints of a 'Chet' style technique in pieces like "Blues For Windsor #17, as well as hammer dulcimer mimicking works like "The Burning Oracle", calling back memories of my first visit to the infamous 'Carp Camp' at Winfield, Kansas. Another Listener Alert! - DO NOT expect to play this CD as background guitar performance. There is no way to passively listen to an unfolding of Keith Lykins' art. Consider yourself warned.
© Mark Bayer
Buy it at Bandcamp
Listen to "Ring Around the Moon for Baby Eli"


Home | Facebook | Podcast | Archives | Submissions | Free CD Giveaway | Subscribe | About | Links

Laurence Juber, Doug Smith, Al Petteway, Phil Keaggy (and many more!) at Acoustic Music Resource