Reviewing the best in non-mainstream acoustic guitar music
Home | Facebook | Podcast | Archives | Submissions | Free CD Giveaway | Subscribe | About | Links
January/February, 2013

Randall Avers, "Man in the Moon," Clear Note 2012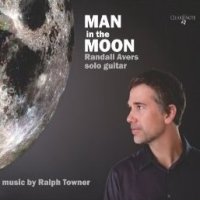 Randall Avers' "Man in the Moon" is a heartfelt tribute to the seminal music of Ralph Towner. The recording is a culmination of a two-year grant Avers received to study and record his mentor's enduring compositions. During the late sixties and seventies Towner seamlessly blended chamber music, jazz improvisation, and European folk styles to craft influential recordings as both a solo artist and as founding member of his inventive collective, Oregon. His unique and innovative approach to the acoustic guitar transcended and created musical genres, shaping the musical landscape of the later half of the twentieth century. Randall Avers, a gifted classical performer, composer, and educator in his own right, could not be a better vehicle to interpret Towner's epic music. The album begins with the classic folk ballad, "Les Douzilles," a picturesque ode to a rural cottage in Switzerland where the artist once stayed. While many of Towner's classic compositions are featured in this recording, the strength of this release comes from the lesser-known gems that Avers uncovers in this collection. A case in point is the "Jugglers Etude," from the album "Five Years Later," an out-of-print collaboration with fellow guitarist, John Abercrombie. The piece contains some brilliantly executed melodic motifs, showcasing expansive intervals, rapid tempo shifts, and expressive circular phrasing. While Avers' searing, pinpoint guitar work is more than striking, he remarkably never loses focus of Towner's unparalleled touch and sensitivity. This recording also marks the debut of the "Madeleine Variations," a dramatic set of classically themed works appearing on record for the first time. The album ends with the joyous anthem "Green and Golden," a poignant, reflective, and hopeful ballad offering a fitting conclusion to this exceptional musical homage. All of the tracks were pristinely recorded by legendary engineer Jan Erick Kongshaug at Rainbow Studio in Oslo, home of many classic ECM recordings. "Man in the Moon" is an incomparable tribute, one that will further solidify Towner's immense musical legacy, and should help bring Avers' vast talents to an even larger audience. This is a landmark recording, required listening for all enthusiasts of acoustic music, and one that will endure for generations.
© James Scott
Buy it at Amazon.com
Listen to "Jugglers Étude"

John River Shannon, "Time Was a Lie," Creek Valley Records 2012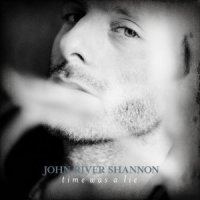 John River Shannon wears his ambition, his spiritual longings, and his Paul Simon influence on his jacket sleeve. There he calls his latest release a "music offering to the world." There we learn that the only cover on the CD is the closer, an irony-free take on "Graceland." (Later, we learn that the opener features the phrase "the sound of silence.") There, with song titles like "Divine Love," we find an artist with grace on his mind. And, it should be said, he brings something new to his mystical musical quest. His songs, sung in a sweet tenor without tremolo, never stray far from a pop sensibility, yet strive for a hypnotic quality. One device Shannon uses is the repetition of key lyrics. Words like time, season, sun, and sea turn up in more than one tune. Within particular cuts, Shannon repeats phrases over and over, such as the title of "Nearness of the Edge" or "I've been looking for a reason" in "Divine Love." As a wordsmith, Shannon strives for a koanlike essence ("everything is everything so everything is nothing just the same"") where meaning becomes less important than what might be happening in the mind of the listener. The songs' rhythms tend to stay constant while drawing in the listener, whether Shannon is picking the acoustic to create a tumbling waterfall repetition in tunes like "Burning Embers" or strumming an unchanging rhythm as in "City Lights." At times, Shannon adds an electric solo, straightforward as in "Always," and with dreamlike effects in others. Shannon knows what he is about and carefully puts all the parts together to suit his purpose. For his work, he deserves even more than a hardy round of one-handed clapping.
© David Kleiner
Buy it at Amazon.com
Listen to "Always"

Gareth Pearson, "Urban Echoes Vol. 2," CandyRat Records 2012

Tommy Emmanuel has called young guitarist Gareth Pearson the "Welsh Tornado." Pearson's lightning-fast single line runs and arpeggios certainly justify this nickname, but he's also a very tasteful player and composer. This disc presents ten original instrumentals, played in group and solo settings. The opener, "Such Great Heights", features a strong and well-articulated melody played over programmed percussion. "Luna Moon" has a similar feel, where the guitar and percussion are joined by bass and additional acoustic and electric guitars. Pearson's compositional and instrumental strengths are most evident in his solo pieces. One such number, "Run SB Run", strongly recalls Dave Evans' 1970s recordings. Several other solo tracks also have humorous yet inscrutable titles, including "Trails of M&Ms" and "Kung Fu Staredown." "Room 408" is another group performance, which, while pleasing, buries Pearson's guitar when he plays in the lower and middle registers. This isn't a general problem though, as his axe remains front and center on "Clockwork Party", performed with fuzz bass, and percussion. "Jan the Man", on which Pearson is accompanied by a live drummer, is a showcase for his technical skills. Among Gareth Pearson's assets are his extroverted style, technical skill, and incorporation of influences that older players will appreciate. Several of the ensemble recordings work well, while others simply emphasize repetitive rhythms, with any subtleties obscured under loud percussion. When the guitar/drum pairing works best, as on "Clockwork Party", listeners are treated to a driving groove and plenty of fingerstyle nuance. Gareth Pearson is likely to develop strong interest among guitar aficionados as well as younger listeners who don't deliberately follow the genre. I'd like to hear more from the "Welsh Tornado", in both solo and ensemble settings.
© Patrick Ragains
Buy it at Amazon.com
Listen to "Run SB Run"

Ed Gerhard, "There and Gone," Virtue Records 2012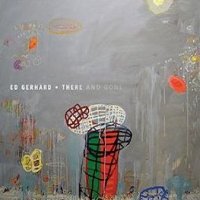 Perhaps because it is dedicated to the memory of his mother and brother, Ed Gerhard's "There and Gone" has a subdued, meditative quality and a sound that is hushed, controlled, and intimate. A world-renowned master of the acoustic guitar, Gerhard is especially praised for the beauty of his tone, as pure and warm as it gets. The 14 pieces on his ninth release are a mix of originals and covers, including surprising interpretations of Leo Kottke's "Three Quarter North" (done with crystalline brilliance) and Lennon/McCartney's "Imagine/Across the Universe" (smoky and evocative shifting into uptempo joyousness) as well as flat-out gorgeous renditions of "I'm So Lonesome I Could Cry" (Hank Williams) and "Killing the Blues" (Rowland Salley), where he plays a Weissenborn that wrenches every ounce of emotion from every note. (The Weissenborn lends country vibe to his rendition of traditional "Rye Whiskey Mash" as well.) While each of Gerhard's original compositions has a distinct and memorable melody, the pieces share a quiet poignancy and gentle moodiness. Whether bittersweet (title track), brooding ("Last to Know,") or more sprightly ("There It Goes," "On a Pennsylvania Hill"), Gerhard exhibits consummate control and mastery of every nuance. "There and Gone" quietly assumes its place among the best of Gerhard's offerings.
© Céline Keating
Buy it at Amazon.com
Listen to "There and Gone"

Pacific Guitar Ensemble, "Begin," GSP Recordings 2012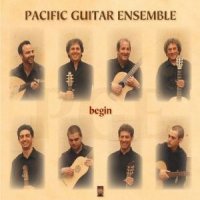 Over the last decade, the large guitar ensemble has become a crowd favorite at guitar festivals. The shortfall of these guitar orchestras is the limitation in variety of timbre. The Pacific Guitar Ensemble which is comprised of alumni and distinguished faculty from the world-renowned San Francisco Conservatory of Music solve this problem in a delightful and rewarding way. Ensemble members, who include David Tanenbaum, Peppino D'Agostino, Lawrence Ferrara, Jon Mendle, Michael Bautista, Marc Teicholz, Paul Psarras and Antoniy Kakamakov, fill their ensemble not just with the traditional instrumentation of classical guitars, but with a varied palette which includes steel string guitars, electric bass, electric guitar, arch lute, theorbo, and baroque guitar for a truly unique tonal experience. Opening with the premiere recording of Sergio Assad's "Wednesdays at Sugar" the listener is drawn into an intricate and elaborate musical experience. A wonderful arrangement of Fernando Sor's "Gran Solo, Op. 14" follows. Terry Riley's "Y Bolanzero," Belinda Reynolds' "Begin," and Peppino D'Agostino's "Jump Rope" are wonderful musical offerings with wit and charm. The setting of J. S. Bach's Brandenburg "Concerto No. 6" (BWV 1051) is a treat. The varied instrumentation captures the beauty of the original orchestration while offering the listener something truly new and wonderful.
© Philip Hemmo
Buy it at Amazon.com
Listen to "Brandenburg Concerto No. 6 Allegro"

Tom Feldmann, "Lone Wolf Blues," 2012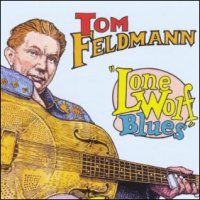 Cue it up to the fourth track on Tom Feldmann's "Lone Wolf Blues," then sit back and marvel at Feldman's rendition of the great Rev. Gary Davis composition, "Oh Glory, How Happy I Am." You want country blues? Check. You want gospel? Oh yeah. You want a weary yet vibrant voice that exudes America's greatest original art form? Yes, yes and yes. Feldmann nails the early to mid-20th century sound in track after track in this solo acoustic collection. Steel guitar, bottleneck slide and nimble fingerpicking – Feldmann has all the chops, as well as instructional videos to prove it, if there ever was a doubt (just check out YouTube). The Minnesota native started playing guitar at age 17, inspired by some of the legends found on this CD. Master bluesmen all: Bukka White, Mississippi Fred McDowell, Blind Willie Johnson, Blind Boy Fuller, Son House, Missippi John Hurt, Muddy Waters. Feldmann's arrangements serve the selections well, highlighting what made these songs so primal, so instinctual, so real. It sometimes feels like these songs sprang spontaneously from the ground, just waiting to be unearthed, coursing through our being like life's spirit. With "Special Streamline," Feldman seems to be channeling Bukka White throughout the verses. He is a master who knows his craft. Feldmann deftly works in three compositions of his own – "We Have Overcome," "Every Flowing Fountain" and "Level the Hollow" – and they fit right in. Feldmann's take on the traditional "Delia" is pure silk -- it just rolls off his fingers like gossamer. His edgiest track is the last, a Muddy Waters medley whose country sentiments hint at the sonic power that was just beginning to emerge. Though he stays true to the genre, Feldmann is more than a mere re-creationist, as he lets a bit of himself emerge through the music, and it feels pretty darn good. For those players out there who become especially inspired, Sly Devil Bottlenecks has released an official "Tom Feldmann signature slide," hand-made from European wine bottles that looks cool as all heck.
© Fred Kraus
Buy it at Amazon.com
Listen to "Oh Glory How Happy I Am"

Jim Earp, "Aloha Guitar," Solid Air Records 2012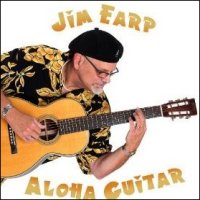 This is a beautiful recording. Jim Earp, who crafts skillfully-woven melodies, shines in this new CD, "Aloha Guitar," featuring Hawaiian slack-key guitar tunes. And for those of us who can't afford boutique handmade guitars, Earp achieves his lovely tone on most songs on a Martin SP000C-16TR – a guitar you can buy off the rack in many stores. All but four of the 15 songs are written by Earp, demonstrating good ears for this style. If you haven't listened to slack-key guitar before, this is a nice place to start for mainlanders, and it reminds in technique of Travis-picking, as the thumb crafts a bass line while the melody is often developed in the treble registers, with open tunings producing a variety of sonorities. This is music for quiet listening, or misty mornings, or moonlit nights. The sound surrounds and envelops you, and you can feel the gentle pace of island life. The opening cut, "Kahuna," is written in honor of slack-key great Cyril Pahinui, doing homage to one of the greats of the genre. Each tune stands on its own, and is well-played, like "Noe Mauna" or "Makani 'Olu 'Olu" or "Ka Lanalana Maka Hiamoe" (Hawaiian for The Sleepy Spider!). Earp throws in some slack-key arrangements of a couple pop tunes, like the Beatles' "Ob-La-Di, Ob-La-Da" and Eric Clapton's "Wonderful Tonight," as well as "Spanish Harlem." Both stay true to the conventions of slack-key style as well as the original melody. He concludes the CD with one of the nicest arrangements of the classic hymn "How Great Thou Art" I have heard. The disc ends with "Alaula," describing the glow of sunset. A fittingly beautiful end to a fine CD.
© Kirk Albrecht
Buy it at Acoustic Music Resource
Listen to "Kahuna"

Peter Mayer, "Heaven Below," 2010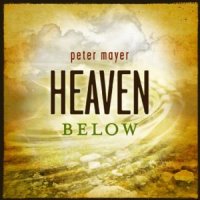 If you've ever seen this talented singer-songwriter-guitarist in concert, you know how wonderful he is. This album captures that energy. His warm voice and finely crafted songs about spirit, science, nostalgia, and family are cleanly recorded and tastefully presented with well-played acoustic guitar, piano, bass, fiddle, percussion and more. The disc starts off strongly with "All the World is One," where he uses Buddha, Walt Whitman, Annie Dillard and others to explain how we're all connected. He wrote the sweet "Brand New" for his baby daughter, someone who "… has a lovely two-tooth smile," and adds, "Nearly everything she sees / She tries to eat." With the intricate finger picking on "Ordinary Day," he shows us that he's not your garden-variety singer-songwriter. And it's more like an exemplary day when you're "… spinning faster than the speed of sound," frolicking in Oz, and hanging out with oompa loompas. "The Hat Song" sounds like something you'd hear on a scratchy 78, with a merry piano, a light snare and a mention of Frank Sinatra. Statues have a conversation in "The Garden" about how things grow. Mary thinks it's because of God, the gnome says it's magic, and the cherub adds "… it must be love." "Tandem Life" is a beautiful love song that uses everyday images like coffee together in the morning and a bike ride in June. There are cracks in a "Japanese Bowl," but they're filled with gold. Humans are like that too, he offers. The joyful "Church of the Earth" was written to celebrate the new sanctuary at a Unitarian church, and like a good hymn, it features a gospel-style organ and a full choir. The last cut, "The Rainbow," is the one that makes me hit play again and again. It's an upbeat Celtic style tune about reveling in the beautiful colors of the rainbow -- it's not so important that you find the pot of gold. There are many beautiful colors in this album. Get it and you can revel in it too.
© Jamie Anderson
Buy it at Amazon.com
Listen to "Ordinary Day"


Home | Facebook | Podcast | Archives | Submissions | Free CD Giveaway | Subscribe | About | Links

Laurence Juber, Doug Smith, Al Petteway, Phil Keaggy (and many more!) at Acoustic Music Resource