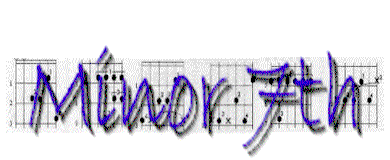 Reviewing the best in non-mainstream acoustic guitar music
January/February, 2006

Harry Manx, "Mantras for Madmen," DogMyCat Records DMCR 13982, 2005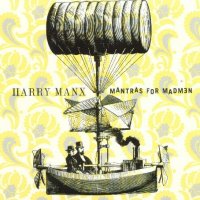 Besides the novelty and depth of Harry Manx's blues and Indian-tinged folk tunes, what is most compelling in his music is the painstaking attention to detail. Manx's concern with the specifics is apparent in his songwriting, his arrangements and instrumentation, and in the overall production of the album. Even the ornate artwork and candid photography of the CD cover and insert for "Mantras for Madmen" is a pleasure to flip through and look at while listening to Manx. "Mantras" is a bit of a departure for Manx, who first appeared on the scene with his mohan veena -- part guitar, part sitar -- as a solo artist with the well-received album "Dog My Cat." Successive albums experimented with varied and additional instrumentation but none to the extent found on "Mantras." Manx's masterful lap slide guitar work, as well as his more exotic work on the mohan veena, tamboura, and even banjo, are complemented superbly by mandolin, harmonica, bass, drums, percussion, tabla and bells, and lush, gospel-infused harmony vocals. Manx's melodies and lyrics reach for the transcendent and do so without sounding sophomoric. On "Where Fools Die" Manx sings "So many times I had loved you/Before I knew your name/With a voice as soft as worship/I was drawn into the flame." Simply reading Manx's lyrics in quiet is also a joy. Included are two covers, J.J. Cale's "San Diego Tijuana" which Manx puts his stamp on with his mohan veena, and Robbie Robertson's lament "It Makes No Difference," which Manx also makes his own. The music and vibe are relaxed and soothing and the blending of styles and cultures, which in lesser hands could easily sound contrived, never does. All is in balance. Top-notch stuff all around.
© Chip O'Brien
Buy it at Amazon.com
Listen to "Don't Take His Name Away"

Mark Goldenberg, Bossy Pants Records BP1, 2005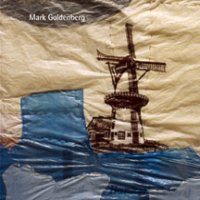 Mark Goldenberg's self titled album of solo finger style guitar is truly a triumphant first effort. The dramatic opening piece, "Bring," is absolutely gorgeous, combining pastoral lyricism with a reflective melodic expression rarely captured on record. In contrast, the second composition, "Quixote," begins with dissonant runs followed by Middle Eastern motifs which merge into brilliantly conceived Brazilian chord changes. The strength of this album lies in the depth of musical pallets found on this elegant, reflective, and introspective journey. Goldenberg plays with the graceful virtuosity of Michael Hedges, Egberto Gismonti, and Pat Metheny. The recording quality is also pristine allowing the natural warmth and richness of the instrument to emerge. Goldberg's unique guitar talents have graced the albums of Jackson Brown, Bonnie Raitt, and Linda Ronstadt. Moreover, his songwriting skills are featured on recordings by Chicago, Olivia Newton John, and the Pointer Sisters. While Mark Goldenberg may be better known for his work with his more celebrated peers, this recoding stands on its own. This album is not a token solo project produced by a sideman of famous pop artists. With strong compositions that are proficiently performed, this exceptional collection of passionate tone poems should earn Goldenberg a place along side the masters of solo instrumental music.
© James Scott

Mark Goldenberg's Website Buy it here
Listen to "Bring"

Ernie Hawkins, "Rags & Bones," Say Mo' Music SM 022, 2005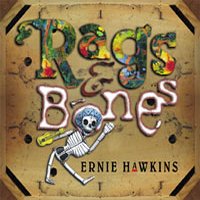 Rare is the player who combines a note-for-note emulation of past masters with a passion that's at least equal to the original artist. Ernie Hawkins ably manages both with a down-home naturalness that belies his formidable and surehanded skill. Part teacher, part historian, part teacher and a complete guitarist, he re-sculpts the sounds and emotions of the past while losing none of their urgency. Blues, ragtime and gospel are his milieu, and Son House, Fred McDowell, Mance Lipscomb and the Rev. Gary Davis are his mentors. In a word, he's a treasure. He makes us feel Jimmie Rodgers' ache with with the gently bouncy "TB Blues," while Mississippi John Hurt lives again with "Avalon Blues" and Louis Armstrong is celebrated in "Potato Head Blues." The 14 tracks in this collection could amply provide more than a semester's worth of study in a graduate-level course in Americana music. "Rags and Bones" was partially supported by a grant from Pennsylvania Performing Arts on Tour program. Also celebrated are Blind Willie McTell's classic "Statesboro Blues" and a joyous handful of the Rev. Gary Davis' works. Perhaps the most striking of these features guest vocalist Maria Muldaur in a rousing version of "I Am the Light of the World," a jaw-dropping show-stopper. Marc Riesman adds some occasional harmonica, but this remarkable disc really is a testament to Hawkins' six- and twelve-string resonator guitar talent. And he rocks.
© Fred Kraus
Buy it here
Listen to "I am the Light of this World" (mp3)

Sérgio and Odair Assad and their family, "A Brazilian Songbook," GHA Records 126.058, 2005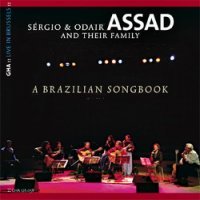 Who has not heard an incredibly skilled musician and wondered whether his talent is innate or learned? "A Brazilian Songbook" seems to at first address and answer that question, but on deeper reflection, perhaps only fans the flames of the nature versus nurture debate. On this CD, famed classical guitar duo Sérgio and Odair Assad introduce three generations of their family on stage together, performing a representative century of Brazilian music. Sérgio and Odair's best-known sibling, Badi Assad, also enjoys international fame among jazz and world music audiences for her virtuosic guitarwork and innovative singing style which incorporates an unusual scat technique of mouth percussion, and she contributes her signature sounds to this mix. Less well known on this CD are Sérgio and Odair's parents Jorge and Angelina Assad, Sérgio's children Clarice and Rodrigo, and Odair's daughter Carolina. What might seem to a skeptic to be a nepotistic springboard for these aspiring unknowns, upon close listening, "Songbook" is clearly not. The same talent and passion that define the Assad brothers is sincerely infused into the soul of each and every Assad family member. Clarice Assad's composition "Ad Lib" is especially spellbinding, a darting and lightning-paced work featuring Clarice on piano and vocals, with furious guitar accompaniment in parallel by father and uncle. "Ad Lib" is the most provocatively contemporary of tunes in this collection, side-by-side to more traditional Brazilian songs by Pixinguinha, Edu Lobo, Paulo Bellinati, Baden Powell and Egberto Gismonti. Though "A Brazilian Songbook" is disparate in styles between performers and composers, the unifying theme is family. Whether the songs flow from a shared formative experience of musical tradition or a shared genetic makeup may be impossible to know. When the end result is emotionally moving to the listener, as on this CD, that question is probably irrelevant.
© Alan Fark

Assad Family website at GHA Records Buy it at Amazon.com
Listen to "Ad Lib" (mp3)

Ian Melrose, "A Shot in the Dark", Acoustic Music Records 319.1338.2, 2005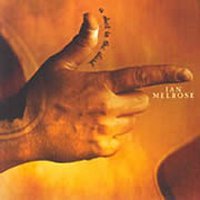 Ian Melrose has a strong resume as a solo and group performer. He has played extensively with Clannad as well as releasing three earlier solo projects. Melrose owes much to the jazzy side of the British fingerstyle movement, but also incorporates pop music sounds. His instrumental approach has some similarities to both Laurence Juber and Pierre Bensusan (two other guitarists who owe much to the British school). "Hustle Bustle" and a Henry Mancini medley typify this approach. "The Ghost of Christmas Past" is a gentle tune featuring Melrose's modest but pleasant voice with mandolin and a trumpet obbligato, again supported by his Renbourn, Davey Graham and Ralph McTell-influenced picking. Another vocal, "The January Man," has a similar feel, this time in a minor key. "Fingerpickers Have More Fun" is an uptempo blues solo illustrating that Melrose is more than capable of holding the listener's interest with nothing more than his guitar. "Guitar Village" is another blues, this time played as an acoustic duet with Chris Jones. "Slow Roll" is another excellent solo, recalling both the fingerstyle chestnut "Windy and Warm" and Stefan Grossman's "Woman From Donori." "Take Five" may be less adventurous than Dave Brubeck's iconic original, but it swings harder. Here Melrose solos on acoustic guitar while Thomas Hopf plays electric. Backed by bass and drums, the two guitarists create an accessible and worthwhile rendition. Guitarists should pay particular attention to Melrose's acoustic breaks on "Take Five," as he provides a free lesson in how to improvise in 5/4 time. The most effective guitar duets are the aforementioned "Guitar Village," "Mancini Medley" and "Summertime." That said, there really are no weak selections on this CD. Although Melrose is a fine guitarist, his overall musical taste is the key factor that makes this disc work. Rarely can a musician successfully present well known and less familiar tunes, guitar solos, group instrumentals and vocals in one musical program. Ian Melrose has done just that. I don't see how he can fail to attract more listeners if, on future releases, he maintains the same high standards he displays here.
© Patrick Ragains
Buy it at Acoustic Music Records
Listen to "Fingerpickers Have More Fun" (mp3)

Duo Erato, "Musings", GSP Recordings 1029CD, 2005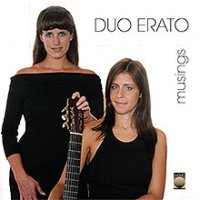 I always appreciate a compact disc that has been engineered with the intention of being experienced in its entirety. In the past I have criticized this or that recording for the cloying way in which a specific genre of composition is hashed out ad nauseam for seventy or so minutes. It soon became apparent upon listening to Duo Erato's disc "Musings" that they had carefully selected and ordered their repertoire with the listener's enjoyment in mind. All of the pieces, and I do mean every single one, from the quirky Toccata by Pierre Petit to the rigidly Baroque Sonata by Bernardo Pasquini, share the unique quality of being both readily accessible to the casual listener yet still engaging to the learned guitarist. This coupled with the unprecedented degree of compositional diversity that this CD offers could only have been the result of thoughtful reflection on the part of Duo Erato. Not unexpectedly, the playing is exquisite, as guitarists Martha Masters and Risa Carlson shift gracefully between Baroque, Classical, Romantic, and Contemporary compositions. This recording showcases fine architecture and flawless execution, making for a pleasurable listen from beginning to end.
© Timothy Smith

Duo Erato's Website Buy it at Amazon.com
Listen to "Allegro" (mp3)

Megan Slankard, "A Little Extra Sun", 2005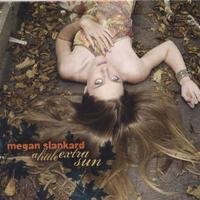 This twenty-something San Francisco Bay Area native brings a lovely voice to the party of twenty-something female singer-songwriters who would rule the indie charts if only we had indie charts. A charming girl-next-door voice reminiscent of girl-next-door pioneer Lisa Loeb should perk up a few ears to the fresh faces bin at Amazon.com, where Slankard rules, by the way, having hit #8 with her previous CD "Freaky Little Story,"-- and that's out of a field of about 363,000. This attention, it must be said, is due in part to her appearance on a reality TV makeover show. Now that's guerilla marketing. This outing is a five-song EP, not a common format in the age of 14 songs per release. It leaves you wanting a bit more, as it should. Former Counting Crows drummer Steve Bowman and current C.C. guitarist Dan Vickrey lend a bit of big budget sheen to this radio-friendly disk. "My Hallelujah" kicks off he mini-set with a modern rock ballad that showcases her melodic chops, which are also showcased to fine effect in "Riley." Megan's recurring jump to her higher register pulls you through the fine points of "Sails." Muscular riffs that might overwhelm this singer's smaller-than-rock voice in a live set sit just right in producer Adam Rossi's lovely mix. The acoustic "You Love Like" seems to be the best vehicle for this artist's vocal thing. Cello and upright bass are the perfect foil for Megan's voice, recalling in small details Van Morrison's "Astral Weeks." Slankard shines in a little extra sun when the setting is spare. Overall, a good little record.
© Steve Klingaman

Megan Slankard's Website Buy it at Amazon.com
Listen to "Riley" (mp3)

Various Artists, "La Guitara," Vanguard Records 79796-2, 2005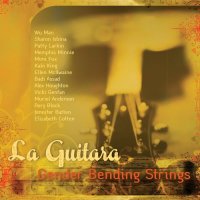 Most of the world's great guitarists seem to be male; or perhaps, that's just a perception. So Patty Larkin sets out to correct perceptions on this collection of outstanding women guitarists, from around the world and across the spectrum of style and technique with "La Guitara" (currently supported by a tour featuring several of the women). It's a veritable smorgasbord of tasty, sassy, sweet, and raw playing from some of the best in the world, period. The disc begins with a nod to the orient from Wu Wan in "Invocation" on the pipa, a 4-stringed pear shaped lute. Producer Larkin loops multiple layers of sound on "Bound Brook". We have two handed tapping, from the raucous drivings of Kaki King ("Kewpie Station") to the melodic, harmonic-filled Vicki Genfan ("Joy"). The classical world is represented by the of Sharon Isbin on "La Catedral: ii Allegro solemne", and the power of Badi Assad on "Preludio e Toccatina". Muriel Anderson contributes some Spanish flair on "Rumores de la Caleta". Jennifer Batten shreds us on "Whammy Damage", Ellen McIlwaine drives us on "Sidu", while jazz impresario Mimi Fox grooves on "Lady Byrd". Blues great Rory Block has a brief appearance on "Guitar Ditty 1", and Canadian Alex Houghton showcases her eclectic style on "The Bear". The disc would be incomplete without a nod to a couple of the pioneering women - Memphis Minnie (paired from 1931 with Kansas Joe on "let's Go To Town") and Elizabeth Cotton, who deservedly rose to prominence during the folk boom of the 1960's, on "Wilson Rag". These women were an inspiration to both men & women players for decades. These players will be, too.
© Kirk Albrecht

La Guitara's Website Buy it at Amazon.com
Listen to Bound Brook (mp3)

Mary Flower, "Bywater Dance," Yellow Dog Records YDR 1242, 2005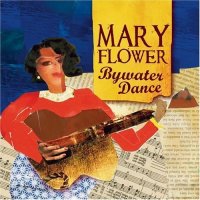 Leave your expectations behind. Mary Flower's Bywater Dance offers picking as muscular as her voice is gentle and much more than rootsy blues meets New Orleans. It explores styles with the first-take feel of a joyful jam in a record completed in a week. I put aside expectations for "The Blues My Naughty Sweetie Gives to Me," so strongly associated with the Jim Kweskin Jug Band. As with that outfit, Flower has fun with the song. Her full fingered plucking proves effective paired with piano, with the two playing almost in unison on the passing chords. Flower chunks efficiently behind Amasa Miller's imaginative solo on the 88s then does her own impressive improvising. "Raise the Devil," the first of five Flower instrumentals, brings a Tacoma-like sound to the record with some lap steel. An otherworldly piano solo by Jon Cleary caps the arrangement, with Flower providing adept support. A walking bass kicks off "La Grippe," presaging the nice strolling of Flower's active thumb. Flower's vocal on "Last Kind Word Blues" underlines one of the most affecting cuts, made even more bleak by Jon Cleary's fittingly dark, sustained B3 chords and untraditional piano sounds. Flower's jaunty picking on "Terminal Blues" reaches a ragtime peak in a duet with Michael White's voice-like clarinet. Listen to the way they go out together. Flower's heartfelt version of "Brother, Can You Spare a Dime" opens with solo guitar, soon joined by a horn section with some trumpet-supplied growl. A delicious guitar duet between Flower and Woody Mann highlights the gentle cakewalk of "Hudson River Rag. "Main Street Blues" bring jug band into the mix with washboard by Chaz Leary. Listen to the way the guitar solo sets up the clarinet. Check out the sousaphone. This song also has the CD's most unforgettable line, "The promoter's got an odor like a day-old floater." Henry Butler brings the most recognizably New Orleans piano to the CD on cuts like "Built Right on the Ground." Flower answers with some very hot slide guitar to create the album's swingingest tune. The sweet "Good News Waltz" ends the record as pleasantly confounding as it is throughout.
© David Kleiner

Mary Flower's Website Buy it at Amazon.com
Listen to "Crow Jane" (mp3)

Might Could, "All Intertwined," 2005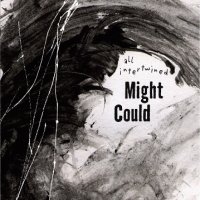 Maryland-based Might Could's three acoustic guitars (and occasional bass) paint gloriously detailed soundscapes with intricate, mysterious, and delicate strokes. Each track is built on interesting, complex rhythms that build and fade, but the big picture never quite comes into focus and direction remains elusive. Andy Tillotson, Tim McCaskey, Aaron Geller and bassist Luis Nasser are superb musicians who assemble epic compositions. "All Intertwined," the band's second effort, opens with a dark, playful ode to Robert Fripp aptly titled, "Machinery." It is indeed, very mechanical. "The Miscommunication Suite" is grandiose and adds the pageantry of a renaissance faire. You can almost see the knight preparing to joust for the honor of his fair maiden. The highlight of "All Intertwined" is "Not Every Song Finds A Name." Might Could takes a breath, finds pleasure in fewer notes, and emotes some passion with their well-honed craft. The last track, "The Water Parted" begins with similar restraint, but falls victim to the same indecisive, repetitious note-packing that beleaguers much of the album. "All Intertwined" is an ambitious, well-produced, cerebral journey that only rarely finds an emotional or soulful home.
© Rick Gebhard

Might Could's Website Buy it at Amazon.com
Listen to "Machinery" (mp3)

Drew Nelson, "Immigrant Son", Mackinaw Harvest Music MHM021, 2005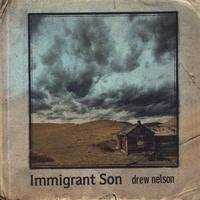 He reminds me of Richard Shindell. He's not a carbon copy but there's that same direct attitude and aggressive guitar style. Drew even covers one of his songs ("Next Best Western") as well as 11 originals. The disc opens with the upbeat "Lovely Day," played in what sounds like an open tuning. The arrangement builds well with a pedal steel, fiddle, and snare. There's a beautiful dissonant chord that drives "Breathe," a song about taking time to relax. "Walmart V2.0" has a rockabilly feel. I can't say I love the distorted vocals but I understand how it fits with the subject matter, about how big box stores and outsourcing jobs are ruining the US. He dedicates it to the folks in Greenville, Michigan so maybe it's a true story. A cool lick with a slide fuels "Summer Rain" and "Brand New Way" is a love song using a pretty landscape as a metaphor for love. The title cut has an Irish feel, with accordion and bodhran. I wish there were lyrics in the liner notes because sometimes his words slip by so fast I missed them. It's a small complaint, though, about an enjoyable release. © Jamie Anderson

Drew Nelson's Website Buy it at Amazon.com
Listen to "Lovely Day" (mp3)

Sahnas, "Odyssey," Native Language MDO 2010-2, 2005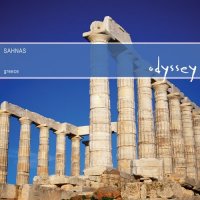 Thano and Demitri Sahnas play nylon string guitars in an energetic style that incorporates smooth jazz and flamenco jazz. Odyssey is their fourth CD. The title track typifies many other selections here, presenting a sonically uncluttered landscape for two guitars. Throughout the disc, the lead guitar parts show the brothers' masterful synthesis of classical, pop and light rock techniques and phrasing. Their rhythm parts display comparable taste and skill. The generally sparse production exemplifies Jim Messina's recent statement that "in music, one plus one doesn't equal two - it equals one half," by which he meant that fewer instruments and voices, when presented clearly, most often result in better music. "Sonoran Melody," while quite enjoyable, is probably the most heavily produced track on the disc, adding light percussion, bass and wordless vocals doubling the single string melody. Several other tunes also utilize percussion and bass. The brothers' take on the Rolling Stones' "Paint it Black" shows the song a perfect fit for a flamenco jazz treatment. They turn it into an improvisational tour-de-force, providing one of the highlights of the disc. Another cover, "Black Magic Woman," is also well executed; if not quite as satisfying as "Paint it Black," both tunes are bound to be crowd-pleasers. The Sahnas Brothers have shared stages with George Benson, Ottmar Liebert, Michael McDonald, Craig Chaquico, James Brown and many others. Happily, their avoidance of the gimmicky sound effects that mar so many "smooth" guitar recordings works in their favor. Their technical skill, strong musical values and ability to entertain warrant an expanding audience and increased success. © Patrick Ragains

Sahnas' Website Buy it at Amazon.com
Listen to "Odyssey" (mp3)

Steve Baughman, "The Almost Whiskey Waltz", 2005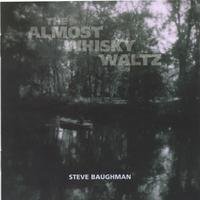 As Steve Baughman rightly acknowledges in his liner notes, we live in the age of innovation and technique in the world of fingerstyle acoustic guitar, a world where these very techniques often become the focus, and the music gets lost in prowess. Baughman has decidedly swum in other waters on this newest CD, while retaining some of the innovation which has to date garnered him accolades for his own playing. The San Francisco-based player was one of the first to popularize use of Orkney tuning (CGDGCG) for solo guitar, and Clawhammer picking styles found in old-time banjo music. He uses both to fine effect on "The Almost Whiskey Waltz" while creating aural snapshots which bring the melody refreshingly into focus. His lovely picking graces the gentle "Lament for the Death of the Reverend" to open the disc, while he closed out the recording with another lament ("Neil's Gow's Lament for the Death of his Second Wife") told in barren, haunting verse. He rollickes on "Sandy River Belle", a traditional fiddle tune he learned from a teenage banjo player. Interspersed with the traditional cuts are a few originals ("The Hillary Two-Step" and the title cut), and even Stephen Foster's "Hard Times", which he brings to life with his gentle clawhammer technique. Baughman doesn't just pay homage to clawhammer banjo, but does it on the 5-string on "La mort du petit Binwag" and the vocal "I am Stretched on Your Grave". The slack key duo Blind Loco and Ramutan Boy bring the beauty of that form in "Ku'u Lei Awapuki," a tune Baughman arranged after he had learned the melody from Keola Beamer. For listeners patient enough, Baughman includes five secret tracks from early recordings. Whether or not you buy the CD for its techniques, you'll keep it for the music. © Kirk Albrecht

Steve Baughman's Website Buy it at Amazon.com
Listen to "Wedding Dress" (mp3)


Home | Links | Archives | Submissions | Free CD Giveaway | Subscribe
Digital Guitar Tabs at MusicNotes.com!
Buy Instructional and Biographical DVDs and Books at


(Click on image below to buy)
| | | | |
| --- | --- | --- | --- |
| Ernie Hawkins Instructional DVD: "The Guitar of Lighnin' Hopkins" | DVD: "Three Guitars, Paris Concert" | DVD: "Wild About Harry - Harry Manx Live" | DVD: "All-Star Guitar Night" (with Muriel Anderson, Tommy Emmanuel) |