Reviewing the best in non-mainstream acoustic guitar music
Home | Facebook | Podcast | Archives | Submissions | Free CD Giveaway | Subscribe | About | Links
November/December, 2015

Eric Skye & Mark Goldenberg, "Artifact," 2015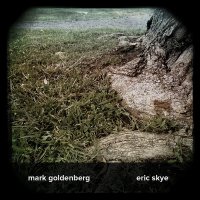 Some records reveal tight, precise arrangements; others exhibit more free-flowing interplay between musicians. Eric Skye and Mark Goldenberg's new duo CD Artifact is an excellent example of true musical collaboration. These two fine guitarists have put together eight tunes where their fertile musical minds create inventive textures and dynamic harmonic landscapes from beginning to end. Honestly, it took several listens before I began to hear a good amount of what they are doing, and it will take many more to unpack it further – that's my gain, and gain for anyone willing to listen to Artifact. The CD bypasses convenient genre labels, instead serving up duo acoustic guitar that is just music in the best sense. Each guitarist takes compositonal credit for four songs, and you can tell a deep love of jazz infuses their musical ideas. And these songs are not destined for much radio play – the shortest is about five and a half minutes, the longest almost eight and a half. The opening cut, "The Soft Shell" is new music for two guitars, with interesting counterpoint throughout. "The Bridgetown Shuffle" bops along with a confident funk, swinging back and forth between the two pickers. "Song 13" takes the listener up and down, in and out, with sullen and flashing mood swings. It's really good. You could say that "Golden" presents the most straightforward melody of the CD, yet it is so much more than a catchy melody. "Skye" (composed by Goldenberg) is a lovely back and forth with a subtle groove. "Blues for Frieda" is a slow, pensive blues with a haunting beauty tinged with melancholy. We get a touch of mystery in "The Low Hanging Fruit." The disc ends with "Blues for Rollo," just another terrific excursion into creative music making. These guys are not shredders looking to impress with their fast-fingered chops. In fact, in several passages, they noticeably buzz or stumble slightly in single-note runs; they just adds more truth to their musical offering on Artifact. You would do well to get a copy and give it a listen – but you'll need many.
© Kirk Albrecht


Mark Goldenberg's Website | Eric Skye's Website
Buy it at Amazon.com
Listen to "The Bridgetown Shuffle"
Sean McGowan, "My Fair Lady," 2015

Readers of Acoustic Guitar magazine will be familiar with Sean McGowan's regular column, where he's covered arranging, technical exercises, chord voicings and more, most often from a jazz perspective. He's head of the University of Colorado, Denver's guitar program and has released several solo CDs, including Sphere, devoted to the music of Thelonius Monk. My Fair Lady presents eight pieces from Lerner and Lowe's 1956 iconic musical, which producer Jack Warner produced for film in 1964. McGowan performs solo in a style reminiscent of Lenny Breau and Martin Taylor, using an amplified archtop guitar built by Brad Nickerson. An uptempo rendition of "Get Me to the Church On Time" begins the set with McGowan playing bell-like harmonics. After playing the theme in a chord melody style, he breaks into walking bass, followed by bop-influenced single lines, later returning to the chord melody statement and closing with syncopated chords played over a pedal bass. "On The Street Where You Live" follows, propelled nicely by another walking bass. Other favorites of mine are "I've Grown Accustomed To Her Face" and "Show Me", the latter played in a spare but moving rubato arrangement. Sean McGowan displays broad inventiveness in the solo jazz idiom. Also, his tone and execution are masterful. All of this adds up to a very enjoyable recording.
© Patrick Ragains
Buy it at Amazon.com
Listen to "Get Me to the Church On Time"

Hilary Field, "Premieres," 2015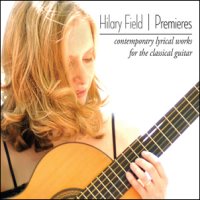 Upon listening to Hilary Field's most recent album Premieres, you might wonder if perhaps she was born in the wrong part of the world: from all outward appearances, she's an exceptionally talented guitarist based in Seattle, however her music reveals that her heart belongs to Spain and Latin America. She has embraced and mastered the unique lyrical, rhythmic, and harmonic qualities of Spanish/South American music, and she's made that genre the central thrust of her musical output. Meanwhile, she combines these striking musical qualities with her distinctly American approach to classical guitar technique, tone, and playing precision. Premieres is focused on presenting an array of new works, including several pieces dedicated to Hilary Field, one of which is a gorgeous composition by legendary Argentinian guitarist/composer Jorge Morel. Beyond that there is further stylistic blending to be found throughout the disc: two works by Jorge Morel and Victor Kioulaphides take their inspiration from baroque forms, but are simultaneously South American in much of their flavor and design, meanwhile a work by Alberto Cumplido blends renaissance and Spanish styles because it's dedicated to lute composer John Dowland. Every aspect of the disc has been carefully laid out and executed, from the selection of the repertoire to Field's touching and effortless playing. With an array of beautiful new music and a particular attention to lyrical, accessible compositions, this disc is one that any lover of the classical guitar will enjoy.
© Timothy Smith
Buy it at Amazon.com
Listen to "Giga (Jorge Morel - Suite for Olga)"

Ragpicker String Band, 2015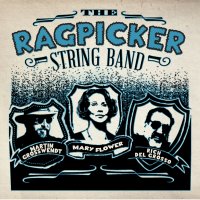 It seems musical artists of a certain age begin to more deeply explore their musical roots – spinning a few dances with them that brought them, so to speak. So goes the proclivities of the old-timey trio dubbed The Ragpicker String Band. Comprised of Mary Flower on guitar and lap steel, Rich DelGrosso on mandolin and dobro, and Martin Grosswendt on slide guitar and fiddle, their 14-track collection takes a pleasant stroll into a simpler place where time stands still for a few precious moments. All three artists take turns on lead vocals, their voices fitting this old-timey collection like sock to slipper. But here's the thing, when it comes to harmonizing – often an iffy proposition with artists who are not longtime collaborators – this group positively nails the two- and three-part vocals liberally sprinkled throughout the disc. This is feel-good music, good for the soul, and would be right at home in Garrison Keillor's Prairie Home Companion. Their musical selections favor hummable melodies and lyrics with a bent toward sly humor, a broad wink, and an appreciation for story-telling. That's not to say there isn't some stellar musicianship to enjoy as well – Grosswendt's guitar work on "Motel Towel" shines, as does his fiddle on "Lonely One in this Town;" DelGrosso shows off his mandola on his "By Your Side;" and Flower's steady guitar work holds it all together. All three get a workout on the instrumental closer, "Bruno's Dream." The trio carves out a musical niche that combines newly composed works by Flower and by DelGrosso (two each) with some rearrangements and reinterpretations of old-timely classics. Sleepy John Estes is represented with "Clean Up at Home," "Black Mattie "(featuring DelGrosso's gravelly, growly baritone vocal) and "Milk Cow Blues." Thelonius Monk gets a nod with his "Blue Monk" – sans piano! -- and the Mississippi Sheiks (the Mississippi Sheiks!!) live again with the sweet harmonies of "Lonely One in this Town." The three solo artists live quite comfortably within the string band form, and show the power inherent in three voices and acoustic instruments in the traditional classic "Trimmed and Burning." The Ragpicker String Band turns in a strong musical argument that there are times when the old ways are the best ways.
© Fred Kraus



Ragpicker String Band's Website
Buy it at Amazon.com
Listen to "Google Blues"
Fabio Mittino & Bert Lams, "Long Ago," 2015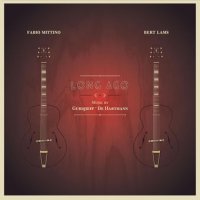 The League of Crafty Guitarists are often arranged in a circle for performances. They are a school led by Robert Fripp, famous as the guitarist from King Crimson, but equally important as a teacher, performer and musical thinker. They are deeply serious. They use their own tuning for guitars (C-G-D-A-E-G) and even make their own instruments. Fripp was a student in the Gurdjieff Work, and Gurdjieff's influence is present in his school, which teaches students to be mindful, awake and aware as guitarists. Fabio Mittino and Bert Lams are "crafties," past players from this ensemble. Together they have released a new expression of Gurdjieff's music, entitled "Long Ago", and thus the circle expands. G.I. Gurdjieff's influence has been profound and far reaching over the past hundred years since he emerged in Russia, and later Europe, as a teacher. His work has influenced literature, philosophy, architecture, photography, dance and music in countless ways. It is the music we are interested in here. Transcribed in the 1920's by one of his students, the composer Thomas de Hartman, this is music that was remembered from Gurdjieff's travels as a younger man. His quest for knowledge included archeological expeditions, visits to sacred schools and ancient monasteries. To suggest something about the depth and intent of this music, here is a quote circa 1934 from the architect Frank Lloyd Wright: "(Gurdjieff) developed new rhythms in the dance and new music so designed as to integrate the human faculties and prepare a man for a more harmonious development..." Those so inclined can follow this YouTube link for another sort of illustration. The musical catalog of Long Ago has been recorded by others, notably by Keith Jarret. The release from Lams and Mittino is the first time Gurdjieff's music has been arranged for guitar. The result is a masterful recording that is like a living thing that it seems to grow and bloom with repeated listening. There is a great Intricacy and presence in the performance. It is a quality that is familiar from the League of Crafty Guitarists, and from Bert Lam's California Guitar Trio. It matches perfectly with the intent of Gurdjieff's music.
© Scott Millsop



Fabio Mittino & Bert Lams's Website
Buy it at Amazon.com
Listen to "Hindu Melody"
Duke Robillard, "Acoustic Blues and Roots," 2015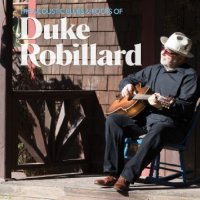 If your memory is long and still functioning, you may recall guitarist Duke Robillard as one of the founding members of Roomful of Blues way back in 1967. That jump blues swing band, often featuring a horn section, celebrated the high-energy art form for decades, continuing on with vigor even after the Dukester departed as band leader after a decade and a half. Robillard has since displayed a wide array of tastes and skills over the years, from jazz to blues to R&B to old timey to seemingly whatever caught his musical interest. This 2015 release finds the Rhode Island native steeped in the roots of American blues and folk. He leads things off with a gorgeous acoustic take of Stephen Foster's "My Old Kentucky Home, "and things get even more interesting after that. The project was 10 years in the making and reflects the wide tastes and historical bent of the artist, who, at age 65, shows little sign of slowing down. He wisely enlists an array of like-minded players to augment his 18-track collection, including Maria Muldaur (absolutely wonderful on the upbeat Santa Claus Blues), Sunny Crownover and Mary Flower, all in fine and strong voice. Matt McCabe and Jay McShann add piano, that's Billy Novick on clarinet and Jerry Portnoy on harmonica (especially tasty in the live "I'm Gonna Buy Me a Dog -- To Take the Place of You"). While homage is paid to ragtime, early jazz, Appalachian, honky-tonk and blues, this is more of a musical party than a class in music appreciation. Half of the compositions are Robillard's, and the others read like a who's who of seminal music pioneers: Jimmie Roger's "Jimmie Texas Blues" (with appropriate yodeling by Duke), WC Handy's St. Louis Blues, Robert Jr. Lockwood's Take a Little Walk With Me (nicely done, even though it's an unabashed ripoff of Sweet Home Chicago), Sleepy John Estes' "Someday Baby," Bill Broonzy's "Big Bill Blues." If you find yourself longing for some of those snaky blues guitar leads that the two-time Grammy nominee has patented over the years, your patience will be rewarded on track 17, with the oh-so sweet "Profoundly Blues." Robillard bookends it all with his whimsical little acoustic closing ditty, "Ukulele Swing. "Nice work on this treasure chest of a disc.
© Fred Kraus
Buy it at Amazon.com
Listen to "Jimmie's Texas Blues"

New West Guitar Group, "Send One Your Love," 2015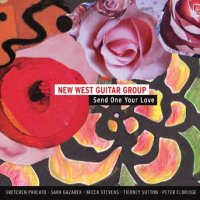 For the sixth release from acclaimed and sublimely talented guitar trio New West Guitar Group (NWCG), the fretmasters step back to make way for a bevy of equally talented vocalists to step into the spot light. The result of this artistic alchemy is an intoxicating brew of musicality that impresses. The collaboration of vocalists Gretchen Parlato, Becca Stevens, Sara Gazarek, Tierney Sutton and Peter Eldridge with guitarists John Storie, Perry Smith and Jeff Stein has resulted in nothing short of a jazz super group! There is so much to like about this collection. Each song offers an exquisite musical moment, which makes the entire musical journey here the more remarkable. Listen to how renowned Jazz Vocalist Tierney Sutton's sweet bebop commingles with the fretted fluidity of the sweetest guitar jazz on the planet to heat up Cole Porter's "You'd Be So Nice To Come Home To". Without missing a beat Sutton returns on track nine, Randy Newman's "When She Loved Me," with vocals of such eloquence and beauty. Similarly, the sparseness of arrangement combined with evocative phrasing, both vocally and instrumentally, on "I Fall In Love Too Easily" featuring Sara Gazarek and "Like Someone In Love" featuring Gretchen Parlato, highlights the abundance of talent and artistry on display in this collection. Both Elliot Smith's "Waltz No. 1" sung by Becca Stevens and Joni Mitchell's "Black Crow" sung by Peter Eldridge infuse darker textures and a rather exotic texture to the overall sonic palate offered on this disc. Sara Gazarek infuses a light and optimism into James Taylor's "The Secret of Life," matched by a guitar arrangement imbued with a sense of magic, making for an uplifting and fitting finale. To say that NWCG is backing these accomplished vocalists is a misnomer. Storie, Perry and Stein have chosen, arranged and performed each song to feature each singer's range and artistic versatility, and in so doing strings and voices vibrate in harmony with a resonance throughout these performances communicating the very love that is the thematic purpose of this CD. Needless to say Send One Your Love is the essential gift this Valentine's Day
© James Filkins



New West Guitar Group's Website
Buy it at Amazon.com
Listen to "Black Crow"
Tret Fure, "Rembrandt Afternoons," 2015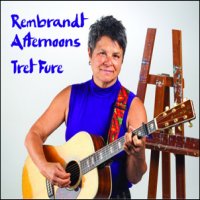 She's a singer-songwriter who draws you into her personal world without self-indulgence because her themes are universal and the songs, well-written. Tret's also a folk singer, touching on important issues like gender identity, and peace. Leaning more toward contemporary folk than anything else, there are touches of Cajun music and bluegrass; stellar musicians include Gina Forsyth on violin, June Millington on guitar and others with percussion, bass, cello, piano, and mandolin. Most of the arrangements seem built around Tret's beautiful acoustic guitar work and her expressive voice. The first cut, "Freedom," is a very singable anthem that's perfect for political gatherings or some churches – anywhere where you need an uplifting and memorable song that's easy for everyone to join. Just try to get it out of your head. (And that's more than okay, judging by the ear worms that sometimes inhabit mine.) She's the queen of love songs, evidenced by the title cut "Rembrandt Afternoons," "Riverbank", and "Now I Know." Given that every musician on the planet has a song about love, it's hard to write anything that feels moving and original; Tret could teach the class. "Tender" has a wonderful accordion and a positive message about acceptance. There's a lovely finger picked guitar with touches of fiddle in "The Fishermen of Bristol Bay." The poignant story is of a native community that has fished the bay for thousands of years and the challenges presented when a mining company tries to move in. "A Moment in Time" is one of my favorites. The lyrics are lovely, about observing a second in time and drawing conclusions. She sings of finding a photograph featuring two women and wonders: "They could be lovers or just friends / Maybe sisters on a stroll." She ends by asking if she sees too much in this brief moment. Pamela Means's guitar gives this piece a jazz/pop feel. In "Foolish or Foolhearted," Tret's delicately finger picked guitar weaves around lyrics where she muses about gifts – a scarf, a cup and a stone – and lets us know that even though those objects were lost, it's not a comment on her affection for that person. How many of us have panicked when we lost that ring or special card? In "Slipper Moon" she uses dog and cat metaphors to tell us about longing for the comfort of home. She ends this wonderful release with "Worry Stones." Recorded simply with her warm acoustic guitar and voice, this one shows you how she is in concert. While the band is great, she can still do it with just a simple guitar and vocal. In one of her songs, she sings, "When you think you just can't sing / You find a better song." You can't find much better songs than Tret Fure's. I love this album. So will you.
© Jamie Anderson
Buy it at Amazon.com
Listen to "Rembrandt Afternoons"


Home | Facebook | Podcast | Archives | Submissions | Free CD Giveaway | Subscribe | About | Links

Laurence Juber, Doug Smith, Al Petteway, Phil Keaggy (and many more!) at Acoustic Music Resource