Reviewing the best in non-mainstream acoustic guitar music
Home | Facebook | Podcast | Archives | Submissions | Free CD Giveaway | Subscribe | About | Links
November/December, 2014

David Youngman, "Trust," 2014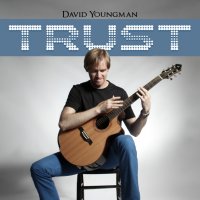 Any time you get a recording from someone who has placed in the top three at the Walnut Valley Festival fingerstyle guitar championships in Winfield, Kansas, you should give a listen, because those players have some chops! David Youngman had a prodigious September – he finished 3rd at Winfield, and he released a new CD of fingerstyle-arranged hymns called "Trust." These 12 tracks reveal why Youngman is noted as an award-winning player, as well as a deep reverence for these classics of the Christian faith. While Youngman obviously has the full arsenal of fingerstyle techniques under his fingers – two-handed tapping, percussive effects, harmonics, arpeggios – he demonstrates a simple approach to these tunes that doesn't cloud the wonderful melodies they contain. On the opening track, "Christ the Lord is Risen Today," he uses tapping reminiscent of Billy McLaughlin's early work. "I Surrender All" starts with harmonics, then segues to a mix of fingerpicking spliced with continued harmonics. "Trust and Obey" is bright and lively with a staccato rhythm propulsing the song along. Youngman uses nylon string guitar on "Tis So Sweet to Trust in Jesus" with effective counterpoint between bass and melody lines. Jazz chording and feel drives "Great is Thy Faithfulness" with a key change adding texture. A calm meter paces "Be Still My Soul," while "Simple Gifts" uses droning bass notes and tapped melodies with percussive whacks against the wood of the guitar for a one man band sound. A rhythmic pulse undergirds "All Creatures of Our God and King" while Youngman brings forward the melody. One of Youngman's strengths is keeping the melody clear no matter what techniques he is using. The disc finishes with the wonderful Charles Wesley hymn "What Wondrous Love is This" rendered with power yet sweetness. Any lover of classic Christian hymns and skilful guitar playing will want to get a copy of "Trust."
© Kirk Albrecht


David Youngman's Website

Buy it at Amazon.com
Listen to "Trust and Obey"
Listen to David Youngman at our podcast

Julian Lage & Chris Eldridge, "Avalon," 2014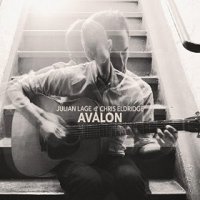 This relaxed, adventurous set features original instrumentals and well-loved songs from 20th century pop, bluegrass, and country, performed by two gifted young artists. Guitarist and singer Chris Eldridge is a veteran of the Infamous Stringdusters and the Punch Brothers, while Julian Lage has recorded and performed with jazz vibraphonist Gary Burton and as a leader. The duo recorded this album in Easton, Maryland's Avalon Theater after a string of performances in the summer of 2014. Eldridge sings and plays in a modern bluegrass style (it's not surprising to know he was tutored by Tony Rice). Lage uses bluegrass as a jumping off point for improvisations extending into higher intervals, incorporating tasteful chromatic runs and altered scales. The disc begins with "Stone Cross", an abstract instrumental that alerts the listener to what will follow - this isn't "folk music". The pace quickens with John Starling's crowd-pleaser, "Mean Mother Blues", sung by Eldridge. Other highlights include "Whiskey Before Breakfast", Norman Blake's classic "Ginseng Sullivan", and Jimmie Rodgers' "Any Old Time". Julian Lage's nine-minute instrumental, "Wilson's Waltz" begins with some pleasant meandering before settling into the tune, which is in tempo, but with a quirky melody suggesting that Wilson may have been in his cups when he inspired it. The entire set is well paced and invites repeated listening. I'm encouraged that young musicians like Lage and Eldridge have selected a wide range of older material, presented it successfully along with their own compositions, and played it so well. They'll help keep some great old tunes alive and inspire guitarists, both young and old.
© Patrick Ragains
Chris Eldridge's Website Buy it at Amazon.com
Listen to "Any Old Time"

Rory Block, "Hard Luck Child," 2014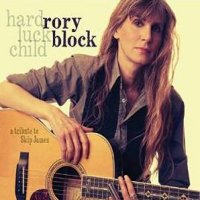 Rory Block has won many awards and accolades from the blues community over the last few decades; her Mentor Series makes it plain to see why. She is both master and student of the country blues genre. As she says in the liner notes, "While the rest of the world was busy with modern things, I wandered down the dusty path towards the past in bare feet." A truer portrait of Block's music could not be painted. Block's fifth album in the series features the music of seminal country blues legend Skip James. James's songs have been recorded over the years by many artists, most notably, perhaps, by Cream, who had a hit with James's "I'm So Glad" in the late sixties. Not only did Block study country blues through recordings; along with fellow musician Stefan Grossman, she sat at the feet of some of the masters. In her series, she has paid tribute to Mississippi John Hurt (Avalon), Rev. Gary Davis (I Belong to the Band), Mississippi Fred McDowell (Shake 'em On Down), and Son House (Blues Walkin' Like a Man). On each of the Mentor Series albums, strains of country, blues, and gospel come through Block's fingers, guitar, and voice as if she'd been selected by the blues gods themselves to preserve and protect a disappearing tradition. What Block does here is not new, but it is masterful. She knows the terrain; she is fluent in the language. The album opens with Block's own composition, the biographical "Nehemia James", which fits nicely alongside James's tunes. Block also performs several of James's church songs, requisite fare for the genre, complete with gospel choir inspired vocals. The most emotive track by far is "Jesus is a Mighty Good Leader." The album was produced by Block and Rob Davis. The production is clean and powerful. Oddly enough, the best way to listen to this acoustic album is on eleven. Rory plays her own signature model Martin guitar and uses a 14mm deep well socket for a slide. Animal sounds and the occasional phone also make an appearance on the album, giving it that ring of authenticity for which Block clearly strives.
© Chip O'Brien
Buy it at Amazon.com
Listen to "Special Rider Blues"

Richard Thompson, "Acoustic Classics," 2014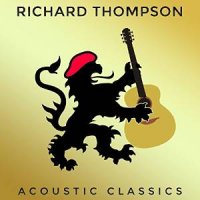 After performing his first two numbers during a recent solo acoustic show, Richard Thompson paused, and offered, "Well, those were a couple of mournful and melancholy songs." As the audience chuckled, Thompson waited a beat, then said, "And I'm going to do several more." Which he did. And we loved it. The thing is, few can do ache and sigh like Thompson. He still carries the love scars from his failed marriage to singer/songwriter Linda Thompson, and his pensive takes on love, romance and the burden of life ring resoundingly true. This 14-track collection pulls together compositions from throughout his career -- which has been quite a run, considering his debut as a recording artist as a founding member of Fairport Convention in 1967. Interestingly, after all these years, Thompson may have something resembling a hit album, as "Acoustic Classics" charted in Great Britain at number nine. The CD is true to its name, with some of Thompson's best known work, including "Dimming of the Day," originally performed with Linda Thompson on the 1975 album "Pour Down Like Silver," and which has since been covered by Bonnie Raitt, David Gilmour, Emmylou Harris and the Blind Boys of Alabama. While his view of life is dark, it's also beautiful, tending toward the intricate and poetic, filled with lyrical pleasures and surprises. Though he started his adult career in the folk realm, he evolved more toward rock, but this CD shows that he still cherishes his folk roots. It also provides a venue for Thompson to show what a terrific guitarist he is, and well worthy of his 1991 Orville H. Gibson award for best acoustic player. Born in England, with his father a Scot, Thompson incorporates his musical heritage into his work. While his palette can evoke the suggestion of bagpipes or a pennywhistle, there is no denying his deft touch on the fretboard. He employs a pick-and-fingers technique, playing bass notes and rhythm with a pick between his first finger and thumb, adding melody and punctuation by plucking the other strings with his fingers. It's often intricate, occasionally dazzling, and always pleasing. Arrangements throughout are stellar. His voice is cooly passionate, and tends toward long, drawn-out vowels, but he can rock out as needed. A nice change of pace is "Valerie," a near-rockabilly ode to a frenetic love of long ago. Speaking of ode, there may be no better salute to girl and bike than his "1952 Vincent Black Lightning": "Red hair and black leather, my favorite color scheme." The Scottish-inflected "Beeswing" – "so fine a breath of wind might blow her away" -- must hold a special place in Thompson's heart, as he has named his recording company for it. It's fascinating to hear these heart-on-a-sleeve songs revisited with just voice and guitar. It's a rare glimpse into the heart of an artist who has provided us with his inspiration for decades. As he has said on his website: "In most cases, these are acoustic versions of songs that were originally recorded electric, and there have never been acoustic studio versions, just some live recordings where I wasn't always satisfied with the sound or the performance. Also, some of these songs are 45 years old. I sing them and feel about them differently, and it's nice to capture the evolution."
© Fred Kraus
Buy it at Amazon.com
Listen to "Valerie"

Adam Cantor, "Sceyence," 2014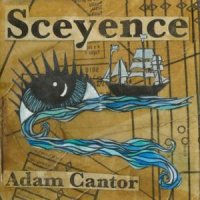 Prepared to be wowed by "Sceyence," a new release from Adam Cantor. Cantor is a fingerstyle whiz, a young up-and-comer in the percussive lineage of Michael Hedges, Don Ross, Antoine Dufour, and Andy McKee. But unlike many acoustic guitar followers, Cantor doesn't overdo the rhythmic tapping, using it instead as just an occasional accent, and shying away from flaunting his virtuosity for its own sake. Compositionally Cantor's pieces have the feel of extended riffs yet move through discrete sections with different moods and tonal qualities, laced with trace elements of blues, jazz, and even rock. His pieces have a dreamy, hypnotic feel and flowing quality, from the gentle "Darling Buds of May" to the spritely "Apricity" to the rumbling darkness of "Scorpio." Cantor's classical training shows in his flawless right-hand technique - impeccable arpeggios and the use of fingernails - just listen to the gorgeous, layered, title track. What especially distinguishes his playing are the clarity, color, luscious tone, and fluidity he brings to every piece. (As a bonus to listeners, he posts regularly online, where his technique can be especially appreciated.) Other standouts here are the extended mediation "Sparrows," with its haunting melody, and the supercharged "Symbiosis." Impressively, the longest pieces are among the best, where he really stretches and develops his ideas. Cantor has talent to spare, but that's not all to admire about him. He's also a third-year medical student and is donating 100% of the proceeds of this album to charity-all of which makes him an exciting guitarist to watch.
© Céline Keating


Adam Cantor's Website

Buy it at Amazon.com
Listen to "Loose Change"
Listen to Adam Cantor at our podcast

Thanos Mitsalas, "Contemplation," 2014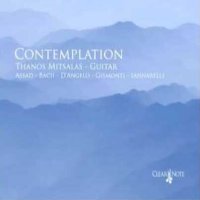 Five years ago I had the great pleasure of reviewing Thanos Mitsalas' debut CD, which I found to be movingly personal and expressive, while also being remarkably clean and articulate. And today, Mitsalas' newest offering, entitled "Contemplation", is quite simply one of the finest recordings I've encountered in my decade of writing reviews. Like before, his playing is stunningly accurate, crisp, and full of life. From beginning to end Mitsalas marries all of the elements of great classical guitar playing: enormous and evocative tonal range, world-class command of the instrument, and a unique and defining musical voice. The repertoire he selected is interpretively and technically challenging, oftentimes peppered with temperamental dynamic nuance, and at other times marked by enormous and moving dynamic juxtapositions. Mitsalas opens with a swaying and meditative work by Sergio Iannarelli entitled 'Per Sofia'. The piece delicately transports the listener into Mitsalas' musical world, drawn not only from a traditional-classical perspective, but also heavily influenced by modern Spanish and South American styles. Next are for four Breviduras composed by the legendary Brazilian guitarist and composer Sergio Assad. Had the entire disc been only these four pieces, I may have been satisfied, as they straddle a vast musical range, and require Mitsalas to explore the extremes of the instrument and his technique. The disc continues through several other lovely Spanish/South American works before it finally, and somewhat surprisingly, closes with Mitsalas' own arrangement of JS Bach's moving 'Chaconne' from the D minor Violin Partita. Why, after so many modern, Latin compositions are we suddenly thrust back to the Baroque period? From my perspective, this is very similar to what Bach had originally intended with the Chaconne. As the last movement of a violin partita, it was a disproportionally enormous and musically deep finale to an otherwise innocuous set of works for violin. Here again, just as Bach originally imagined it, we find the Chaconne placed where no one would expect it, concluding a seemingly unrelated set of works with a single massive and moving musical gesture. I can't imagine a better conclusion to this disc, as Mitsalas has delivered an absolutely impeccable recording that will definitely be turning heads, beginning to end.
© Timothy Smith
Buy it at Clear Note
Listen to "Per Sofia"

Harduo, "Adamantis Haurora," 2014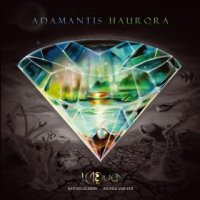 Italian guitarists Raffaello Indri and Andrea Varnier create a progressive rock manifesto on their current release "Adamantis Hauroro." This is their second acoustic collaboration and more than fulfills the promise and prospects established on their auspicious debut. While both musicians began their professional careers playing electric rock and metal, they soon developed a passion and admiration for the sonic intricacies of the acoustic guitar. Aptly calling their collective "Harduo," the guitarists seamlessly synergize their electric pasts to craft an innovative acoustic future. They construct challenging and inspiring sonic landscapes with adventurous rhythmic backdrops and impressive single note improvisations. The disc opens with the dramatic and deliberate "Meridian Fog Dance" setting the stage for the recording with dissident counterpoints and histrionic chord progressions. "Hell Tremendo" sounds like a Parisian thoroughfare, with rapid, swinging unison rhythmic patterns and intense harmonic flurries. The two even offer a melodic, pastoral, and passionate reading of the Iron Maiden classic "The Clairvoyant." The blistering title track, "Adamantis Hauroro," begins with incendiary single note motifs flowing effortlessly into folk inspired reflective interludes. Simone D'Eusanio and Christian Bortok join the group on this track on violin and flute delivering intricate and sophisticated improvisations. The album ends with an all-electric anthem "Meridian Metal" an atavism to their rock roots and possibly foreshadowing a future project. This recording is highly recommended for both progressive rock fans and listeners of acoustic music, wanting to expand their musical horizons, and hear the acoustic guitar played in a unique and inventive setting.
© James Scott


Harduo's Website
Buy it at Amazon.com
Listen to "Meridian Fog Dance"

Home | Facebook | Podcast | Archives | Submissions | Free CD Giveaway | Subscribe | About | Links

Laurence Juber, Doug Smith, Al Petteway, Phil Keaggy (and many more!) at Acoustic Music Resource