Reviewing the best in non-mainstream acoustic guitar music
Home | Facebook | Podcast | Archives | Submissions | Free CD Giveaway | Subscribe | About | Links
November/December, 2013

Doug Smith & Mark Hanson, "Guitar Confluence, Live," (CD/DVD) Solid Air Records 2013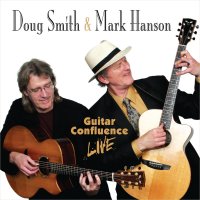 Smith and Hanson are clearly having fun on "Guitar Confluence," a live performance CD/DVD of contemporary steel string acoustic fingerstyle guitar in the trajectory of Michael Hedges, Alex de Grassi, and Leo Kottke. The guitarists play together as if they have forever. In fact, they released their first duo album in 2001 and both appeared, as soloists and a duo, on Grammy-winning "Pink Guitar" in 2005 (their duet "A Shot in the Dark" is included here). "Guitar Confluence" is quite varied, with inventive renditions of many pop turns, including a set of Beatles songs, a slip gig, a Hawaiian slack key offering ("Waimea Canyon") and the terrific "Dyerville Giant," titled for a giant redwood tree, which features propulsive percussive tapping. The pieces are on the short side, but the advantage that this allows the musicians to showcase many styles and techniques, including a few jazz and blues stylings. One of the most exciting is the Celtic-sounding "Masters in This Hall," with wild rhythmic strumming and fast fingerwork. The two solos on the CD - a rendition of "Ava Maria" (in which Smith reveals his classical training) and Hanson's version of traditional "The River Is Wide" - are especially lovely. The album comes to a close with the jaw dropping "Jerry's Breakdown," a fitting conclusion to a strong collection, which also comes with a bonus DVD.
© Céline Keating



Doug Smith's Website | Mark Hanson's Website
Buy it at Acoustic Music Resource
Listen to "I'm Looking Through You"
David Gogo, "Come on Down," 2013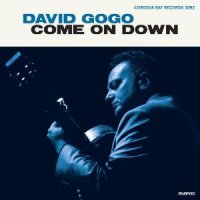 Canadian singer/songwriter/guitarist David Gogo owns a ton of blues awards and has shared the stage with an impressive roster of blues legends. There's no disputing the man can play with the best of them. His 13th album, "Come On Down," carries on this yeoman's legacy with a 12-track collection that should please fans as well as newcomers to the genre. Gogo splits it down the middle with six originals and six covers. He opens with a bloozy take on the 1971 Faces rocker "Bad 'n' Ruin," and follows that with five straight originals, perhaps an indication of where his present passion lies. Backed by a tight and disciplined band of musical vets, Gogo's universe on this CD largely revolves around updating the sound of 1970s classic blues rock, R&B and soul for the 21st century. Make no mistake -- these are well-crafted and produced songs: squeaky clean, precise and balanced. While he intersperses his share of tasty solos throughout, it would have been fun if he would have included just one live track where he could slightly indulge and stretch it out a bit. The best track – for me, at least -- comes in at one before the end, where Gogo interprets Christine McVie's "Spare Me a Little of Your Love," from Fleetwood Mac's 1972 "Bare Trees." He slows it down a bit, and really lets the song breathe. His arrangement brings the yearning home, augmented by his economical lead work, always with a firm nod toward supporting the melody of the song. Gogo's "Come On Down" explores the gospel end of genre, and features a full chorus and a very big sound. He stays within the blues form on another original, "Call Your Name," working in some very fine Fender Rhodes work by Chad Geekie. Other players include Rick May and Jay Stevens on bass, David Vest on piano, and William Arthur Hicks and Gordon Grant Baird on drums. The story goes that at the age of 15, Gogo met Stevie Ray Vaughan backstage at the Royal Theatre in Victoria, British Columbia. Vaughan reportedly encouraged Gogo to follow a career in the blues. And he's been doing it ever since.
© Fred Kraus
Buy it at Amazon.com
Listen to "Natchez Dog"

Sérgio & Odair Assad, Paquito D'Rivera, "Dances for the New World," GHA Records 2013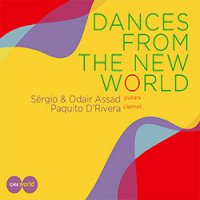 What do you get when you combine a couple brothers on guitar and a clarinet? Oh, and they're all masters of their instruments. What you get is "Dances from the New World," a new collaboration between the brothers Assad (Sérgio and Odair) and Paquito D'Rivera, nominated for Best Instrumental recording for the Latin Grammy Awards of 2013. These three musicians are steeped in the textures and rhythms of Latin music, and that feel comes through every one of the 13 tracks. Most of the tunes are familiar Latin songs. The Assads create scintillating guitar parts, while D'Rivera's clarinet woos the listener with its smoky tones. "Afro" (written by D'Rivera) begins with a solitary clarinet voice, then through the pulsing of two guitars, morphs into a wild, whirling paeon to African influence in the music of the new world. "La Conga de Media Noche" flows and sways to the conga rhythm begun in Cuba among the slaves in the 16th century. D'Rivera pays homage to the great Dizzy Gillespie in "Dizzyness," a flowing 3-minute improv around a base melody. Delicious. The Assads go it without clarinet in "Nos e o rio," winding and rushing like the Pardo river in Brazil. Their synthesis musically is spellbinding. We get to samba with "Aquarela do Brasil," following the lead of D'Rivera's clarinet while the Assads comp in and out of rising and falling chordal patterns underneath. "Trialogo" was written specifically for an ensemble of two guitars and clarinet by Cuban guitarist Rey Guerra, haunting us with sweet melody against dark, minor chords. The disc finishes with "Drume Negrita," a famous lullaby seeking to imitate the slang voicings of African slaves. Call it what you will – jazz, world, Latin, Cuban, African – this music is none and all at the same time, and it's excellent. You can't miss with this CD.
© Kirk Albrecht
Buy it at GHA Records
Listen to "Um a Zero"

Alex Kabasser, "Worlds," 2013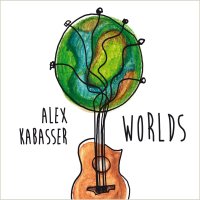 The second release by Austrian guitarist Alex Kabasser certainly solidifies his growing reputation as a world-class fingerstylist. Picking up where he left off on his debut CD "Dawning" (2008), "Worlds" is a balanced and invigorating collection of tunes that ebb and flow with a cohesiveness that conveys beauty, precision and sonic artistry. The conservatory trained and critically acclaimed Kabasser offers ten originals among the eleven tracks. Among the covers are the theme From "Baywatch", "I'm Always Here" and Bobby Nebb's timeless "Sunny". Surprisingly "I'm Always Here" fits well in the mix while "Sunny" simmers and shines with Kabasser's sultry, subtle, yet spirited and thoroughly impassioned touch. "Worlds" opens with the playful, samba grooved "Mexico" that will raise your spirits and get your extremities moving. The pulsating "Nur" follows and slides into the delicate and elegantly nuanced "Files & Flies". Other favorites include the percussive and playful "Irish Statement" and the title track that features note articulation and grooves reminiscent of Antoine Dufour, with a less frenetic dynamics. Kbasser's bio includes an early focus and training on electric guitar, two years of classical guitar training with Dietmar Kres at conservatory in Graz and a workshop with guitarist and fellow Austrian Thomas Leeb that was a catalyst for Kabasser's foray into fingerstyle guitar. The Leeb influences certainly resonate on "Worlds." Percussive techniques are present as are the harmonic tapping but never with flamboyance. These and other fingerstyle techniques gel with balance to accentuate and serve melody and rhythm in Kabasser's compositions. "Worlds" is a delightful, engaging and thoroughly enjoyable sophomore effort from Alex Kabasser.
© James Filkins


Alex Kabasser's Website

Buy it at Amazon.com
Listen to "Worlds"
Listen to Alex Kabasser at our podcast

Billy Strings & Don Julin, "Rock of Ages," 2013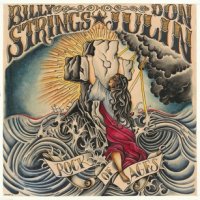 Billy Strings isn't just a breath of fresh air -- he's a veritable blast of red-hot bluegrass air as he simultaneously blows away and embraces convention on Rock of Ages. Barely 20, but playing guitar since age three, his acoustic guitar flatpicking displays a skill born of a lifetime of music immersion. Accompanied by mandolin veteran Don Julin – who also lends harmony vocals – Strings infuses these mostly classic bluegrass tracks with energy and enthusiasm. It's not rock, but this guy rocks. Plus, Strings can flat-out sing. He rasps, croons, aches and hoots with equal aplomb. It's just pure pleasure to hear him work it. String's given name is William Apostol. He says, "I got the name Billy Strings from my Aunt Mondi, who was a real spiritual, hip Indian lady. She's the first person who called me that – she said, 'Look at little Billy Strings play' when I was a child." The disc kicks off with the lone track written by Strings (Julin also pens one), the light-hearted but cautionary romp "Dust in a Baggie." Needless to say, String's lead work here is absolutely smokin'. The guys call up the spirit of an American treasure on Bill Monroe's "Watson Blues" and turn in a stellar version of George Gershwin's "Summertime." "Beaumont Rag" is appropriately breathless, and "Cocaine Blues," "Long Journey Home," and "I've Just Seen the Rock of Ages" play as classic as can be. Julin's steady and sure hand allows Strings to fully inhabit the songs. Interestingly, Strings, with his well-scrubbed look of a sportcoat-wearing schoolboy, is layered with tattoos that reflect his musical heritage. Some of his inked art includes images of John Henry's nine-pound hammer, a cowgirl – and he is reportedly planning to put a banjo on his knee. I do believe this 13-track collection will blow you away.
© Fred Kraus



Billy Strings & Don Julin's Website
Buy it at Amazon.com
Listen to "Dust in a Baggie"
Derek Gripper, "One Night on Earth," 2012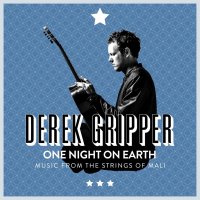 South African classical guitarist Derek Gripper has previously recorded his own arrangements of works by J.S. Bach, Brazilian composer Egberto Gismonti, and his own compositions. On this disc Gripper performs his arrangements of the legendary Malian kora players Toumani Diabaté, Ballaké Sissoke and guitarist Ali Farka Touré. The CD begins with Sissoke's haunting "Chamber Music." First recorded as a kora and cello duet, this piece is more complex than much of the rest of the album, yet clearly establishes Gripper's intention, namely, to bring kora music into the classical realm. Ali Farka Touré's "56" follows, featuring a much simpler harmonic structure than "Chamber Music," forcing Gripper to focus on melody. The listener is then taken deeper into the Malian tradition, with Toumani Diabaté's "Kaounding Cissoko" and "Djouou Kara Nany." Gripper presents a total of seven pieces by Diabaté before returning to Touré, with "Bakoye," featuring a wildly ornamented melody reflecting the composer's skill on the njarka, a one-stringed violin, and bamboo flute. Cellist Vincent Segal's "Ma-Ma Fc," composed for kora and cello, ends the disc. My appreciation of this music has deepened with repeated, close listening. Diabaté's and Touré's pieces have a relatively simple harmonic basis. Typically, short melodic phrases are repeated with subtle variations, framed by gradual movement between tonic, dominant, and subdominant underpinnings. Ionian (or major scale)-sounding melodies occasionally venture into Lydian or Mixolydian territory. One also hears varying dynamics in the treble and bass registers, another aspect of this music's improvisatory approach. Gripper offers more insight into the composers and his adaptations of their works in a 20-page booklet accompanying the disc. This important and enjoyable recording marks the recognition of Malian kora and guitar music as worthy of documentation, study, and addition to the classical guitar repertoire. I'm interested to hear how this approach may evolve, perhaps by Gripper recording with Malian musicians or present Malian music in orchestral settings. World music fans and all guitarists will love this recording.
© Patrick Ragains


Derek Gripper's Website

Name your price for a digital download here
Listen to "Djouro Kara Nany"
Listen to Derek Gripper at our podcast

Antonio Monti, "Attorno al Fuoco," 2012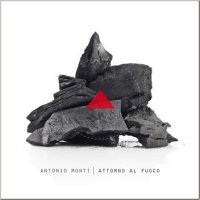 "Attorno Al Fuoco" is translated as "Around the Fire," and relaxing around a fire is exactly the atmosphere that's created on this marvelous CD, lulling the listener into a sense of deep meditation. Yet another aspect of fire is intended here, however. "Wood, iron and air give the acoustic guitar a unique voice, a natural sound made of simple elements... this sound is the spark that becomes fire," Italian guitarist and composer Monti is quoted as saying about his intentions. There is a strong cerebral aspect to his music. Monti seems most interested in exploring the sonic and textural possibilities of the guitar, often through the use of repetition, from repeated notes to repeated phrases ("Last Summer," "Volo Notturno"). He also incorporates various percussive techniques, such as two-handed tapping ("Canne al Vento"), string muting and slapping ("La Deriva"), and something akin to tap dancing ("Sul Sentiero"). Yet these innovative techniques, incorporated quite subtly within arresting and complex compositions, do not overshadow the strong melodic and emotional core of the pieces. On "La deriva," Monti uses a series of harmonics to contrast with a two-note tremolo, while on "La Zona Blu" he opens and closes with a lovely melody that showcases his limpid soulful playing . Gorgeous, lush, inventive, modern, "Attorno Al Fuoco" is an exceptional album on the classical edge of contemporary acoustic guitar.
© Céline Keating


Antonio Monti's Website
Buy it at Amazon.com
Listen to "Last Summer"
New West Guitar Group, "Big City," 2013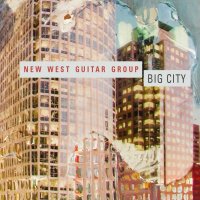 Tight. Textured. Talented. Those are just a few of the thoughts that came to mind as I listened for the first time to "Big City," the latest release from the New West Guitar Group. With a mix of covers of some well-known pop tunes and original compositions, the disc is a potpourri for guitar enthusiasts. These three guys – all from the storied guitar department at USC – are inventive with well-constructed parts on every tune. We get the funky, rocking "Every Big City." The soaring melody on "Mission Creek" is reminiscent some of Pay Metheny's work. "Proud Days Work" opens with a gentle acoustic fingerpick, then spilts into complementary parts that just work well together. Toes are tapping on "Inspiration Point" with a jazzy, alt-country feel. We fly down the tracks on "Train Bump," recalling the groove of Wes Montgomery in his prime. Since they seem to like just about every style, we get a bluesy "Pacific Blues," using a simple acoustic comp underneath some hot, bending leads. The covers are all done really well. One of my favorite pieces on the record was their arrangement of Joni Mitchell's "All I Want." They really don't try to do too much with it, but allow the genius of the original to shine through. Another chestnut is The Police's hit "Wrapped Around Your Finger," giving allusions to some of the original's aural expression, but bringing the power of three guitars. The disc finishes with the Metheny-esque "Evergreen," highlighting multi-layered guitar parts and solid chops from each of these guitarists. Kudos to Perry Smith, Jeff Stein, and John Storie for a disc of great guitar music. Seems there is more than one guitar group from USC enchanting listeners with their tones.
© Kirk Albrecht



New West Guitar Group's Website
Buy it at Amazon.com
Listen to "Evergreen"
Jamie Anderson, "Dare," 2013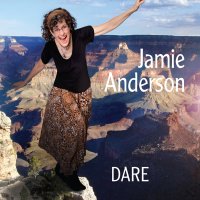 The refrain to the title track of Jamie Anderson's newest CD may just become my own life mantra: "dare to live the life you earn." The line is a counterpoint to those living life timidly, to satisfy others' expectations, as with the characters she places into a vignette inspired by a conversation with a woman she met in a bar: "There's a sparkle in her eye but no crinkle at the edges when she smiles / Everything's in place, she's carefully bored / She says she looks as young as she can afford / It's clear to everyone what she's got / But I'd rather have a face I earned / Than one I bought." I can only imagine the creative gears instantly turning in Jamie Anderson's head when the words "I'm as young as I can afford" fell forth from her protagonist's lips in that bar... and as Jamie cautions... "be careful what you say to a songwriter." It is this talent to animate people and their life circumstances via song that sets Anderson apart from lesser songwriters. Sometimes the characters she brings to life are tragically humorous rather than tragic, as in "Run." "Run" turns out to be the one-word advice to a friend who is smitten with a woman who has the seven dwarfs tattooed on her butt, hasn't worked since 2001, and is known (widely) to be great in bed. Another tune certain to spark laughter at a live JA performance is "Yoga Teacher," which seems to begin as a character study of a sadomasochistic lover. But with the comedic timing of Rodney Dangerfield, it's revealed otherwise. Anderson can deftly switch gears from very funny to very poignant, her trademark. "The Boy Who Wanted to Fly" is an homage to her father, and was inspired by her finding a crayon drawing of an airplane done by her father at age 9. Accompanied by her father's old ukulele, in only eight poetic lines she recaps her father's past hopes and dreams so that he comes alive again for us all. When you experience the music of Jamie Anderson, be prepared to laugh… and then get misty.
© Alan Fark
Buy it at Amazon.com
Listen to "Dare"

Gisle Torvik, "Tranquil Fjord," Ozella Music 2013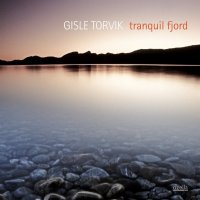 Norwegian guitarist Gisle Torvik's, "Tranquil Fjord," is a delicate amalgamation of carefully crafted compositions complemented by melodic, expressive improvisations. Torvik's love affair with the guitar began at sixteen, when he discovered an old Hoefner in his family's attic. Within six months the prodigious talent began performing in front of large enthusiastic crowds. A three year education at the Nordic Institute was soon to follow with studies in guitar and composition. Currently, Torvik teaches, produces, composes and performs throughout Europe and particularly in his Nordic homeland. Joining the guitarist on "Tranquil Fjord" is Audun Ellingsen on bass and Hermund Nygard on drums. Although primarily a jazz guitarist, with a smooth, dark hollow body tone, Torvik also synthesizes a variety of styles from folk, rock, and blues into distinctive musical voice. The opening title track sets the pace for the recording with tranquil, reflective melodies and soft supportive playing by Ellignsen and Hermund. There is intricate and intuitive interplay between the three that graces each of the compositions on this eloquent recording. The bluesy "kryssande," one of several up-tempo tracks, featuring the guitarist's blistering chromatic runs flanked by Nygard's incendiary percussion. There is a predominant Pat Metheny vibe to the spirited "endelaus veg" with folk inspired acoustic strumming followed by joyful diatonic riffing. The solo acoustic ballad, "stille song" is one of the many standouts, featuring beautifully conceived introspective chord voicings. The album ends with a solo guitar version of 'tranquil fjord," with lush chord melodies creating pensive and peaceful musical landscapes. The recording is pristine, and surprisingly untainted, without the excessive reverb and echo attributed to most Scandinavian jazz releases. "Tranquil Fjord" is a noteworthy contribution by a guitarist who is at the very forefront of contemporary European jazz.
© James Scott
Buy it at Amazon.com
Listen to "Endelaus Veg"


Home | Facebook | Podcast | Archives | Submissions | Free CD Giveaway | Subscribe | About | Links

Laurence Juber, Doug Smith, Al Petteway, Phil Keaggy (and many more!) at Acoustic Music Resource