Reviewing the best in non-mainstream acoustic guitar music
Home | Facebook | Podcast | Archives | Submissions | Free CD Giveaway | Subscribe | About | Links
September/October, 2014

Tim Sparks, "Chasin' the Boogie," 2014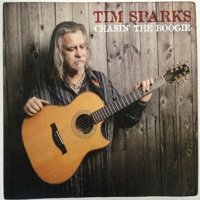 My introduction to guitar phenom Tim Sparks was his 2000 release "Tanz." The exotic intoxicating arrangements and performances of Jewish music from around the world piqued my interest and began for me what has been a thoroughly enchanting relationship with the music and unique talents of Mr. Sparks. In the liner notes of "Chasin' the Boogie" Sparks explains it was largely conceived, written and arranged while he was taking care of his mother and had returned to the Winston-Salem, North Carolina area where he grew up. Sparks connects the music with inspiration and reveals much about how a place and time can shape the sounds a musician creates and the songs that are indelibly imprinted on our psyche. Time and place are palatable in his original compositions "Carolina Blue Guitar", "Reckless Persuasion", "Blue La La" and the title track. Bluesy, ragtimey, with a good dose of traditional structure and reminiscent of influential guitar phrases and riffs - Sparks' playing will transport you back in time. The vocal presence of Sparks as he travels the fret of a 2004 Koa and Spruce OM style cutaway built by Charlie Hoffman is a unique feature of this CD. No, he hasn't surprised us with singing; rather Sparks' includes his own gravelly, growling and raspy guttural accompaniment. You'll swear the late great John Lee Hooker is sitting-in at times. These vocal interjections are not exclusive to just the bluesy numbers, they can be heard on each track adding to the verisimilitude and nailing the moment for the listener. I highly recommend a listen with your favorite headphones to get the most of this effect. The CD drifts from raucous blues to contemplative interpretations of soulful and timeless classics like "Black Bird" and a drop dead gorgeous arrangement and performance of Joni Mitchell's "Both Sides Now." "Chasin' the Boogie" is as ambitious as it is entertaining. If you are new to Tim Sparks this is the perfect place to start. In the liner notes Teja Gerken so aptly states that Sparks sense of harmony and polyphonic movement are present in the popular tunes that Sparks arranges for this CD (i.e. "I'll Fly Away" and "Mr. Bojangles"). I would go further - his consummate skill and musical acumen are nothing short of resplendent... The chase is over, Sparks has captured the "Boogie" and so much more on this CD!
© James Filkins
Buy it at Amazon.com
Listen to "Chasin' the Boogie"

Various Artists, "This Guitar's in Love with You," Solid Air Records 2014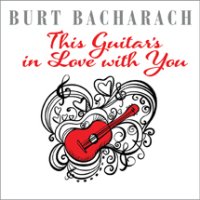 This latest addition to Solid Air Records' composer-themed guitar anthologies is one of the strongest in the series. The contributing artists exhibit strong empathy with the music of Burt Bacharach, no doubt due to their exposure to his and lyricist Hal David's hits when they saturated the radio in the 1960s and Seventies. The disc begins with "Casino Royale" by Mark Hanson and Doug Smith, first popularized by Herb Alpert and the Tijuana Brass. Wayne Johnson follows with a bossa nova take on "The Look of Love", played on nylon string and double-tracked, with light percussion added. Johnson phrases the melody beautifully and adds some nice improvised lines. David Cullen plays "Do You Know The Way to San Jose?" on nylon string as well, recalling Dionne Warwick's recording, adding a number of guitaristic elements, such as artificial harmonics. Tommy Emmanuel's "(They Long to Be) Close to You" is a natural highlight, incorporating effective dissonances and a nod to stride piano, while still evoking The Carpenter's iconic performance. "(There's) Always Something There to Remind Me" receives a beautiful Mexican-influenced interpretation by Mike Dowling. Laurence Juber's two numbers, "Alfie" and "This Guy's In Love With You" are masterful. His jazzy DADGAD chord voicings grace "Alfie", while "This Guy'" retains the romantic feel of Herb Alpert's blockbuster 1969 hit, yet at the same time unmistakably LJ. Other artists include uke master Greg Hawkes, Al Petteway, Eltjo Haselhoff, Nick Charles, Arlen Roth, and solos by Mark Hanson and Doug Smith, each adding variety and quality to the album. Hanson and Smith team up again to close the disc with a reprise of "What the World Needs Now Is Love", played with exceptional skill and taste. This disc deserves the same level of critical attention received earlier by Solid Air's Pink Guitar tribute to Henry Mancini (which won a Grammy) and will surely be loved by guitarists and nonmusicians alike.
© Patrick Ragains


Acoustic Music Resource Website
Buy it at Acoustic Music Resource
Listen to "This Guy's in Love With You"
Don Ross, "PS 15," Candyrat Records 2014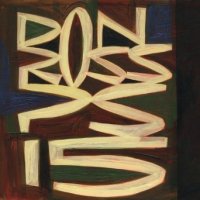 Canadian Don Ross is a powerhouse; the only guitarist to win the U.S. National Fingerstyle Guitar Championship twice, in 1988 and 1996, he has released 20 albums of solo or duo guitar, and his innovative techniques and style of playing have influenced a generation of players. "PS 15" is a rerelease of his Passion Session, considered by many to be among the best acoustic guitar recordings, with many pieces that have become standards. Ross's fingerstyle prowess is as fluid as it is mind-boggling, and his jazz-influenced compositions are propulsive, forceful, and compositionally and rhythmically intricate. Whiffs of various influences are apparent, and indeed some of the pieces were written as tributes: "First Ride," for Bruce Cockburn, features rumbling arpeggios and a spray of harmonics. "With You in Mind" is a magnificent, Latin-inspired tribute to Pat Metheny, with Ross doing impossible things with his thumb. Perhaps the most emblematic of his strengths and style, is "Michael, Michael, Michael," written for Michael Hedges, with the percussive rhythm and a use of the right hand to pluck or slap the strings that has been heavily imitated. Few pieces are slower than mid-tempo, but these moodier selections, such as "So Little Time" and "No Goodbyes," showcase Ross's mastery of tone and dynamics. Overall, Ross's heart seems to be in the "funkier" side of things: "Tight Tright Night," written for baritone guitar, has a thumpy sound and a wickedly hypnotic propulsive edge. Clearly, whether 1999 or 2014, this CD is a classic.
© Céline Keating


Don Ross' Website
Buy it at Amazon.com
Listen to "Michael, Michael, Michael"
David Pedrick, "Time Remembered," 2014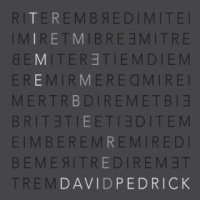 David Pedrick's "Time Remembered" is a masterful collection of original compositions inspired by the legendary jazz pianist Bill Evans. Although primarily a jazz guitarist, Pedrick received a B.S. in Music Education and an M.S. in Classical Guitar Performance from West Chester University. He is a noted educator, performer, and composer, holding clinics and master classes throughout the United States as well as gracing the stages of some of the most prestigious jazz clubs and concert halls in North America. His compositions and arrangements can be heard on numerous radio shows featured on NPR, PRI, and the BBC. Joining Pedrick on this recording is Ryan Kauffman on soprano saxophone, Steve Meashey on bass, and Dave Young on drums. The album features nine intricate deconstructions of the Evans' masterpiece "Time Remembered." Each of the titles of these reassembled pieces are given clever anagrams of the composer's name. While the boundaries set for this recording could have been too restrictive for lesser artists, just the opposite is true for Pedrick. Here the visionary guitarist's unmatched virtuosity, innate melodicism, and remarkable compositional skills essentially redefines the parameters of Evans' music. All of the pieces were recording in one session without any prior rehearsal, spontaneously capturing the creative chemistry of the collective. The opening "Bill's Vane" is a beautifully conceived pastoral ballad with intuitive interplay by each of the band members. The post-bop burner, "Navel's Lib," features the guitarist's elegant, swinging, single note lines flanked by Kauffman's inspired soprano soloing. "Slab Liven" begins with an excellent double bass interlude by Meashey, while "Van Labels" showcases Young's incendiary percussion. "Time Remembered" is a bold and audacious release, pristinely recorded, and sets the stage for how jazz musicians should reexamine the works of our most treasured legends. This album is highly recommended and absolutely compulsory for all listeners of contemporary improvised music.
© James Scott
Buy it at Amazon.com
Listen to "Lab Snivel"
Listen to David Pedrick at our podcast

Tim Stop, "Shadowbox," 2014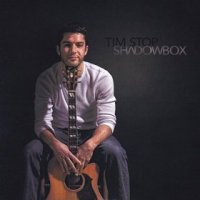 Tim Stop is a Chicago-based singer songwriter with a great ear for pop. "Shadowbox," his 8-song CD, contains two covers of pop classics, "My Cherie Amour," and "The Way You Make Me Feel." That esprit carries over to his own work, particularly the opening cut and would-be single on the album, "Still My Baby." With clear, precise, acoustic licks, and an open, radio-friendly voice that sports just a touch of soul, Stop veers close to easy-listening, but his delivery is so honest, so clear in the stripped-down mix of guitar and the faintest touch of percussion, that he will likely win you over. And he has been winning people over on a summer shed tour opening for Chicago and REO Speedwagon. With clear vocal hooks and a mainstream pop sensibility, he's a pretty good match for Chicago, and he delivers the goods on his own songs like "Someday" and "Maria." In an earlier era, singer-songwriters like him scored big radio hits, but in our more fragmented times, he remains more a private discovery with big public aspirations. Three of the cuts on the this spare CD were recorded live in Edmonton during a recent Canadian tour that I suspect went quite well given that country's open embrace of contemporary singer-songwriters. He's a smart, tasteful guitarist in the studio and smart, tasteful singer live, as his way with "The Way You Make Me Feel" demonstrates. It's fun how the crossover dreams of an earlier period in pop work so well in the hands of this solo artist who seems to have no fear of opening in the wide open expanses of the summer shed scene. More power to him.
© Steve Klingaman
Buy it at Amazon.com
Listen to "Someday"

Faux Frenchmen, "3 A.M. Waltz," 2011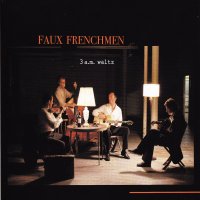 While no one in the band has the name Stefan or Django (honestly, they're Don and George and Brian and Paul), "Faux Frenchmen" show off chops in hot swing style acoustic wizardry worthy of the real deal. Their CD "3 a.m. waltz" is a melange of hot and spicy, cool and sweet. The band is a simple quartet of bass, violin, rhythm and lead guitars. Most of the tunes are originals, but they include several standards. They take us back in time with an old vinyl recording of Hoagy Carmichael's great "Stardust," then play it sweet in real time. They also include "Appel Indirect" by Grappelli and Reinhardt, and Django's familiar "Daphne" to close out the disc. "Rumpus at the Athenaeum" starts things off smokin', followed by the slinky "Fowl Play," rendered funky by Paul Patterson's violin. It's very danceable. "Marseilles, North Dakota" showcases both guitars trading licks before it begins to swing as a unit. In perhaps a takeoff on the classic "Stompin at the Savoy," the Faux Frenchman weigh in with "Stompin' at Tinks," and you just can't not tap your toe. There are several tunes that extend beyond the strict boundaries of Hot Jazz, revealing the band's fluency in multiple musical idioms. "Trading Knick-Knacks for Macaws" sounds much more Latin, with some slick guitar work. The title cut "3 a.am. waltz" is a gentle one-two-three, while the longest track on the record, "Manchu's Fishing Net/China Boy" (at just over 7 minutes) exposes various elements in a contemplative ballad that owes as much to New Age sonorities as anything. "Repiphany" is a smoky Sunday afternoon before "Daphne" delightfully takes us home in 64 minutes spread over 13 songs. These guys aren't so Faux as they may claim. If you like Hot Swing style acoustic jazz, "3 a.m. waltz" delivers.
© Kirk Albrecht
Buy it here
Listen to "Marseilles, North Dakota"
Listen to The Faux Frenchmen at our podcast

Brigitte DeMeyer, "Savannah Road," 2014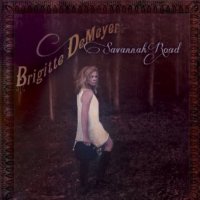 Brigitte DeMeyer takes the path less traveled among the current crop of young, female Southern singer/songwriters with terrific voices. It's rare indeed to hear this much acoustic guitar-mostly played by Will Kimbrough -- on an album with commercial ambitions. But the six-string and slide lend great support to DeMeyer's lyrics steeped with Southern images. So, what sets DeMeyer apart is intelligence and mindful production (by DeMeyer). The album is carefully structured as it builds from a simple beginning. The title track opens, putting the listener smack dab in DeMeyer's childhood hometown with rows of peach trees, chicory-lined roads, and "nightfall meadows." Two voices and steel guitar with fingers and slide and a shimmering knife, and that's it. "Say You Will Be Mine" follows, with simple Cotton picking and yearning expressed in a straightforward lyric. When a shaker appears in the third track, "Boy's Got Soul," you notice it. The subtle broadening of the sonic palette continues with "Please Believe Me," a soulful blues that adds a touch of B3. "Big Man's Shoes" -- ostensibly about a loyal, old dog-uses a little clarinet and a whistle. "Conjure Woman" features more percussion, a mix of guitars (with Ricky Davis on slide), and even more ache in the vocal. "Honey Hush" puts up mason jars of longing for the kind of honey you can't bottle, using even stronger vocals in a full-blown production. It's a highlight. "Worker" creates a dramatic climax with an overlay of guitars. "Lightnin' Poor," an appropriately bluesy tribute to a blues singer, turns it up another notch with a trio of soulful background singers DeMeyer matches ooh for ooh. "Build Me a Fire" shows off DeMeyer's most penetrating vocal. The CD ends with the gospel-tinged "My Someday." The title of the tenth track, "Simmer Right," summarizes what happens on this record. By the time DeMeyer's deceptively simple stew is done slow cooking and you've consumed it, you will feel completely satisfied.
© David Kleiner
Buy it at Amazon.com
Listen to "Savannah Road"


Home | Facebook | Podcast | Archives | Submissions | Free CD Giveaway | Subscribe | About | Links

Laurence Juber, Doug Smith, Al Petteway, Phil Keaggy (and many more!) at Acoustic Music Resource