An interview with The California Guitar Trio, Winter 2010

by Kirk Albrecht
In between concert tours, the guys of the California Guitar Trio -- Paul Richards, Bert Lams, and Hideyo Moriya -- fielded some questions from writer Kirk Albrecht.

Minor 7th: You guys have been playing together for 20 years. You must like each other!

Paul: Yes! we are still friends and still enjoy playing together after all these years.

Minor 7th: How do you keep that going? How do you keep it fresh?

Paul: One way of keeping it fresh is by giving ourselves new challenges to work on. For the "Andromeda" recording, the challenge was to make an album of all original material, which is something we have never done before. Also, we continue to have really great live shows. These live shows give us a lot of good energy to help keep us going.

Bert: You hear about so many bands that tour and they cannot stand being together. Over the years we found a good balance between spending a lot of time together rehearsing, recording and touring, but giving each other enough space, and knowing each other's needs for personal privacy and personal space while working together.

We spend a lot of time in confined spaces: the van, backstage etc. But we still go out for meals together or have a drink after the show. Not many bands can say they do that after 20 years.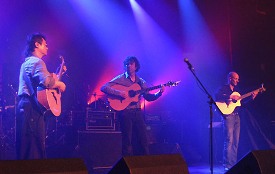 Musically we keep it fresh by adding some new pieces or some new element that gives us a challenge. For our most recent tour we added a set featuring the classical guitar, something we haven't done before. On a personal level, I enjoy tackling side projects during breaks from CGT tours (solo projects, collaboration with other musicians). This always brings me back with new perspective and fresh ideas.

But mostly, our fans keep it fresh and exciting for us while we're on the road. It's rewarding to see people leave our concerts with a big smile on their face. We must be doing something right!

Hideyo: I'm commuting from Japan each tour. Most of the time, it is a long flight and jet lag every time which is tough, but being Japanese, I could rest in-between the tour in Japan, and that keeps me going.

Minor 7th: Robert Fripp stands out as a seminal influence in your musical experience. Other key influences?

Paul: Yes, having worked with Robert Fripp for many years, he is definitely a major influence. For me personally, when I was a teenager, the guitarists that influenced me the most were: Alex Lifeson, Jimmy Page, Steve Howe, David Gilmour and Brian May. I learned to play guitar by playing along with these players. As I grew older my interests broadened and I began listening to all sorts of players, too many to list here, but one of my all time favorites guitarists is Bill Frisell.

Bert: I taught myself how to play guitar by emulating blues solos (John Fogerty's long solo's on 'I Heard it Through the Grapevine" and "Suzie Q" for instance), and was greatly influenced by hard rock guitarists (Ritchie Blackmore), and of course: Jimi Hendrix.

I also studied classical guitar intensively for 6 years, and during that time I was constantly inspired by the playing of Julian Bream. More recently I've been listening a lot to lute player Nigel North, and Belgian violinst Sigiswald Kuyken-their renditions of Bach inspired me to record my own version of several Bach Preludes on the steel string guitar on my CD Nascent, released just a few years ago. And there is a whole new generation of great guitarists now; I just discovered the electric playing of Leo Abrahams (he's on Brian Eno's latest release).

Hideyo: I started to learn the guitar when I played along the Ventures when I was 12. And I thought Nokie Edwards is the best guitarist in the world at that age – well, I thought all the members of Ventures were the best in the world, and I copied all their parts in many pieces. I think that's my base, in a good way or not.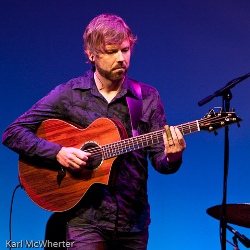 Minor 7th: Talk about the new recording, Andromeda. It seems to have bits of previous work, but takes things in new directions. Was this a harder record to make? what elements of this CD are you particularly excited about?

Paul: In some ways it was harder, and in some ways it was easier. The recording process is always a challenge for us because none of us live in the same city. So we have to arrange recording when we are all together, like at the end of a tour. We recorded this album in a studio on the upper floor of a funeral home in Louisville KY. We recorded quite a few improvisations. Many of the improvisations were a lot of fun and the music flowed. The difficulty was sorting through the recordings, finding the parts that made the most sense to include on the album. And it can be a big challenge writing music. Sometimes the ideas flow naturally, and other times it takes weeks/months/years for a piece of music to develop to the point where we are happy with it. The title track we had been playing live for almost 3 years before we finally got it recorded. I am particularly excited about the combination of acoustic sounds and processed sounds we were able to get on this album. We recorded the album on vintage analog recording equipment. Using only our acoustic guitars and some effects to make the majority of sounds and textures you hear on this recording. Even the parts on this recording that sound like they might be keyboard or synthesizer are actually modified acoustic guitars.

Bert: The new CD Andromeda consists of original CGT pieces, interspersed with improvised material. Though we've done an album before with mostly originals, we've never released an album with only our own pieces. In that way it's a milestone in CGT's career.

The album has been in the making for a few years, but the actual recording was very short: first session was three days, and a few months later we returned to finish it in a day or two. The hard part was producing and mixing: this is our first self-produced CD so we had to rely on our own sense of which direction we wanted to go, instead of trusting a producer. That made things a little bit more difficult, but we were all on the same page and made some good group decisions on where to take it next.

We did some initial mixes with engineer Kevin Ratterman, who recorded the album. But we still felt we needed someone else to give it a different perspective. We then gave the sessions to Howard Givens who completed the album. Howard gave the album a more 'acoustic' touch, and that's exactly what it needed.

During the recording sessions we included improvised takes, about two or three each day and we used the best moments on the album. One of my favorite moments was when Kevin Ratterman, the sound engineer worked his magic in the studio while we recorded the 'layered circulation' improv. We were in the other room listening to his ideas and it was really exciting to hear it all come together. Like:'did we just play that? wow!'

Hideyo: The mixing step was hard, and Howard Givens did a very good job. The sound of recordings and live performance are so different, a piece like "Andromeda" is more electric at live performance, and the recording mixed with acoustic sound which make this album very interesting and exciting.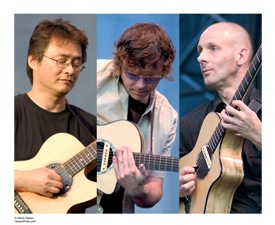 Minor 7th: How do you work out your parts when you compose or arrange? How do you balance individual strengths or desires with group integration?

Paul: This is something that has always happened very naturally within the group. We often improvise on ideas until all three of us are happy with each of our parts and the combination of parts. Sometimes we might have suggestions for what the others might play, but mostly we come up with our own parts. Each of us have our strengths and weaknesses, and we use these to our best advantage.

Bert: We're each well aware of our own strong and weak points as players. Rather than delegating the obvious part to say, the soloist, or the rhythm player, we often mix things up a bit and challenge ourselves to step out of our comfort zone. Saying that, Hideyo remains the groove master, and fast picker. Paul has a great feel for rocking parts and sounds, and plays some mean slide guitar.

Hideyo: Since we've played together a long time, we know what is a good part for each member for the arrangement, especially classical pieces. For composition, we come up with our own parts during the long jam sessions where we find good idea. Most of time, it is obvious who plays what.

Minor 7th: How come only Paul and Bert blog on the website?

Paul: Hideyo contributes to the website with his road cam photos. He doesn't feel comfortable enough with the English language to write a blog, so he takes pictures!

Bert: Assuming your native language is English, imagine trying to write a blog in Japanese...very tough!

I have lived in the US for 20 some years now and am quite comfortable with the language, as for Paul he's American. For Hideyo there is a much larger language barrier, since he still lives in Japan and commutes to the US just for the tours. Hideyo has a Roadcam page on the CGT site-he describes the days on the road with photos, and has become very good at it too.

Hideyo: I'm doing the Roadcam page on the website. Taking 100's of photos each day for the Roadcam is hard enough for me.

Minor 7th: You all now live in different cities on different continents. How does your cultural diversity contribute to and inform your music?

Paul: This is one of the things that makes the CGT unique. I'm not aware of any other band on the planet that features a Belgian, a Utahn and a Japanese. Each of us grew up with very different cultural influence which contribute significantly to the CGT. And obvious example is: on recent tours we have been playing some traditional Koto music arranged by Hideyo.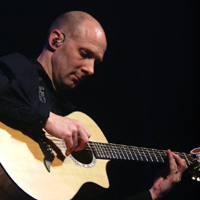 Bert: Each of us grew up in a different continent: myself in Europe, Paul in the USA and Hideyo in Japan. Combine that with the fact that we started out in Los Angeles during our first five years together and you have a lot of ingredients and qualities there. For instance: Hideyo brings in very unexpected arrangements and original pieces - after all, he's the one who got us started playing surf tunes, which was an immediate hit with the audience. He also arranged a lovely piece called Merry Christmas Mr Lawrence by Ryuichi Sakamoto, something that we probably never would of thought of because it's so unusual and rooted in traditional Japanese music. On our latest CD he's responsible for the main ideas of a tune called 'Hazardous Z', a very different style of piece on this CD, but exactly the thing it needed! Paul, the American in the group has a great sense of what sounds good right here and now. And he'll let you know if it sounds good or not, and he's usually right. He is a great directive force when we write pieces together. He's a propeller of the group.

But there seems to be something in the group that is larger than just the sum of three guys from different cultures. It's quite impossible to describe that, and it's just there that the magic happens.

Hideyo: A piece like "Rokudan" the Japanese traditional KOTO music we play is a good example of my contribution. Also, there are contributions from each other, some are obvious, some not.

Minor 7th: You're touring again after the New Year through March. Any ideas for the next record?

Paul: Yes, we'll be touring in the USA in January, February and March. In May we head to South America and later in the year we will be in Europe and Canada. We like to keep busy touring as much as possible. For the next record, we have a few ideas. We are liking the idea of focusing on certain aspects of our playing. Perhaps an all classical recording? Or a record of all surf guitar hits? We'll see.

Bert: Though we just released our new record, we're already bouncing ideas off each other : a collaboration CD with other musicians, an all improvised CD, or a classical CD. We'll go with whatever resonates most with all three of us.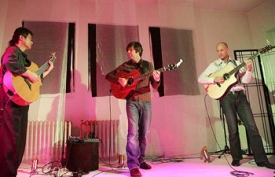 Hideyo: Since we did an "Original Album", the next one may only be a "Classical Album" or "Surf Album", or "Mixed Album" perhaps.

Minor 7th: For our gear heads, talk about your instruments

Paul: We've used many over the years. We like to experiment and try different guitars. We've been playing Breedlove guitars for the past 5 or 6 years. Several years ago we played in Oregon near the Breedlove facility, and some of their guys came to show. We went to the factory, and fell in love with the guitars and the people making them. They are great to work with. They work well amplified. We have all played guitars by Ervin Somogyi, which are wonderful instruments.

Bert: I just ordered a new custom guitar from Jason Bowerman – he used to work for Breedlove and he has opened his own shop. I like his guitars a lot.

Minor 7th: You guys tour a lot, with a lot of traveling. Does it ever wear you down?

Paul: The thing that gets tiresome is constant traveling and staying in different hotels – after 28 years it's hard sometimes. What keeps me going in the energy from the music. The last tour we went through some amazing places, it was really beautiful, so the long drives aren't so tiring.

Bert: It can be totally exhausting. We have found a good balance in getting days off, sometimes we try to stay an extra day in a nice place. We try to eat well.

Minor 7th: Talk about "Hazardous Z" – sounds like some Chick Corea in his Spanish phase.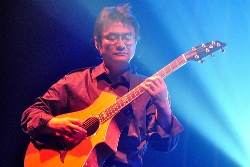 Paul: Hideyo wrote the main ideas in Japan with a guy named Yuta Saito. Initially it didn't have much of a Spanish flavor. It wasn't until Bert and I got a hold of it, and it seemed to naturally go there. One of the things that triggered it was when I was listening to Last FM and I heard a heavy flamenco tune by Tony Levin playing with Steve Stevens. I talked to Steve and learned he has really been into flamenco. So we got some other ideas, and Bert pulled out his nylon stringed and it took off.

Bert: My first ideas were distorted electric guitar, and Paul wasn't too keen on that.

Minor 7th: You have 4 tunes on the new CD title "Improv" – just how much structure is set, and how much are you guys interacting as you go?

Paul: There are some basic ideas on some of them before we start recording – like on "Improv VIII - Layered Circulation" – we had the key. We recorded a few layers, and our recording engineer thought of slowing it down to half speed (like Les Paul did). Then that gave us some other ideas as well.

Bert: Some of the other songs are rudimentary with just 3 of 4 chords, and we'd start there, and take off from there. Improv VII we just turned on the recorder.

Minor 7th: Do you do most of your writing individually and share over emails, or when you're together?

Paul: It's a combination, really. We send stuff to each other, and then work things out when we are in the studio.

Bert: The real magic happens when we are together. Most of the songs were written together while we were in the same room.

Minor 7th: Tell us about the personalities in the band. Who's the crazy one?

Paul: Me. We call Hideyo the oldest and the wisest he's the Zen master – we look to him if we have some difficult issues we need to resolve.

Bert: We have 3 totally different personalities, and with our cultural backgrounds, that makes us very diverse. Paul adds an openness to the group. Hideyo has a great sense of humor and that comes out in the music.

© 2010 Kirk Albrecht
Here's a partial discography for The California Guitar Trio:
Home | Links | Podcast | Archives | Submissions | Free CD Giveaway | Subscribe