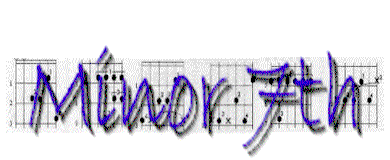 November & December Short Takes

Bill Frisell "Ghost Town", Nonesuch 79583-2, 2000 Bill Frisell doesnít record on acoustic guitar nearly enough, as youíll find out when you melt into the music of "Ghost Town". A solo project, Frisell overdubs electric guitar, banjo, bass and tape loops over acoustic guitar to create an interesting melange of his usual countrified jazz with ambient tone poems. He gently escorts you into this experimental territory by opening the CD with music that could be the soundtrack of a detached mind occupied only with watching summer clouds roll across the sky. Halfway through, however, and you are jolted by "What a World", "Outlaw", "Winter Always Turns to Spring" and "Under a Golden Sky", all often formless and meterless ambient dramas, leaving you to wonder whether Frisell rediscovered his old Eno/Hassell or Steve Tibbetts albums. Buy Ghost Town


Kent McDaniel "About Time", Kriya Records , 2000 Kent McDaniel's "About Time" has a rustic and folksy appeal because of the obvious enthusiasm of the musicians for what theyíre doing. But often the exuberance of individual soloists stumbles over each other in a chaotic hodgepodge of guitar, mandolin, harmonica or flute layered over vocals or each other. McDaniel's music feels nestled-in-at-home when he can twang away with abandon in a country or blues groove. On "Pushcart Annie" he really connects, nailing down this tune with vocals sounding like Willie Nelson crossed with Roy Orbison or John Prine. Luckily these successes are only occasionally counterbalanced by cuts like "A Sunny Day", a pseudo-jazz sounding a little too schmaltzy for my taste.


Renoir "Renoir", Design Innovations, 2000 Itís no surprise that the success of most mainstream pop acts usually rests on the shoulders of the lead vocalist. A great singer not only establishes an instant rapport with the listener, but also lifts the most garden-variety songwriting and musicianship into excellence. Renoir features such a vocalist, 20 year-old Lannea Russell. On "U 4 Me", "The Other Side" and "I Believe in You" she delivers the kind of fiery, breathless vocals typical of Tori Amos or Sarah McLachlan, which really empower a songís emotional impact. The musical foundation for this band is laid down solidly with acoustic guitars, bass and drums embellished with electric guitars and tasteful sax and organ voicings from a Roland GR 30 guitar synthesizer. The songwriting is effective and straightforward. Imparting a Christian message is of obvious import to Renoir if one closely listens to the lyrics, but these messages are subliminal and never proselytize.


LaBrash Piltch Duo "Nature's Play", LPP024, 1996 Iíll let you in on a dirty little secret of mine: sometimes I like listening to those new age CDs at Hallmark stores. Occasionally the musicianship is quite decent, like the guitar-oboe duo of Tingstad and Rumbel. The LaBrash Piltch Duo occupies a similar pigeonhole to Tingstad and Rumbel, replacing oboe by flute. Daniel LaBrash is an exceptional nylon-string guitarist, and sounds as if he may have some background both in the bossa nova and classical traditions. He also has a true talent for composing in the new age genre... guaranteed to slow your pace and slow your pulse. Surprisingly, however, one of my favorite cuts is a non-guitar piece, "Out of the Shadows" which Piltch hauntingly constructs with only layered flutes. The thing that hurts this CD is itís nonimprovisational framework, most notes seem scripted. Iíd love to hear more pieces like "The Only Way", where LaBrash takes his guitar soloing into more spontaneous and passionate territory.

Home |Links | Archives | Submissions | Free CD Giveaway | Subscribe