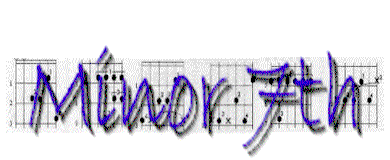 Reviewing the best in non-mainstream acoustic guitar music
May/June, 2005

Biréli Lagrène and the Gipsy Project, "Move", Dreyfus Jazz FDM 36668-2, 2005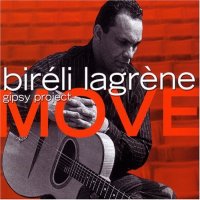 Biréli Lagrène's "Move" is hotter 'n a match head. The opening track, written by bassist Diego Imbert, spontaneously combusts such that you'd best stand away from your speakers if you don't want to get singed. Lagrène has built a formidable reputation as heir-apparent to Django Reinhardt and the gypsy jazz he pioneered in Paris so many years ago. But there is much more than a mere flicker of Django's shining legacy in Lagrène's playing... there's a raging inferno. Five of 14 tracks on "Move" are Django tunes, including one of the most languid and famous, "Nuages," but also highlighting the furious rhythm of the gypsy pompe on "Hungaria." It's on similar fiercely propulsive tunes such as "Cherokee" and "Move" that Lagrène's fingers are set loose to fly, and on which you know you are hearing a guitarist with complete and unchallenged mastery over his instrument. The addition of Franck Wolf on soprano, tenor and baritone saxophones grants the Gipsy Project passage out of the 1930s and into the modern era of jazz, especially on post-bop numbers "Place du Tertre" and "Mimosa." Less than conspicuously absent are drums, a quick reference to the liner notes required to confirm to oneself this absence, and a nod to this rhythm section which cooks quite nicely sans percussion.
© Alan Fark
Buy it at Amazon.com
Listen to "Je Ne Sais Quoi" (mp3)

Kelly Joe Phelps, "Tap the Red Cane Whirlwind", Rykodisc RCD 10801, 2005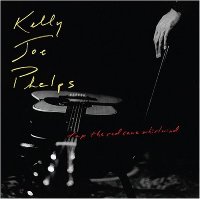 With a burned ash of a voice and blue lightning in his fingers, Kelly Joe Phelps evokes the spirit of a thousand souls as he works songs like a divining wand on his 2005 release, "Tap the Red Cane Whirlwind." Phelps doesn't just create a musical mood, he fashions a world and then gently tugs the listener into his created realm. The bluesy guitarist -- who started out long ago in jazz (somewhat difficult to imagine, until those gossamer guitar runs begin to register) -- starts off his nine-track CD with a phenomenal version of Skip James' "Hard Time Killin' Floor Blues." Weighing in at nearly 10 minutes, this track rolls and evolves until it fills the room like mist from a steamy Southern bog. This track, like the other eight tracks on this collection, was recorded live in concert, solo -- spare in arrangements but full-fledged in atmosphere. His seven original song-stories, including standouts "Not Far to Go" and "Jericho," create a sense of our singularity in the world, our aloneness, but without any flinching. Phelps, perhaps because of the concert setting format, lets his songs play fully out, unfurling like many-textured tapesties. None is shorter than six minutes, so it's clear he's not after the three-minute hit market. Lyrically, he's nothing short of amazing. This is from "Gold Tooth": "The day is turning dark outside / all aspiration face down in the street / a pro in the alley with a red moon sky / the last drag of patience on a celibate cigar." It's poetry without the capital "P". Economy of word and phrase with the power of unfiltered vision. He also turns in a nice cover of The Rev. Gary Davis' "I am the Light of the World" (the most upbeat of the offerings here) and makes it sound like his own. Curiously, Phelps' voice conveys the song themes pretty well; the lyrics serve simply as a bonus. His slices-of-life verses provide character insight without being self-confessional, and just enough detail to be recognizable without being self-focused. His observations are such that they open up our world rather than reduce it. Phelps definitely has it going on.
© Fred Kraus

Kelly Joe Phelps' Website Buy it at Amazon.com
Listen to a medley from "Tap the Red Cane Whirlwind"

Martin Simpson, "Kind Letters", Topic Records TSCD 553, 2005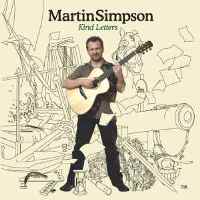 One of the great contributions of the guitar over the past two decades has been its role in the renaissance of traditional music. The Celtic Wave has been led by such six-string wizards as Robin Bullock, Steve Baughman, Al Petteway, John Renbourn, and Martin Simpson. On his latest CD, "Kind Letters," Simpson again showcases why he is among the leading interpreters of melodies which find their provenance among the British Isles. While some of his earlier efforts ("Leaves of Life", "When I Was On Horseback") employed only the voice of the guitar in these songs, Martin returned to the guitar accompanying voice in 2001's "The Bramble Briar," and now follows up that award-winning disc with another stellar offering. There is a kind of built-in paradox in much British traditional music: hauntingly beautiful melodies layered among lyrics which tell of unfaithfulness, slaving, murder, lost love, and tragedy on the high seas. This collection represents all of those iconic ironies woven seamlessly by Martin's brilliant guitar work, solid vocals, and a fine ensemble cast of musicians on traditional instruments like fiddle, accordion, bouzouki, and whistle. Frailing techniques -- learned from Martin's long love of the banjo -- adorn such tunes as the opening cut "The Cruel Brother," while the 5-string itself undergirds "House Carpenter." The amorous "Here's Adieu Sweet Lovely Nancy" rings with wondrous triplets ornamenting the melancholy story of true love (the CD title comes from a phrase in this song). Though it is relegated to mostly a supporting role, Martin's playing has never been better or cleaner, as evidenced by these 12 tracks. On the last cut, "Clerk Sanders," we are treated to an extended introduction which brings out the full power of his playing -- tone, feel, and mastery of the fretboard. For anyone interested in a collection of traditional tunes, this is as good as it gets.
© Kirk Albrecht

Martin Simpson's Website Buy it here
Listen to "Adieu Adieu" (mp3)

Mike Dowling, "Blue Fandango", Wind River WRG-05, 2005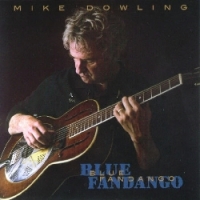 The Delta bluesmen of yesteryear personified in their songs a range of human sentiment that rings just as true today as it did 50 years ago. We are very lucky now to have present-day interpreters of that music like Mike Dowling who have refined acoustic and barrelhouse blues with precision fingerpicking, and rendered them crisp-as-live with the technology of digital recording. Although Dowling asserts in the liner notes that he's on a mission to deemphasize flashy speed and that there are "few flights of six string daring-do" here, he's of course both wrong and humble. The picking on "I Hope Gabriel Likes My Music" is incredible, inserting impossibly syncopated arpeggios side-by-side with the predictable blues framework of rock-solid alternating bass. Dowling ain't no slouch with bottleneck as he shows on his original "Street Corner Rag," where he literally reaches for some new slide sounds by fretting behind the bottle for 7th chords -- very novel for a bottleneck song. Resisting the irrefutable pigeonhole of blues guitarist, Dowling turns his 1933 National El Trovador and slide toward the simple beauty of Brasilian balladry on "Carinhoso," inspired by a rare recording of Django colleague Oscar Aleman. Dowling's music isn't the only thing which is accessible, so is he... for guitar instruction. Check out information about his guitar camp in Wyoming's beautiful Teton Mountains at this link.
© Alan Fark
Buy it at Amazon.com
Listen to "I Hope Gabriel Likes My Music" (mp3)

Aliéksey Vianna, "Plays Sérgio Assad", GSP Recordings 1027CD, 2005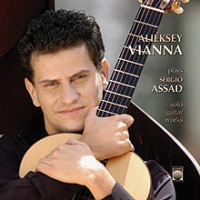 This disc has three elements that make it a truly outstanding guitar recording: a brilliant idea, superb playing, and professional caliber production. I must applaud Aliéksey Vianna on seeing the need and potential for creating the first disc containing a complete account of Sergio Assad's published solo guitar works, thus making this CD essential to any guitar aficionado's reference collection. I believe only one unpublished composition is not included on the recording -- a work entitled "Children's Cradle" which was previously recorded by Ricardo Cobo. Vianna deserves further praise, as he was also able to recognize that Assad's works, unlike those of many other composers, are unique in that as a whole they amount to a remarkably diverse collection of compositions. Although Assad has written comparatively few solo guitar works, they each display depth of thought and complete mastery of the instrument and its capabilities. None of this would have mattered much, however, if it were not for Vianna's impeccable guitar playing which is delivered with the rare balance of poise, grace, and raw emotion. Vianna has conceived a recording that not only compiles for guitarists a much-needed collection of Assad's highly distinct works but also offers striking music accessible to all guitar music listeners. My highest recommendation.
© Timothy Smith
Buy it at Amazon.com
Listen to "Prelúdio and Toccatina" (mp3)

Jack Johnson, "In Between Dreams", Brush Fire Records, 2005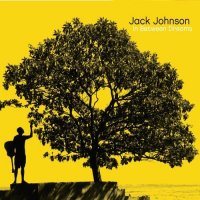 Acoustic guitar beats at the heart of "In Between Dreams." All but three of the cuts on Jack Johnson's third release begin with uncomplicated six-string, in styles varying from rock ("Good People") to bossa-nova ("Belle") to folk ("Do You Remember"). The entire CD is refreshingly uncomplicated: sweet, romantic, and melodic, yet groove oriented. This creates a sound people are hungry for. More than a half million copies sold this month. "Never Know," probably my favorite song, starts simply: four bars of shaker with guitar arpeggios on the one. (Those same four guitar chords will repeat in the same order virtually throughout the whole song, verse and chorus.) Four bars of a simple drum rhythm and the groove kicks in, heavy on the two and the four. The lyrical theme is simple too... and too true. Johnson sends out what could be a message heavy tune with a light melodic touch and many a dexterous turn of phrase. "We're clever, but we're clueless, we're just human," he tells us. Throughout the CD, Johnson makes sure his words serve the swing by using short lines, alliteration, and internal rhyme. All this in a hushed tenor delivery that owes more to hip-hop than to folk, rock, or pop. There's also a respectful nod to Hawaiian music in the vocals as well in the lyrics of "Constellations" and the uke in "Breakdown." The sound of rain and a nice figure on the bass strings set the mood in "Banana Pancakes." Johnson's full stop strum gets the groove going in "Sitting, Wishing, and Waiting." The whole CD is about getting a groove going, not for nightclubbing, but for setting your feet to tapping in the sand at the beach. Johnson's music and his message are as gentle as the gentlest waves lapping at your beach chair, the kind that wake you up between dreams.
© David Kleiner

Jack Johnson's Website Buy it at Amazon.com
Listen to "Better Together" (mp3)

Amos Lee, "Amos Lee", Blue Note 7243 5 97350, 2005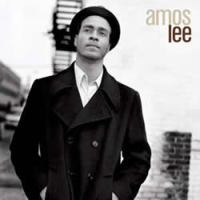 If I sat down with Amos Lee, I'd chat with him about the art of the soulful groove. "Amos Lee" works on the strength of Lee's soul-dripping delivery and his exploration of the varieties of the soul experience in these all original tunes. "Arms of a Woman," is the standout , both a homage to the late 60's ballads of Muscle Shoals and Stax and an instant classic. An impassioned love song in the mode of "When a Man Loves a Woman," it opens with arpeggios right out of Otis Redding's "I've Been Loving You Too Long," here played on acoustic guitar. The track features touches of harmony from electric guitar and Wurlitzer, sparse bass, and a light touch with the brushes on drums. But, as in many of the songs, it's Lee's so, so smooth and oh, so soulful tenor that carries the day. "Keep It Loose, Keep It Tight" could describe Lee's approach to his art. "Dreamin'" shows that Mr. Lee can handle the blues. Listen to his falsetto on "it's the love." "Seen It All Before" ought to be covered immediately by a neo-soul group. Check out the repeat of "I ain't gonna be your fool baby." Kevin Breit's fingerpicking on the resonator guitar propels "Bottom of the Barrel," a rag Dave Van Ronk could have sung. "Love in the Lies," one of the CD's few uptempo tracks, explores the country side of soul. The pleasures of this album are many, though subtle. That was Lee's way before he became a labelmate of Norah Jones, who guests on two cuts. I hope Amos and Norah got a chance to sit down and chat about soul. Though each approaches soul differently, they both make it seem so easy to keep it loose and tight.
© David Kleiner

Amos Lee's Website Buy it at Amazon.com
Listen to "Arms of a Woman," "Keep it Loose Keep it Tight," "Colors"

Doug MacLeod, "Dubb", Black & Tan Records 022, 2005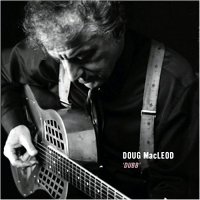 If you love the sound of down-home, straight ahead acoustic country blues, I strongly suggest giving "Dubb", the latest release by Doug MacLeod, your undivided attention. A master of National Reso-Phonic steel guitar, MacLeod travels through a variety of acoustic styles in storyteller fashion, touching upon a wealth of emotion which truly defines this treasured genre. The album's title "Dubb", is from the nickname given MacLeod by friend and bluesmaster George "Harmonica" Smith, unsure whether he couldn't or wouldn't pronounce Doug properly. This latest effort contains 12 tracks of original material by this veteran blues guitarist, addressing issues of personal and social relevance, highlighting both the humorous as well as the heartache. MacLeod's skillful solo work is a thing of beauty. This virtuoso articulates a deep, rich texture you can actually feel, and it resonates throughout the album. He vocally accentuates the mood and feeling behind each cut, gruff one moment and tender the next, his performance is soulful and deeply heartfelt. MacLeod's knowledge and experience both as a singer/songwriter and master blues guitarist is what gives this album such genuine authenticity. "Dubb" is an incredible recording, representing the styles and sounds of the masters themselves, from the basic 12 bar blues format, to the upbeat, jug band style of the opening track, "(If You Going To The) Dog House", MacLeod explores them all. "Walkin' While I Bleed" is a traditional acoustic blues tune about the heartache of lost love, followed by, "She Boogy'n" an infectious boogey woogie, barrelhouse style tune, with Carl "Sonny" Leyland driving it home as he tickles the ivories on some spirited solo work. MacLeod changes gears on "The Sun Shine Down My Way," a slow acoustic country blues ballad, full of emotion and moving slide work. "Dubb's Talkin' Politician Blues" is a faster country blues track sounding a bit playful until you check the lyrics, MacLeod is sending a specific message. "Miss Rita" is heavily steeped in the style of Delta blues. The remaining tracks continue on this journey through acoustic country blues, each one a reflection of the human experience. "Dubb," the latest release by MacLeod, is an outstanding collection of acoustic blues originals, destined to reach deep inside and stir the soul, an album you'll listen to again and again. His bare bones back-to-basics style enhances the pain and pleasure within the lyrics of each track. "Dubb" is a solid showcase of Macleod's artistic talents both as a singer/songwriter and for his masterful slide technique as a blues guitarist. Whether you're a blues enthusiast or someone who just enjoys the sound of acoustic blues, this is one album that won't disappoint.
© Pamela Dow

Doug MacLeod's Website Buy it at Amazon.com
Listen to $50 Wig (mp3)

Don Nadel, "Brooklyn Prayer", 2005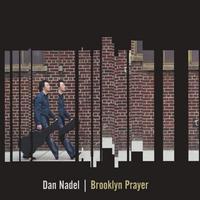 Israeli born guitarist Don Nadel's ambitious acoustic endeavor, "Brooklyn Prayer," investigates the distinctive cultural elements of New York City's most ethnically diverse borough. Classically trained Nadel, who also holds a BFA in Jazz Studies from Manhattan's New School, has worked with such musical visionaries as Chico Freeman and David Liebman. Throughout this debut recording the guitarist eloquently weaves Spanish, Brazilian, and American Folk styles with his traditional Middle Eastern roots. Although Nadel has both sound compositional skills and formidable improvisational talents, he avoids self indulgent "fret board gymnastics" in lieu of emotion and feeling. One hears distinct echoes of the late great Brazilian guitarist Baden Powell in the guitarist's playing. A stellar cast of musicians supports Nadel on this extraordinary project. Famed bassist Lonnie Plaxico provides exceptional upright accompaniment and soloing throughout. Michal Cohen offers haunting and ethereal wordless vocals on the opening "Warm Shades of Beauty" and eloquently graces Nadel's lyrics on "Summer Days," with a very infectious modern approach. Percussionist Gilad adds spirited rhythms and especially shines on the playful "Desert Surfer." Dan Nadel's "Brooklyn Prayer" is a very formidable and passionate debut recording which should help the artist reach a wider audience beyond his local New York scene.
© James Scott

Don Nadel's Website Buy it at Don Nadel's Website
Listen to Warm Shades of Beauty (mp3)

Jamie Anderson, "A Promise of Light", Tsunami Recordings TS-1031, 2005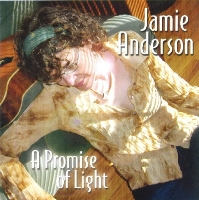 In his recent autobiography, Chronicles Part I, Bob Dylan recalls the heady days of the early '60s Greenwich Village folk scene wherein he shared the stage with array of authors, poets, artists and assorted characters. In order to survive in front of a hipster audience a singer had to be part prophet-comedian-philosopher-interpreter-historian-sex symbol-hustler- Tin-Pan Alley/Brill Building tunesmith and then some. Singer-songwriter and alleged chocolate-loving parking lot attendant (that's according to her press-kit, the truth is shrouded in mystery -- as it should be) Jamie Anderson, not Joan Baez, would have been a star (and possibly Dylan's lover) back then as "A Promise of Light" plays like a timeless book of intriguing short stories. You have to love an artist who has the moxie (in modern times that is) to bookend a hysterical cold-footed hillbilly bride ranting "Your Mama Scares Me" with the deeply spiritual "Ann Lee," a fictional tale recounting the Shaker religion founder who beckons the narrator from beyond the grave. Anderson's arrangements are steeped in the traditional folk idiom with light percussion, keyboards, and bass providing a simple yet sturdy foundation for the lyrics and melodies. Anderson, along with co- guitarist Kara Barnard, who doubles on banjo and mandolin, are expressive players, incorporating simple blues, bluegrass, and rock licks with intricate finger patterns which afford the songs an intense immediacy and depth of character (check out Bernard's pull-ons and string plucking ala Mark Knopfler in "Your Night Just Got More Interesting" and the wicked girls-gone-wild instrumental "Emily" with Real World String Band fiddle whiz Karen Jones). Anderson's angelic vocal style assumes a myriad of personas: the smoky lounge singer ("Gone"), the broken-hearted girl next door ("A Little Chocolate"), the troubled caretaker ("Beautiful"), the dreamy optimist ("Faith"), the cynic ("Grace"), and the eternal wise-ass ("Felon"). In light of current world events, "Polly Vaughn," a traditional folk tune from the British Isles, rings contemporary especially when Anderson icily dictates "come all you young gentlemen who carry a gun... how do you come home by the light of the sun?" "A Promise of Light" pulls all the right strings at all the right times.
© Tom Semioli

Jamie Anderson's Website Buy it at CD Baby
Listen to "Faith" (mp3)

Todd Carey, "Revolving World", Kufala Recordings 0105, 2004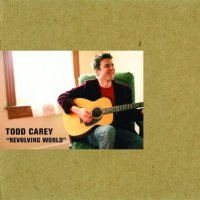 This kid is funky. At 24, he shows the influence of a lot of quality stage time. His writing is eclectic-blues, reggae, pure pop, you name it. He doesn't have a commanding voice -- he sings as part of the ensemble, not over it. Some may want a stronger vocal performance, or maybe a more vocal mix. Or maybe we're just used to studio-hyped vocals. Check it out. You be the judge. "Daydream" opens the CD with a funky groove that bristles with live energy behind a crack band in this syncopated uptempo shuffle. Then, in "Sing Me Home," he moves from delicate acoustic guitar to simmering stew, recalling a young Willie Porter. You feel this also in the inventive "Fireworks," with its Zappa-esque horn section. It really is good. The standout track is "Photograph," which features a guitar performance of Les Paul-style jazz played on a throaty Strat. It's a Hendrix-inspired ballad with a lovely melody. Just beautiful. "Crazy Fools" is layered pop over a Joe Jackson-style build-up of interlocking riffs. Other notable songs include the reggae "Honest," and "Simple," with its vocal hints of Canadian Greg Hoskins. He closes with a belt-it-out big band blues number that showcases still more guitar chops. The song features Elyse Branch on vocals. She tears it up and seems to kick Carey's vocal up a notch or two as well. What can I say, he's... eclectic. And he's funky. © Steve Klingaman

Todd Carey's Website Buy it at Amazon.com
Listen to "Photograph" (mp3)

Julie Loyd, "The Waiting Room", Siren Records SR-03, 2004

She's like the best of Lisa Loeb - tasteful crunchy rock with an acoustic guitar center plus vulnerable but strong vocals. Don't expect soulful finger picking on every piece, though -- some cuts feature a more aggressive guitar style like Ani Difranco. Angry and personal, most of the songs stand as vignettes about a past relationship. I'm not always sure exactly what's going on but I know she's pissed. "The More I Meant To" is more vivid than most, using a bar scene where, "I got you a pint but by the end of the night / it looked like I'd lost another round." Standout cut is "The Waiting Room," a powerful feminist piece -- "We are 10 million women waiting for someone to ask us to dance." If you've been through a recent break-up, crank this album up to window-rattling decibels, sing along and know that next time, you won't wait for someone to ask you to dance. © Jamie Anderson

Julie Loyd's Website Buy it at CD Baby

Chris Cortez, "Mum is the Word", Blue Bamboo Music BBM007, 2004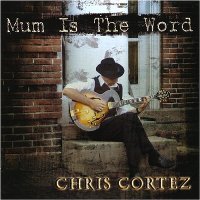 Smooth as a big-finned Cadillac Eldorado rolling down the highway, jazz guitarist extraordinaire Chris Cortez breezes through a dozen tunes designed to bring a smile on his 2005 release "Mum Is The Word." What's not to like about a collection of jazzy versions of seven classic tunes and five clever tongue-in-cheek originals? As Cortez slides easily from blues to gumbo to Brazilian to standards to a whirlwind workout or two, he never strays from the smooth jazz genre that he inhabits as comfortably as the black fedora he favors. Highlights here most certainly are Cortez's five originals, featuring his humorous lyrical observations on life, filtered through his pleasant vocals.The CD opener, "My Way is Better," ensues with a frantic jazzy guitar run before he launches into his philosophic take regarding opinions. Similarly, his "Rhythm Method Blues" make light of the plight of large families. Cortez, who now performs regularly with his jazz band and teaches jazz guitar studies at the University of Southern Mississippi, signed his first recording contract at age 15. He's certainly learned how to entertain after all manner of concerts over the years. He may go a bit heavy on the standards on this collection, but manages to bring fresh energy to arrangements of "Everyday I Have the Blues," "Sweet George Brown," "Lazy River" and "Avalon." His bandmates include saxophonist Larry Panella, pianist Sam Bruton, drummer Jeff Mills and percussionist John Wooten, all of whom teach with Cortez at the University of Southern Mississippi. The guys sound as if they are having fun on this CD, and probably are, with these peppy versions. Still, they occasionally do venture too far into the realm of "jazz lite" with a few of the all-instrumental tracks. Cortez has explained his recording for this CD like this: "I first laid down the rhythm guitar tracks on acoustic and that really propels the tempo. Then I overdubbed the lead parts on the same guitar which is a jumbo-shaped steel-string Rosewood-body Lowden, handmade in Ireland. It has a big sound with bite to it when I smack it hard." If you're in the mood for some agreeable froth, "Mum Is the Word" could be just the ticket. © Fred Kraus

Chris Cortez's Website Buy it at Amazon.com
Listen to "My Way is Better" (mp3)

Ian Tyson, "Songs from the Gravel Road", Vanguard Records 79787-2, 2005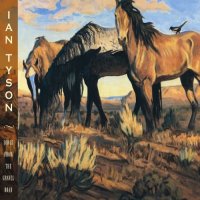 In his first album of originals since 1999, Ian Tyson continues to mine the tradition of cowboy songs. There, he strikes lovely gold while also taking the genre far afield. Tyson presents stories of land, work, and unabashed romanticism. But the single serious tom strike that opens the first cut, "This is My Sky," warns you this will not always be your father's Ian Tyson album. A ringing electric guitar runs up and back four notes of a minor scale then down to a hammer on. It interplays with another electric in a twin guitar style you'll hear again. Tyson's rough-voiced performance in the verses owes an equal debt to contemporary spoken word and traditional folk talking blues. It's the story of "a 1950's guy" who calls himself "the king of the mood swing." He's crossing the border into Canada, leaving "sweet America"--now derailed by what "lies and money can do." But, he muses, "Who the hell am I to talk on my way back to you?" Pretty introspective stuff for a cowpoke. Lovely chorus, too. "The Amber Saddle," told from the point of view of a saddle, is as cowboy as it gets. But then Tyson gives us the sad and beautiful "Love Without End," with chords and a muted trumpet you won't hear around the chuckwagon. The traditional "One Morning in May" with fiddle, mandolin, and guitar is pure folk, very pretty. The CD ends with the rocker "Always Saying Goodbye." Driven by piano and electric guitar, with nylon and electric strings trading off on the break, it features a moving and tuneful chorus with fine harmonies. Two bonus tracks follow, live cuts sonically unrelated to the rest of the album. It's thrilling to hear Tyson, half of the iconic 60's folk duo "Ian and Sylvia," on his old label, still sounding great and offering timeless music. © David Kleiner

Ian Tyson's Website Buy it at Amazon.com
Listen to "Always Saying Goodbye" (mp3)

Home | Links | Archives | Submissions | Free CD Giveaway | Subscribe
Buy Instructional and Biographical DVDs and Books at


(Click on image below to buy)
| | | | |
| --- | --- | --- | --- |
| "Django: The Life and Music of a Gypsy Legend" | "DVD: Biréli Lagrène & Friends Gipsy Projec " | "DVD: The Slide Guitar of Kelly Joe Phelps" | "Mike Dowling DVD: Swing Guitar - Improvising Hot Lead Solos " |
| | | | |
| --- | --- | --- | --- |
| "Mike Dowling DVD: Uptown Blues" | "VHS: Martin Simpson teaches Acoustic Guitar Instrumentals" | "DVD: Frank Vignola's Gypsy Jazz Jam" | Book/CD/DVD Set: "Introduction to Gypsy Jazz Guitar, by John Jorgenson" |