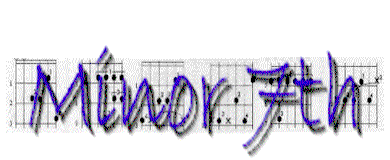 Reviewing the best in guitar CDs, from jazz to folk to rock to new age, emphasizing acoustic and independent or obscure releases
November/December, 2000
Preston Reed: "Handwritten Notes", Outer Bridge Records OB1001, 2000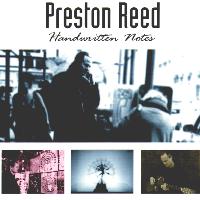 Gone are the days when the solo guitar stylings of Preston Reed can be merely measured against those of the now-legendary Michael Hedges. On "Handwritten Notes" Preston Reed skillfully intertwines his trademark raucous slam-bang percussives with reflective and melodious ballads in a way which will heretofore define him as a living guitar legend in his own right. Reed eases into the quieter musical introspections on this CD with the pianistic grace and voicings typical of Bill Evans: "First Summer Without You" has the halting and leisurely beauty of "Waltz for Debby". "Crossing Open Water" and "What You Donít See" likewise allow us to glimpse Reedís innate gift for compostion, a gift whereby the listenerís focus zooms to the music rather than the technique. Reed blurs and melds genres on "Lost Time", morphing what seems to open as a slow delta blues into a jazz ballad which cries with a voice like Billie Holliday where you initially swore you may have heard Ma Rainey. Donít fret, tapping and slapping also abound for those Groovemaster fans who take their music percussive, energizing and explosive. "Tractor Pull" and "Shinkansen" are positively hypnotic, exuding a pulsatile energy both primeval and visceral. In the liner notes, Reed says "We may not understand the mysterious power music holds, but we know it brings us together and gives us pleasure and sometimes even a miraculous recognition of our shared humanity". If I may take that statement one step further, I would say that certain guitarists of true accomplishment seem to be more visible stewards of that "miraculous power"... Preston Reed is on that short list.

Preston Reed's Website Buy it at Amazon.com

Iain Matthews, "A Tiniest Wham", Tangible Music 56817-2, 2000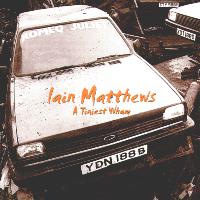 Iain Matthews opens up his new all-acoustic CD "A Tiniest Wham" with a tune resolutely entitled "Iím Alive". Like Jackson Browneís title cut of the same name, "Iím Alive" is a triumphant declaration of freedom and renewal, both musically and lyrically. Singing "Let me tell you something, I didnít come this far to let go now", he perhaps recapitulates the arc of his career to date. Matthews was a founding member of Fairport Convention in 1967, later saw success with his own band Matthews Southern Comfort and more recently has been a member of the folk group Plainsong. But it wasnít always smooth sailing. He took a hiatus from professional music-making in the 1980s to work as an A&R rep for Island Records and Windham Hill. With the recent release of "The Tiniest Wham" Matthews now proves that heís not about to let go of his passion for writing and performing music after 34 years. He effectively mixes and matches elements of folk, rock, country, bluegrass and swing into his own catchy style which might be compared to Hugh Blumenfeld. The cuts "Iím Alive", "Swinging from the Yardarm" and "The Great Afterthought" feature the kind of contagious Eagles-like harmony vocals that just beg you to sing along when nobodyís looking. "Funk and Fire" and "Sister" are finger-poppiní jazz swing in the tradition of Dan Hicks and his Hot Licks. "The Onliest" is mainstream-as-can-be bluegrass, a composite of ringing and vertiginous mandolin and acoustic guitar runs over cascading but subtle background vocals. "Sicknote" is folk-rock at itís most elemental, reminiscent of Neil Youngís early solo work. Iain Matthews is on course with this new release, ever moving towards imbuing every word and note with life.

Buy it at Amazon.com
Doyle Dykes, "Zelf", Howling Wood Records, 2000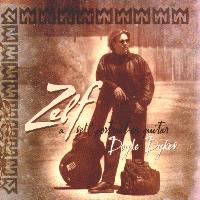 A lifelong friend of mine shares a Christmas tradition with me of exchanging tapes of music we like and admire. The tape he sent me in 1997 included the tune "Celtic Cowboy" by Doyle Dykes and was my first epiphanous introduction to this guitar wizard who seemed to control his instrument as though it was a banjo crossed with a pedal steel guitar. "Zelf", Dykesí newest solo recording opens with a similar sentiment on "Howling of the Wood", chock-full of blisteringly quick Chet Atkins-like fingerpicking and Dykesí trademark stretches of the B string at the headstock, abruptly and nimbly winching notes from lax to taut and back without a blink. "Birmingham Steele" even more spectacularly showcases these techniques... if a listen to this doesnít cause you to sweat, swoon or otherwise feel funny, then youíre obviously either not alive or else suffering from a severe impaction of ear wax. The other 12 tracks depart from this formula, and itís quickly apparent that "Zelf" is a self-portrait of a very multifaceted guitarist whose artistry glints and shines in kaleidoscopic brilliance depending on the angle from which Dykes chooses to portray himself. "Self Portrait on Acoustic Guitar", "Misty Nights in Tokyo", "The Changing of the Guard" and "Music of the Night Ships" are pretty and introspective ballads. "Self Portrait on Nylon-string Guitar" and "Self Portrait on Jazz Guitar" validate Dykesí versatility in the classical/flamenco and jazz styles, respectively. Dykes gives us a glimpse of his devotional side on two hymns. His rendition of Phil Collinsí "Thatís All" is just plain fun, which I find heartening: one often wonders whether many professional guitarists begin to lose the pure joy of playing as they advance in their careers, but on "Thatís All" it sounds to me like Dykes is having more fun than a couple of kids playing in the mud. Thereís only one note of caution directed to guitar purists... four tracks are "contaminated" by orchestral strings, somewhat paradoxically to Dykesí "Opry" persona. But the real paradox of Doyle Dykes is that while his riffs donít even sound humanly possible, they resonate with a true human spirit.

Buy it here
Noah Zacharin, "aLIVE!", MAPL SW-501, 2000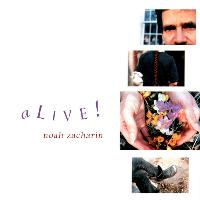 Itís a rare pleasure to hear a recording by an independent artist who is simultaneously gifted at guitar, poetic songwriting and singing who hasnít already been snatched away by a label to be reproduced to their specifications. If nothing else, thereís no more rock-solid proof that his or her artistic intentions are brutally honest and from the heart. On "aLIVE!", Noah Zacharin, by himself and with acoustic guitar in hand at a live performance at a Toronto club, proves just that. Zacharin has a remarkable gift for juxtaposing words in his songs which move and soothe by their sound and meaning, so itís not surprising to learn that a literary history as a poet precedes the troubadour. Combine that with a very engaging and bluesy fingerstyle ability on guitar, and youíll see why Zacharin deserves to be mentioned in the same breath with names such as James Taylor and David Wilcox, whom he resembles stylistically. Although Zacharinís voice might be his one arguable Achilleís Heel, it can modulate chameleon-like from sounding like Alan Wilson on Canned Heatís "On the Road Again" to the rich quality of Michael Martin Murphey on the sad "Did Not Reach". Zacharin says of the melancholy tone of his songs: "The songs might seem sad, but I donít feel sad when Iím playing. I feel like the ability to make something out of it, to make some order from this chaos, is positive". If making order of chaos is truly the essence of the purpose of music and people, Zacharin is one musician and person who is fulfilling his purpose.

Buy it at his website
Richard Leo Johnson, "Language", Blue Note 7243 5 24329 2 9V, 2000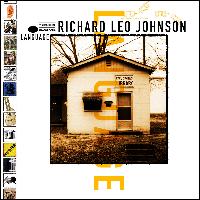 Talk about strange bedfellows. Only someone like Richard Leo Johnson with a reputation for musical experimentation could bring together representatives from such diametrically opposed groups as The Allman Brothers Band and Paul Winter Consort to collaborate. On "Language", Johnson forsakes the solo guitar format to be joined by Paul McCandless on woodwinds, Glenn Moore on double bass, Warren Haynes on acoustic slide guitar, Andy Reinhart on accordion, Matt Wilson on drums and Cyro Baptista on percussion. But "collaboration" is a somewhat loose term when applied to this project, and again highlights Johnsonís penchant for risk and experimentation. All 13 tracks were recorded as solo guitar pieces, the tracks then delivered to the other individual musicians around the country to add their parts, those musicians each never hearing more than the sole guitar track. One might imagine that the synergy of musical interplay would be restrained with such a detached songcrafting technique, but it works so remarkably well that on a blind first listen to this CD I never suspected that everyone wasnít recording in the same room in realtime. The fact that it does work is testament both to Johnsonís rhythmic sense and the high caliber of musicianship of the soloists. "1-5-00" is a beautiful musical conversation between guitar and saxophone, spontaneous in itís improvisations as though McCandless and Johnson were face-to-face. Although I would never in my wildest dreams have imagined it as a percussive instrument, Reinhart intuitively matches Johnsonís slaps and clicks with the gasping exhalations and inhalations of his accordion on the rollicking "Chuck Soup". Irving Berlin and Rodgers and Hammerstein might either be puzzled, angry or delighted over Johnsonís quirky renditions of showtunes "Cheek to Cheek" and "Happy Talk", but surely they would have to admire the creativity involved in crunching these melodies to adapt to Johnsonís crepitant style. Richard Leo Johnson has again re-defined what it means to be a guitar innovator.

Buy it at Amazon.com


Buy Preston Reed Videos at


Home |Links | Archives | Submissions | Free CD Giveaway | Subscribe