Richard Smith and Julie Adams at the Miami Valley Community Concerts Association in West Carrolton, Ohio, March 1, 2004
by Fred Kraus
Part entertainer, part teacher and total guitar genius, Richard Smith transforms the art of song into a joyous occasion.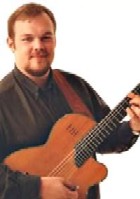 While he must be seen to be fully appreciated, Smith's stage presence initially offers few clues of what magic is about to transpire. Rather roundish, pleasantly plain and unassuming, he took the stage last month before a packed house at West Carrollton (Ohio) High School with little fanfare -- preceded by an announcement that an overcoat and pair of glasses had been found. Smith, with guitar in hand, led the way to two chairs at center stage, one for him and one for his wife, Julie Adams, an accomplished cellist. Smith hunched over, tapped his left foot, and rocked back and forth as they began their set.
What followed was two hours of pure delight as this one-time child prodigy celebrated the legacy of his first, longtime and continued hero, Chet Atkins.
"Oh, we love it all", Smith said after their two-hour performance, unable to pick a preferred genre from the country, bluegrass, mainstream jazz, pop, rock and classical selections they had just presented. "We just try to put together what we think will make a good set", he said.

"Most of my arrangements are Chet's", he said, acknowledging that he has almost always learned his tunes entirely by ear. "Sometimes after playing a song for some time, it evolves into my own playing style. Then I'll begin to wonder: 'Have I gone too far?' and I'll play a Chet record or a Django record to listen to their original arrangements. Sometimes you can go a little too far and have to reel it in a bit".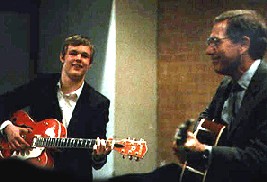 Smith performs fingerstyle, occasionally using his thumb fingerpick to emulate a flatpick style. His enjoyment of the music is as apparent as it is sincere. "This is my favorite guitar instrumental", he says before launching into his Jerry Reed medley a few songs into the evening. It features a blues-based tune, a driving headfirst ramble, then an all-out Jerry Reed breakdown. Smith taps his foot, then shakes his leg, evoking the laughter of Adams. The couple has become increasingly animated as the show progresses, though they remain seated. Following the musical workout, Smith towels off his hands, head and hair, as well as the neck of his guitar. There is no doubt that he rightfully earned the title of National Fingerstyle Guitar Champion in 2001. He's a wizard.

The couple follow that spirited Jerry Reed rendition with a wonderful arrangement of one of the most recorded songs in history, Hoagy Carmichael's "Stardust". Smith and Adams trade off on the melody line as Smith strums a jazzy improvisation. "You can't go wrong with that one", Smith notes at the tune's conclusion.

Most of the tunes are uptempo, "Tiger Rag", "Hungarian Dance No. 5", "Blue Angel", "Back Two Part Invention", all featuring Smith, so sure-handed and deft on his nylon-stringed Kirk Sand semi-hollow acoustic. Adams' sound painting technique is featured on "The Great Blue Heron", a piece that Adams created with guitarist Muriel Anderson on a recent album. Smith, who comes off as an incurable jokester, kept the mood light before the serious piece by urging the audience members that it was time to "get to a hypnotic state" for this "mood piece". He seems concerned the crowd may not take to the thoughtful work, but the setup provides the proper orientation, and everyone stays happy.

Later, during the military rouser "Semper Fi", Smith stands and marches, rotating completely around, doing the drum rhythm part with his hips, just as comfortable in this silliness as he can be. Then Adams gets another workout with "St. Anne's Reel", her fingers flying up and down her beautiful cello's neck.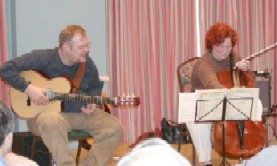 The couple seem so well matched, both musically and personally, although it is Smith who enjoys the biggest laughs, often at the good natured Adams' expense. Of course, he's the one with the microphone. "Oh, sometimes it's hard to play the straight man -- I mean, straight woman", Adams says during the intermission, flashing an easy smile and shaking her tousled red hair. "We met at a Chet Atkins Society Musicians Convention", they explain in unison, looking at each other.

They were married in 1999 and now live outside of Nashville. The two use their performance intermission and post performance time to meet with longtime fans and the newly converted, of which there seem to be many. Sales of CDs of their work are brisk as patrons check the song titles to see which of their favorites are included on which disc.

Some of their available works include Smith's CD with Jim Nichols titled "Live from Boulevard Music". Adams and Smith also have one CD together, the appropriately named "Living Out a Dream". This album features original compositions by Smith and Adams as well as guitarist Muriel Anderson. Another of Smith's CDs is "Requests." This collection of fingerstyle guitar music was recorded as a tribute to Chet Atkins, composed of songs that Smith's fans have requested over the years. "Theme for Two Friends" and "New Classics for Guitar and Cello" features Adams on cello with fingerstyle virtuoso Muriel Anderson on guitar, a selection of originals and classical music. Adams also played a significant role on Glenn and Holly Yarbrough's album "Family Portrait" where she worked with producer Muriel Anderson. There is also "Out of Bounds", by the Richard Smith Brothers Band, featuring "Alabamy Bound", "Flat Out", "Melancholy Baby", "Something Stupid", "I'm Beginning to See the Light".

Both Adams and Smith also have entered the world of Nashville session playing, where they play on a wide range of projects from top ten albums to major film scores.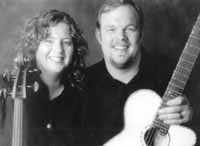 The range of their work is clearly impressive, but it's no surprise when one considers that Adams was classically trained at the Interlochen Center for the Arts and the Cincinnati Conservatory. In 1996, she was selected to perform the Dvorak Cello Concerto with the Cincinnati Conservatory Orchestra. Since then, she has performed with orchestras in Chicago, Columbus, Dayton, Cincinnati, and Florida's Vero Beach. Adams grew up in Dayton and is a graduate of Colonel White High School, a magnet school for the performing arts.
"My cello was made in England by Thomas Smith in 1760", she said after the show. "But I have a new one being made for me, a carbon fiber cello by luthier Luis & Clark" of Milton, MA. "And it's going to be red". Smith raises his eyebrows upon hearing this last comment. "Red? I thought you were going to order the black one". Adams quickly responds, "I was, you know, but when I called them, they were all out, so I decided on red". Smith raises his eyebrows again, somewhat more skeptically this time and turns toward another waiting fan.

Smith has noted that on his Kirk Sand model he uses ACE masterclass high tension strings, which can purchased from the Poly-Tech company in New Hampshire. He also says that when he uses a pick, as when playing his Fender Telecaster, he'll file and shape it until he's comfortable with it. He often plays his Kirk Sand through an Ultrasound amp. He's been playing the Kirk Sand model since 1992, when he met luthier Kirk Sand, who built him a guitar like Chet Atkins'.

The musical education of Smith, born in 1971 -- and also an accomplished violinist, banjo player and songwriter -- is in direct contrast to Adams'.

His story goes like this, as noted in his press materials: One day, at the age of 5, young Smith was watching his father fingerpick "Down South Blues" (an Atkins-Travis recording) on his guitar. The boy begged his dad to show him how to play it, and finally he did. Despite the fact that Richard is left-handed and his dad's right-handed guitar was not designed for tiny hands, by the end of that day, Richard learned and played both the chords and the melody. Within no time, the toddler outstripped his dad's six-string prowess and it was clear to all who saw or heard him play that Richard was one of those rare phenomena - a child prodigy.

Concentrating initially on the music his father loved " the country picking of Chet Atkins and Merle Travis " young Richard digested everything he heard, learning even the most complicated of these tunes with ease, and confounded everyone with his dexterity. It seemed that, not only did the boy possess amazing physical skill, but a photographic musical memory as well. Often, a single hearing was all it took to get a piece under his fingers.
And while Smith doesn't like to pick song favorites, at one point he offered what he thought were the "prettiest" of Chet Atkins' tunes: "My two favorites would be "Liza" in G and C, and "Twitchy" played by Chet and Jerry Reed, and written by Jerry Reed in A".

Smith mastered whatever guitar style he chose. Following the concert, Adams verified Smith's genius. "He's amazing, really. It's not fair, I guess", she said, smiling. "He doesn't even read music". At this last comment, Smith protested, offering that he could listen to a song and then write it down, and has, but that he tires of it. "He does work out some of our arrangements", she admitted, at which it was Smith's turn to smile broadly.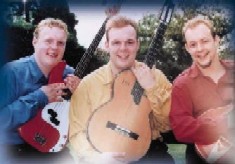 Also, along the way, Smith has grown into a quite likable showman. For many years he performed with his two brothers, Robert and Samuel, as part of the Richard Smith Guitar Trio. Their repertoire catered for all tastes from jazz to country to classical music. While based in England, they often toured in the U.S. During one of their visits they were awarded lifelong honorary membership of the Thumb and Fingerstyle Guitar Players Association in recognition of their outstanding musical ability. Smith's work with his brothers no doubt helped hone his ease with audience members.

When Smith leads a mostly older audience through a spirited sing-along of "Bye Bye Blackbird", including his imitations of their "haziness in the middle", as he does during their West Carrollton High School show, it's pure good fun.

While Smith does plenty of things that prompt a chorus of audible "wows" among audience members, he never loses his sense of entertainment. His Beatles medley is an excellent example, featuring "For No One", "Day Tripper" and "Lady Madonna". All fine tunes, but with "Day Tripper", he manages to play BOTH the guitar lead as well as the vocal melody on guitar simultaneously. It would seem to be impossible. Apparently not. The point is, it's great hugely entertaining to watch as well as to hear. We're amazed, and he has fun, and then the audience has fun.

Speaking of which, Smith showed he's not above poking fun at his voice as he turned to the mike for "Copper Kettle." Um, don't quit your day job, but, hey, not bad, not bad at all. Plus the crowd was wondering all night what his singing voice was like (and "Bye Bye Blackbird" didn't count).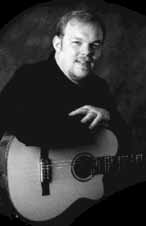 Another crowd-pleaser turned out to be his pop arrangement for cello for "Spanish Eyes," as he and Adams effortlessly traded melody lines.
"Well, we don't have much time left", Smith says toward the end of the evening, "so we're going to have to play two at once." He then proceeds to play "Yankee Doodle" on the low strings and "Dixie" on the low strings. It's a great bit of showmanship and an instant crowd-pleaser.

The show winds to an awesome conclusion with an achy "Over the Rainbow", an all-out version of "Stars and Stripes Forever" (as all clap), featuring Smith's facial contortions as he metals-up a few bars with a grimace, later sitting and watching as Adams does the cymbals part. They conclude the night with a rollicking version of "Blackberry Blossom", leading one to wonder just how Smith's fingers can hold up through it all.

Somehow they do. Good thing, as he had a lot of hands to shake.
© 2004 Fred Kraus
For more information, see Richard Smith's website at www.richardsmithmusic.com.
Home | Links | Archives | Submissions | Free CD Giveaway | Subscribe