Martin Taylor at Yoshi's, February 2, 2004
Martin Taylor is one of the most acclaimed and exciting jazz guitarists working today. He has played professionally since the early 1970s and became well known performing around the world and recording with violinist Stephane Grappelli, with whom he worked from 1979 through most of the 1980s. Taylor has juggled many other musical partnerships throughout his career, including stints with Barney Kessel and Charlie Byrd in the Great Guitars, David Grisman, and as a member of Bill Wyman's Rhythm Kings, a rock and roll revue in which he shared guitar duties with Albert Lee. Taylor has recorded many solo albums, most of which are available through his own company, P3 Music. Taylor organized the annual Kirkmichael Guitar Festival and has donated guitars to students near his home in Scotland. In 2002 Queen Elizabeth II honored Taylor for his service to music by making him a Member of the British Empire.
In 2003 P3 Music released Masterpiece Guitars, a collaboration pairing Martin Taylor with Yes mainstay Steve Howe. The CD features the two musicians playing standards and original compositions on over 60 vintage guitars from the late Scott Chinery's collection (see Pat Ragains' review of Masterpiece Guitars). I spoke with Martin about Masterpiece Guitars and other aspects of his life in music in February 2004, in between two solo sets at Yoshi's in Oakland, California. Playing exclusively fingerstyle on his Vanden Martin Taylor Artistry amplified archtop guitar, his sets included Taylor mainstays "Georgia on My Mind", "The Dolphin", "I Got Rhythm" and others from the Great American Songbook, as well as "Don't Know Why" (the Norah Jones hit, penned by Jesse Harris) and a beautiful, Celtic-tinged original, "The Fair Haired Child". Taylor displayed impeccable taste, technical mastery and humor throughout the evening. The guitarist ended his last set with a medley of "Nuages", "Manoir des Mes Reves" ("Django's Castle"), and "Swing 42," in tribute to Stephane Grappelli and Django Reinhardt.
Now that Masterpiece Guitars is available, what kind of reaction have you heard?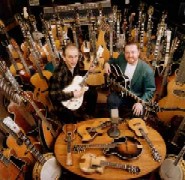 It's been all very favorable. Because there's such a variety of music on there, I think it's the kind of album guitar fans were just ready for - to hear a recording of these fine vintage instruments. It was a very, very interesting project to do and, yeah, I've had some really good feedback about it.

Do you have a favorite track on that CD?

I particularly liked Steve's track, that I'm not on, "Tailpiece," because I was there when he was putting that together and I was going in and out of the studio. That worked really well.
How do you decide what to play when you're accompanying another instrumentalist, for instance, playing with another guitarist or pianist, versus playing with a violin, mandolin, or sax? Does intuition take over?

It is, pretty much (intuition). A lot of it has to do with not stepping on the other guitar player's toes. I always liked accompanying when I worked with Stephane and I've worked in a number of guitar duos as well. It's like being able to feed the other guitarists for them to be able to come up with ideas and for their own imagination. But, yeah, it's become quite instinctive now. Very often it's keeping things quite sparse and not getting in the way all time, except when you're doing interactive things.

You sometimes change keys during a piece, occasionally in the middle of a verse. That often grabs the listener's attention, since it's unexpected. How much of that is planned, or does it happen mainly on the fly?

Sometimes it's planned, but sometimes I'll just throw that in. A key change can be quite uplifting and also, when you're playing on your own you want to find different devices for different colors. And the other reason I do that is that a different key puts you in a different area of the fretboard, so if you're improvising around that, then you come up with different ideas.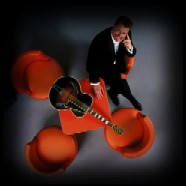 Do you know the number of tunes in your solo repertoire?

I don't really know how many there are - there would be a lot.

Do you write out set lists before a show?

No, I don't. I just like to play it the way it feels. In Japan, though, I always play from set lists - they like me to have set lists for concerts.

Do you compose mainly solo pieces, or do you also compose for ensembles?

I've mostly composed for ensembles. I have written some things for solo guitar that I play, but, I don't know, there's such a wealth of material from composers that I really enjoy, like Jimmy Van Heusen and Hoagy Carmichael, that I always end up going back to those. I don't feel like I really compete with them as composers.

You ought to play something of your own in the next set.

Yeah, I will do that in the next set.

What music do you like to listen to for pleasure?

It's a variety of things, really. I like to listen to classical music. I tend to - I don't like listening to music in the background. So, for instance, if I'm driving in my car for any long distance, I tend not to want to listen to music, unless I specifically want to listen to something. But I've got so much music going on in my head anyway, sometimes that clutters it if I've got music going on in the background. But I'm very often given CDs and I'm told about other people, and people give me CDs and open my eyes and ears to new things. I think that's very important.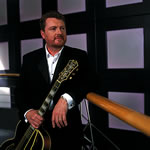 You have your own company, P3 Music. Why are P3 recordings hard to find in the U.S.?

Because it's kind of the last place they've managed to get distribution. That's all about to change. It's a new company - it's only been going about three years, so it's kind of building up. There's distribution all over Europe and other parts of the world, but it's been more difficult in the States than anywhere else. But that's all being finalized right now.

For instance, I read about your Gypsy Journey CD on P3, which I haven't heard yet.

Yeah, that one's a lot of fun.

Pat Metheny said recently that jazz has to be involved with contemporary culture in order to remain relevant. What's the state of jazz in 2004 - do you like what you see?

Well, I think everybody's being influenced by everybody else and different kinds of music and the barriers are going down a lot. I think really what will happen is that jazz will come underneath the world music umbrella, I guess, at some point. But there are so many jazz groups, that a lot of people have their idea of what jazz is. And they'll say, "that's jazz - that isn't," and it's almost as if the music has outgrown the name and it's little bit of a problem, in a way, because you can say, "do you like jazz" and someone can say yes or no and, you know, what kind of jazz (is the person talking about)?

It might mean something different to different people.

Yes, and in a way I think it's outgrown its name.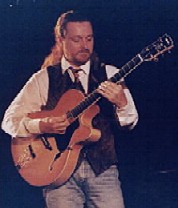 I was pleased to hear you play "Don't Know Why" in the first set. Pat Metheny recently recorded that. He took quite a different approach from Norah Jones' recording, but I really enjoyed hearing you play it very differently as well. Have you heard him play it?

No, I'd like to hear that, but I haven't heard him play it yet.

He recorded it on a baritone guitar.

Yeah, so I believe.

Several years back, David Grisman talked about releasing some of your live performances as a duo. Are there plans to release more collaborations with him?

It's a possibility, yeah. I don't know what he has, exactly, of the live performances, but I think there's stuff in the archives. But I'm sure that it will happen at some point.

And you continue to work with him?

I haven't for a while. I was hoping to do something on this trip, but maybe the next time.

It seems you take almost every opportunity to play with great musicians, whatever the style. Reading your autobiography, I was intrigued by the collaborations I wasn't aware of - the Great Guitars, to name one.

Yeah, I did about three tours with the Great Guitars. When Herb Ellis went back working with Oscar Peterson again, I took his place. And I also worked with Herb as well, quite a bit. But I never recorded with them. It's something I'm disappointed about, looking back, I wish I had recorded as part of the Great Guitars. It didn't happen, unfortunately.

What are your upcoming plans?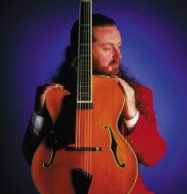 Upcoming? I've got a new album coming out in May, which is predominantly solo, but I have some singers on that as well. I'm also doing a lot of touring this year - more visits to the States in March and April, and July. Then again in 2005 I'm doing another International Guitar Night tour.

What would you like to do musically that you haven't done yet?

I would really enjoy doing something with an orchestra. I've done little things like that, but actually to have a composer write the music specially for me - commissioned - that's something I would really like to do.

Thank you, Martin. I'm looking forward to your second set - good luck!

Thank you very much, it's a pleasure.

© 2004 Patrick Ragains
Here's a discography for Martin Taylor:
Visit Martin Taylor's Website




Buy Martin Taylor Guitar Instruction Videos and Books at


(Click on image to buy)
Home | Links | Archives | Submissions | Free CD Giveaway | Subscribe