Tommy Emmanuel at Fur Peace Ranch, June 14, 2003
Tommy Emmanuel is the best fingerstyle guitarist on the planet. And that's not just some cavalier opinion, but the opinion of one who would know: Chet Atkins. Chet and Tommy struck up a long-distance mentorship and friendship when Tommy was a young guitar player living in Australia, a relationship which would later culminate in the passing of the torch for the gold-standard of fingerstyle down from the reigning master to Emmanuel after Chet Atkins' death in 2001. Emmanuel was already becoming known to guitar fans after playing the closing ceremony of the 2000 Olympics to a thunderstruck worldwide audience who had never before heard these sorts of guitar gymnastics.

Minor 7th caught up with Tommy Emmanuel at the idyllic and rural southern Ohio setting of Fur Peace Ranch, where Tommy was involved with guitar instruction workshops for fingerstyle students. Fur Peace Ranch is the brainstorm and dream of Jorma Kaukonen, former guitarist of Jefferson Airplane and fingerstylist extraordinaire himself, of Hot Tuna fame. Kaukonen and his wife Vanessa have carved out an acoustic guitar oasis where students rub elbows and trade licks with the fingerstyle elite, as well as a performing venue, Fur Peace Station, where Ohioans are treated to an intimate concert setting by the best professional performers in the business.

(LISTEN to the interview)
Tommy, how did you get involved as an instructor in workshops here at Fur Peace Ranch? Did Jorma seek you out, or vice-versa?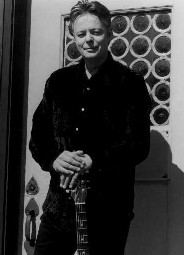 Jorma saw me on TV a few times, he saw some documentary things that were made by CMT that were made called "True Stories", and it was a story of my life, there was a lot of footage of me playing live, and there was some footage of me and Chet playing together. And then he saw the documentary of Chet's life, and I was in that. Jorma contacted us and we took it from there. And, you know, you don't do a guitar camp for the money, you do it because you want to teach and do this, and it's actually just really good. I find that when I'm touring here, when I know that I have guitar camp coming up, even though it's pretty prolonged days, you don't play every night, but you end up playing all the time anyway. But I'm not required to play every night, there's one concert and there's three days of teaching.

It must be pretty flattering hearing these guys play your stuff note-for note. They sound pretty good!

Yeah they do! Well, half those guys have become real pals of mine through coming to shows. Four of the people who enrolled were here last time and they came back. And they really improved. Their attitude is better, their enthusiasm is better.

Is it hard to switch gears from being a performer to a teacher?

No. I'm a teacher and a performer at all times. So, I enjoy it. And the thing that I love about it is that eveyone's so individual. I try to spend time with each one individually. When I do talking and demonstrating, I demonstrate to the class and I talk to the class about certain things and the like, but then when it comes time for the actual teaching, it becomes one-on-one. I take them away individually and work with them. I record stuff for them and I give them something to take away, to work on, until the next time I see them. And that's how I do it, because they're all different. You've got one guy who can just play a few Robert Johnson tunes and has never played a Chet Atkins tune, or whatever, and you've got other guys who are so into my stuff that they're trying to play it note-for-note, so I try to help them out with that. And you've got other guys who are into Chet who want to get better. And there's always one guy who's like a singer-songwriter who wants to be able to fingerpick, and he can't. And so you start him off with Don McLean tunes. I try to read each one individually. Rather than saying "you will do this, because I'm the boss", that doesn't work with people, you know?

Speaking of teaching, you and Chet Atkins did a song on "The Day the Fingerpickers Took Over the World" called "Ode to Mel Bay", and it started me wondering about a couple things. Did you have any kind of formal guitar training when you were young, or are you self-taught?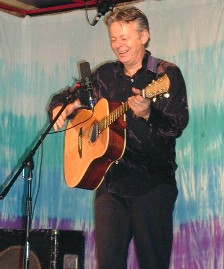 I'm self-taught but I've begged, borrowed and stolen from everybody, and made it mine. When I was a kid, my elder brother was the lead player and he had an incredible set of ears. I mean, he would hear something on the radio and literally play it back. He could tell what the chords were and all that, long before I could. I'm talking I'm 5 and he's 7. He would learn something and then he'd say "OK, the chords go like this, now blah-blah-blah", and I would come up with my rhythm part. And then as we got on into our teens, I went on to play with other people, and we came back together again. By that time my ear was fairly developed, I left and was playing a lot of songs. And he would learn new licks, you know, he would get a Roy Buchanan record or a Merle Haggard record and cop licks from it, and then he'd call me up and say "OK, pick up your guitar, it goes like this" and he'd tell me what the lick was over the phone, and stuff like that. So, my brother really helped me out a lot, he was a very generous teacher. He was a very generous person.

What's he doing now?

He's playing guitar, that's what he does. He's a great, great player. He plays electric guitar.

Do you guys ever play together?

Yeah. We made an album together, called "Terra Firma". We played that on the 2000 Olympics, on the closing ceremony, that's the song that I chose to play.

The other thing I was wondering about that song "Ode to Mel Bay"... you had to hire a guy to play badly, has your playing evolved to the point that it's impossible for you to play badly?

Well, convincingly, absolutely, to be honest. Chet and I both had a go at playing that badly, and neither of us could. We said "it's not convincing", you know? I'll tell you what I did. I got the engineer, Clark Hagan, we used to call him "Hank" Hagan. I got Chet's tele off the wall and his little Fender Deluxe amp, and got a real weedy sound. And I said to him "Do you know "Red River Valley?" And he said "No". I said, "All right, sit down and we'll try to work it out". And while he was playing I just recorded him on a DAT, and I found the best passage of the worst playing I could find, and I dropped it in on the master tape.

On that same CD, did Chet write "News from the Outback" for you? You obviously wrote the tune "Mr. Guitar" for Chet...

He already had an idea of the tune, and he was playing that in an open G tuning. I played along, I played the second part and doubled the melody in a normal guitar tuning, and I brought the didgeridoo into it and all that.

Kind of a drone-like...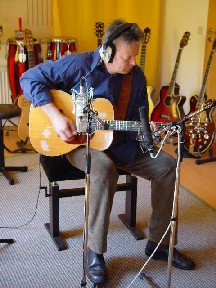 I did that with the bass as well, I kind of droned it, to kind of give it that aboriginal flavor. He actually came up with the title "News from the Outback". Because he was constantly interested and asking questions about it. He had always wanted to go there, but it was too late for him to travel that far. I brought him books back from Australia, they're still at his house, "The Red Center of Australia" and "The Original Culture" and stuff like that. He was always fascinated by it. But he didn't write that for me, he had the melody and the idea, and he said "I wanted to write an Outback tune", and he originally called it "Bad News from the Outback". I said "Chet, you don't want to hear bad news from the Outback, the only bad news you're going to get from the Outback is that someone's died. Other than that you're not going to get any bad news". And he said "Really?" I said, "Yeah, you better drop the 'bad'". So, it became "News from the Outback". And "Tiptoe through the Bluegrass" was a title I gave that song. He sent the tape to me so I could learn the tune and everything, and it had "Bluegrass Waltz" written on it. And I said "This is a real quirky little song, why don't we give it a better title?" and he said "Well, it's just a bluegrass waltz", and I said "Hmm, how about "Tiptoe through the Bluegrass?". And he said "Great! That's it!" And so I got that song titled.

Who do you think are some of the best unknown guitar talents out there?

Stephen Bennet, by a long shot. Pete Huttlinger. Pat Ferguson. Oh, there are quite a few, there are a lot, in fact. There's a couple guys in Australia who are just killer, and nobody knows them. I'm trying to think who they are. There's a guy named Brett Wood. There's a young fellow named Andrew Wrigglesworth. There's a guy from Italy called Daniele Bazzani, who plays well, really well.

These are unknown!

Yeah, that's right.

I'll know them soon.

Well, I was just talking about this today. I was saying to the people in my class, we were talking about fame and fortune and all that stuff that goes with it, and I said "OK, so how do people get known?" I said "People come to me and say 'Look, I'm really good, how can I get to where you are?' kind-of-thing". And I said "If you're really good, then I'm going to hear about you". And if you really truly are good, then I want to hear you, I'm going to talk about you, and I'm going to tell somebody "This guy's good, you should give him a go". Or I'll say "You should come on the road with me and play to my audience and blah, blah, blah." I've done that with so many players. And people have it for me. Eric Clapton did it for me in Australia, it was great. So, it's kinda like this thing where, well, how do you get to there? You've got to have something good which gets people interested in the first place. A guy said "Well, how do I get on blah, blah blah's show?" And I said "Get good!"

It's that simple!

It's that simple! Get good.

In the liner notes of "Only", you mention James Taylor as an inspiration to your playing, and I think I hear his influence a little in your song "Since We Met". JT isn't usually mentioned by guitar virtuosos like you...

...I love his guitar playing, I love his songwriting...

...because he doesn't play a lot of flashy jaw-dropping licks...

Yes, he does.

...What's so great about JT?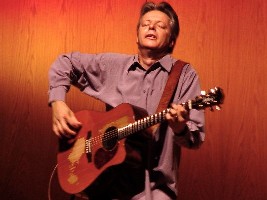 JT plays so well that everything he plays knocks me out. It can be the simplest thing. But he has, in my mind, some of the best things to play, and the best feel. When he's playing it's the minimum effort, maximum effect. He's a classic example of that. You have a listen to that little introduction he plays to that song "Like Everyone She Knows" …

Just a little musical interlude...

A little musical interlude. You try to play that thing. It's hard, man. To play it as good as that. Well, you go right back to his early stuff, back to the early 70's, he was really good. His time is so incredible. You watch him perform and he owns the time, you know, he is time. He's great. But the thing I always thank him for, his inspiration as a player, but more as a songwriter and as a person himself. He inspires me in every way. I can hear his influence in everything I do.

I hear a lot of it too. You must have been in your 20's when you played guitar on the big pop hit "Lost in Love" by Air Supply. Although that clearly wasn't the kind of music you were destined to play, can you recall the feeling of those years? Did you think you had "arrived" at that point?

These guys were all friends of mine, and they didn't actually pay me for playing on that, I did them a favor by coming in and helping them out. They were just starting.

How 'bout that...

How 'bout that? I played on "Every Woman in the World", "All Out of Love", "American Girls" and all that stuff on that whole album, and I got a credit that said "Additional Guitar, Tommy Emmanuel". I did all the guitars on that.

I was wondering about that...

Yeah. Well, the two guys in the band who are good pals of mine, David Moyse and Rex Goh, were both pupils of mine at the time, you see. But the reason I got booked to do that… the song "Lost in Love" was separate to the others. That was their big song. They recorded it and then they re-recorded it again later. I played on the first and the second version of it. The first version was a favor, was a demo. They got their record deal with Clive Davis and, bang, they had millions of dollars to spend on this album. They had a big producer from America, Robbie Porter, who actually produced my first three albums. Robbie's known me since I was a little kid. He used to book me because I could come in, play a rhythm part, and I then could double it exactly, and he could put my guitars in stereo and there was this beautiful rhythm. He would be like, 10 minutes, done. OK, Next song, boom, boom. And I changed strings quickly, perfectly be in tune, ready to go, OK, next take, I would get a rhythm part together, OK, that's a left hand run, same with the right, I would remember all the little skips, everything little thing I did. So it was stereo guitar, I knew that's what he loved. And then he'd get me back in to do overdubs and come up with ideas on the electric. And so, he booked me because he knew he could put the song up and I'd go "OK, no problem", and I knew what to do. I didn't labor over anything, I knew exactly where I was going. As far as your question, I'm digressing, I'm sorry, as far as your question about I knew I'd arrived, I was already doing about 40 dates a week. I mean, I barely had time to sleep, I was recording on everyone's records. That was yet another one.

And I was checking out your tour schedule at your website and it made me feel personally exhausted to see how many gigs you're playing over the next couple of months! You must love your job to put that much energy into it.

November is interesting, 30 shows. I just did 29 shows in a row in Australia. And I had one day off with my mother and family. But I love it. It leads me to get good.

I don't think you have to worry about that. That kind of leads into my next question. Most of your early life was in Australia, of course. Your career is based out of Nashville and your present home is in England, is that true?

It has been. I just moved to Nashville.

That will make things easier.

I imagine I'll be hardly there.

Yeah, after looking at your tour schedule, I understand that. There must be a personal price of being a bit rootless and having that kind of schedule.

Yeah, I'm paying it right now. My wife has met someone else and we're getting divorced.

Oh, that's too bad.

Yeah, after fifteen years. And I can't understand, because I can't just stop what I'm doing and just stay home. And I can't make enough money to just stay in England and support the family there. I don't want to burn out my touring in England, I want that to be building a building. And if you keep touring, you're going to wear it out. In England, or anywhere.

Well, your kids must understand that you're doing this not only for posterity, but also for them, too.

That's right. My eldest daughter had a lot of trouble with this past few months. This past Christmas, really, because we had split up and it was difficult. That's the kind of price it takes. But personally, I don't feel that I could ever make her happy, and I don't feel that she has really made me happy, because she hasn't seen me play a show in eight years, which means that she's not interested in what I'm doing. I've learned a lot. I've learned that compatibility really means something.

I mean, you were destined to do this job, it's not like you can change.

Oh, there's no question. I can't not do this. You know what I mean? How could I maintain this level of emotion and this level of output if it wasn't driven by something greater than me? You dig? I'm connected to something that's pulling me along, I'm not pushing anything, I'm having a ride.

I think your listeners know that, too. You're connected to something.

That's true.

Now, you tune one of your guitars slightly up, and one slightly down. Why?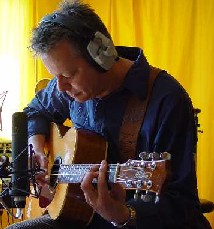 Well, the little guitar that I use on "Only"... I use the two guitars on "Only"… the one I tune down has big strings, it's 0.58 to 0.13. I tune it down almost a tone, it's like ¾ of a tone. Because it's a different sound. It makes you play in a different way. And it's good for certain songs. The reason I tune the other one up is purely because the guitar feels and sounds above concert pitch. When I go out there and play, and I'm absolutely spankin' it and going for it, I don't want that guitar to be going in and out of tune too much. You know, I want that guitar to hold it's tuning, when I'm really bending it and stuff. So, I do that, and it just makes the guitar that little bit brighter, and you know what, somehow it's a little bit brighter to a listener's ear. It's like "Wow, what is that? There's something about that sound…" Sometimes players who have been playing for years go "What is this, there's something about your sound!" It's actually the tuning. It's just brighter, you know? It's 444 when I play most shows, like tonight I'll be in 444. I have been at 446, with a dead-flat neck. It's on the verge of everything buzzing, it's just like right on the edge. That's how low I have my action. But I have it tight, the tuning pulled up.

Do you ever use alternate tunings?

Yeah. I use a C tuning in a song called "Run a Good Race". And tonight I'll play a couple of new songs with a G6 tuning. And that's on my third guitar.

What can you tell us about your next recording?

I can tell you that it's not all original songs, and there's some surprises on this album. There's about, let's see, 15 or 16 songs on the album, I can't remember. There's a lot of news songs, of course, a lot of new original songs. I've tried to come up with definitive new versions of songs that everyone plays the same, like "Windy and Warm". I've re-recorded "Windy and Warm" in a kind-of real funky late-60's Jerry Reed sort of style. Which I really like, I like that style. Although it's not really Jerry, it's more my style. But there's a lot of it influenced by him. And I've done a re-make of "Somewhere Over the Rainbow". "Mona Lisa". And the song that I recorded with Chet, the song that he wrote called "To Be or Not to Be". That's always been a duet, and I wanted to make a definitive kind of solo guitar version for the people who are into what I do and want to be able to play it. So, I do the key change and improvise a part and keep the whole thing going. I'll play it tonight.

Will it also be on Favored Nations?

I hope so. So, that's what's going on at the moment. You're going to hear a lot of new stuff tonight.

© 2003 Alan Fark
Visit Tommy Emmanuel's Website
Some Tommy Emmanuel recordings: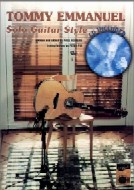 Tommy Emmanuel: Solo Guitar Style Spiral bound book. Contains full transcriptions of: "Amy", "Blue Moon", "Countrywide", "Day Tripper", "Dixie McGuire", "Freight Train", "Lady Madonna", "Limehouse Blues", "Since We Met", "A Taste of Honey", "Tom's Thumb", "Trambone", "Up from Down Under", "Windy and Warm". Includes intensive, up-close lessons in solo g uitar: "boom-chic" style, cascading harmonics, moving bass lines, Travis pi cking, and much more. Includes audio CD.
Home |Links | Archives | Submissions | Free CD Giveaway| Minor 7th T-Shirt | Subscribe
Guitar Workshops at Fur Peace Ranch!!