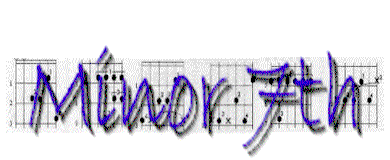 July & August Short Takes

Andy Polon "New York on 6 Strings a Day", ADP202, 1997 Wow. When it comes to acoustic blues fingerpicking, Andy Polon is (to borrow an Eastern aphorism) one with the wood. Polon plays a tremendously articulate blues style, enunciating each note with flair and polish. This is not the sloppy slurred blues guitar style of a John Lee Hooker but the honed precision of a jazz player. Many of the tunes ("Andy's Augmented Rag", "No-Profit Rag", St. Louis Tickle") are imbued with a ragtime sensibility as if Jelly Roll Morton were transcribed to six strings. Polon's voice occasionally carries a pleasant falsetto lilt similar to Norton Buffalo, but often his New York accent bleeds through somewhat incongruously with this music born of the Delta. Polon is probably a live crowd- pleaser of some charisma judging by the humor of "Parisian Rag", but without audience reaction on CD the humor may come across as corny to some listeners.


Frank Morey "Father John's Medicine", Indigo Hamlet IHM 002, 2000 Tom Waits ain't got nothin' on Frank Morey. Morey's Satchmo vocal coarseness accompanied by a Salvation Army-style brass band, accordion or solitary snare conspire to make "Father John's Medicine" an occasionally surrealistic view of rustic Americana. Morey conjures a rough n' folksy potpourri, a filmstrip of disconnected backalley images related only by alliteration, albeit superbly so. You can almost feel the seismic swaying of the barroom dance floor to the heft of enraptured dancers on "Moonlight", a very Van Morrison-ish horn tune.Buy Father John's Medicine


Cory Larson "Residence Called Destruction", Peace and Fist Records, 2000 Cory Larson has chosen a 1930 National Triolian Resonator to bring his art to the fore. Though the National captures in symbolism the spirit of lone blues balladeers Bukka White and Son House, the music on "Residence Called Destruction" can't be quite correctly labeled blues. If you can attempt an exercise in minimalist extrapolation, imagine the vaporous sound of U2 whittled down to only vocals and acoustic guitar. Larson's music is languid, foggy, barren fare chock-full of images of abandonment, aging, mortality, incarceration and addiction. Though the poetry is brooding and nihilistic, it's also riveting.


Eric Westbury "Walking Tracks", Barreltown Records BR41967-2, 2000 Whenever I prefer the banjo tunes to the guitar tunes on a CD, it ususally means the banjo stuff is really good or the guitar work is so-so. Whatever the case on Eric Westbury's "Walking Tracks", there's some very elemental folk here in which yarn-spinning wins over guitar mastery. That doesn't mean that "Walking Tracks" is without musical merit. It fact, it may be telling for me to confess that I was humming the ditties "Walking Tracks" and "My Arch Nemesis the Snow" in the shower this morning. "Five Strings" is the highlight, Westbury spinning some humorous homespun advice about the therapeutic value of libation and song ("Time will heal almost every wound, if you got the time to wait, but my personal solution kicks in right away").


Please visit Phunquie Pholk, hosted by guitarist, writer and instructor Eric Elias, and where you can buy jazz instruction materials, CDs and more!
Home |Links | Archives | Submissions | Free CD Giveaway | Subscribe