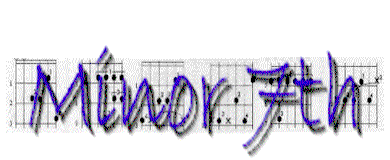 May & June Short Takes

Bob Evans "Caffeinated Coffee", Acoustic Tonic ATCD001, 1999 Anyone who can pull off a solo fingerstyle version of "Ticket to Ride" is OK in my book. The music on "Caffeinated Coffee" has personality... itís playful and effervescent. Judging by the verve and attack of these solo fingerstyle renditions, I would bet that Bob Evans is a guy who has an exuberance for life and music (or as the title suggests, heís heavily caffeinated!). Heís jokingly referred to this CD project as his "mid-life crisis" after a hiatus from playing guitar. I hear no crisis here at all. I hear a veritable blooming, a wellspring of artistry and riveting fingerstyle conceptions. Of the eleven tunes, six are bonafide originals in the truest sense, and only one is in standard tuning (characteristically masochistic for a fingerstylist, that one tune is by Leo Kottke). I easily give "Caffeinated Coffee" two thumbs up, and more if I could muster additional thumbs.


Gene Bertoncini "Body and Soul", Ambient Records CD-001, 2000 Iím a little embarrassed to admit that Gene Bertonciniís "Body and Soul" didnít ignite me upon first listen. After about four or five times through this CD, though, Iíve come to realize that Bertoncini is a musical genius whose guitar stylings merely run off-parallel to my own preferences. I like entrenched rhythms, and Bertonciniís style of playing is a staccato attack of cascading chords and phrases which lurch and pause. This is a particularly effective technique on arrangements such as "Round Midnight" where a jackrabbit cadence has the truly nice effect of building suspense. When overused, though, the music falters shy of reeling me in all the way. Although "Body and Soul" is a collection of mostly jazz standards such as "Stardust", "But Beautiful", "My Funny Valentine", "The Shadow of Your Smile" and (of course) "Body and Soul", there is nothing standard in the way Bertoncini has arranged these pieces for solo nylon string guitar. Although I never expected to ever want to hear another guitar version of "Greensleeves", Bertonciniís version is done with such elegance and innovative flair of arrangement that it becomes an actually very moving piece in his hands. "My Funny Valentine" has likewise been constructed creatively so as to sound brand-new. Gene Bertoncini is not only a brilliant arranger, but truly an incredible player with a fluent technical facility with jazz guitar.


Larry Pattis "Random Chance", Liberal Palette Records LPR-0002-98, 1998 If youíve ever hiked in Glacier National Park you have an idea of the grandeur that must have nurtured along these solo fingerstyle compositions. Larry Pattis hailed from this remote corner of Montana at one time, and itís evident from the liner notes and the aura of the music itself that geography and landscape figure into the things from which he draws inspiration. Thereís really no burniní it up with swing, blues or rags on "Random Chance"... These are pensive meditations creatively conceived and flawlessly performed, which lay a shroud of quietude over the hubbub of the workaday world.

Home |Links | Archives | Submissions | Free CD Giveaway | Subscribe