Reviewing the best in non-mainstream acoustic guitar music
Home | Facebook | Podcast | Archives | Submissions | Free CD Giveaway | Subscribe | About | Links
July/August, 2014

John Gorka, "Bright Side of Down," Red House Records 2014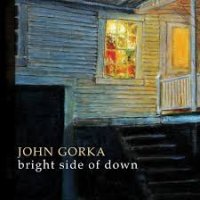 "Bright Side of Down" arrives during the twenty-fifth anniversary of John Gorka's first record. But this is not your father's Gorka album. Largely absent is the affectionate satire of "I'm from New Jersey," the political commentary of "Land of the Bottom Line," and the up-tempo passion of "Mean Streak." With arrangements built around acoustic guitar, and vocals recorded with a different pre-amp and mike, Gorka takes a softer, gentler approach as he ruminates on the passage of time and the passing of friends. The opener, "Holed Up in Mason City," introduces the themes of time and winter that run throughout. A fierce storm has stranded the singer, stopping time ("The future isn't ready tonight.") in Mason City, where time stopped in another snowstorm, when a plane crashed, leaving Buddy Holly eternally twenty-two. In anybody else's hands, the song could have been heavy-handed, but Gorka lightens it with an accordion sound, a two-stepping rhythm, and an evening at the fictional Big Bopper Diner. The title track follows, with a tinkling six string and vocal help from Eliza Gilkyson and Lucy Kaplansky, as the singer reflects on easing "the way down the uphill climb." "More Than One" provides the record's most driving tune, powered by light but insistent drumming that reminded me of the way some cars sound. It's a folksong Gypsy's prayer for a clear sky, a dry road, a full tank, and a light load. "She's That Kind of Mystery," a rare cover, is a reverential and lovely take on a lovely tune. Listen to the way Bill Morrisey's original guitar figure appears here. "Honeybee," a kids' song--another Gorka rarity--has a terrific progression and the album's most hummable melody. The most revelatory guest appearance comes on "Procrastination Blues" with Claudia Schmidt's powerful outro vocalese. "Mind to Think" has Gorka on banjo and the unmistakable sound of Michael Manring on bass. "Really Spring" brings the album to a thematic close. Dirk Freymuth's high strung guitar and an overlay of Antje Duvekot voices bring the beauty. The ever self-deprecating Gorka declares himself and spring the winners, but he's down on his knees with the loser anyway. No matter what freezes us, a thaw can come and this record is warm enough to help get you through any winter.
© David Kleiner
Buy it at Amazon.com
Listen to "Bright Side of Down"

Tom Griesgraber & Bert Lams, "Unnamed Lands," 2013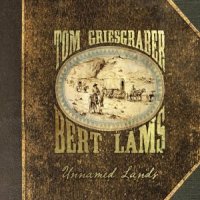 Griesgraber and Lams' "Unnamed Lands" is as natural and majestic and as fraught with vistas, wonders, and dangers as the untamed American West. "Unnamed Lands" is a concept album, the brainchild of two consummate musicians, and follows the fortunes, and, perhaps, the misfortunes of "Prairie Travelers in the 1800s, making their way west." A fan of classical, rock, and jazz music, guitarist Bert Lams, founder of the California Guitar Trio and winner of many musical accolades has joined forces with Tom Griesgraber. Griesgraber plays the Chapman Stick, and does so as well as any who have attempted to play this complex anomaly of an instrument. Emmet Chapman, inventor of the Stick, has written of the album "I am struck by its sheer beauty and musical sophistication. I'm also very impressed with the whole production – it's a big thing (and an important musical project for The Stick.)" He goes on to say that the album "captures these engaging virtuosos in peak form. Highly recommended." The music grew from extended improvisations that were recorded at Griesgraber's studio in Encinitas, California. The two would simply sift through the recordings of their improvisations to find nuggets that caught their ears and fit with their concept. Then they fleshed out the ideas either in the studio or on the road over the course of several years. While touring, playing, and composing the music, the duo spent time covering much of the same hallowed ground as the early settlers who pioneered the west. Griesgraber says on their website that the musical style which grew from the project "could be described as Progressive Americana." The description is quite apt. Having once toured with Robert Fripp's group and opened for King Crimson in the 90s, Lams has obviously been influenced by progressive rock. The simple fact that Griesgraber has chosen The Stick as his instrument also attests to this influence. But there's more here, much more. There are strange turns, odd time signatures, and "even some classical styled modulations." But the music never comes off as clever just for the sake of being clever. The production and acoustic approach allow the music to breathe and the melodies to soar. This is a great record.
© Chip O'Brien



Tom Griesgraber & Bert Lams' Website

Buy it at Amazon.com
Listen to "Don't Look Back"
Listen to Tom Griesgraber & Bert Lams at our podcast

David Pritchard, "Among the Missing," 2014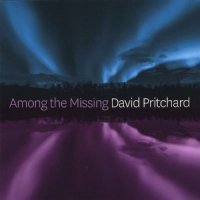 Some musicians are just entertainers while others scratch the surface of all that defines our spiritual lives -- David Pritchard is the latter, rarer, kind. A veteran jazz guitarist whose formative years were kindled in the crucible of the Gary Burton Quartet, Pritchard's style has morphed and grown through various stints including that as a fusion guitarist with Patrice Rushen and Freddie Hubbard. His transformation to the introspective style we hear on his newest CD "Among the Missing" is no less remarkable than that which John McLaughlin underwent between Mahavishnu Orchestra and Shakti. Acoustic multitracked guitars create orchestral dreamscapes which invoke a free-floating space-bience worthy of the soundtrack of a Kubrick film (in my mind's ear, I can hear "Little Known Facts" as a much better choice than "Blue Danube Waltz" for the rotating space station scene in 2001: A Space Odyssey). Pritchard knows the importance of a talented team and is joined by Leif Woodward on cello (check out the impact of multitracked cello on the title tune), Kevin Tiernan and Ioannis Markoulakis on additional acoustic guitars, Steve Anderson on bass and Christopher Garcia on percussion. The call-and-response echoes synergized between Pritchard and Tiernan on "To Kapsberger" are a paradox of quiet intensity. Five solo guitar pieces by Pritchard arrive like thoughtful oases between the periods of lush collaborations. As suggested by the aurora-like cover art on "Among the Missing," a visual analogue to the music of David Pritchard might be that of a brilliant white light which ebbs and flows, pulsates and shimmers.
© Alan Fark
Buy it at Amazon.com
Listen to "Slowly We Opened Our Eyes"

Rolly Brown, "Sunday Morning," 2014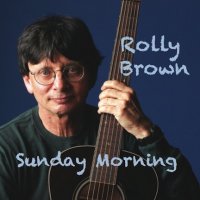 Rolly Brown has been around a while. He studied with the Reverend Gary Davis, won Winfield's fingerpicking champion in 1980, has performed steadily, and taught many guitar workshops. I met him a few years ago at Tony McManus's workshop in Elora, Canada. "Sunday Morning," a collection of fingerstyle solo performances played on steel string guitar, grew out of the videos that Brown has posted online each Sunday in recent years (friend him on Facebook for easy access to these). The album mixes originals and works by others, some well-known, others less so. Brown's adventurous approach to fingerstyle owes debts to the Reverend Davis, Davy Graham, and Steve Mann, although his harmonic sophistication and more nuanced right hand attack show that these heroes define his baseline, not his limitations. "Rolly's Rag" recalls Ton Van Bergeck and Lasse Johansson, with a nod to Davis in the turnarounds. "Beaux Je Pooboo/The Snowman" is a tasty medley pairing Les McCann's piece with the theme from a cartoon. "Suki's Hope" may be the jazziest guitar piece ever written for a dog. Then again, maybe it's not so odd, since Brown explains in the accompanying notes that Suki is a rescue dog who sometimes exhibits complex and difficult behavior. "Into The Never Never" is a meditative improvisation Brown based on incidental music in the film Mad Max: Beyond Thunderdome. Speaking of improvisation, pianist Carl Perkins' "Grooveyard" allows Brown to stretch out and display his jazz credentials. Another original "Marcy-Cathy," was written for the wedding of two close friends, and includes a nice quote from "Over the Rainbow." His rubato take on "Shenandoah" is beautiful, but also instructive to guitarists who are open to getting inside their music, rather than showing off their technique. Ray Charles' "Drown in My Own Tears" is satisfyingly reworked as "The Gospel According To Steve Mann." "Heavens Tibetsy" follows, a nod to Bahamian guitarist Joseph Spence. Although Rolly is a fine technician on the guitar, on "Sunday Morning" he focuses on conveying a welcoming emotional environment. There's plenty of variety for good listening here, and guitarists can take it in as a master class in good taste.
© Patrick Ragains


Rolly Brown's Website
Buy it at Amazon.com
Listen to "Suki's Hope"
Edward David Anderson, "Lies & Wishes," 2014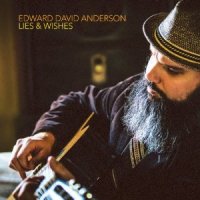 "Lies & Wishes" is Edward David Anderson's solo foray following the disbanding of his rootsy-rock-based Backyard Tire Fire. A rock revivalist with a poetic soul, Anderson teams with Los Lobos' multi-instrumentalist Steve Berlin on this project. Berlin proves to be a sympatico producer, and also contributes keyboards and percussion. However, Berlin's musical layering – alternating in density but always breathable -- transforms several of Anderson's emotive observations into something special. They've worked together previously on Tire Fire, and this 10-track collection follows in a similar vein. Singer/songwriter/guitarist Anderson handles all songwriting as usual. His compositions reside in the universe whose neighboring planets include Tom Petty's jangly guitar rock and "Born in the USA"-era Springsteen Americana. The powerful title track tells of the need to share emotions: "Kiss my tears / I need your kisses / I'll tell you all my lies and wishes / Feels like all my dirty dishes become clean." The song opens with only voice and acoustic guitar; speaker-rattling fuzz bass soon joins in; percussion joins for the third verse; and, finally, keys and a full chorus are built into the forth verse as the song is erected, layer by layer. Anderson rocks out with the terrific "Taking It Out on You," another emotion-wringer, but this time propelled by thumping drums and a sneaky guitar snaking in and around the melody. While that guitar's a bit low in the mix for my taste, this track's catchy chorus will stay with you for a while. The most countrified song here is the autobiographical "Son of a Plumber, bouncing and chugging along like the Boss's "Darlington County." Berlin powers this one with keys that are equal parts Wurlitzer and accordion. The slightly jarring "Pins & Needles," weighs in as the most adventurous, with its Hendrix chords and a bass line that recalls "Hey Joe." Anderson's agreeable voice reaches into the upper register here and sells the unease that comes with the narrator observing "Days seem to slip away easily / here then they're gone just like that." It concludes without resolution, only dissatisfaction. Smack dab in the middle of the CD exists a quiet ballad, seemingly out of place but designed to reveal Anderson's soft side without embellishment. This collection covers a lot of ground, both musically and thematically. Impressive work by a thoughtful, 40-year-old craftsman who's not afraid to let it all out.
© Fred Kraus



Edward David Anderson's Website
Buy it at Amazon.com
Listen to "Pins and Needles"
Sandy Shalk, "Newer Every Day," 2014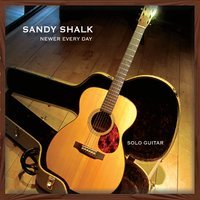 Sandy Shalk is something of a renaissance man who's played jazz and pop professionally, taught high school, and written books. More recently, after attending the Swannanoa guitar camp and studying with El McMeen, he began arranging for solo steel-string guitar, which he plays on "Newer Every Day." Shalk's relaxed approach recalls McMeen, although jazzier. He plays standards like "Blue Monk", "Round Midnight", "Take Five", "Georgia on My Mind", and "God Bless the Child" in a style that's gentle and accessible, but also adventurous. His selection of Duke Ellington's "Black and Tan Fantasy" and Bix Beiderbecke's "Davenport Blues" reveals the depth of his interest in jazz, which, according to his website, extends back to his teens. Pieces from other genres, such as the hymn "Be Thou My Vision" and Carolan's "Blind Mary", further display Shalk's emphasis on lyricism over flashy playing. In other words, Sandy Shalk is a romantic. There's no better example of this than "My One and Only Love," which features a sensitively articulated melody and moving voices in the midrange and bass registers. He takes the same approach with the traditional Scottish tune, "Arran Boat Song." Sandy Shalk is a fully realized musician who expresses rather than merely plays. His playing both sooths and swings, displaying both individual artistry and sensitivity to his listeners. I intend to listen to this lovely recording frequently and stay on the watch for more music from Sandy Shalk.
© Patrick Ragains
Buy it at Amazon.com
Listen to "Take Five"
Listen to Sandy Shalk at our podcast

Blue Mother Tupelo, "Only Sunshine," 2013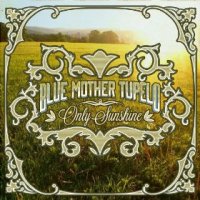 Mix equal parts alt country, roots rock and a real good time and you've got Ricky and Micol Davis, aka Blue Mother Tupelo. Micol's country voice (think a young Emmylou) and Ricky's mastery of a million instruments make for a collection of good time swampy songs. Their originals, some co-written with others, cover a lot of ground from simple party music like "Country Fun" to the darker "Free." Every song has a deep foot stomping groove, whether it be from Ricky's riff-happy Dobro or a collection of percussion like Ricky's drum set or Micol's handclaps, and on one song, a vodka bottle. "Livin' the Good Life," written with Kim Richey, features a retro sounding electric guitar and the bluesy "Mississippi Mud" has a dramatic intro of violins. Some cuts feel a little busy with a low level of distortion over everything, but that's alt country for you. Party on.
© Jamie Anderson


Blue Mother Tupelo's Website
Buy it at Amazon.com
Listen to "Penny Roll"
Peter Miller, "Songs Without Words," 2014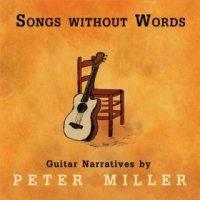 Aussie Peter Miller is in absolute control of the steel, wood and the vibrations emanating from his guitar on "Songs Without Words," his third full length CD. A deft touch that is as delicate as it is articulate creates musical paintings, which are alternately lush and austere evoking pathos, joy, peace and solitude. Miller's tunes absorb and enfold the listener in each moment and each note merging sound with thought and space. The opening track, "Pluie Du Soir" and the closing track, "Ice Over", are perfect examples of the rich sonic qualities conveyed with exquisite technique and execution the abound on this disc. The same is true of "The Way Of The Painter" the subtle and seductive "Late Night At The Brown's". A smattering of effects including the tantalizing use of reverb are present on several tracks such as the aforementioned "Ice Over" and the haunting "Snowdonia" giving "Songs Without Words" an appealing sophistication that is clearly contemporary. Both "Stroll To Croaghaun" and the lone traditional arrangement "The Derry Air" add a Celtic and traditional touch to this otherwise starkly original collection of compositional gems. There is mastery inherent in the craft of both composition and performance here that is undeniable fresh, appealing and consistently pleasing from first note to last. These attributes are rooted in a recording process that captures pristine clarity and rich sonic qualities. In other words, considering this CD is self-produced, Miller is obviously equally at home behind and in front of the guitar. Adding to the sonic breadth, several musicians contribute fiddle, flute, and percussion. "The Quiet Man" featuring Steve Wickham (The Waterboys) on fiddle proves to be a joyful yet reverent collaboration. If "Songs Without Words" is any indication, Peter Miler is a rare and resonant talent!
© James Filkins


Peter Miller's Website
Buy it at Amazon.com
Listen to "Pluie du Soir"
Neil Jacobs, "The Peasant Sabbatical," 2014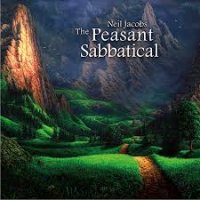 Neil Jacob's home base of Ohio may be near the heartland of middle America, but on his latest recording, "The Peasant Sabbatical," he takes his listeners to locales far afield. We are treated to strains from counties of the Balkans like Turkey, Bulgaria, and Bosnia, sprinkled with some Celtic and American ideas as well. Unlike other recordings by Jacobs where he plays solo 12-strong guitar, this is an ensemble CD, with strong support from Elizabeth Blickenstaff on violin and Sid Omasta on bass, with others chipping in. This is a world music record in the best possible sense of the genre. Jacobs plays the 12-string with keen skill, but also adds tambura, mandocello, and prim to his arsenal of instruments. The title cut, "The Peasant Sabbatical," opens the CD, is the longest tune of the 13 tracks, and features some sweet playing by Jacobs and his musical partners. It is perhaps the brightest and most western of all the songs found here. "Moj Dilbere" (My Darling) has clear Klezmer roots, and several tunes are tradiational dances from the Balkans, like "Itchkil" and "Niska Banja." Jacobs reveals a strong appreciation and homage to the musical traditions of these countries. "Jiffy Jig" actually intermingles Balkan and Celtic influences. "U Stambolu na Bosforu" (Istanbul on the Bospurus) is a gentle, deliberate traditional tune or Sevdalinka song. Two songs pay tribute to human tragedy – "Cross at the Mostar Bridge," a haunting tune recalling the destruction of that iconic bridge in ruins in the town of Mostar at the end of the Balkan war in the early 1990's; and "Amish Autumn," an elegy for the victims of the Amish school shooting in Pennsylvania. This is a lovely, warm record, sure to please most anyone who enjoys stringed instrument music.
© Kirk Albrecht
Buy it at Amazon.com
Listen to "Jiffy Jig"


Home | Facebook | Podcast | Archives | Submissions | Free CD Giveaway | Subscribe | About | Links

Laurence Juber, Doug Smith, Al Petteway, Phil Keaggy (and many more!) at Acoustic Music Resource