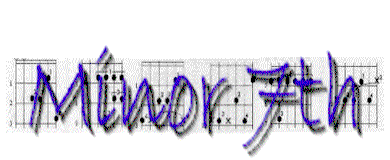 March/April, 2000
Ulisses Rocha: "Moleque", Malandro MAL 71002, 1998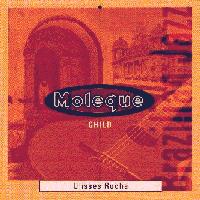 I'm not too familiar with the Malandro Records catalogue, but if Ulisses Rocha is representative of the artistry of the other guitarists on the label, I will make myself familiar in the future. Malandro specializes in the Brasilian and Bossa Nova genres, and when I popped the shrinkwrap on "Moleque", I was expecting Bossa Nova guitar in the spirit of Jobim, Castro-Neves and Almeida. What I heard was even better. Although there is one track I might tag as Bossa Nova ("Bye Bye Brasil"), most of the music seems nylon-string acoustic trio jazz akin to the music of Fareed Haque, difficult to classify. A Latin influence does pervade tracks like "Água de Beber", "Ponteio" and "Certas Coisas", but a Brasilian Jazz designation seems too restrictive for most of this panoramic music. There are hints of Al Dimeola, Ralph Towner and Earl Klugh. "Manhă", in particular, has the compositional refinement of Towner. The liner notes provide a clue why Rocha's music is a melange of moods which doesn't pigeonhole easly: he cites influences as diverse as Paco de Lucia to Baden Powell to Steve Howe to Ritchie Blackmore (I don't hear Blackmore's influence on this recording!). Ulisses Rocha has an incredible gift for composition and the adeptness on his instrument to translate those creations into a sonic delight.

Buy it at Amazon.com
Doug Smith, "Alone At Last", Solid Air Records 909-5, 1998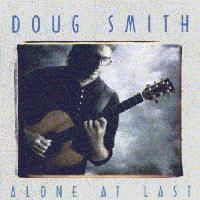 "Symphonic" is the word that occurred to me upon first listen to Doug Smith's "Alone at Last". Although this is a solo guitar endeavor, open steel strings and moving bass lines against arpeggiated chords create a lush chorus of sounds which often modulate unexpectedly into pleasantly dramatic resolutions. Without too much imagination, I can hear in my mind's ear tracks such as "The Tempest", "5 Ft. 8", "Before the Fire Dies" and "August 23rd" scored for orchestral film soundtracks. Smith's classical training no doubt contributes to this overall effect, but paradoxically, there's really no composition here which could be labeled "classical". "Saints Be Praised" and "Brian O'Lynn" are nearly Celtic or Irish. "High Roller" is a slapstyle worthy of Michael Hedges or Preston Reed. If someone had slid track 9, "Reverie", into my CD tray for a blindfold test, I'd have confidently proclaimed "That's Phil Keaggy!". Guitarists will appreciate the fact that Smith lists in the liner notes the alternate tunings he uses for each song, and they may also find it intriguing that he's relegated only three of the 12 tracks to standard tuning. "Alone at Last" was co-produced by Laurence Juber, guitarist for Paul McCartney's Wings, and also an excellent fingerstyle guitarist. There are many moments in "Alone at Last" which are inspiring and moving. It's simply one of the best fingerstyle recordings I've ever heard.

Doug Smith's Website Buy it at Amazon.com

Jonatha Brooke, "Live", Bad Dog Records, 1998

Jonatha Brooke manifests the same kind of close-your-eyes, throw-back-your-head and pour-out-your-soul I've also heard in the voices of Sarah McLachlan, Joni Mitchell, The Indigo Girls and Tori Amos. Thankfully, her lyrics are not quite as oblique as Amos, and they toll like poetry empathic enough to engage. The moods on "Live" run the gamut from a haunting and angelic a capella duet with Ingrid Graudins on "In the Gloaming" to the blues-soaked rock of "Where Were You?", to everywhere in-between. The bulk of the "in-between" is good solid self-revealing folk/rock/pop served up on an acoustic guitar ringing with alternate tunings (see her website for those tunings). Although Brooke is no virtuoso on guitar, she definitely is when it comes to songwriting and vocals, and she has an innate sense of which guitar phrasings enable her voice to soar from a breathy whisper to lilting wail and back again. Sideman Gerry Leonard is ambient and minimalist in his electric guitar embellishments, a genius in his restraint and ability to gauge what is just enough to serve the music well. There is excellent polish and clarity to this live production. There are moments of lyrical beauty that will make the hair stand up on the back of your neck.

Jonatha Brooke's Website Buy it at Amazon.com

Jory Nash, "Tangle With the Ghost", Thin Man Records TMRCD 002, 2000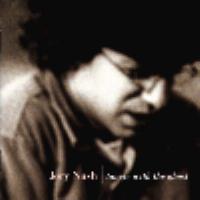 Jory Nash's lyrics are a bit cryptic. When he sings "I like the sound of the straight and narrow, and the acoustic in between" he may be referring to relationships or communication style. But my ears are metaphorically deaf and I hear it as a concrete description of his music, which dives ahead straight and narrow without turbulence or ripples, with great acoustic guitar interludes. The music on "Tangle with the Ghost" is not so straight and narrow as to be easily genrefied however. It may be expeditious to label his music folk-rock, but there are hints of jazz, blues, pop and bluegrass. Nash's voice is characteristic and memorable, a quality somewhere between Al Stewart and Gerry Rafferty. Particularly on "Tangle with the Ghost", "Little Panic" and "Seven Lions" I hear a hint of catchy pop characteristic of those two artists which may bode a commercial success in the future. It would also be fair, though, to draw comparisons with less commercial musical counterparts and influences Lyle Lovett and Rickie Lee Jones. On "I Am a Rambling Boy" Nash sounds like Randy Newman (Newman has done a few serious ballads...) "Seven and Out" and "Love No More" feature a beautiful interplay between fingerstyle guitars similar to the sound of Union Station. Allison Krauss could well have commissioned these numbers and "Autumn Song" for her particular sound. Nash has surrounded himself with supporting players on guitar, keyboards, harmonica, mandolin and harmony vocals who though are unknown, exhibit a professionalism rare on independent releases and who obviously share a mutual passion in Nash's musical vision. Jason Fowler, in particular, shines in his jazzy flatpicking style. "Tangle with the Ghost" easily succeeds because the entire package, from vocals to songwriting, musicianship and production, is constructed with a meticulous eye towards excellence.

Artist info and CD purchase at his website
David Pritchard, "Unassigned Territory", Zebra Acoustic ZA 444404-2, 1999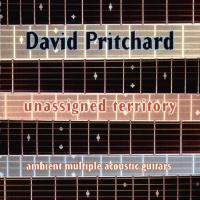 They say that meditation slows the brainwave activity seen on an electroencephalogram, and increases theta waves characteristic of mindful relaxation and creativity. I would be curious to discover, as I suspect, whether the music of David Pritchard has a similar effect on a listener's EEG waves. A slight off-center collation of meters in conjunction with multiple acoustic guitars which drone in upbeat expectation create a mesmerizing sound collage on "Unassigned Territory". The effect is one of alert relaxation. Guitar Player magazine has painted Pritchard's music as "shimmering tonal textures", a description which is apt. Pritchard began his professional musical career in the late 1960s as a guitarist with the Gary Burton Quartet. In the interim he has participated on recording projects with Epic Records and Inner City Records, playing with Freddie Hubbard, Patrice Rushen, Chester Thompson and Don Preston. Pritchard is joined on "Unassigned Territory" by fellow acoustic guitarists Joseph Jewell, Dale Turner and Jack Majdecki who seamlessly blend their styles with that of Pritchard to give an effect of multiple overdubbings by the same guitarist. Teri De Sario adds her ethereal vocals to three tracks. The effect of her vocals on "Penrimento" is similar to the eerie but beautiful effect achieved by Steve Tibbets on "Nyemma" from his 1994 release "The Fall of Us All", a recording which brought artistic credibility to the dawning ambient genre at the time. A complaint about much New Age music is that the skill (or lack thereof) of the musician often hides behind electronics or multiple synthesized effects. None of that smoke-and-mirrors occurs on "Unassigned Territory". The only sounds here are those created by steel strings over a soundhole, and the human voice. David Pritchard has created an epic sound poem which not only will appeal to those in search of ambient moods, but also withstands the test of a serious and critical listen. These are unique and spiritual dreamscapes.

Buy it at Amazon.com
Home |Links | Archives | Submissions | Free CD Giveaway | Subscribe