Reviewing the best in non-mainstream acoustic guitar music
Short Takes | Podcast | Archives | Submissions | Free CD Giveaway | Subscribe | About | Links
January/February, 2011

California Guitar Trio, "Andromeda," Inner Knot Records 2010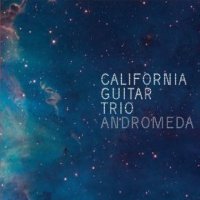 The skies are the limit on the latest California Guitar Trio CD, "Andromeda." Perhaps beyond the skies, as they play into spaces previously unexplored in their 20 year history of creating richly hued aural textures. How do we describe this music? New Age? Ethereal? Complex? All of the above, and more. This is the group's first completely original recording, marked by a higher level of processed electric sounds coupled with the 3 acoustic guitars of Bert Lams, Paul Richards, and Hideyo Moriya. The opening cut, "Cathedral Park," has a surf-guitar edge, shaped in no doubt by Moriya's early love of Nokie Edwards and the sounds of the Ventures (see separate interview with the CGT). The 3 guitars weave in and out with distinct but blended parts that can only come from 2 decades of artistic collaboration. "Turn of the Tide" has a Baroque feel to it, with Hideyo's high-pitched tuning yielding a hypnotizing effect. On "Portland Rain" we get bass and viola taking tune in deeper layers as the guitars weave their musical magic. The CD has four "Improv" pieces, allowing for lots of interplay. "Improv VIII - Layered Circulation" is one of the more intricate pieces on the disk, giving each guy a chance to add to the other sounds, while using some untried recording techniques. While some sounds could be mistaken as harpsichord or piano, it's all guitars, with some help on percussion, bass, and some strings by a cohort of talented contributors. The disc ends with the elegiac "Improv I", a beautiful extemporaneous meditation that bathes you in calm waves of melody. The California Guitar Trio has been moving listeners for 20 years with their creative juices splattered across three fingerboards; "Andromeda" is another great offering from 3 guys who love making music together.
© Kirk Albrecht




California Guitar Trio's Website

Buy it at Amazon.com
Listen to "Andromeda"
Listen to The California Guitar Trio at our podcast

Lee Westwood, "Dragon," 2009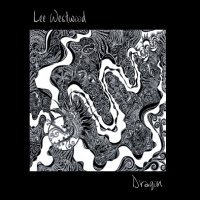 Guitarist Lee Westwood opens "Dragon" with a charming instrumental that's part Charlie Christian, part Tommy Emmanuel and totally enjoyable. This opener, "Far from Home," makes a nice entrée into this solo album (his third) of 13 originals that delights as well as challenges. Westwood, who sounds as if he's been composing and playing for 50 years, has yet to celebrate his 30th birthday. Based in England, he started playing at age 10 on electric guitar before transitioning to acoustic, and began developing his quietly stunning compositional and fingerstyle chops. "Dragon" features 13 tracks (nine solo guitar, four voice and guitar), with guest vocals by musician/artist Goon. The tunes overlap various genres, but all feature his deft touch, economical writing and evocative melodies. Westwood's vivid aural image of caravans and deserts comes to life with "Arabia." He waits until the fourth track, the ethereal "I Dream of Ivy," to unveil his controlled, breathy tenor, which often sounds like an extension of his fretboard. He follows his multilayered, shimmery "Porcelain" with the melodic circus bounce of "Carousel," which at times confoundedly sounds as if it is being performed by a trio. "The Garden" cascades into being like a gentle waterfall. He closes his musical journey with the sweet ache of "Who to Love When You're Down" and the harp-like "Lullaby for a Sleepy Child." While Westwood's fluidity and ease of working within various genres tend to make him elude classification, the common thread running throughout this work may very well just be beauty -- and there's certainly no surplus of that commodity in the compositional and performing world. Interestingly, the CD was recorded on site in the Crypt of Lancing Chapel, which may help explain the work's pristine quality and generally positive karma. Westwood now composes for other instruments, notably the flute, and for small ensembles. He has also recently written and released "Selected Works for Solo Guitar," which raptures 24 compositions from his first three albums. This artist has already accomplished much and apparently is still growing exponentially.
© Fred Kraus
Buy it at Amazon.com
Listen to "El Churro"
Listen to Lee Westwood at our podcast

Mike Marshall, "An Adventure," Adventure Music 2010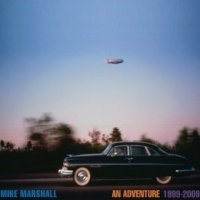 Ten years, nine CDs, and 17 tracks glitter like the dials on the dashboard of mandolinist Mike Marshall's career. "Plays well with others" is the legacy he has built during those years. From his longtime recording and touring partner violinist Darol Anger to David Grisman, Stephane Grappelli, Barbara Higbie, and many others, Marshall has earned his reputation as an intrepid explorer. How to describe his music? Chambergrass? "Brokegrass," as in "baroque grass?" As from Merriam-Webster: "use of complex forms, bold ornamentation, and the juxtaposition of contrasting elements often conveying a sense of drama, movement, and tension." While traditional elements of Americana inform his flights of fancy, he has pulled them all the way over to a new understanding of what traditional American song forms can be. This release highlights his forays south of the border-including his love of Brazilian music and the samba. While cuts like "Borealis," with Darol Anger highlight the brokegrass tendency, two tracks each with Hamilton de Holanda (bandolim), Jovino Santos Neto (piano) and Carlos Oliviera (nylon-string guitar) mine the duende of Spanish and Portuguese-derived forms. From this group, make sure to check out "Blackberry Blossum/Apenhei-te Cavaquinho," "Saru Para Radamés" and "Quando Mais Longe, Mais Perto." What sets Marshall apart from the conventions of his chosen instrument are his embrace of world music, his elongated melody lines, and the complex shadings of his harmonic structures. He constantly bangs and shapes things to accommodate new musical forms and admirably demonstrates what a long fun trip it's been.
© Steve Klingaman
Buy it at Amazon.com
Listen to "Loke's Troubles"

Franz Halász, "Henze: Guitar Music 2," Naxos Recordings 2010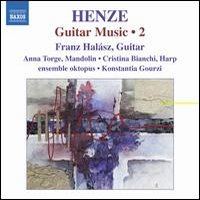 The guitar music of German composer Hans Werner Henze, fiendishly complex and atmospheric, poses an exceptional challenge to perform. But German guitarist Franz Halász, winner of guitar competitions, frequent performer, and professor of music, rises effortlessly to the occasion on Guitar Music 2, the second volume in a series of Naxos recordings. Although Henze's music is rooted in the classical tradition, much is atonal and abstract, often inspired by stories and fictional characters. The first piece, "Royal Winter Music, Guitar Sonata No. 1," written in 1974-76, runs over 30 minutes in six sections, each based on one of Shakespeare's characters. Halász brings distinct interpretations and moods to each section -- percussive thumping on the guitar body and dissonance to mirror Richard III's "destructive personality," airy arpeggios that signify the spirit of Ariel, single notes of limpid grace for Ophelia. The piece is a tour de force of technical wizardary that stretches the limits of the guitar's musical possibilities. In "Carillon, Récitatif, Masqueand" (1974) for mandolin, guitar and harp, the different sonorities among the instruments are explored. Its middle section, as well as the next piece, the simpler and more melodic "Three Fairy Tale Pictures," from the children's opera Pollicino (1980), give the listener the opportunity to further appreciate Halász' exquisite lyricism and purity of tone. Finally, "To an Aeolian Harp," written for guitarist David Tanenbaum, is a moody, interior work, in essence, a guitar concerto with a cycle of four "meditations" and 15 instruments, including a harp, alto, and viola de gamba. Throughout, Halász' mastery of tone, dynamics, and technical brilliance are electrifying. It takes an uncommon guitarist to wrest such beauty from music this cerebral.
© Céline Keating

Buy it at Amazon.com
Listen to "Carillon"
David Wilcox, "Reverie," 2010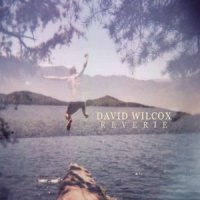 If you're a fan of soulful acoustic singer-songwriters then chances are you already know about David Wilcox. If not, this album would be a great introduction. Recorded live, there's nothing but his resonant guitar, warm voice and thoughtful songs. Gone are the usual trappings of a live recording -- the audience is silent but you know they're there because his songs have an intimacy you don't find with studio recordings. Wilcox uses 31 flavors of guitar tunings; the unique voicings make you think you're hearing a whole band and when the strings are tuned low, it offers a percussive edge. On one song I could swear I heard an organ but no, only strings vibrating in the hands of a skillful guitarist. It all starts with the upbeat "End of the World (again)" which, in spite of the title, isn't depressing and has a shake-your-booty groove. "Shark Man" is a flirty piece with a sinister edge. One or more of his strings are tuned quite low, making for a rattley sound that amps up the dark mood. "Cast Off" uses the cast around a broken limb as a metaphor for weakness while the metaphor in "Dynamite in the Distance" reveals itself in the poor communication of a faltering relationship. Toward the end you can hear a far away siren. I'm sure it's only sound leaking in from the street but it makes the lines even more poignant. "Little Fish" is a biting commentary about right wing Christians: "We want creationism in every public school / So all the youth can get what we were given / The golden iron rule." He minces no words with "We Call It Freedom" either, only this time it's from the other side: "They call it torture, we call it freedom." "Ireland" takes a more tender track, a lovely portrayal of that country while the title cut is a beautiful contemplation about finding peace in nature. "Stones of Jerusalem" is a history lesson in story form. This is a beautiful album.
© Jamie Anderson
Buy it at Amazon.com
Listen to "Buster"

Hunter Van Larkins, "Myriad," CandyRat Records 2010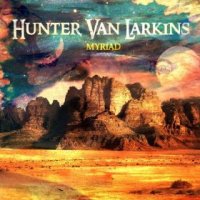 "Myriad," Ross Hunter and Owen Van-Larkins' debut for CandyRat Records is nothing short of an acoustic explosion of sparkle and clarity that effuses sonic enchantment. That may sound like saccharine hype, but this CD had my auditory senses piqued within the first 90 seconds of the title track which sets a sonic hook in a way that makes it impossible to turn away. The interplay between Ross and Van-Larkins is spirited and melodic. The fretwork pulses organically from one invigorating acoustic groove to another. Favorites include "Ripple Effect" which builds from a gentle finger style melody to string layered crescendo and the Spanish inspired "Bull on Fire". To find a guitar duo that seems to push and pull each other in directions that sound effortless and spontaneous is a rare thing and, perhaps, that is what makes this recoding so infused with energy and solar flare like acoustically. Trying to label influences is chancy at best, but I can hear the nuances of recent CandyRat heroes like Antoine Dufour, Andy McKee, Don Ross, as well as producer Andrew White. There are even echoes of the early acoustic grooves of America's Dewey Bunnell and Gerry Beckley. "Myriad" is a sonic treasure from the Land of Oz. One listen and even Dorothy would forget about those ruby slippers.
© James Filkins
Buy it at Amazon.com
Listen to "Ripple Effect"

Joël Fafard, "Cluck Old Hen," 2010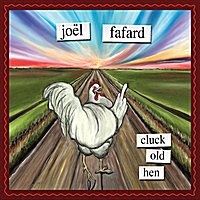 Joël Fafard might make you blush a bit with his sweetly nasty take on Robert Johnson's "Come On In My Kitchen," originally recorded by the blues legend Johnson in 1936. Fafard simmers the perfect blend of slide guitar and raised eyebrow as he suggests: "You better come on in my kitchen baby, it's goin' to be rainin' outdoors." But finding the perfect tone as he works his way through this collection of mostly traditional blues-influenced tunes is something Fafard clearly has a knack for. While these songs have long been in his live repertoire, this collection marks the first that Farfard has taken them into the studio. As he has said, "Everybody was asking which albums they were on and I got tired of saying 'none of them'." His previous three collections have been largely instrumental, which points to another benefit of this CD: being able to enjoy Fafard's somewhat scratchy, husky, and oh-so-comfortable vocals. He's joined by Gilles Fournier on bass and Richard Moody on violin -- who thankfully realizes the measured power in strings as an accent rather than a full dose. Fournier too is understated but still propulsive. The right and true focus on this CD is Fafard's fine touch on his Yanuziello resonator guitar. Collections such as this bring us back to the roots of today's music, and update the classics. Other tunes getting some nice treatment here, in addition to the title track, include Willie Dixon's "Spoonful," a particularly spirited and tasty "Angeline the Baker," "Don't Let Your Deal Go Down,' the Appalachian-derived "John Hardy," and Muddy Waters' "I Can't Be Satisfied." Contemporary tracks include Fafard's heartfelt reading of Lyle Lovett's "If I Had a Boat," and Richard Thompson's "1952 Vincent Black Lightning." Fafard also includes a bit of a surprise -- about five minutes expire tick off in between the 12 main tracks and the five bonus tracks, which sound like demos for the more finished product. They offer a look into the evolution of the process of the song, and into Fafard's solo chops.
© Fred Kraus
Buy it at CD Universe
Listen to "Don't Let Your Deal Go Down"


Home | Podcast | Archives | Submissions | Free CD Giveaway | Subscribe | About | Links

Laurence Juber, Doug Smith, Al Petteway, Phil Keaggy (and many more!) at Acoustic Music Resource
Buy Instructional and Biographical DVDs and Books at


(Click on image below to buy)
| | | |
| --- | --- | --- |
| Robert Fripp Unplugged | The David Wilcox Collection | Mike Marshall's Mandolin Fundamentals DVD |