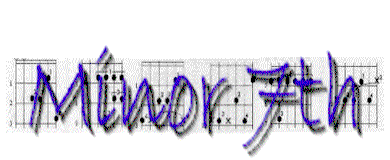 Reviewing the best in guitar CDs, from jazz to folk to rock to new age, emphasizing acoustic and independent or obscure releases
January/February, 2001

Guitar Monks, "Songs for Oblivion", New Tangent Ltd. 0201 , 2000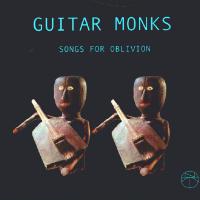 This is one of the best, if not the best, instrumental guitar recordings I've heard this entire millennium. Eloquent and erudite, "Songs for Oblivion" is the culmination of four years' effort for Andrei Otraskin and Timothy Young, a guitar duo who somewhere along the way of playing together developed an uncanny telepathy which is manifested by a sensitivity for reciprocating the precise nuance of the other's expressions on guitar. Successfully blending jazz and classical idioms into one, the Guitar Monks also manage the paradoxical feat of musically articulating flair and restraint simultaneously. Otraskin plays nylon string guitar exclusively, Young plays both nylon and steel-string guitar. This is diverse music. "The Entertainer" is a playful romp which seems like a classically-influenced hybrid of zany surf music with a B-grade horror flick soundtrack (has that ever been done before?). "Valse Oblivion" and "Just a Phone Call Away" are billowing Bill Evansian reflections. "November" flirts with ethnic and ambient textures, evolving deliberately and slowly via a beautiful classical interlude into a drone-like tintinnabulation of riffs. A Prokofiev-inspired neoclasicism is apparent on "Timmy's Theme" and "Midnight Awakening". "Requiem for that Summer" is just plain and simple, moving. "Guitar Monks" seems like a fitting moniker... this is music born of monastic discipline and devotion.

Listen to A mp3 sampler from "Songs for Oblivion"
Martin Taylor: "In Concert", Milestone MCD-9306-2, 2000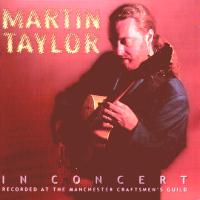 Pyrotechnics are to the Fourth of July what Martin Taylor is to solo fingerstyle jazz guitar. OK, maybe that's an unsuitable comparison for a British guitarist, but you get the idea. For those who were awestruck, mute and otherwise bedazzled by Taylor's solo studio recordings on Linn Records, "Artistry" and "Portraits", his newest solo live recording "In Concert" demonstrates that he really can do those things on guitar without any overdubbing, re-takes or cutting and splicing. Though Taylor does not strictly play an acoustic guitar here, his Yamaha archtop is configured to faithfully reproduce the warm and vibrant texture of an acoustic. Placed in Taylor's hands though, the Yamaha heats quickly from warm to sizzling. This is rhythmic, cookin', be-boppin' stuff literally flying off the fretboard from all angles. Although Taylor self-deprecatingly postscripts his rendition of Gershwin's "I Got Rhythm" with the statement "just a bit of fun..", this is serious guitar with frantic and percussive bass lines heading down-neck at the same time that impossibly syncopated comping is headed up-neck. Even on the more pensive tunes, Taylor turns his guitar into a piano with arrangements that sound as though they would even be difficult on keyboards. Taylor is a modern guitar marvel.

Martin Taylor's Website Buy it at Amazon.com

Michael Veitch, "Southern Girl", Silverwolf Records SWCD 1026, 2000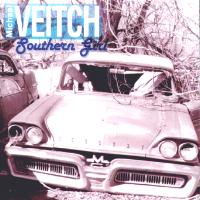 Michael Veitch has the kind of smooth-as-silk voice which makes producers see dollar signs and the rest of us see the light. His vocal phrasings inflect ever-so-naturally like cascades finding some sort of divine path of least resistance. The degree of excellence of his new CD "Southern Girl" is proof to me that talented multifaceted persons should likewise seek the path of least resistance in their lives by both following their heart and trusting fate. Veitch nearly got sidetracked by a political career on a laudable environmental platform, although luckily for us he lost this Senate race. Now he's winning accolades from fellow folkies the likes of Shawn Colvin and Susan Werner instead. Veitch's acoustic guitar work is pretty basic, but is flawless and more than does the job... anything more flashy would somehow be a less perfect complement to his voice. "The Wildest Fire" sounds so much like Stephen Bishop's memorable and moving early solo work that it made my hair stand on end. "Sunday Driving" not only captures the feel of a David Wilcox tune, but also borrows on Wilcox's common theme of automobile-as-metaphor. Michael Veitch isn't headed for the Senate, but I think he's headed for greener pastures.

Buy it at Amazon.com
Badi Assad, "Chameleon", i.e. Music 314 539 889-2, 1998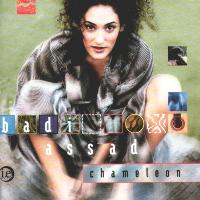 Sometimes coincidence speaks so loudly you have to listen. While recording the first track of their upcoming CD, a song filled with metaphors of fire, rain and shelter, Badi Assad's Menagerie was witness to the studio owner's adjacent mobile home being consumed by flames during an eerie California rain. Fortuitously, then, I couldn't help but take notice of another small coincidence conjured up by Menagerie and transecting my own life: Jeff Scott Young, Menagerie's "other" guitarist, studied classical guitar for a time when he was younger with Jim McCutcheon, who played at my own wedding. OK, even with discounting this somewhat underwhelming and circuitous "cosmic connection" with Badi's music that I have, there really is something about her music which is incredibly special. Just ask the editors of Acoustic Guitar Magazine, who named her as one of the fifteen "Artists of the Decade". To those familiar with her 1994 recording, "Solo" on Chesky Records, her virtuosity, speed and inventiveness on classical guitar is unquestionable. On "Chameleon", this virtuosity is slightly muted, taking a backseat to the wonderfully atmospheric production showcasing Badi's sultry Flora Purim-like vocals as well as her songwriting talents. Much of "Chameleon" is joyous, celebratory world music... a Brasilian festival of sounds ("Rhythms of the World", "Naio, Naio", "Dolphins in the Blue Mist"). But when Badi chooses to immerse herself into a quieter expression such as "Ponta de Areia" and especially "Naked", she plunges headlong into profound and stunning musical poetry.

Buy it at Amazon.com
John McKone, "Here It Is", BellMetal Music BMM-2000-01, 2000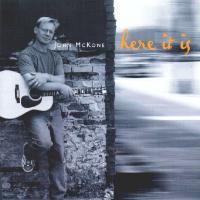 John McKone is a Renaissance Man. Before McKone, I couldn't name one luthier who was also an accomplished performer (Editor's note: please don't write in with all those you can name!). McKone built the guitar on which the instrumental solos from "Here It Is" are played, based on the design of a Martin HD-28. It's a little surprising that the luthier/artist combination isn't more common since one would imagine that lovingly constructing an instrument and nurturing a song along would both require the skills that McKone sonically brandishes on this disc: creative inspiration, patience, sensitivity, attention to detail and a willingness to go out on a limb for no guaranteed returns. He has to be proud of "Here It Is" if only for the personal returns, but it's likely that public validation of his efforts will soon follow. It's already happening. Billy McLaughlin, who speaks a similar slapstyle to McKone has said of his playing: "John McKone plays guitar like crazy... slapping, tapping, melodies everywhere... all with a good spirited vibe". "It'll Be Alright" demonstrates McKone's ability to paste together pretty melodies. "Snow Below Zero" and "Swinging on King's Bridge" are Kottke-esque rags. "Here It Is" is a slapstyle in the spirit of Michael Hedges. "Cuttin' a Chord" shows he can smoke on fingerstyle blues. Look for this Renaissance Man's music to ripen into a world-class grade.

Buy it at his website

Please visit Phunquie Pholk, hosted by guitarist, writer and instructor Eric Elias, and where you can buy jazz instruction materials, CDs and more!
Home |Links | Archives | Submissions | Free CD Giveaway | Subscribe