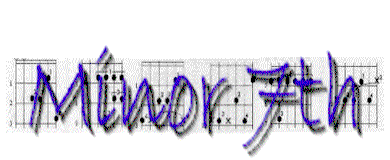 November/December 1999
Sandy Prager: "Seattle Joe's", Fo-Pa 8369, 1999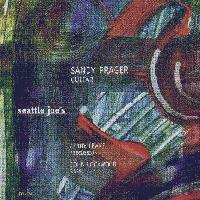 The comparisons to Ralph Towner's music are inevitable and obvious... I consider that a good thing. On "Seattle Joe's", Sandy Prager does not merely imitate Towner, he asserts his own voice and compositional skill in a manner that honors the influence of the famed writer and guitarist for Oregon. In his choice of the nylon and 12-string guitars, his penchant for the solo format, but also in his phrasing and chord resolutions he has successfully crafted a Towneresque style that not only stands alone but breathes an infectious passion. Although on cuts such as "The Eggman" and "Dinner at Eight" he exhibits virtuosity in playing jazz, his more simple solo compositions such as "Shine Every Day", "Moroccan Sundance", "Cat and Mouse" and "Six More" reveal a restrained intensity which lingers with the listener. Percussionist Jerry Leake and bassist John Lockwood complement Prager on the five trio tracks, including some very nice tabla by Leake on "The Chase". Very highly recommended.
(CD purchase available at his website)
Gilbert Isbin and Geert Verbeke, "Twins", Tern Records CD 005, 1999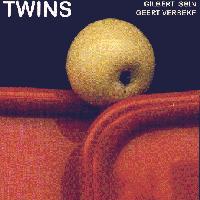 Sparse and meditative, "Twins" features Belgian artists Gilbert Isbin on classical guitar and Geert Verbeeke on a variety of percussion instruments, some novel and ethnic. The liner notes describe the collaborative style as "expressive ambient, meditative lines and world music." As promised, some of the tracks are forays into not only ambient, but experimental territory. "Saskia Maya", "Secrets", "Threat" and "Loop" are formless and sometimes dysphoric ventures into soundscapes that have neither meter nor melody. Though some listeners are bound to dismiss these cuts as noodling around, it is an innovative and bold concept to experiment with ambient music in such a sparse instrumental context, sans electronics. Other songs are simplistic but contemplative such as "Royal Tune", "Open Day", "Apple" and "Child". These songs succeed not by any flourish of songwriting or technique but by simply evoking a mood.
Buy it at Eurock
Fareed Haque, "Sacred Addiction", Blue Note CDP 0777 7 89662 2 7, 1994,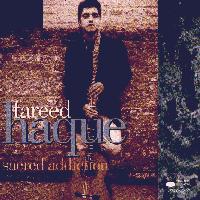 Even though Fareed Haque's "Sacred Addiction" was released in 1994 and not his most recent CD release, I only recently had the good fortune to stumble upon it. The Northern Illinois University music professor feels equally at home with classical and jazz guitar, but his playing often also has a modal feel to it which gives it a Middle Eastern flavor. On this recording, Fareed is joined by Patrice Rushen and Buzzy Feiten, Feiten's electric guitar deftly but subliminally present behind Fareed's lightning-fast nylon string explosions. The high point on "Sacred Addiction" is Fareed's rendition of the Chick Corea piece "No Mystery". I never before imagined this as a guitar piece because of its complexity. Fareed plays it not only flawlessly from a technical standpoint, but has arranged and performed it with the same sensitivity as Chick Corea and Gary Burton have done. Doug Webb's soprano saxophone doubling Fareed's melodies and dancing around hanging chords give "Raga" a feel of latter-day Oregon. Spanish and Flamenco influences are apparent in "Too Much to Tell", a beautiful hybrid of styles all of Fareed's own. Indeed, Fareed Haque's strength lies in his considerable ability to hybridize classical, flamenco, jazz and ethnic musics into his own unique voice, and to do it with incredible virtuosity and sensitivilty.
Buy it Amazon.com
Richard Leo Johnson, "Fingertip Ship", Metro Blue 7243 4 96901 2 7, 1999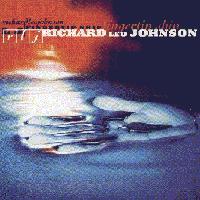 I was priveleged to see one of Michael Hedges last performances in Fish Creek Wisconsin in 1998, and was convinced that no one would ever fill the empty musical niche left by his death. Richard Leo Johnson comes close on "Fingertip Ship". Though Hedges has permanently laid claim in musical history to this percussive, harmonic and open-string genre, Johnson has refined it and injected it with a newness reminiscent of "Breakfast in the Field". Even more remarkable is the fact that Johnson is first a graphic artist, and second a musician. But if the 13 solo guitar tracks on "Fingertip Ship" represent a mere hobbyist's pastime, I've got to see his visual art. "Glidepath" opens this CD with a soaring, percussive celebration of sound which morphs and meanders through fields of pure joy. Other tracks have a more pensive feel, such as "Mother's Day", "Tony Bennett" and "Jaco Morocco" though always remaining percussive. In fact, some of the cuts could be etudes for percussive guitar technique: "Get Funked", "Cicada" and "The Filing Song" are complex rhythmic tone poems without any appreciable melody. Somehow, even melody might be superfluous in Johnson's hands.
Buy it at Amazon.com
Miroslav Tadic, "Window Mirror", MA Recordings MO16A, 1995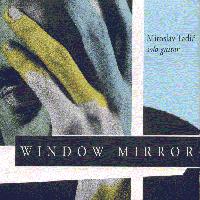 The first time I heard Miroslav Tadic was with Bracha, a trio of talented European musicians who play an incredible ethnic brand of instrumental and modal music which include bansuri flute and percussion. I was an immediate fan, though Tadic's playing is subdued on the Bracha recording. On "Window Mirror" he adopts a solo guitar format and so is able to showcase his talents more openly. The 17 total tracks were recorded with one pair of microphones in the idyllic setting of Matsumoto in the Japan Alps, the tracks divided into two general sections. "Laments, Dances and Lullabyes" are seven tracks written by Tadic and are based on folk music of Eastern Europe. Seven other tracks comprise Bach's Suite in A Minor. Tadic's classical influences pervade the ""Laments", many of which carry an air of bittersweet melancholy ("Doina", "The Traveler", "Makedonsko Devojce", "Andya's Blues"). Other tracks are lively but hypnotic dances which evoke a scene of swirling skirts and kicking heels ("Rustemul", "Kriva Reka", "Walk Dance"). Hopefully, his somewhat disappointing excursions into electric guitar, as on "The Snake Music", won't detract listeners from someday granting him a renown which is commensurate with his talent. Few guitarists have the ability to speak emotion in depth with a solo instrument; Tadic is one of those.

Miroslav Tadic Bio Buy it at Amazon.com
Home |Links | Archives | Submissions | Free CD Giveaway | Subscribe