Reviewing the best in non-mainstream acoustic guitar music
Home | Podcast | Archives | Submissions | Free CD Giveaway | Subscribe | About | Links
November/December, 2010

Laurence Juber, "LJ Plays The Beatles Vol. 2," Solid Air Records 2010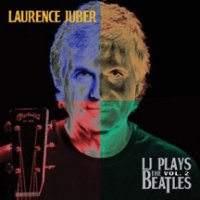 Guitarists from Chet Atkins to Ralph Towner have mined the Beatles catalog since the group's worldwide breakout in 1963-64. Starting out as a teenager, Laurence Juber has been doing just that from the earliest days of Beatlemania. It's fair to say that Juber now dominates the field of solo guitar interpretations of the Beatles' music. Most of his arrangements on this second "LJ Plays the Beatles" collection utilize DADGAD tuning and take advantage of its close intervals. This is an important element of Juber's arranging style, as it facilitates the placing of melodies in the guitar's midrange, thereby leaving headroom in the higher registers for embellishments, variations and improvisation. My favorites on this disc are "Penny Lane", "Eleanor Rigby", "Michelle", "Blackbird", "I am the Walrus", and "The Long and Winding Road". On several of these tunes he captures key elements of the original recordings, including the piccolo trumpet solo on "Penny Lane" and "Eleanor Rigby's" string quartet. LJ highly personalizes both "Michelle" and "Blackbird", reaching new heights as an interpreter and providing guitarists with insight into reimagining the original, iconic arrangements, on which many guitarists cut their teeth as novice fingertylists. "I am the Walrus" captures the ominous mood of the original, almost alarming so. Juber's surprisingly understated readings of the rockers, "You Can't Do That," "I Feel Fine, and "No Reply," show his willingness to take risks in order to engage the listener (much as he did several years ago with his slowed-down, jazzy version of "Can't Buy Me Love." The lack of any George Harrison songs in this set seemed, at first, puzzling. The explanation is that a companion transcription folio to this CD entitled "LJ Plays Lennon & McCartney" is in the works by Hal Leonard Publishing, so George Harrison fans will have to wait a little longer for LJ's promised recorded version of "Something." If such wasn't already apparent, Laurence Juber has redefined solo acoustic guitar playing. I attribute this equally to three elements of his approach: arranging skill, a deep understanding of DADGAD tuning, and willingness to present popular songs. And let's not forget his prodigious workload. If you're already familiar with Juber's music, you don't need convincing. If you don't know Laurence Juber, then "LJ Plays the Beatles, Vol. 2" is a fine introduction to his masterful interpretive skills.
© Patrick Ragains
Buy it at Acoustic Music Resource
Listen to "Blackbird"


Hands on Strings, "Loco," Ozella Music 2009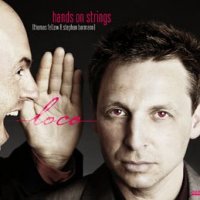 In the autumn of 2009, I was very fortunate to be among an enraptured audience attending Peter Finger's fêted "Open Strings Guitar Festival" in Osnabrück, Germany. Although headed by such stellar talent as Clive Carroll, Muriel Anderson and Franco Morone, the German acoustic guitar duo "Hands on Strings" easily outshone every other performer there, hands down. Thomas Fellow and Stephan Bormann are individually incredible players, but the telepathy and synergy they've found as a duo energizes their work to an exponential degree. A fusion of jazz and classical, their music is a sonic personification of the crosspollination of the two players' strengths, especially Fellow on classical nylon-string and Bormann on acoustic and electric jazz guitar. Although acoustic jazz guitar duos such as Larry Coryell & Philip Catherine, Biréli Lagrène & Sylvain Luc, and Ralph Towner & John Abercrombie long ago set the bar high in this arena, Hands on Strings with their new release "Loco" have set it a little higher -- into the stratosphere. "Chewbacca" is a spirited anthem which seems to pay unapologetic homage to freedom and joy... contagiously uplifting via expert control over dynamics, insistent rhythms, modulations and melody. "Galileo" shows off another forté of this duo: total facility with unusual meters, nearly tribal, always riveting. There are shades of Ralph Towners' landmark recording "Solstice" on "Moondog," where Bormann coaxes his 12-string on a near-spiritual odyssey. The CD is a compilation of ten original compositions by Fellow and Bormann, with two exceptions. The duo engages in a playful repartee with Egberto Gismonti's "Karate." On Keith Jarrett's "Memories of Tomorrow" (also known as Part II C of "The Köln Concert") they mine musical gold. By staying true to Jarrett's emphasis on unadorned but nuanced melody initially, the tune is elegant in its simplicity. In the last seconds, however, Fellow caps it off with a mesmerizing and lightning-fast solo recapitulation of the theme which will truly astonish you. Although a CD copy of "Loco" may be difficult to find in North America, it will be worth your while to hunt this one down from a European source.
© Alan Fark
Buy it at CD Universe or Ozella Music (Europe)
Listen to "Chewbacca"

Raul Midón, "Synthesis," 2010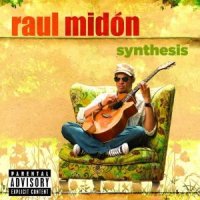 If Raul Midón does not inspire you, then it's time to put away your guitar. Born in New Mexico and blind since birth, Midón's brilliant and expressive guitar technique -- best described as a "slap attack" -- is a deceptively simple method that will bolster any player's bag of tricks with a little practice and an instrument outfitted with light-gauge strings and fairly low action on the neck. The basic approach centers on Midón's right hand-left hand coordination. Midón's right hand down-strums, then he taps the guitar neck with his index finger, while his left hand employs the traditional hammer-on technique subdividing his bar-chord patterns in a wide array of rhythms. (Be advised to view Midón as he explains and demonstrates his technique via YouTube - Slap Attack and the numerous live clips of him in action). The variations on Midón's slap system include a seemingly endless palette of harmonics, percussion, and grooves that will keep any solo guitarist's audience bedazzled for hours on end. Add to that Midón's rather bizarre "mouth-trumpet" -- a closed lipped vocal technique that mimics the sounds of a horn (you may have employed such an organic instrument in grade school to annoy the substitute teacher) and you have a pretty impressive one man band. "Synthesis" is Midón's fourth album (including his self-releases) and his roster of sidemen is quite impressive: Grammy Award winning bassist Larry Klein (Joni Mitchell, Bob Dylan), drummer Vinnie Colaiuta (Frank Zappa, Jeff Beck), pedal steel player Dean Parks (Steely Dan, Stevie Wonder), and organist Larry Goldings among others. Traversing soul, jazz, blues, and R&B, the album, as its name implies is a brew of many styles that show off Midón's silky smooth voice and his uncanny ability to embellish a melody. "Everyone Deserves A Chance" finds the singer in lounge lizard mode with the help of Jamie Muhoberac's cool accompaniment on Wuriltzer. Midón's hypnotic arpeggios create a sleepy seductive backdrop to "Bonnie's Song." Sir Paul's warhorse "Blackbird" sounds fresh again as Midón' employs his mouth trumpet akin to an old jazz man riffing at an after hours jam. Midón's guitar patterns on "Don't Be A Silly Man" clearly demonstrates that you don't need electricity to be funky whilst Park's guitar solo break shows exactly why he gets hired by Fagen and Becker. This should be the record that makes Midón a star in the United States. And if your girlfriend digs John Legend, Jack Johnson, Jon Secada, along with Marvin and Stevie -- impress her with "Synthesis."
© Tom Semioli
Buy it at Amazon.com
Listen to "Next Generation"

Fred Fried & Core, "Core 3.0," 2010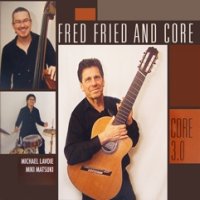 Fred Fried's current release "Core 3.0" features the innovative nylon stringed guitarist in an intimate trio setting.   Fried's musical career is as distinctive as the music he creates.   As a case in point, he did not even take up the guitar until he was an English major at Boston University.  Although originally attracted to straight ahead guitar players, he soon became enamored with introspective pianists like Bill Evans and Ahmad Jamal.  While in Los Angeles he was fortunate to study with the 7-string virtuoso George Van Eps.  Inspired by his teacher, Fried plays a classical guitar with additional "A" strings on the high and low registers.  This allows the guitarist to enrich his music with lush, elaborate fingerboard harmonies.  Joining Fried on "Core 3.0" is a supportive and intuitive rhythm section composed of Michael Lavoie on acoustic bass and Miki Maksuki on drums.   The strength of this recording lies in the trio's synergistic approach. The group is more concerned with collectively supporting the music itself rather than solely showcasing their own prodigious talents.  On the opening "Leanne's Number," one instantaneously hears echoes of George Van Ep's ubiquitous style in Fried's use of improvised chord melodies mixed with eloquently swinging single note lines.  The result is a very pianistic approach with detailed moving harmonies matched with intricate chord voicings.  Compositionally this album is solid, with original pieces taking on a timeless quality as if they were already part of the jazz standard cannon.   "Weather Changes" features striking harp-like cadences playing by Fried, while the dramatic "April's March" showcases some thunderous drum fills by Matsuki. Lavoie also contributes impressive bass accompaniment and soloing throughout the recording.  The album closes with the delicate ballad "The Things You Do" featuring pensive, passionate playing by this cohesive unit. With  "Core 3.0" Fried essentially redefines the trio format that has played such a pivotal role in the history of Jazz and is a must have for all fans of contemporary improvised music.
© James Scott
Buy it at Amazon.com
Listen to "Henry"
Listen to Fred Fried & Core at our podcast

Ben Powell, "Preliminaries," Yellow Gecko Records 2010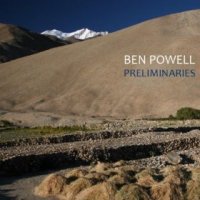 "Preliminaries" introduces the exceptional talents of Ben Powell, a virtuoso of sensitivity and intelligence whose superb playing, compositions, and exquisite tone prove him to be a true heir to fingerstyle giants Michael Hedges and Pierre Bensusan. Powell's debut CD features 12 original compositions that are highly melodic yet intricate, subtly stuffed with unexpected changes of key and meter, dronelike effects, hints of Django Reinhardt jazz, or of mid-Eastern modalities, as on the sublime "Reflections." His pieces are inspired by a sense of place, many in India and Tibet, and an aura of spirituality is palpable ("Bhagsu Road"; "Pashima"). One of the most beautiful offerings is "Nightwalking Monteverde," a moody introspective ode to a night walk in Rome that shimmers with deep feeling. The pieces range stylistically from the wistful and dreamy ("The Village"; "February") to the energetic and propulsive ("Subika"), its driving quality gained by repeated arpeggiated passages. Powell doesn't indulge in many flashy displays, though he clearly could, as evidenced in his arrangement of "Theme for Jeeves and Wooster" (Anne Dudley) with its wickedly fast runs. Powell is more interested in communicating a coherent musical vision, and the result is a gorgeous meditation, at once ethereal and earthy.
© Celine Keating
Buy it at Amazon.com
Listen to "The Chalice Well"
Listen to Ben Powell at our podcast

Marcos Amorim Trio, "Portraits," Adventure Music 2010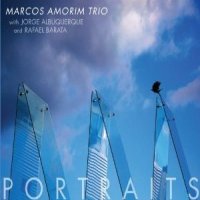 "Portraits" is guitarist Marcos Amorim's second recording with bassist Jorge Albuquerque and drummer Rafael Barata. The influence of Brazil's music and culture permeates the album. In fact, the sleepy "Leblon" could be right out of the Jobim songbook. Yet there is also a heavy contemporary American jazz influence, particulary the work of guitarist Pat Metheny. Amorim wrote seven of the ten songs on the album and Albuquerqe contributed the remaining three, which speaks to the collaborative nature of the recording. The most exciting piece is "Macaratu," where Amorim flaunts his chops and Latin heritage on nylon string guitar. "Bantu" is another inspired improvisation. Unforunately, it ends too abruptly and is the shortest cut, clocking in at under four minutes. Which is another surprising aspect of the album; no track exceeds the six minute mark. In fact, most tracks are well under five minutes. No self indulgent jazz elitists here, just three great players making some great music and knowing when to take the horn out of their mouths. Amorim himself shares the spotlight willingly and to great effect. Bassist Albuquerque takes the first solo on the second track, "Morning," a lovely and aptly named tune, and also takes the lead on "Amarak." Barata's percussion work is original and creative throughout, never relying on cliches or worn-out motifs. In all, "Portaits" is a collaborative and balanced album worthy of repeated listenings.
© Chip O'Brien
Buy it at Amazon.com
Listen to "Ribeirinha"

Geoff Muldaur, "The Guitar Artistry of Geoff Muldaur," Stefan Grossman's Guitar Workshop 2010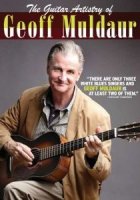 There's nothing too remarkable about the format of this solo DVD: Geoff Muldaur sits on a stool with his acoustic guitar and performs 14 songs after saying a few words about them. What is rather remarkable, however, is Muldaur himself, whose blues-based guitar work is as elegant as his stories are eloquent. Muldaur, of course, made his mark in the 1950s and 1960s as a blues player in the Cambridge, MA, area before joining up with Jim Kweskin's Jug Band, a magical amalgam of folk, blues and other delights. The 14 songs presented here focus on some of the artists who were key influences on Muldaur's musical development – as well as on his life. As he introduces each song, Muldaur tells of working with a veritable Who's Who of the 1960s musical stew: Eric Von Schmidt, Dave Van Ronk, Son House, Sleepy John Estes, Mississippi John Hurt. As Muldaur traces his musical development, we are treated to a condensed musical history of America. It all started for Muldaur when he was exposed to his older brother's record collection, which featured such notables as Louis Armstrong and Bix Beiderbecke. Anthologies that included the likes of Leadbelly and Josh White and Lonnie Johnson also made their mark. Muldaur, who left the performing stage for a couple of decades to focus on writing musical scores for film and TV, garnering an Emmy in the process, shows he hasn't lost his musical chops at all as he takes us through the high lonesome sound of "The Wild Ox Moan," to a bluesy take on the New Orleans funeral march with "Just a Little While to Stay Here," to the fingerpicking gem of "Fishin' Blues." While he freely pays homage to those who have gone before, Muldaur's stories about those American treasures reveal as much about Muldaur the man as Muldaur the performer. He closes this set with his own composition, "Got to Find Blind Lemon – Part One," in which he describes how he and three friends hitchhiked from New Orleans to East Texas on a mission to make sure that the grave of Blind Lemon Jefferson has been cared for. "I just told the truth – just what happened," he says of the song. In some ways, the song stands as the theme of the entire disc: seeking out the past and making sure that it is preserved and recognized. Another nice feature of this collection is that, while not an instructional video per se, the camerawork is such that Muldaur's fretwork and picking can often be clearly discerned. And while Muldaur admits that his greatest strength is probably that as a musical arranger, his storytelling comes in a strong second.
© Fred Kraus
Buy it at Stefan Grossman's Guitar Workshop
Watch an instructional clip of "Wild Ox Moan"

Ernie Hawkins, "Whinin' Boy," Corona Records 2010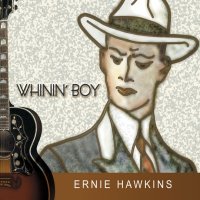 "Whinin' Boy" is an authentic and spirited guitar pickin' romp through some of the greatest music of the early twentieth century. Dr. Ernie Hawkins – he does after all have a PhD in Philosophy – is the real deal, a direct link to legendary master fingerstylist Reverend Gary Davis with whom he once studied. With tunes by Jelly Roll Morton, Irving Berlin, Al Jolson, and Big Bill Broonzy, as well as originals composed in the same vein, Hawkins and company take us back to a simpler time. Hawkins's guitar playing is meticulous, yet laid back, his vocal warm and inviting, and the band is spot on. Most of the tracks were recorded with a small ensemble made up of various combinations including any of the following: trumpet, trombone, tuba, clarinet, harmonica, bass and washboard. On one of the coolest tracks, "My Poodle has Fleas," Hawkins struts his stuff on ukulele, accompanied by tuba and brushes on snare drum. Hawkins really digs in on"Vicksburg Blues," where he's accompanied by Marc Reisman on harmonica. And the solo "I'm Coming, Virginia" showcases Hawkins's formidable fingerstyle chops. All the tracks bring to mind turn-of-the-(last)-century New Orleans, Louis Armstrong, and the legendary trumpet bands of the era. Several of the tracks were once performed or recorded by Bix Beiderbecke and his various bands. The interplay between Hawkins's guitar and Joe Dallas's trombone on "The Southbound Sneak" is spectacular. This is unashamedly nostalgic stuff, which sets a mood and keeps on keeping on. A great listen.
© Chip O'Brien
Buy it here
Listen to "Shuffle Rag"


Home | Podcast | Archives | Submissions | Free CD Giveaway | Subscribe | About | Links

Laurence Juber, Doug Smith, Al Petteway, Phil Keaggy (and many more!) at Acoustic Music Resource
Buy Instructional and Biographical DVDs and Books at


(Click on image below to buy)
| | | |
| --- | --- | --- |
| Laurence Juber DVD: Understanding DADGAD | Ernie Hawkins Instructional DVD | LJ Plays the Beatles |