Phil Roy:
In Performance: The Tin Angel, Philadelphia, November 18, 2007
Interviewed at His Home, December 6
The tiny stage is crowded: a drum kit, a Fender Rhodes, a guitar stand. Phil Roy, Philadelphia native and Philadelphia icon, comes on stage and orders a tequila. "It's one of those nights," he says.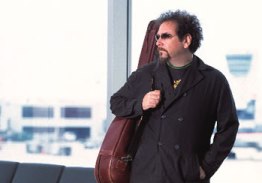 He opens, accompanied by Sean Hill on bass, with "You Were There for Me," from his upcoming release, "The Great Longing." "To keep it romantic," he says. But the song's got the line "I've wrestled with my demons."
Let's talk about your first two albums before we get to the new one. Looking back, how do you sum up "Grouchyfriendly?"
"Grouchyfriendly" was made -- I don't want to say out of desperation -- but out of a major change in my life from solely writing for other artists. Some tracks were demos for them. Other songs were specifically cut for the album. The first ("Melt") and last tunes ("It's Alright") -- which are like bookends -- represent the heart of that session and the CD.
How would you characterize "Issues and Options"?
Specifically designed as my second solo album... Very concise as far as what I wanted to say. But as much as some great things happened with "Grouchyfriendly," I was still in a struggle trying to get record deals and make a living as a musician.
"Got a feeling something's wrong" the first words of "Nobody Has to Know," make for one of the best album openings everů
"Nobody Has to Know" describes "Issues and Options." It sets the mood; you're not in for a regular singer/songwriter record. The opening chords and the harmonic structure and the guitar tell you you're in for something different.
You recorded "Issues and Options" in ten places. The credits for "Grouchyfriendly"say: " Recorded and Mixed: In a lot of places." Where did you record "The Great Longing"?
This was a very hard record to make. I started in Los Angeles, but had to throw out those three weeks of work. Thousands of dollars! As much as I didn't want to waste the money or the time, I threw it out.
Then I met Jim Tullio, who produced the Maple Stavis album (2004's "Have a Little Faith"), which sounded good. Mavis cut two of my songs on it. At that time, I was still signed to my record label Or Music. They opened up a little bit of budget for me. It seemed like they were into it but they really didn't care.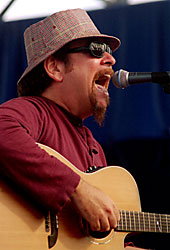 Jim and I started "The Willow" and "Without Conscience." It sounded good. So we spent about five months working. About half the new record comes from the Chicago sessions. But when I thought it was done, I realized it wasn't going to serve my purposes. Then I got dropped by my record label and separated from my wife all in the same two-week period.
I took a long time off. I couldn't think straight. About 8 months later, I started re-looking at the album. I don't even know what it was called at that point.
Run?
Yeah. "Run." You did your homework.
I didn't know whether to run away from the music business or run back into something that's been so problematic. Do you run for love after it ends or do you run away? I was so bitter after the demise of my marriage.
I started to deconstruct and reconstruct. Keep the good parts. Reinterpret the weak stuff. Finished it in Philly. Glen (Barratt, owner of Morningstar Studio) has been a godsend. Glen has an amazing studio and a lot of patience. It takes time and you have to be willing to do it again and do it again.
Roy and Hill are joined on stage by Jimmy Lint on keyboards and a cool, understated drummer. The groove-oriented "The Willow," gives Lint a chance to stretch out.
How important is groove?
It starts with the groove. (Yet), in my first two albums I was not that concerned about the groove. I wanted it to feel good for sure. But I was like, "Other people make it groove, I don't need to. All I need to do is make it sound honest and have some kind of dignity and artistry to what I'm doing."
I regarded the opening of "The Willow" (the first track on "The Great Longing") as an announcement that groove is going to be more important for this record.
The groove kicks in and you know this one's going to be a little different. The first two albums, I was much more into the quiet. Quiet does not mean light. You can have intensity in the quiet. It doesn't take away from the impact.
I think this record was influenced by living in Philly again.
Philly, your hometown, has an important place in the history of soul music. Soulfulness is a word often attached to you. What were you listening to as a kid?
WDAS-AM the preeminent R&B and soul station. I grew up listening to Philadelphia radio. And I think that's why some of the preeminent soul artists decided to record my tunes: Ray Charles, Pop Staples, Aaron Neville. I had an understanding of the feel by growing up with the feel.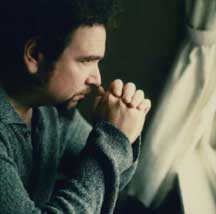 I grew up with the same feel, but I could still use a nice injection of soul.
Listen to Stevie Wonder a lot, "Talking Book" and "Innervisions."
Is that why you like chromatic harp on your records?
I love the sound of a chromatic harmonica. You're thinking about, "Busy Thinkin About Today." It's my homage to an old Stevie Wonder record.
Who plays that harp?
Howard Levy.
Then it isn't a chromatic harp?
He's playing blues harp, just blues harp. He's a genius.
Two more songs from the new release, accompanied by Roy's fine band of young musicians. Chris Ashman's trumpet swings sweetly on "Busy Thinkin' Bout Today."
In Philly, you're known for mentoring and performing with talented young performers. The record features a lot of up and coming local artists.
This record was made so long ago, Amos Lee didn't have his first record out when he did the harmony vocal on "Busy Thinkin' Bout Today." Melody Gardot wasn't signed to Universal. Mutlu wasn't signed to Manhattan records. Amazing things have happened for them. Now my record is released. Maybe I picked the right ones.
The fourth number is also off the new record, played tonight in a bluesy shuffle.
You co-wrote "Exceptionally Ordinary" with Madeline Peyroux...
A charming funny friend, extremely talented. I love playing that tune, a blues tune with a sense of real truth.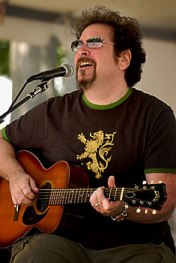 In your first two albums, all but one song are co-writes. Give me some quick takes on some of your co-writers. In the sons of the famous category:
Julian Coryell
Underknown and a badass.
Adam Cohen
A talented guy with a really good voice.
In the famous category:
Nicholas Cage
A very talented man mostly known for his acting but can sure write a lyric.
He co-wrote with you one of the best songs of all time! (In a poll of listeners of Philadelphia's WXPN: 88.5 FM, "Melt" came in 866th out of 885 greatest songs of all times.)
(Laughing) Yes, he co-wrote one of the greatest songs of all times.
Glenn Tilbrook from Squeeze
Glen and I wrote a tune called "She Hurts" off "Issues and Options." We had ended up in a manor house in London as part of a consortium of EMI Systems writers. EMI Publishing brought in writers from all over the world. I was one of three from America. But there were people there from Holland, Brazilů
That's how I met Heitor Pereira, my main collaborator. Anyone who is interested in guitar playing should go to heitorperiera.com immediately. You'll hear one of the greatest artists walking the planet. You'll see his name throughout my albums playing nylon string guitar, co-writing, and co-producing.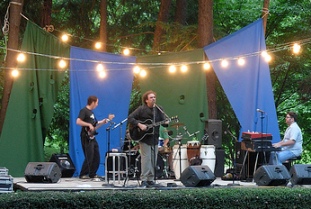 Roy closes his first set with "Undeniably Human," which he calls "the big rock tune." It's also the only song in which he uses a tuning, drop D.
For "Undeniably Human," I took a complete track from Euphoria, cut it up, and did a song over it. Most people don't think outside the box like that with a singer/songwriter record.
The production on your albums is very sophisticated. You've been co-producing almost every track since your first solo CD.
(Production) is where record making really comes in. Remember, my first record was at 21 with Warner Brothers. I've spent a life in the studio.
So many CDs, my own included, start with standard performances. Then the songs get dressed up. But you reinvent each tune.
Completely. I look at the studio as a creative entity. Listen to "Songs in the Key of Life" by Stevie Wonder or the Steely Dan records or Radiohead's "OK Computer."
Phil Roy records have no fear of being pretty. And each cut knows how to build, like "I Like Everybody."
That goes from nothing, to the strings coming in, the background vocal, and the drums until it gets really big at the end. It's a little movie.
...and there are different colors moving in and out.
I like surprises.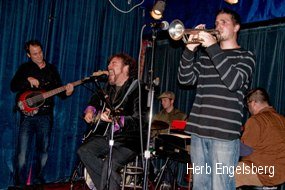 The band plays two tight instrumentals without Roy. He comes back during the second tune, ready to get in some licks. Instead, they segue into "Day to Day Thing." For a time, the band -- led by Roy -- gets into a two-chord jam.
After high school, you went to Berklee as a student of jazz guitar. An uncommon choice at that time?
I started out as a guitar student. I went to a music store, got lessons, and was off to the races. I read music first, before I ever picked up a Rolling Stones record to figure out how to play Brown Sugar
Where did you see yourself going from there?
In high school, I had no idea. In 1977, kids like me went to college. Maybe I'd have gone to Penn State. Going to music school? I attribute that to my dad. He knew music was a big part of my life, so he said, "Why not go to Berklee?"
Berklee was pretty much a jazz school, then. In those days, people playing rock music covered the windows of the rehearsal room. Now Berklee's much more diverse.
Being at Berklee for me still meant not knowing what I wanted to be. When you're 17, you're leaving home and asking, "What am I going to do in this world?"
Then I took a songwriting class and began to think maybe I could make a career of it. The teacher was John Aldridge. Pop Songs 1, you write a song. Pop Songs 2, you go into a studio and record the song. That year, 1978, was my first time in a recording studio, an eight-track. Everything was huge. Nothing was miniaturized. The one-inch eight-track was a beautiful machine, as was the board. Everything looked vintage; even the faders on the board were beautiful. Opening the doors to that studio was like opening the doors on a different life.
Who had you been listening to in jazz guitar?
John McLaughlin... In fact, I just found an old ticket stub for Mahavishnu Orchestra at the Tower Theater, here in Philly. The transition from rock to fusion interested me, which was Mahavishnu Orchestra, Return to Forever, Herbie Hancock. And, of course, I listened to Miles Davis.
Then I started to go back to see who played with Miles. Everyone played with Miles. The punk movement was coming out of England and that passed me by because I had discovered Charlie Parker and John Coltrane. And it was very rich.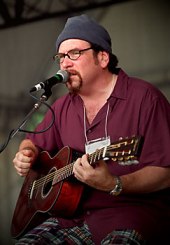 Roy warns the audience that "I Love Everyone" starts off "sort of mopey."
Talk about the title, "The Great Longing."
From the moment we come into the world, longing is part of our existence. When you stop having these longings you get complacent, you stop living a little bit. I listen to the songs and I have a longing to be the guy in the songs.
The speaker in "The Great Longing" is more upbeat than in the other two records.
I've already covered, "I'm depressed. The girl's gone." I've done that. Can I just write about something else? And what if I put a little bit of a groove to it? Just a little bit. It doesn't ever get like Sly and the Family Stone, but "Busy Thinkin' Bout Today" feels good. And the end of "Willow" has a great lift.
The chord changes in the bridge of "I Love Everyone" are amazing, beautiful but they also build tension.
That's me and my collaborator Heitor, a great harmonic mind. The bridge chords lead to a modulation you don't hear on the second chorus. I'll get you a chord chart.
PLAYS THE CHORDS FOR THE CHORUS, THE BRIDGE, AND NEXT CHORUS TO DEMONSTRATE THE MODULATION. THE VOICINGS ARE ALL ATYPICAL.
"Without Conscience" has to be one of the more swinging put down songs. The bass hits only the one in many measures, yet the song swings.
The producer's playing a very big round fretless bass. It didn't need a bass line because there's so much movement in the guitar. The percussion has a lot happening there as well.
"A Meditation on War & The Fight for Love" is not like anything you've done before.
"A Meditation on War & The Fight for Love" is a special track. I'm very proud of its sound with that very drone-y guitar. I consider it one of the more important songs on the album.
A Deeper Meaning...
It ends the record with me still searching. Jef Lee Johnson plays amazing bass and guitar on that.
Between tunes, Roy reminds the audience that his "life in the music business has sometimes been bluesy."
Let's talk about your journey in the business.
Signed to Warner Brothers at 21 with a band called Carrera. EMI at 25 with a band called World Citizens, signed by the legendary Bruce Lundvall, the great president of "Blue Note" records, who signed Norah Jones. A very exciting time. I thought I was going to be a big star. Nothing ever happened.
I was in a band with two brothers I met at Berklee, the sons of Gene McDaniels ("100 Pounds of Clay"). We had an interesting sound. We wrote great songs. I don't think we executed well. "Fly Away" was from that period.
That's one of my favorite songs on the new album.
There is no expiration date on a song.
You were a staff writer.
I started signing publishing deals in 1987. That's where I learned my craft.
Your songs have been covered by the likes of Los Lonely Boys, Joe Cocker, Widespread Panic, Paul Young, and the L.A. Guns. But you ended up releasing Grouchy/Friendly as an independent. Then you sold well more than eight thousand copies.
I was offered three deals: Herbie Hancock's label which was just starting up, Razor and Tie, and the House of Blues organization. I chose House of Blues and they could never get the record company together. That held me up for a year and a half.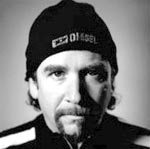 You got onto a small label. At one point, you were singing their praises to me.
Everything's good in the beginning. I was very grateful they came along and claimed they wanted to get people to hear my music. The two executives who owned that company turned out to be the most lying and deceiving people I've met in my almost thirty years in the music business.
And that's saying a lot.
That's okay. I didn't expect it, but that's the way it is.
You prepared yourself to do it independently all over again. You got real creative. You embarked on the "Not Leaving Home Tour." (In which Phil cooks a gourmet feast for fourteen guests who pay $100 for dinner and an hour-long concert by the chef.)
I would play 200 days a year if there were a demand. But not enough people know about what I do. When there is a demand, I'll be there. Until then you can come to my house. Doing one this weekend.
You and "The Great Longing" became a project of the Wharton Media and Entertainment Club, headed by Professor Fader of the Wharton School. Is that still ongoing now that you're signed?
Peter Fader's a brilliant professor with an interest in the entertainment industry who was involved with the Napster litigation. They'd always worked on case studies before. I said, "Hey, if the scenario ever dictates it, can they help me figure out how to have people hear my music?" He said sure.
I had him take a meeting with the president of my label and the senior director of marketing. Now we have three graduate fellows working on the project. They're coming here tomorrow for dinner with people from the label.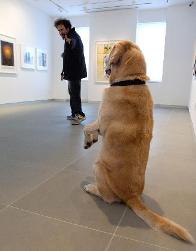 After all that has happened to you, how did you finally get signed?
In 2000, I was still in LA. I get a phone call. It's Louise Coogan. She says, "I'm the host of a show on Direct TV called Microsoft Presents Unsigned. I'm sitting here in a room with submissions up to the ceiling. But you are the first one I ever called. Who are you? 'Grouchyfriendly' is amazing!" We've been friends ever since. Later, she got a job with Decca. She played "The Great Longing" for Dave Novick, Senior Vice-President of A+R. He signed me. As simple as that.
The moral of the Phil Roy story?
If you do exceptional work you might be able to have a career.
The concert's over, but there's a little more entertainment. Roy brings up Travis, his faithful Golden-Labrador. In a March 2006 article in Philadelphia's City Paper, Roy talked about coming out of the worst year in his life. "It was hell. I used to walk my dog a lot because that was about the only thing that made sense to me."
Travis does a few tricks. His work is exceptional, but he already has a career... helping Phil Roy keep those demons at bay.
Home | Links | Podcast | Archives | Submissions | Free CD Giveaway | Subscribe