Al Petteway and Amy White at the Troy-Hayner Cultural Center, Troy, Ohio, March 15, 2003
by Fred Kraus
Guitarist Al Petteway can play the hair off a dog. His left hand glides like a spider on skates along the fretboard while his right hand picks out marvelous clusters of notes. So smooth. So fluid. Oil on a skillet.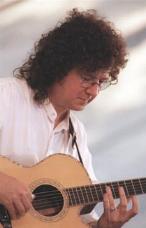 Petteway performs as if it's second nature to him, and in some respects, it is. Raised in Washington, DC, he's been a student of the guitar "since the British Invasion", Petteway said during a phone conversation prior to a performance just outside of Dayton, Ohio, last month. Popular, folk and classical genres moved in and out of his musical repertoire with ease. After graduating from college in 1972, Petteway built his rock/pop chops in dance bands in the DC area for about five years before taking a full-time position with the National Geographic Society, eventually holding the position of Supervisor of Picture Editing.

He continued performing during this time, and carved out a reputation as a sought-after accompanist. He became one of the "house musicians" for The Birchmere, a folk club in Alexandria, VA, backing up national folk and bluegrass acts.

The critics and the public loved him in DC -- Petteway has been awarded 45 "Wammies" by the Washington Area Music Association including the top honors of "Artist of the Year" and "Musician of the Year."

Despite such acclaim, Petteway's only made his living as a full-time musician for the past eight years. "The kids were grown, and I decided to take the plunge, to go back to music full-time", Petteway said. "Plus, as a session musician I had a lot of encouragement from top musicians that I knew and respected -- Tom Paxton, Jonathan Edwards -- who were really very, very helpful to me".

Petteway received welcome support from Amy White, his wife, with whom he now performs exclusively. They are certainly one talented and creative couple. White grew up in a musical family, and carries on the tradition -- she and Petteway compose together and singly, plus she plays guitar, mandolin, piano and sings. They first began performing together as a duo in 1995. They married in 1996. "We've been in love nine years", White gushes.

In concert, their care and affection for each other is clearly apparent. He'll start a sentence, she'll finish it -- and vice versa. They follow suit with their musical phrasing, call and response. They perform as one.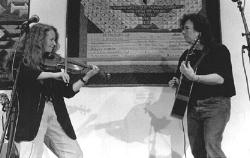 Their concert near Dayton was particularly intriguing, since the duo used no electrical amplification of any kind. Just real voices, piano, guitars, mandolin, plus a few surprise instruments. Still, it was 95 percent vocal chords and vibrating strings. Such a performance was made successful by the unique design of the Troy-Hayner Cultural Center -- at one time a rather posh private residence -- which features a 1920s-style bandshell and ballroom. The acoustics were simply incredible, with each note as clear as a tuning fork.

The duo's songs are a combination of Celtic, bluegrass, jazz and classical, with some pop and world beat thrown in for good measure. "We call it classical, without the class", Petteway offers at one point, and you just know that if they had a drum kit on stage, White would be right there with the requisite rim shot.

Their ease in performing together is a pleasure to watch. Petteway occasionally demonstrates that he hasn't lost his rock chops and actually gets a bit funky on one tune. Though such journeys are a a treat, it seems a bit out of character with the bulk of the material."That was a long time ago", Petteway says, grinning, as White alludes to his past musical focus.

Throughout the 90-minute concert, Petteway and White happily point out the Appalachian roots of one song, explain the 13/8 time signature of another, provide a historical background for another, and relate a story of how they happened to write a particular tune together.

And they are not above bringing out some novelty numbers, songs that change the way we perceive music, prompting audience members consider to stop to think about the sensation that is called sound. Petteway performs a piece using only his left hand on guitar, together they drum maniacally on a set of African Ashiko drums, later they use a tiny hand-held electronic device to create a sound that's a blend of wind in the willows and a ghostly aria.

Future projects will include "an album with vocals in mind on every track", said Petteway. "We really are so lucky", said White. "We are lucky to be doing what we love, and we just love doing it".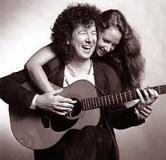 Talk about lucky. The couple recently moved out of the Washington, DC-area to live full time in the Asheville, NC, area. Peruse their website to experience the view from the window of their home. Petteway's picture-editing skills come into play here as he offers stunning photographs of the mountain ridge they now call home. And while somewhat rustic -- "we have to be careful of bears here, which is one thing we didn't have to worry about in DC", says White -- their home features a recording studio. "It makes it very nice to be able to start a tune, bounce it off Amy, maybe go back to it the next day, or later in the same day", said Petteway. "It really makes the entire process of composing and recording a joy. Plus, sometimes I'll come in from outside, and there will be Amy singing in the studio. It's just so great".

White lamented a bit about leaving DC. "We were really dependent on the DC area for our income", she said. "And we still have a mortgage to deal with". Still, she said that she and Petteway "fell in love with the Asheville area through our visits there over the years. Plus the people here are wonderful -- it is so rich with music and the arts".

Petteway also teaches private lessons from their home studio and is the Guitar Week coordinator for the world famous "Swannanoa Gathering" music camp at Warren Wilson College near Asheville, N.C.

As much teacher as musician, Petteway remains ever-ready to share his thoughts on all aspects of music.

His website offers a virtual treasure trove of information. Here's what he had to say about guitars: "My favorite guitars are made by Larry Sifel, Kevin Ryan and Jim Olson. In my opinion, there are no others that even come close. These instruments inspire me more than any others. On "Racing Hearts" I used an Olson SJ with a cedar top and Brazilian Rosewood sides and back in addition to a rosewood cutaway made by Larry Sifel. The Olson actually belongs to singer/songwriter David Wilcox. He left it in my care and asked me to play it and give it some love. The Sifel is one of three that I've used on my recordings. On "Gratitude", I played the Sifel Cutaway and the Olson. Amy played two different Brazilian rosewood Olson SJs, one with a rosewood neck and spruce top and one with a mahogany neck and cedar top."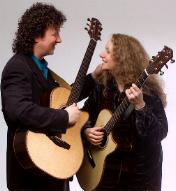 "Amy and I have both purchased guitars from Kevin Ryan since those CDs were recorded. Amy has one with an Engleman spruce top and Indian Rosewood sides and back. Mine has a cedar top with Brazilian rosewood sides and back. I also have a Brazilian rosewood bridge on mine with fossilized walrus ivory un-slotted bridge pins. We can't seem to get these guitars out of our hands and we've already written lots of new material with the inspiration that we're getting from these instruments. I used the Ryan exclusively for my Shades of Blue recording and Steve Baughman used it on the "Celtic Summit" album with Robin Bullock. We now have a new "Nightingale" from Kevin Ryan. It really is the ultimate fingerstyle guitar. It has a spruce top and Brazilian sides and back. Its tone is rich and complex with lots of bass and plenty of high overtones".

"The guitar I used on "Caledon Wood" is a dreadnought made by Larry Sifel that I've played for over ten years now. It is arguably the best sounding instrument in its class that I've ever played".

And on electric guitars: "I don't play electric very often, but when I do I use either a Gibson ES-175 or one of Paul Reed Smith's many custom electrics which are made available to me through my relationship with Larry Sifel who does all of Paul's inlay work".

"We use the L.R. Baggs Para-Acoustic D.I. boxes for all of our amplified instruments. This combination works especially well with the McIntyre pickups and helps us achieve a very natural quality to the amplified sound".

"I also own an Octave Mandolin by Sefan Sobell and an Irish Bouzouki built by Bob Gernandt of Bryson City, NC.", Petteway stated.

Petteway follows that discussion with his use of strings and accessories: "I use D'Addario EJ-16 light and EJ-19 bluegrass phosphor bronze strings exclusively. I haven't found a string that I like better and I've tried most of them. On my small Sifel, I use the light gauge. For my Ryan guitars, I use the Bluegrass strings and replace the first string with a .013 gauge. I find that these strings do extremely well with the lower tunings I use on the larger bodied instrument. Kevin Ryan's recommended string set consists of medium gauges on the 1st, 2nd, and 6th strings and light gauges on the 3rd, 4th, and 5th strings. We've also found that setup to work quite well. It's all personal preference and with these guitars every choice sounds great so it comes down to feel more than anything else".

"I also use the D'Addario/Planet Waves accessories such as cables, picks, straps, pegwinders, etc. This company just has it all together", Petteway stated.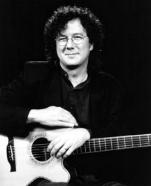 Regarding tunings, Petteway, again on his website, had this to offer: "My favorite tunings are EADGBE, DADGAD, CGCGCD, and CGCGAD. I've experimented with many tuning variations but find myself returning to DADGAD as my "standard" tuning. I've also been experimenting with the use of partial capos. All of my capo positions and tunings are listed in the liner notes of my solo albums and on the transcriptions in my books. On "Racing Hearts," I used DADGAD tuning exclusively, so I didn't bother listing it. I did use a partial capo across the first four strings at the second fret for "Hidden Wings." I just couldn't figure out any other way to play it."

"Everything else is straight DADGAD either open or with a capo. For the duo guitar album I stayed in DADGAD most of the time, but snuck back to standard for a couple of the jazzier numbers. Amy also played primarily in DADGAD but she wrote some really cool tunes in a tuning she learned from David Wilcox: BGDGBD. She put a partial capo on the fourth fret and used the low B as her root. Another variation she used was BGDGAD. On the "Shades of Blue" album I used DADGAD and Standard tunings, but I also used DGCFAD for a couple of tunes to give me that slinky electric feel", Petteway stated.

Here's a discography for Petteway and White. Both, of course, have been contributors to many other collections, and are featured on other works:

Al Petteway

Al Petteway and Amy White

Al Petteway and Amy White with Robin Bullock

Amy White

In addition, Petteway has written instructional books and appeared on instructional videos.

For more information, see Al Petteway and Amy White's website at www.alandamy.com.



Buy Al Petteway Guitar Instruction Videos and Books at


(Click on image to buy)
Home | Links | Archives | Submissions | Free CD Giveaway| Minor 7th T-Shirt | Subscribe