An interview with Andy McKee, Stephen Bennett and Antoine Dufour, October 2011

by Kirk Albrecht
Andy McKee is headlining a tour called "Guitar Masters" along with Stephen Bennett and Antoine Dufour. Minor 7thís Kirk Albrecht caught up with Andy and the guys before a recent show at the Rex Theater in Pittsburgh.

Andy McKee: plays a 6-string, a baritone, and a harp guitar all made by Michael Greenfield.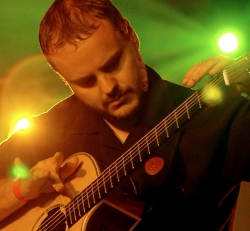 Minor 7th: The last couple years have been pretty wild for you in your development! How did this all come about?

Andy McKee: Well, I was on YouTube a couple years ago which was really tremendous for getting my name out there. That was what led to my ability to start touring. I got contacted by a booking agent in the U.K. and he wanted me to open some shows for Tommy Emmanuel Ė which was great! I was also touring at that time with Don Ross. We were at NAMM in 2008, and crossed paths with a great agent who linked me up with a booking agent. Now Iím doing close to 200 shows a year.

Minor 7th: Is that kind of schedule wearying?

AM: Itís busy, but I really love performing Ė getting to play and meeting fans after the show. I did have a son earlier this year, so I like getting home more than ever now!

Minor 7th: Talk about Don Ross as an influence and collaborator.

AM: I discovered his music in 1999 when I was teaching guitar, and a student had brought in his album "Passion Session." As soon as I put it on, I loved the music. I took the CD home, and heís been an inspiration ever since. I finally got to see him perform and meet him in 2004 at the Canadian Guitar Festival. I was also in a guitar competition later that year, and it turned out that Don was one of the judges. Afterwards he told me "Hey, I really loved your music, I thought you were number one!" He invited me to start touring with him in Germany a bit, and did a duet album in 2008. Heís now a good friend.

Minor 7th: Talk about your creative process for composing and arranging.

AM: Iím one of those guys that likes to use a lot of altered tunings - I really like the textures that are possible. So I will play around with tunings, or vary one someone else has used, and then I will just experiment with a riff or chard progression. From there Iíll hear melodic ideas that work, and then Iíll record those ideas in a loop and begin to improvise, and try to find ways to play the progression with those melodic ideas at the same time. I like some of the techniques you can do on guitar that were developed by guys like Michael Hedges Ė slap harmonics, and the sounds you can get from a guitar.

Minor 7th: You seem to not be bound by only using percussive techniques, but also do a fair amount of straight finger picking.

AM: Itís good to use all that stuff. You want to make sure youíre using whatever technique in a musical way. You donít just want random chords, but take those ideas and develop it into a nice musical statement.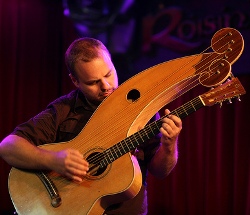 Minor 7th: Talk about the tour with Antoine and Stephen.

AM: The tour has been great. This Guitar Masters tour has been to get three players from different styles. I was asked earlier this year about names of other players for this tour, and both Antoine and Stephen came up in my list. Iíve known Stephen for about 10 years, and Antoine for about six years. I love both of their music. I think Stephen is one of the most melodic guitar players ever, and Antoine does some really creative stuff. It was fun to see it come together for all three of us. We traded some mp3ís of ideas to play together, and for this tour, Stephen actually wrote a song for the three of us. We all have our own voices on the guitar, and when the trio comes together itís a pretty cool sound to hear these unique guitar players coming together on a tune. Itís been loads of fun.

Minor 7th: Talk about your guitars.

AM: All of my guitars are made by Michael Greenfield. I met Michael in 2004, and he had some guitars at the Canadian Guitar Festival, and I thought they were amazing. Fast forward a few years and we started talking about doing an endorsement. I play his guitars exclusively right now. My main 6-string is a fan fret, with a multi-scale neck. They sound great and aesthetically they are really great looking guitars. They are well built. My baritone is quilted maple on the back and sides. When he told me it would be maple, I thought a colored lacquer would be cool, and I thought green would be good because itís a Greenfield. That also has bevels to make it more comfortable and a sound port on the top so I can hear it better. The harp guitar I got last year. I had asked him a few times if he would be interested in making a harp guitar and he always said no, but he finally caved in and itís a wonderful instrument. I have K&K pickups on all my guitars, with a D-TAR Solstice preamp.

Minor 7th: Any favorite tunings?

AM: Well. I use a lot, but one would be ECDGAD. I use that on "Rylynn" and "For My Father" and "Keys to the Hovercar." Thereís another thatís BGDGAD. Iíve used that on "She" and "Never Grow Old."

Minor 7th: Any advice for young players?

AM: I practiced a lot, trying to learn songs that I liked by ear Ė that is good to develop. I used to listen to Michael Hedges and Don Ross CDís to hear what they were doing, and open strings and harmonics. It was a bit tricky with those guys! A key is to do music you like rather than just working on scales all day, though they are helpful. Learning songs always kept it fun and interesting for me, so when I started to write stuff I had all these inspirations to draw from. Itís important to have fun with music.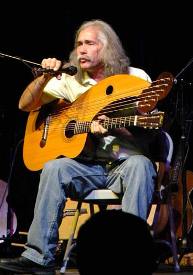 Stephen Bennett: plays a Collings 000-1C, a Tony Karol baritone and a harp guitar made by Kathy Wingert.

Minor 7th: You have been one of the key proponents in the harp guitar renaissance.

Stephen Bennett: I just hosted the 9th annual harp guitar convention in Connecticut where I now live right before I left on this tour. It was great Ė we had the most attendees ever. Next year will be the 10th in Dallas, which is amazing.

Minor 7th: Whose harp guitar are you playing currently?

SB: Thatís a Kathy Wingert, and I am also endorsing for Holloway, which is a great way for people to get into harp guitar Ė youíre able to get a nicely functional harp guitar for about $1,500 which is unbelievable. My Wingert is a great guitar, and I think she may be making more harp guitars right now. This is the second one she made for me Ė the first one I completely fell in love with, but decided the scale was a little too small for me. On this one, the string spacing is exactly the same as the one I call Big Mama Ė my grandfatherís 1909 Dyer harp guitar.

Minor 7th: Any new projects coming up?

SB: Iím always working on new projects! 20 years ago I recorded a version of the Nutcracker Suite for guitar orchestra. It turned out great. Almost a year ago I had someone approach me about orchestrating the entire ballet score in that same way. She had discovered my version in Los Angeles. She didnít follow through on that, but Iím putting it out as my own CD. Itís a huge undertaking, and thatís my next thing to work on. I also have more than enough material for my next solo CD.

Minor 7th: Talk about the tour with these guys.

SB: Iíve known Andy for more than 10 years. I remember his playing drifting to me underneath the grandstand at Winfield (The National Guitar Championships). He was wearing two different colored sneakers back then, I talked him into competing at Winfield, which he did the next year. We just hit it off right away. I knew he was something special when I heard him. I didnít know how far he was going to go Ė I donít think any of us know, but heís doing really great so far. He had something a little different from the beginning, and I think he hit at a perfect time Ė a perfect mix of the technology and his skills. He was positioned to ride the wave and he rode it. And heís still the same great guy Iíve always known.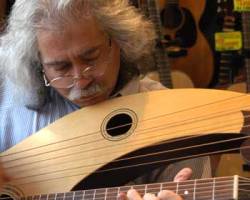 Antoine I havenít really known that much before this tour, but he wrote "Song for Stephen" for me. My son who is now 21 called me sometime in the middle of his first semester of college. He and his roommate and his roommateís girlfriend were just hanging out in the dorm listening to music, and "Song for Stephen" comes on someoneís iPod. The girl says, "Oh this is really nice, I wish someone would write a song for me. Whatís it called, Song for Stephen? I wonder who Stephen is." And my son says, "Thatís my Dad." So I immediately wrote Antoine a note thanking him for giving me a little extra credibility with my son!

Itsí great energy, we have a lot of respect for each other, and Iím playing in front of more people than I could normally draw into a place like this, so Iím delighted to be playing for some new people.

Minor 7th: What draws you to the harp guitar?

SB: If I had one here, I would turn the question around, and put it in your hands for 5-10 minutes, and youíd be able to answer that question for yourself. If you have any fingerstyle guitar chops at all, you sit down with a harp guitar alone, quietly and start playing. You will instantly realize itís a wonderful thing. In addition to having some extra notes you donít have on a normal guitar, itís like if you had played piano for your whole life, and then someone gave you a piano with a sustain pedal. Thatís what itís like with a harp guitar. Even if you donít touch those extra strings, you get all these overtones ringing. Put that together with those extra notes, and itís magic.

Antoine Dufour: plays a 6-string by Mario Beauregard and a harp guitar made by Duane Noble.

Minor 7th: Tell me about your journey on guitar.

Antoine Dufour: I first began playing guitar after listening to Yes Ė Steve Howe. Then I decided to go into classical guitar in college. My teacher was listening to Pierre Bensusan and Leo Kottke and Don Ross, and I began to listen to some of that, and it really blew my mind. I learned a couple Kottke pieces, and then I really got into Don Ross. I learned like 20 of his songs.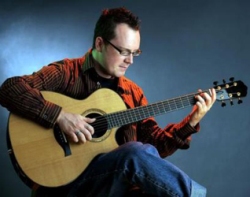 Minor 7th: How was the transition out of the classical world into percussive guitar playing?

AD: I bought a few videos to learn that stuff, and worked to figure things out. I try to emulate a band Ė drum, bass, chord and melody. Stephen also influence me a lot in terms of melody. I think he is one of the best melodic guitarists.

Minor 7th: How do you think the tour is going?

AD: Itís going really well so far, well attended Ė people are really into it.

Minor 7th: How is the energy of the three of you together?

AD: Really good. We get along well. I have known Andy for a while, weíre good friends. Stephen is a really easy going guy. Itís a lot of fun.

Minor 7th: When did you get into harp guitar?

AD: I bought this one three years ago. I always listened to Stephen and loved that sound. So I wanted to try to do something with it.

Minor 7th: What about your other guitar?

AD: Thatís a Mario Beauregard. For me, heís the best guitar builder around, heís building wonderful guitars. This is a cedar top. He builds incredible cedar topped. Iím getting another one with cedar and blackwood. I like the thickness and sustain of the sound and how it blends together with a lot of harmonics Ė that is part of my sound. I had another that is spruce and itís a cannon, but I sold it to get this one. Itís too clear and precise for what I do.

Minor 7th: Anything new in the works?

AD: Iím writing a lot of electronic music for a project with a friend. I plan to do another acoustic guitar record with my fiddle player sometime in the next year.

© 2011 Kirk Albrecht
Here's a partial discography for Andy McKee, Stephen Bennett and Antoine Dufour:
Home | Links | Podcast | Archives | Submissions | Free CD Giveaway | Subscribe