Reviewing the best in non-mainstream acoustic guitar music
Short Takes | Facebook | Podcast | Archives | Submissions | Free CD Giveaway | Subscribe | About | Links
September/October, 2016

Michael McDermott, "Willow Springs," 2016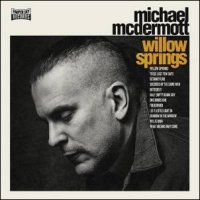 Barely 20, singer/songwriter Michael McDermott burst upon the music scene with a killer album, rave reviews and a seemingly boundless future. Variously praised as "the new Dylan," and "the new Springsteen," the mantle of the gods – a record contract -- was thrust upon him. You can guess the rest: a couple of heady years, then the spiral -- drugs, alcohol, life – and fame's brief tease flew out of reach like a bat out of hell. Nearly three decades later, with several lifetimes of music miles on the table, McDermott lets it all out, and bets big with the brilliant, confessional, in-your-face and somewhat bizarrely ironic collection, Willow Springs. The 12-song collection unfolds like a poetic biography. On the first two tracks, McDermott flat-out out-Dylans Dylan. The voice, the cadence, the '60s-era inscrutable wordplay, allusions and inferences, verse upon verse of Dylanesque gems, from the title track: "Pimps and pushers, presidents/The paupers preach of tenements/The cowboy's code, the whore laments/The coming judgement day." Existential searching for meaning with a twist of love par excellence, and vintage Dylan, no doubt about it. Track two, "These Last Few Days," continues the search, and offers, "Take a look around it's like the whole goddamn town's about to blow/Judas sat in fear, while we were setting here waiting for Godot." McDermott then exorcises the other demon that's saddled him, and proceeds to out-Springsteen Mr. Bruce Springsteen with the very Brooce-like Born to Run-era "Getaway Car": "Tonight I'm bound for glory/Drinking lightning from a jar/I got a sweet little story/About where the fallen angels are/I gotta Getaway Car." Whether these three tracks are designed to pay homage to the rock gods, or to provide context for what follows is not clear. What is unmistakable, however, is that the following nine tracks come off as sincere, real-deal, original compositions crafted by an artist who conveys the life of which he sings in a voice and style clearly his own. "Soldiers of the Same War" is a powerful, haunting anti-war lament, and still manages to rock out. He slows it up with "Butterfly," and makes this bittersweet junkie-girlfriend tale utterly believable. The rollicking rolling thunder bombast of "Half Empty Kinda Guy" belies the pain of an alcoholic worldview, and Will Kimbrough's slow, sweet guitar nicely augments the breakup tale of "One Minus One." Tasty fingerpicking follows on "Folksinger," featuring Kimbrough again, this time on banjo, with the singer wishing for the big rock-star hit – which he may have actually created with the next track, the infectious "Let a Little Light In." Featuring the lone lyrically upbeat track, Rich Parenti's horns make "Let a Little Light" an arena-singalong natural. McDermott tugs the heartstrings with what easily could be a huge country-genre hit with "Shadow in the Window," an achy reminisce of his departed father, followed by an engaging song about his young daughter. MeDermott closes it out and wraps it up with "What Dreams Come True," leaving us, and him, with some semblance of hope. This excellent, well-conceived collection is not so much an album as it is an Odyssian adventure. McDermott bravely taps into his soul and bares it all. He'd probably enjoy the fame, but that doesn't seem to be the motivation here. Ironically, not pursuing fame may actually bring some his way. He's certainly earned it with this work.
© Fred Kraus

Click here to win this CD!
Buy it at Amazon.com
Listen to "Getaway Car"
Listen to Michael McDermott at our podcast

Ali Deniz Kardelen, "First Steps," 2016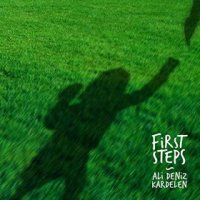 The 2016 winner of the Indiana Fingerstyle Guitar Competition led off in Nashville, Indiana with a composition entitled "No Words to Say." I can't think of a more apt title for a fingerstyle tune, not only because the music is wordless, but also because fingerstyle has the potential to reach across cultural divides to communicate deep feelings that all in the human community share, even though they may not have a common spoken language. That winner at Indiana, and the second place finisher at the Canadian Guitar Festival, Ali Deniz Kardelen, seems metaphorically more than a guitarist. Of Turkish citizenship, but connecting with audiences in the American Heartland, he's in a good position to act as a cultural emissary, an ambassador for peace. "No Words to Say," in fact, is both a tribute to those who lost their lives in the January terrorist attack in Istanbul, and an appeal for goodwill among all peoples. Ali's debut CD is called First Steps, though it represents a giant step from the life he previously knew. Until a little over a year ago, since Turkey has a very sparse fingerstyle community, Ali was a lone individual learning the craft virtually in his bedroom via YouTube. Two leaps of faith later found him in the mountain village of Turracher Höhe in Austria and then in the American Catskills near the grounds of the fabled Woodstock festival, where he was enrolled in the workshops of Thomas Leeb's Guitar Bootcamp and Andy McKee's Musicarium, and where he caught the ear of those two luminaries. "First Steps" similarly jumps across the planet stylistically. "Out of Breath" is a modal dirge that perhaps exudes Ali's Ottoman roots. "Flamingo," though far from a Celtic title, is tinged with the lament of an Irish ballad. "Heavy Arabesque" is a meditative Arabic drone. You can also hear traces of stylistic influences of a diverse group of greats in Ali's playing - the deft pull-offs of Tommy Emmanuel on the title track, "First Steps," the percussive harmonics of Leeb and McKee on "Waltz" and "Albatross," the bouncy syncopation of Pete Huttlinger on "Phasey" and the understated intensity of Pierre Bensusan on "No Words to Say." These are indeed first auspicious steps for Ali Deniz Kardelen. I'm very much looking forward to his next steps.
© Alan Fark

Click here to win this CD!
Buy it at Amazon.com
Listen to "Phasey"
Listen to Ali Deniz Kardelen at our podcast

Glen Phillips, "Swallowed by the New," 2016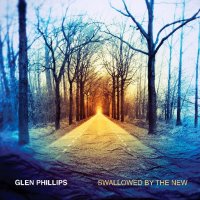 Glen Phillips is a gifted songwriter and singer, delivering on this album a nuanced Nashville indie-roots vibe with a lot of range. The full-bodied, string-enhanced arrangements are anchored in simple acoustic strumming. But the string section goes well beyond what the reference sometimes implies - here the strings are organic, well-blended and mixed in such a manner that they really fit, as on the standout string-based arrangement to "Old Town." Phillips' voice can be plaintive and sometimes a little "reedy" in a nice way that's a little closer to pop than current country. Strong tracks abide here, including "Amnesty," the mid-tempo rocker, "Unwritten," with its list of negations, each line beginning with "No…" as in "No hereafter…" with somber, lovely intonations of all the things that aren't. Its sharp arrangement comes off as a slightly more organic Sting - very inventive, but here presented with a note of reserve rather than pop opus. Also the outlier, "Held Up," a hard-edged rock stomp with great, gritty backup vocals and the notion that "…everybody makes the same mistakes/and everybody takes their turn…" Phillips has a knack for writing a fluid lyric with catch-phrases that can be at once free-form and pithy. What's his music about? Making one's way in the world, making one's way in a relationship, and making one's way in a relationship in the world. He brings that home in the lovely closer, "Reconstructing the Diary," a break-up song about accepting break-ups, "…it was such a happy story, why should it end?" Phillips is a ruminative songwriter in the tradition of Jackson Browne, and it's a vein he mines well, with subtle talent and lovely, organic arrangements.
© Steve Klingaman
Buy it at Amazon.com
Listen to "Grief And Praise"

Julien Régnier-Krief, "Ratmott Suite," 2016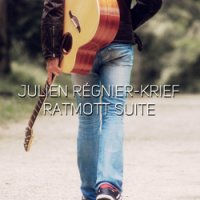 Guitarist and composer Julien Régnier-Krief is also a luthier (the brand is Julien Régnier), and he brings to his Ratmott Suite the same careful craftsmanship and glimmering beauty he devotes to his highly regarded instruments. In his gorgeous five-part composition, he explores with enormous grace, clarity, and sensitivity the range and capabilities of two of the instruments he has created. In all but Part 4 he plays a baritone guitar (28.5-inch scale) called the Newbird. In the fourth part he plays a harp guitar (standard scale, with 6 treble strings added), the Harp-Newbird. The tone and range of color of both instruments is downright luscious. Compositionally, even within each individual part of the suite, there is a mini sonic journey in terms of style and variety and contrast. A kind of elegiac tone runs throughout, tempered with joy, almost as if to represent a struggle between sadness and joy. The Suite opens with a sweet somber melody, ramps up in volume and tempo, becomes more discordant, and then slows and resolves. Part 2 is moody, jazzy, and urgent, a technical tour de force. Part 3 beguiles with another slow sweet melody; then a series of harmonics signals a shift into a jazzy Mid-Eastern vibe, the guitar sounding like a crunchy electric. Part 4, showcasing the crystalline purity of the harp guitar, features ripple-y shimmery arpeggios. The Suite ends with a piece that opens with upbeat urgency, harmonics punctuating driving arpeggios, then shifts to conclude with a gorgeous bit of melody that reasserts the sadness-tinged beauty. At just under 8 minutes total, Ratmott Suite is nevertheless a complete and satisfying experience, a many faceted, emotionally resonant kaleidoscope.
© Céline Keating

Julien Régnier-Krief's Website
Buy it here
Listen to "Ratmott Part 2"
Peter Ciluzzi, "Still Without Words," 2016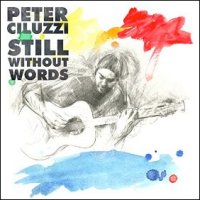 If you've been following acoustic fingerstyle guitar music the past five years, you know what an incredible stable of artists Candyrat Records keeps rolling out. Perhaps made famous by Andy McKee's YouTube videos, the label has a knack for releasing great music from talented players. The latest release from Peter Ciluzzi, Still Without Words, is special for not only the playing, but the instrument – a world-class handmade guitar by Ciluzzi himself. Luthier and player, with sublime beauty and taste. Like most modern players, Ciluzzi uses tapping and percussive techniques – though not as much tapping as many of his contemporaries - and not one of the 12 songs is in standard tuning. Chords are made much easier this way, allowing a wider tonal palette. Ciluzzi's playing is easy and smooth, and never rushed or trying to impress. I like his easily defined melody for each song, but he plays in and around the melody to give enough variation to make each tune interesting. The CD opens with " A Perfect Unison," a musical study of playing two of the same note to make a perfect interval, or perfect unison. "Something About Circles" undulates in tempo from quick to slow, giving the listener an opportunity to go around and around. "Where Things Come From" is a playful mix of picking, tapping, and percussion with a thumping bass line. "Easy Does It" uses some nice arpeggios with subtle harmonics. "Seven Four" is written in 7/4 time, giving some interesting melodic twists. "Shady Pete" has a funky groove, and Ciluzzi's picking technique throughout the CD gives many of the songs a noticeable groove. This disk is full of clean playing, really sweet melodies, and Ciluzzi and his guitar sound like one. It's got a permanent home in my iTunes!
© Kirk Albrecht
Buy it at Amazon.com
Listen to "Shady Pete"

Dakota Dave Hull, "This Earthly Life," 2016, "Heavenly Hope," 2016

Dakota Dave Hull is a folk-based guitarist who effectively incorporates blues, early jazz, raggy sounds and string band repertoire into his playing. He's released many CDs, although I became aware of him by way of Duck Baker, with whom he released When You Ask a Girl to Leave Her Happy Home. An instrumentalist, Hull plays many different steel-string guitars, including standard, piccolo and baritone resonator guitars in a relaxed and accessible style. These two CDs were released concurrently in early 2016, representing a sacred/profane duality, although offering plenty of social and musical nuance. Heavenly Hope begins fittingly with "This Train is Bound for Glory" and is followed by strong arrangements of "Sermonette," "Wayfaring Stranger," Navy Hymn," a medley of "Will You Miss Me When I'm Gone?" and "The Christian's Goodnight," and "Abide With Me," which closes the disc. This Earthly Life begins with the debauchery of "Deep Ellum Blues," played on a baritone resonator guitar. Hull evokes romantic love with "The Way You Look Tonight," "Spanish is a Loving Tongue," and "The Glory of Love," which recalls Big Bill Broonzy's rollicking performance. My favorite tracks on This Earthly Life include "Brother, Can You Spare a Dime," "Frankie and Johnny/Leaving Home," and the aforementioned "The Way You Look Tonight." Most tunes are played solo fingerstyle, although several are flatpicked and are tastefully doubletracked. Dakota Dave's approach is pleasing and will inspire intermediate guitarists to delve more deeply into American roots music for repertoire. I recommend getting both CDs in order to fully experience Hull's vision
© Patrick Ragains
Buy them here
Listen to "The Way You Look Tonight"

**Please check out Minor 7th's other brief acoustic guitar music CD reviews this month, featuring Skanson & Hanson, Carbe & Durand and Mark Mandeville & Raianne Richards at Short Takes**

Short Takes | Facebook | Podcast | Archives | Submissions | Free CD Giveaway | Subscribe | About | Links

Laurence Juber, Doug Smith, Al Petteway, Phil Keaggy (and many more!) at Acoustic Music Resource