Reviewing the best in non-mainstream acoustic guitar music
Short Takes | Facebook | Podcast | Archives | Submissions | Free CD Giveaway | Subscribe | About
March/April, 2018

Michael Kobrin, "Alive," 2017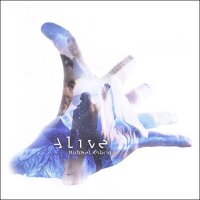 From the opening title track "Alive" through to the final cut "Stay," Michael Kobrin's latest CD Alive is an absolute tour de force in solo acoustic fingerstyle guitar. Kobrin masterfully incorporates about every possbile technique in the fingerstyle arsenal, rendering the listener at times in a state of disbelief, and at other times in sweet bliss. A Ukrainian-born Israeli, Kobrin's music is drenched in multi-cultural influences which add multiple dimensions to his compositions. By now, if you follow acoustic guitar music, you may have seen some of Kobrin's YouTube videos of these songs. The CD is produced by Antoine Dufour, another vibrant young guitarist, and the reverb-drenched recording suits the songs well. The opening cut "Alive" serves notice that what is to come will be a treat to the ears. A mix of rhythmic tapping and finger picking woven around percussive tapping produces a driving melody. A single note playfully leads into "Find Yourself," an explosion of power with dynamic arpeggios, and he recreates on guitar the mournful sound of the Middle Eastern Oud. This song grabs you and does not let go. Things slow down on "About Two," a delicate dance with picking and tapping. Kobrin explores more aural territory from his region on "The Middle East," with grace but also power. With harmonics drawing you in, Kobrin takes us for a swim on "Underwater." "Roads" hooks us with some creative percussion on the guitar top and sides, then reels us in with a bluesy progression. It sounds like a lot more than one guitarist, and it's hard to keep your feet and hands quiet while you're listening. The CD ends with the painfully beautiful "Stay," an elegiac cry of sorrow tinged with glimpses of hope. Easily one of the best fingerstyle records I have heard recently, my only regret about Alive is that it was just 8 songs and about 37 minutes in length; I wanted more, and that's the way any good recording should leave you.
© Kirk Albrecht

Click here to win this CD!

Buy it at Amazon.com
Listen to "Alive"

Bryce Mullins, "First Sip," 2017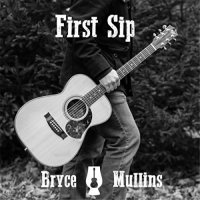 Listening to Bryce Mullins' CD release First Sip really kept me on my toes in anticipation of what pleasant surprises might follow from track to track. Rather than come out with guns blazing, Bryce wisely chooses to open with the beautiful "Gentle Reminder," which leaves an impression of a solemn tribute to the late Dan Fogelberg. Mullins' Chet influence appears for the first time with the superb "West McMillan," perhaps conjuring a memory from Bearcat Hill. "Today Is a Gift" gives us a contemplative, joyful, melodic and spiritual reminder of what a treasure this life can be. The gears keep switching, so next "Celticity" demonstrates another bright side of Bryce's technique and takes us into a delightful Irish dance. A Celtic vibe makes a second appearance in the traditional sounding "Katryna's Jig". The influence of Chet Atkins returns on several pieces including "Alice's Saturday Night Train", "pH Level" and to a certain extent in the minor key "Pirate Song," yet there is an originality to all that clearly leaves Bryce's thumbprint. My personal favorite song is "Head West," which combines multiple styles into a concise work which seems effortless in blending different fingerstyle techniques. This is a great example of what I look for in a brilliant composition. Unlike some players of the "new style" who are content to set a groove and then just change the progression with little or no melody, Bryce introduces melodies and contrasts throughout this piece. The song "Twelve" expands on a beautifully creative yet simple melody. With "Reed Between the Frets" Mullins cuts loose with a clinic on how to write and perform a song in the style of the great Jerry Reed. Wow! The album concludes with a piece representing an impression of a day on a peaceful lake -- very much program type music that could be molded into a film score. I especially enjoyed the short counterpoint idea with a powerful bass line with answering tones from the higher register. Please allow me two words to sum up this CD: melodic diversity. First Sip is a great fingerstyle album!
© Mark Bayer

Click here to win this CD!

Buy it at Amazon.com
Listen to "The Pirate Song"
Listen to Bryce Mullins at our podcast

Chastity Brown, "Silhouette of Sirens," 2017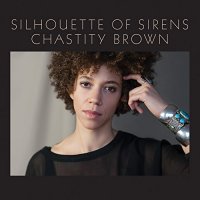 With her Red House Records debut, Silhouette of Sirens, Chastity Brown has pushed further into infectious groove-laden songs with sultry vocal vibes, and further away from the solo acoustic bluesy style that dominated her first two releases. From the first pulsating beats of "Drive Slow" it is clear that the "Silhouette of Sirens that's been calling" her have a full band accompaniment rather than sparse instrumentation in mind, illuminating her talents superbly. The tight arrangements and musicianship that bring these tunes to fruition are sonically satisfying and suit the brooding, often dark and emotive lyrics and powerfully nuanced vocal talents of Ms. Brown. The first two tracks, "Drive Slow" and "Wake Up" evidence a songwriter and performer who is at the height of her creativity and talent. The trick is to carry it through the entire CD. From the tasteful hooks in soulful and pop oriented tunes like "Carried Away," "Colorado" and the rocker "Pouring Rain," she offers up ten songs that hold together. Even better, the entire CD sparkles in away that should find a larger audience. The softer, sharper introspective numbers like "Whisper" and "Lost" bring us back to the reasons we were drawn to Chastity Brown on her earlier releases, and slow burners like "My Stone" and "How Could I Forget "add a whole new dimension to her talents and creativity. She cuts her own path on these tunes, but were I to categorize, she is Shawn Colvin meets Tracy Chapman, shaken, not stirred with a fair amount grit. Chastity Brown is one of a handful of artists (Foy Vance and Amos Lee also come to mind) who are in the process of building a fine body of work that will stand the test of time.
© James Filkins

Buy it at Amazon.com
Listen to "Drive Slow"

Morild, "Nordic Landscapes," 2017

Morild's Nordic Landscapes is the premiere recording by alto trombonist Dag Einar Eilertsen and classical guitarist Marius Noss Gundersen. Eilertson is a prolific instrumentalist contributing to pivotal Norwegian collectives such as L.U.G.N. and Oslo 13. Gundersen holds a master's degree from University of Agder and performs on stages across the globe. However, both musicians are gifted composers whose innate compositional skills are the focus of this extraordinary recording. They never resort to flashy technical pyrotechnics. Instead, the delicate interplay they create and the introspective, reflective phrasing capture the inherent beauty of each musical vignette. Nordic Landscapes is a sonorous tribute celebrating the scenery, climate, and solitude of their Northern European homeland. The two follow a long tradition of Scandinavian jazz that combines melodic improvisations with classical and folk genres to create expressive and reflective compositions. The opening "Prelude Fjords" sets the stage for the recording with Eilersten's hauntingly melodic trombone sounding much more like Miles Davis than J. J. Johnson. Gunderson's eloquent cascading runs complement rather than compete with his partner's resonant trombone. "Northern Lights" features flickering guitar flurries and deliberate trombone punctuations capturing the splendor and intensity of the Aurora Borealis. The two rock out a bit on the catchy "Taiga Whispers." The edgy guitar and foreboding trombone on "Vøringsfossen" dramatically shifts to a wonderful Latin vibe illustrating the grandeur of Norway's magnificent waterfall. Fløyen has a bossa nova feel with Gunderson's articulate jazz comping and Eilerstsen's muted trombone. The performances are immaculately recorded and mastered in the lush recording process associated with Scandinavian recordings. The duo also performs innovative versions from the Brazilian songbook which would make an excellent follow up to this recording. However, for the time being, Nordic Landscapes will more than suffice and is highly recommended for fans of melodic, post-fusion contemporary music and Nordic jazz.
© James Scott

Buy it at Amazon.com
Listen to "Taiga Whispers"
Listen to Morild at our podcast

Simon Linsteadt, "February," 2018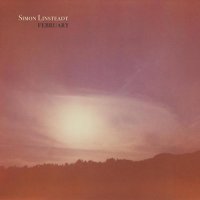 February, Simon Linsteadt's third solo album, showcases his soft tenor voice and wistful, whimsical songs. "Pickleweed" reminds me a little of McCartney on his solo debut, McCartney. Beautifully multi-tracked by this multi-instrumentalist, "Pickleweed" takes us through a horticultural wonderland. Refreshing music to chill to. He closes the song with an extended lyrical bass turn that signals his willingness to play outside the rules. The production on this album is set to "you are in the room." You can feel the fingers on the strings in your imagination. "The Alien" adds a Pat Metheny touch on an instrumental with an extended chordal vocabulary on what sounds like a big old Gibson hollowbody, fingerstyle with just a whisper of synth and some discordant shadows at the edge. A voice like Linsteadt's is perfectly suited to pleasing backup harmonies and he brings it with mostly wordless parts, oohs, a touch of harmony that sit just right in the mix. "When the Cows Get Outa the Road" opens like a Dan Hicks melody on a little piano bar shuffle, then suddenly becomes a cowboy-slash-cows affair only to ease out with, "…flying down the road with my baby by side when the cows get outa the road." Exactly. As we arrive at his final vocal track, "Long Time," I'm still hearing McCartney-and I'd bet that McCartney would like this song just fine. Closing with the intrepid, brief (1:34) instrumental on a well-recorded steel string that recalls Stephen Fearing, I'm like... "you could extend that!" At just under 33 minutes, the album coheres as an extended EP or concise LP that leaves you thinking this artist must have a lot more up his sleeve.
© Steve Klingaman

Buy it at Amazon.com
Listen to "February"

Alice DiMicele, "One With the Tide," 2018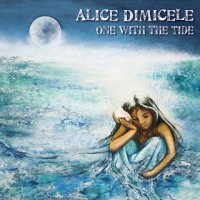 Alice DiMicele brings an extraordinary soulfulness to One with the Tide that makes it stand out from similar singer/songwriter records. Her vocals can whisper, glide from note to note, soar, or get nice and rough. Listen to the moves she makes in one tune, the bluesy "Desire." Backed by the shimmery acoustic slide of Stevie James Wright, DiMicele goes directly from a falsetto ("…no matter what you do, ain't gonna make it rain again") to a moan ("But, oh you can try try try"). After a complementary interlude with B3 (Jenny Contee-Drizos) and slide, the vocal returns with rocking forcefulness culminating in a wordless scat then ends with a return to the theme ("Every woman's got her own desire."). It's a vocal tour de force and an album highlight. DiMicele demonstrates her songwriting bona fides with "Lonely Alone." It's a plain spoken, folkie put-down song that's surprisingly sweet. To a lover who can leave the "I" alone by rolling "on down that road" or when "your potion pulls you away," she intones, "I'd rather be lonely alone," because-in a great line to cap the lyric--"I'm alone anyway." I wish the electric lead (Mikey Stevens) in the interlude had been brought further forward in the mix, but that's a minor quibble. DiMicele demonstrates her range throughout the disc with songs like the bouncy "Waiting"-propelled by a touch of the islands in Tom Berich's steel drums and percussion--and the solemn "Seeds," a mother's possibly unheeded advice ("love yourself and don't ask why") to her child. Everything DiMicele has put into the record-from the instrumentation to the themes--comes together in the penultimate tune, "Voice of the Water" with a full band arrangement and a chorus of harmonizers. The album ends with a lovely and respectful cover of John Lennon's "Imagine," that highlights the message DiMicele weaves throughout this fine CD.
© David Kleiner


Alice DiMicele's Website
Buy it here
Listen to "One With The Tide"
Julien & John, "Just the Way We Are," 2017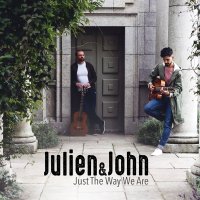 Guitar duos are hot. We've got rich choices, from the latest Tommy Emmanuel release, Accomplice One, on which he teams up with a wide variety of players. We've got a Frissell-esque new album from the remarkable Julian Lage and Chris Eldridge. The list goes on, including Just the Way We Are, the second release by the UK-based duo, Julien & John. It's just as Chopin said: "Nothing is more beautiful than a guitar, save perhaps two." I first saw that quote on the first LP from another Julian and John, Williams and Breams' magnificent 1972 Together. This contemporary Julien & John cover a lot of pop ground on Just the Way We Are. They cover tunes by the Bruno Mars, Simon and Garfunkel, Stevie Wonder, the Beatles, and Fleetwood Mac, as well as a movie theme or two. On most of the tunes, they open up space to trade solos, with the ginger-haired Irelander, John Keogh, playing a nylon-string classical, while his partner, the Italian Julien Colarossi, plays a jazz archtop. The question about Just the Way We Are is, Is it any good? The players are certainly competent and inventive, but the performances lack a panache that dazzles at a world-class level. At least on this outing, the duo does not "play with the blood," as the Mozart in the Jungle character, maestro Rodrigo, urges all players to do. But that may not be a bad thing. If you're looking for excellent arrangements of familiar but well-executed cover tunes that will appeal to a larger audience, this album is just the ticket. If you're looking for orignal music on the boundaries of what an acoustic guitar can do, I have a feeling that Julien & John will grow into that in the future.
© Brian Clark


Julien & John's Website
Buy it here
Listen to "Golden Lady"
Rupert Wates, "The Lights of Paris," 2017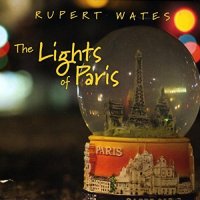 Folk formalism reigns in this lyrics-forward, live-in-the-studio recording, Wates' 9th, confronting a darker age as seen from the point of view of experience, with no innocence left in the frame. Politics shape the vision. It is rare to review an album with this much focus on the lyric. The songs are vehicles; the purpose is classic folk-to tell the news-not the news of events but of the state of the heart as caught in a crossfire. The recording is spare: voice, guitar, violin and cello, which allow moments of great beauty. The goal is to tell the news without artifice. The lexicon is strife: war, pain, darkness and then some. "The Balladeer" sets the stage with a both-sides-now look at circumstance provoked by hearing a balladeer on the radio beamed in as if from another age, as out of place as if some spectral radio presence in Cocteau's Orphée. Then, in "The Day the Great Ship Went Down," it does go down, seemingly in the era of WWI, with all hands, all immigrants, lost; then the tale deepens into a meditation on war and liberty. An overdose overshadows "A Long Winter Is Coming On." And before the lyric sheet informs us, we know that "I Can't Shut My Eyes" is about Trump. In "Fields of America," "…the ghost of an immigrant haunts every churchyard wall." It's a lost America; not the place itself, but the idea of an America in which the hands of immigrants built the place and the idea simultaneously. Gone now? The verdict, as always, is out, but the moment overshadows us. The theme, it seems, is perseverance in an age of dislocation, expressed in "My Face to the Morning" as, "Lay me with my back to the night and my face to the morning"-that's how the song ends. Stand-out guitar pieces are found in "A Song of Your Own," with its dropped-bass fingerpicking on a modal theme and "The Time Will Come," with its beguiling figures of an art-song structure-lovely. When you hearthe final song, "The Lights of Paris," you understand why this is the title track. It's the most "Wates-like" song of the bunch; that is, a kind of bridge to earlier work. The lyrics of the semi-refrain identify Paris-a Paris of the heart-as a place of grace and beauty in the face of a darker moment in time. The thing about this record is its sincerity. That fact sets the piece-and it really is an extended piece-apart. Wates is unafraid to sing what he really means. As always with his albums, the packaging is superb-whimsical, professional, with lyrics large enough to read.
© Steve Klingaman

Buy it at Amazon.com

**Please check out Minor 7th's other brief acoustic guitar music CD reviews this month, featuring Robin Lee Berry, Eric Loy and Richard Knott at Short Takes**

Short Takes | Facebook | Podcast | Archives | Submissions | Free CD Giveaway | Subscribe | About

Laurence Juber, Doug Smith, Al Petteway, Phil Keaggy (and many more!) at Acoustic Music Resource